Table of Contents
This post may contain affiliate links. See our affiliate disclosure for more.
I've tried almost every method of finding clients, short of busking on the street. I even met a client in line for coffee once! I found clients using sites like Upwork, I've used Facebook groups, cold emailing, and word-of-mouth referrals.
No matter what method I used, my stream of clients was never steady. I had no predictability for my success! That was until I started focusing on getting AngelList jobs. More on that below.
I'm sure lots of us are in the same boat. Many freelancers have no reliable system to get clients or predict their income.
Even reading up on how to make our incomes steady isn't very helpful, as complicated business strategies and endless spreadsheet tutorials just make us feel overwhelmed.
So how can creative-minded freelancers achieve income and workload stability without spending months on a business plan?
I started searching for the answer to this question with AngelList jobs. I checked out the competition, made tweaks to my profile, tried new proposal formats, and most importantly, I monitored my results.
After only a few days, I started to see some patterns that helped me create my own formula for success.
Whatever your own professional goals may be, establishing reusable methods to draw in and land clients is the best way to keep reaching those goals(and beyond).
Here's the breakdown of the methods I used to stabilize my outreach and earnings, which got my AngelList jobs earnings up to $20,000 in just 7 days (yes, for real).
Why I aim for AngelList jobs
There are great things about lots of freelancing sites, but during this client-finding period, I chose to try and get AngelList jobs.
If you haven't tried it yet, AngelList is an ecosystem for skilled digital workers, start-ups, and investors looking for new projects to back. Young companies can find investors, freelance talent, and even mentorship all from one platform.
AngelList wants to support the start-up world by providing new companies an open marketplace to raise funds and find amazing talent to get started right away.
Sites like Upwork and People Per Hour can have amazing projects in their own right, but I find AngelList jobs are more high-budget, high-skill, high-quality projects to choose from.
Also, the clients on AngelList are more serious about their open positions, at least requiring a Skype interview(or two) before signing a contract.
As an experienced freelancer in my niche with BIG income dreams, I knew AngelList jobs would be better suited for my goals.
Understanding the AngelList landscape
Before diving into to my own client search, I scoped out the competition and noticed what patterns I saw between profiles.
Profiles on AngelList have a minimal look but I wanted to get an idea of how creative designers like me were making their profiles stand out.
Since I have my company listed on AngelList, I was also able to peek into the talent-sourcing side of the platform and look at designer's profiles through the eyes of a potential employer.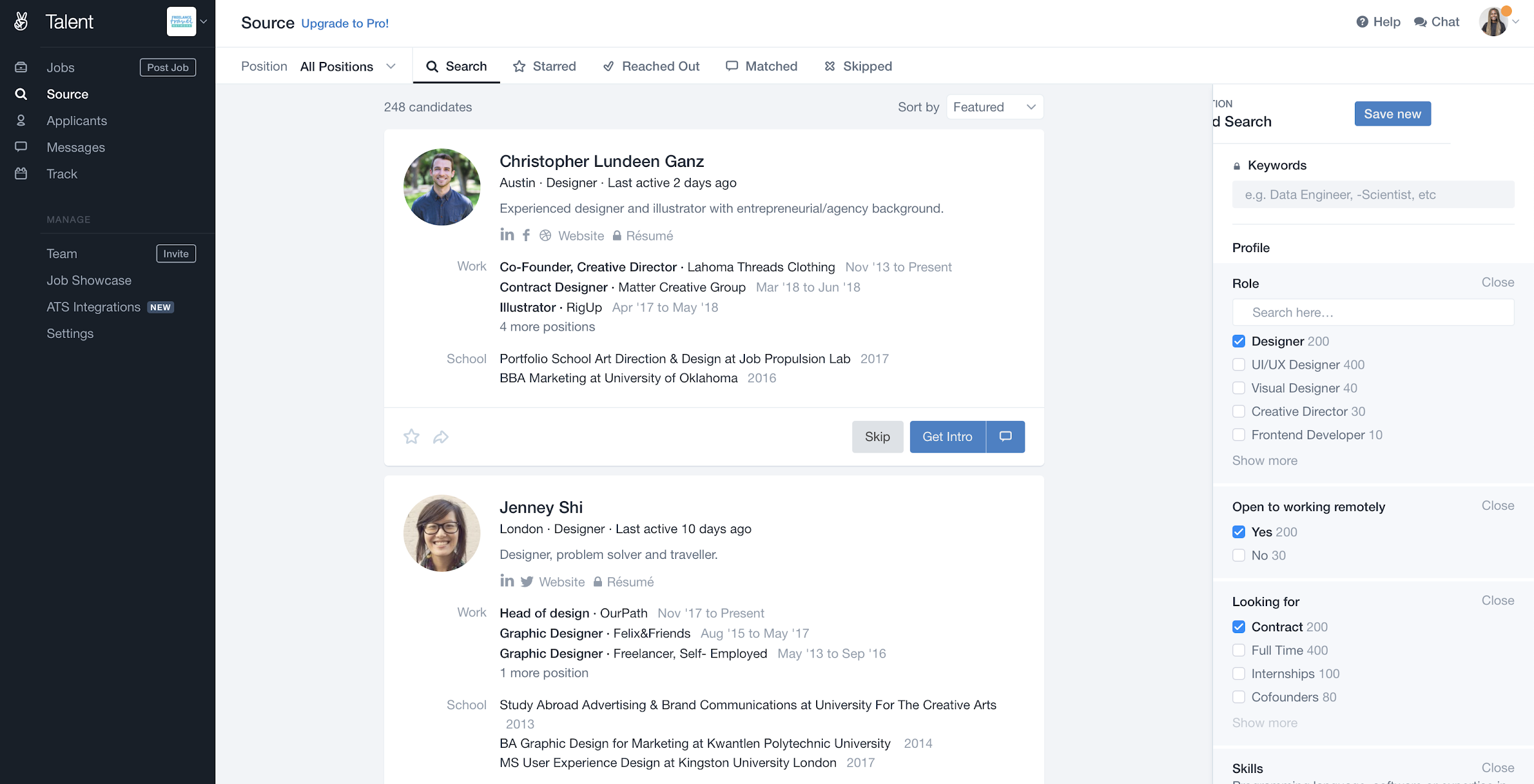 I started with a search for contract designers who were willing to work remotely and actively seeking a job.
I paid attention to their headlines. I wanted to see how they sold themselves in a headline to all the AngelList clients out there. A lot of profiles started to blend together as I saw the same words repeated:"creative, with X years of experience, versatile…"
I could have chosen to follow the pattern and agonized over finding the right words to make my profile stand out…but I knew searching through a thesaurus would be a waste of time.
I turned on the 'client-side' of my brain and wondered what would make a freelancer's profile attractive to me: one who talked up their own interests/experience in freelancing or one who showed what they'd bring to my project specifically and the results they're capable of.
I changed the headline in my profile from this:
to this:
I put my past results front-and-center and added a two-word description of my personality along with an emoji.
Many freelancers think that by adding more skills, more credentials, and higher-sounding positions behind their name, they will get more clients.
You can see that I thought the same way in my previous headline. I thought by mentioning Toptal or the school I went to, people would recognize how great I am…but it doesn't really work like that.
As freelancers, the company we're most connected to is our own. We're the CEOs of our careers, so our work should stand on its own – not behind name-dropping or our personalities and preferences.
Stand behind your own accomplishments and your work will speak for you.
Write a killer headline
Your headline is the first thing most potential clients see. Some freelancers try proving their abilities by listing their niche or their skills. Instead, try showing off results, which can act as evidence of our professional skills.
Most clients will know what result they want to achieve, but rarely know how to get there; that's how showcasing past results in our headlines calls out directly to potential clients.
To catch clients' eyes, we must understand the results our target market wants to get and show them we're up for the job right away.
Where they are now > YOU > where they want to be
Every potential client you contact has an envisioned place that they want to get their business to. Maybe it's a start-up who's just raised one round of funding and is looking for help raising a second.
Perhaps it's a small business owner who is currently struggling to get sales but desperately wants help establishing a steady stream of customers.
We must position ourselves as the vehicle to get clients from where they are now to where they want to be. Let's use our headline to show potential clients exactly how far our services could take them!
Here's the results-driven formula for writing a good headline on AngelList:
I help ______ to ______ by/with/through ______
I help niche, to get results by my service.
Example: I help tech start-ups to raise their second round of funding through design optimization.
Filter clients according to your work goals
After we've optimized our headlines for our target market, the next thing we need to do is filter our search criteria for our targets. I love AngelList because it's so easy to search the database for your ideal client.
For example, I love working with small teams and for new clients, I prefer to work on big projects over $50k, so I put that in my search criteria.
Filter your search according to your work goals.
If you want to work remote:
If you know how much you want to make:
If you know what team size you work best with:
PRO-TIP: you can save your filtered search and get emails every time a new job posted meets your criteria. In other words, you'll have new leads delivered to your email every single day!
How to spot the best clients
Before messaging any client, we need to do our homework. Even as designers, developers and social media specialists – we want to make sure the company as a whole is reliable and a good fit, so we should do an audit.
I've built an audit checklist that will help you analyze the important aspects of a business. The checklist pays attention to many aspects of a business from marketing to SEO to design.
Although you may not be an expert in every niche, looking at the company holistically gives you a deeper understanding of how you can help them and what more they might need to do to achieve their goals.
Also, when you send a proposal, a deep understanding of a client's company shows that you're not just interested in chipping in a bit of side service, getting a check and getting out of there.
Auditing a client's business before contacting them will prove you're passionate about their growth as a whole – and that you're a team player.
If you're writing a proposal as a designer but you've also noticed that their page speed is very slow, mention that. If you're writing as a developer but you notice their Instagram has little-to-no engagement, mention it.
This will position you as not only an expert in your domain, but a business expert in general.
You don't have to propose to fix their social media or page speed if you can't but pointing it out to them will act as a consultation that your client will value. They'll view you as an ally rather than an investment.
Use video proposals to stand out
The first outreach you make can influence the power dynamic of your entire client-freelancer relationship. If you write a shy and generic email, you won't have a client relationship to speak of.
If you appear desperate and over-eager to please in your first email, clients will pick up on the fact that you seem to need them more than they need you. The first impression will set the tone for all their communication with you.
We want to stand out to potential clients by showing we care about their projects, but we can't give them everything. We should show our expertise and value with a measured confidence.
But sometimes words fail us and it's hard to convey eagerness and cool confidence at the same time.
That's why my personal favorite way to make first contact is with a video proposal.
Video proposals are my secret sauce. This method is so great that I have a 100% call rate with anyoe who watches my video. 100%!
I think video proposals allow a potential client to read your attitude a lot more clearly and quickly than with written text. People can see your personality right away and it's easier to convey confidence without sounding too self-important.
To create my amazing video proposals, I use the content from the website audit I did on the client. You can view some examples of my video proposals I've sent here and here.
The key to making a good video proposal is to present the problem but not solve it completely. Demonstrate your master understanding of their needs. Make a few vague suggestions on how to fix the problem, but don't make it into a detailed process yet. Give the client something to think about but leave them wanting more.
For example, if a client has engagement problems on their Facebook profile, you can explain what a lack of engagement does to their business and explain where their business could be with higher engagement on social media.
Use broad examples of possible engagement-raising techniques like doing an audit of their posts, examining their brand voice, and investing in Facebook advertising. Don't give away all your knowledge but flex it a little!
How to make video proposals
When you're ready to record a video proposal, I highly recommend using a free software called Loom. Loom allows you to film yourself and your screen at the same time.
Your proposal will showcase your stellar personality as well as letting you show off any work or professional ideas you have for the client. You'll have a personal yet professional proposal, which is the sweet spot!
Alternatively, if you want to get fancy, Soapbox by wistia is a great choice. They have tons more editing features to make your video really advanced but still easy to create.
It's great to use a fancier video if you are making a proposal for a creative project.
Track your results
If you're going to spend the time beefing up your AngelList profile, you should be sure that your time is well invested.
We want a steady stream of incoming clients but how can we know when we've accomplished it if we don't track our results?
On top of that, we won't be able to tell which changes and tweaks are responsible for our success. Our careers are too important to leave up to chance, especially when we're busy finetuning our efforts to succeed.
I've built myself a spreadsheet to track the results of my video proposals! That's the only way to know when something is working and when it's time to switch it up and try a new approach.
When you start tracking your proposal success, these are the most vital aspects to watch:
Number of proposals sent
Number of proposals opened
Number of calls scheduled
Number of sales made
Tracking these four aspects will give us three important averages:
Open Rate – (Number of proposals sent/proposals opened)
Engagement Rate – (Number of proposals opened/calls scheduled)
Conversion Rate – (Number of calls scheduled/sales made)
Tracking your results and calculating these rates empowers your business efforts. These rates can help you predict your income and your client success rate!
For example, if your average project pays $10k and your goal is to make $20k this month. With your tracked numbers, you can work backwards to calculate exactly how many proposals you'll need to send to get you the clients who will get you up to your $20k goal.
Let's use my numbers as an example. My open rate is currently at 20% and my engagement rate is 100%. My conversion rate is at 50%.
My rates are quite high because I have a very defined niche, not much competition, and I've been tweaking my client-finding process for a couple of years now.
So, if I want 2 new clients, how much outreach do I need to do to find them?
We start with our open rate: 20%. If I send 20 proposals, 20% of these clients will open and watch my video proposal. 20% of 20 = 4 people.
Out of those 4 people, 100% of them will schedule a call with me! I got this number from my engagement rate.
After those 4 phone calls, 50% of those 4 will become customers/clients. That gives me 2 new clients, which was exactly my goal. Thanks to these rates, I know I have to send 20 proposals to get the income I want!
Stop guessing and start calculating success
Lots of freelancers think that to get up to a goal income, you must be the most skilled, most experienced freelancer on the market. You're either the best out there or you're incredibly lucky.
That couldn't be further from the truth.
There will always be more experienced freelancers appearing in client searches alongside you. That doesn't mean you can't win the client.
Take the steps to make your profile a more results-driven, confident freelancer who knows how to do their job. Approach your clients with the same confidence and know-how in your profile and watch the results roll in.
Track those results and before you know it, you'll have a clear-cut formula for success.
Getting up to your goal income isn't an abstract process but a mathematical one. No matter what your goal is, you can achieve it if you monitor your efforts enough to create a statistic for your success.
As you continue to practice reaching out, your numbers will get better and better. You'll find new keys to success with every effort. Eventually, you'll need less outreach to get the results you want.
Remember: be the vehicle for change!
Our job is to be the vehicle between where the client is now and where they want to be. If you aren't showing potential clients how you can be their vehicle for change, you're losing the hunt.
Make your profile and proposals reflect the positive changes you can offer to clients and they'll start to imagine how far their business can go with your help.
Once you start keeping your profile updated, your proposals personal, and your efforts tracked, success seems a lot less random and a lot more achievable.
Keep the conversation going...
Over 10,000 of us are having daily conversations over in our free Facebook group and we'd love to see you there. Join us!