Table of Contents
This post may contain affiliate links. See our affiliate disclosure for more.
Freelancers are an indispensable part of the American workforce. Hundreds of companies continuously hire gig workers in both short and long term contracts to achieve their business goals and reach their target markets.
Freelance statistics show that the number of freelancers will continue to rise, and by 2028, an estimated 86.5 million people will be freelancing in the United States. Now is the time to grow your freelance business by creating a TikTok business account. Read on to find out how.
Set Yourself Up For Success on TikTok
To pave the way for your freelance business success, the first thing to do is sign up for TikTok Pro — an extended version of TikTok. This upgrade is useful to build a following for your TikTok business. Plus, it's free to use! Here's how.
Log in to your TikTok account and tap on the "Me" icon in the bottom right corner of the screen.
Tap on the three vertical dots in the upper right corner of the screen.
On the Privacy and Settings tab, tap on "Manage my account."
Then tap on "Switch to Pro Account."
You'll need to select your account type, category, and gender.
Tap "Done." You're all set!
You'll now be able to access the Analytics section. Click on "Creator" or "Business" in the Settings and Privacy menu. Then tap "Analytics" to view your TikTok Pro analytics.
A TikTok Pro account gets you extra analytics features that help you track the performance of your videos weekly or monthly.
This includes insights on the gender, location, interest, and the dates and times in which your videos are most viewed or engaged with by other TikTok users. You'll get to understand your audience more and create content that specifically caters to their interest.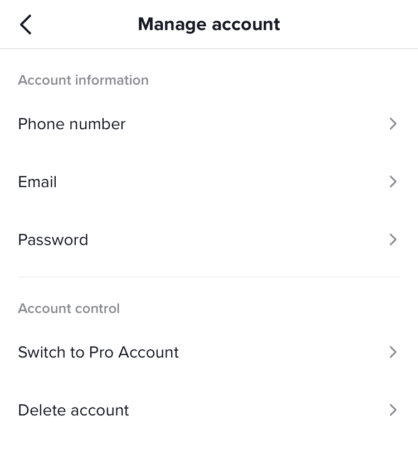 Connect With Influencers
Influencers are everything on the app. You can find influencers to collaborate with in your niche through search engine tools like Influence Grid. You can narrow down your search by industry, number of influencer followers, location, and more.
For example, let's say your niche is health. Use a TikTok search engine and find influencers in your niche by typing in "health" in the search bar.
Typing in that niche brings up the list of top TikTok health influencers. The search result might pull up the influencer's name, country, followers, views per video, likes per video, and engagement rate.
These are incredibly helpful statistics to help you find another influencer that aligns with what you're looking for.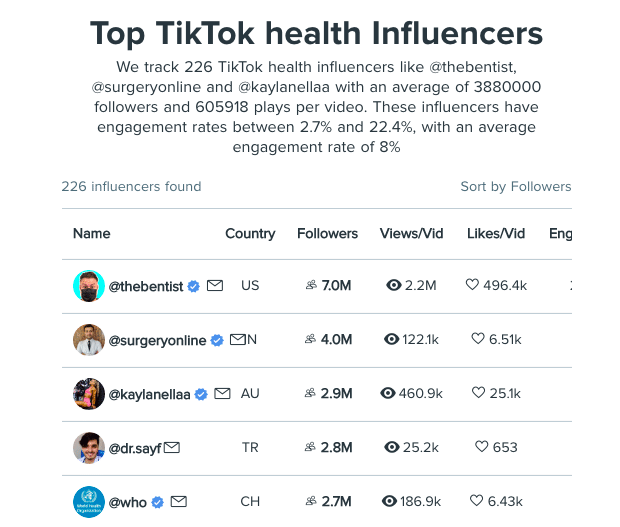 Let's look at some examples. Many brands have successfully embraced influencer marketing on TikTok.
In 2019, Mucinex promoted a product for the flu season using a Halloween-themed campaign with four TikTok influencers.
These TikTok influencers created and shared videos of themselves waking up looking like zombies; then, they'd suddenly appear all dressed up and ready to party when they grab Mucinex.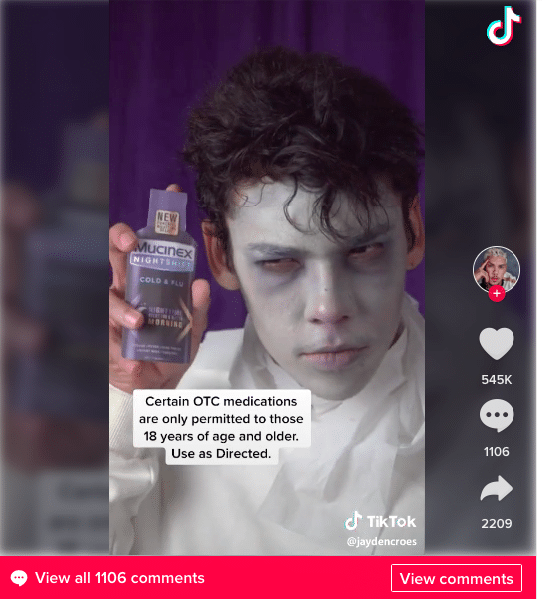 In 2018, Guess launched a hashtag challenge, #InMyDenim. They worked with influencers who shared videos on their disheveled-to-glamorous transformation. The "after" transformation featured Guess apparel. Other TikTokers then started creating their transformation videos using the #InMyDenim hashtag.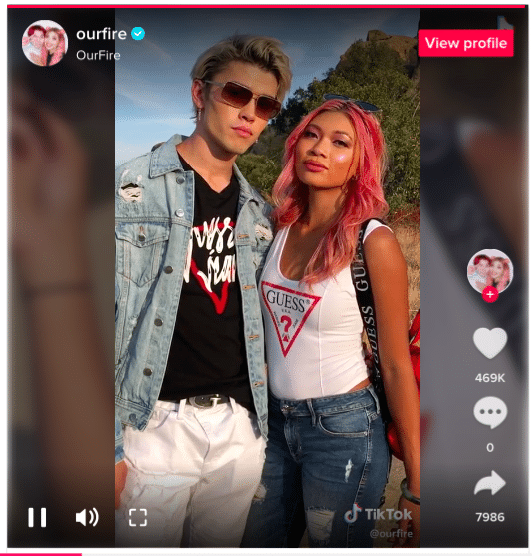 Even if you can't afford to partner with them, influencers are still helpful to grow your business. Follow key influencers within your freelance industry and take note of what trends and hashtags they are using and what kind of content they are producing.
Show Them What You've Got
One of the best ways to promote your freelance business on TikTok is to show what you have to offer. Are you a freelance content writer? Share pieces of advice on how to be successful in freelancing. Do you build wooden tables? Show your work process and the final result.
This will help you attract new clients who want to hire you for work and bring interested viewers who want to learn to your page.
One cool example of how effective TikTok is in promoting a business is Court and Nate. These two build vans and share everything from work process videos, sharing tips on building vans, behind-the-scenes videos, time-lapse videos, product recommendations, recipes, and videos showing their lifestyle as van dwellers. The boho-couple has 1.8M followers and has gotten about 53.M likes.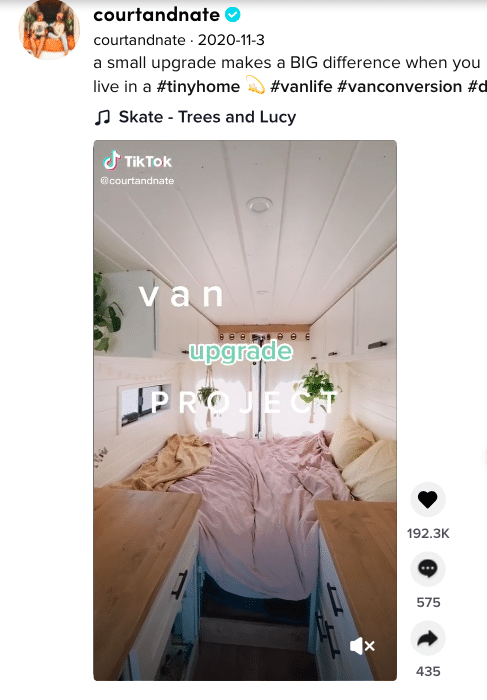 Mike Mandell (@lawbymike), a skilled and experienced trial lawyer from California, grew his TikTok following to 3.5 million in just seven weeks. He shares sharp, engaging, and informative videos that specialize in personal injury cases. He is currently the most followed lawyer on TikTok with 4.2M followers.
Jordi and Arnau Puig (@Jordi Koalitic) are content creators who created their own creative photography style. Jordi worked as a freelancer for five years before creating Koalitic Visuals, an audiovisual production company he owns with his brother, Arnau. Today these creative minds are the top influencers in photography with 18.9M TikTok followers.
Use Trending Sounds And Hashtags
Using trending sounds and hashtags is one of the best ways to help get on the For You page of TikTok. You can find what's trending under the Discover tab, or when you upload a video, see what sounds the app suggests.
Trending sounds and music are like hashtags on TikTok. Use trending audio clips to boost your discoverability, likes, comments, and views. Do some research and use the sounds your followers listen to on TikTok.
After switching to a TikTok pro account and hitting 100 followers, you'll be able to access the list of sounds your followers have watched in the last week under the "Followers" tab. If you use the sounds your audience likes, your content might just go viral!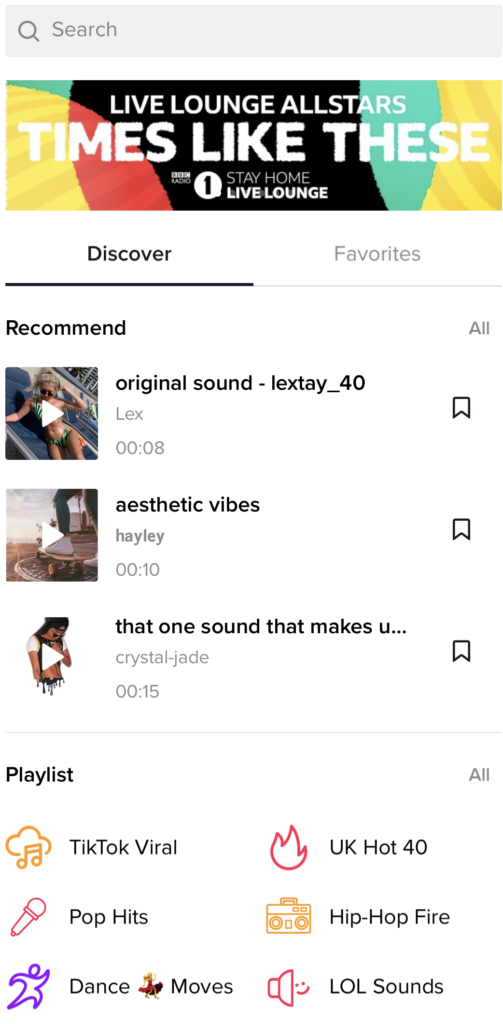 On the other hand, Trending hashtags let your users know what your content is about even before they watch the video. They make your content more visible and relevant. When you add your video to an existing trending hashtag, you'll definitely get more user engagement.
To find the perfect hashtag, try analyzing hashtags used in the content in your niche. Filter the content by interests you see relevant to you, then find out what hashtags those posts used. It's also useful to check out the hashtags your competitors are using.
You can also consider making your own hashtag. Create marketing campaigns for your TikTok business around the hashtag and encourage your followers/customers to use the hashtag on their posts. This way, you get the good stuff – user-generated content as social proof.
Some examples of popular sounds and songs on TikTok include "Say So" by Doja Cat, which was accompanied by a viral dance sensation, and "Savage Love" by Jawsh 685 and Jason Derulo, another source of inspiration for a popular TikTok dance.
Use Viral Video Techniques
A key to TikTok is volume. Since it's tricky to predict which videos do well or go viral, it's better to post a lot. Try these viral video techniques to set your content apart and get those engagement rates up. And then check out this in-depth guide to going viral on TikTok.
Loop Your Videos
Achieving that perfect looping TikTok video doesn't take hours or fancy editing apps. All you need is the ability to trim and move clips around on a timeline.
The first thing to do is to bridge the transition from the end of the video to the beginning of the video all in one take. In other words, don't shoot the beginning of your video first. Doing this aligns the loop point to maximize the seamlessness of the transition.
Then, split the clip containing the beginning and end in the post. The timeline will then have the beginning clip, a transition clip, and the end clip.
Hook Your Audience Right Away
The rule of thumb is to grab your audiences' attention in the first three seconds. If you're able to do that, you'll get them watching until the end.
Remember, though, that TikTok users are about 20-year-olds on average. This means that TikTok videos ought to be closer to 15 seconds long. This lets you stick to the core message and get your audience to respond.
Create Multiple Parts
Another genius video technique is to create multiple videos to keep things interesting. To do this, tap "Go to Create video" from the menu bar, tap the "Upload" button on the camera screen and browse your device's gallery.
You can select multiple videos and images that you'd like to include. Once you've selected all your media, hit "Next". You'll then have the option to sync sounds across the media and adjust the clips.. Your creativity will just keep flowing when creating these multiple-part TikTok videos!
The Key To Success In Your Freelance TikTok Business
Like any other business or profession, being consistent is essential. With TikTok, you'd have to be posting content regularly to succeed. Keep posting videos at around the same time every day.
You'll hook your audience and they'll be anticipating the next awesome video from your freelance business!
Keep the conversation going...
Over 10,000 of us are having daily conversations over in our free Facebook group and we'd love to see you there. Join us!