Table of Contents
This post may contain affiliate links. See our affiliate disclosure for more.
For many freelancers, working from home is nothing new. We're used to making do with small spaces, working at odd hours, juggling time zones, and being creative in how we separate home and work. Some of us have been wrangling children from our home offices for years.
So when work shifted for everyone else almost overnight, it was not a big change for most gig workers.
What did change was a cultural shift. Suddenly, clients were a little more understanding about interruptions. Teams were more helpful in coordinating through technology.
And something that changed for the better was a sudden influx of helpful tools to make working from home an all-around better experience.
A laptop light is one of these fun enhancements that changes the way you look in video calls, upgrade your ability to create stunning videos and even give you the opportunity to take a selfie headshot that doesn't look like it was taken in a cave.
While laptop lights were available as far back as the early 2000s, they were more of a specialty item for YouTubers and photographers. Suddenly, it seems everyone has a laptop light available. Like other digital tools, laptop lights have become less expensive and there are more options than ever before.
It's a great time to be a freelancer.
So, why the hype around a laptop light? Is it worth the cost? Do you need one? And which laptop light is right for your setup?
In this article, we'll go through the ins and outs of laptop lighting, how to decide on the right one for you, and showcase 11 of our favorite options, so you'll know everything you ever wanted to know about a laptop light.
11 Laptop lights to check out
While it's great to have so many laptop light options now, the sheer selection can be overwhelming. Setting up a home office requires careful thought to create a space that mirrors your style, blends with your work routine, motivates you and fits into your home environment.
As a freelancer, you are making choices about how to part with your own hard-earned money when you buy everything from a home office desk to a laptop light. To help you navigate the choice, we've put together a list of some of the best laptop lights for you to consider.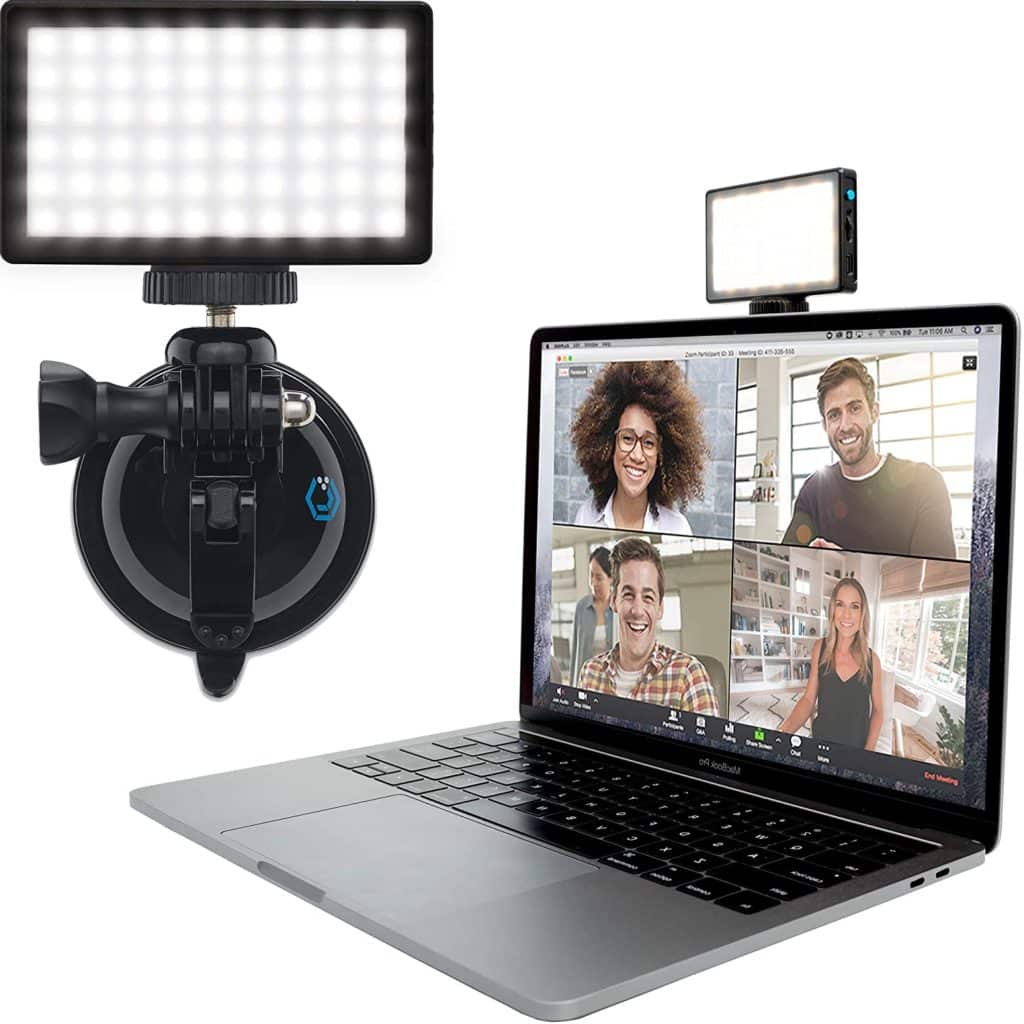 The Lume Cube is an adjustable laptop light that suctions to the back of your laptop. On the plus side, it has light temperature and intensity control.
It's also rechargeable, so it's fully portable as needed. On the negative side, some users have complained that the suction is finicky.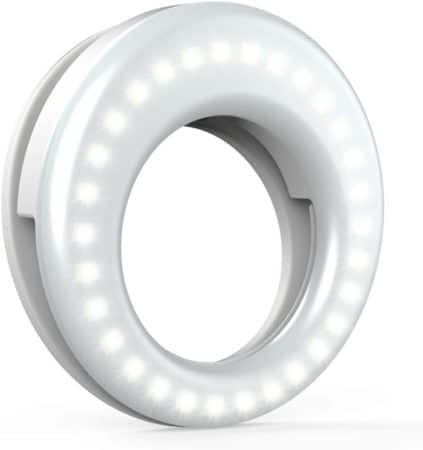 This ring laptop light is a budget-friendly solution for those just looking for a quick fix to video conference woes. Rechargeable and adjustable, the only downside may be it's size. This light is made specifically for phones, so it's on the small side.
This laptop light from Neewer actually comes in a two-pack, so if you have multiple monitors or a spouse at home, that's a plus. This cube style light uses a tripod instead of a clip, so you have a bit more control over where the light is focused and can use it for ambient lighting as well as video calls.
This reading-style laptop light is less about conference call flattery and more about saving your eyesight. It helps illuminate your keyboard or lights up a very small area around your laptop if you are working with paper copies or books in addition to digital files.
It plugs into a standard USB port, so while you don't have to worry about the charge running out, it will not work on a newer Mac with only a USB-C port (check out an adapter here).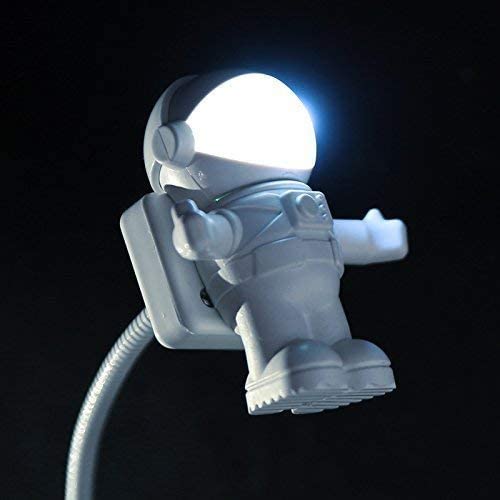 This whimsical laptop light combines the need to light a keyboard with a truly unique astronaut design. If you have a space-lover in your life or just need a little bit of cheer in your home office, this is the laptop light for you! Like the Hanerdun light above, it only works on a standard USB port.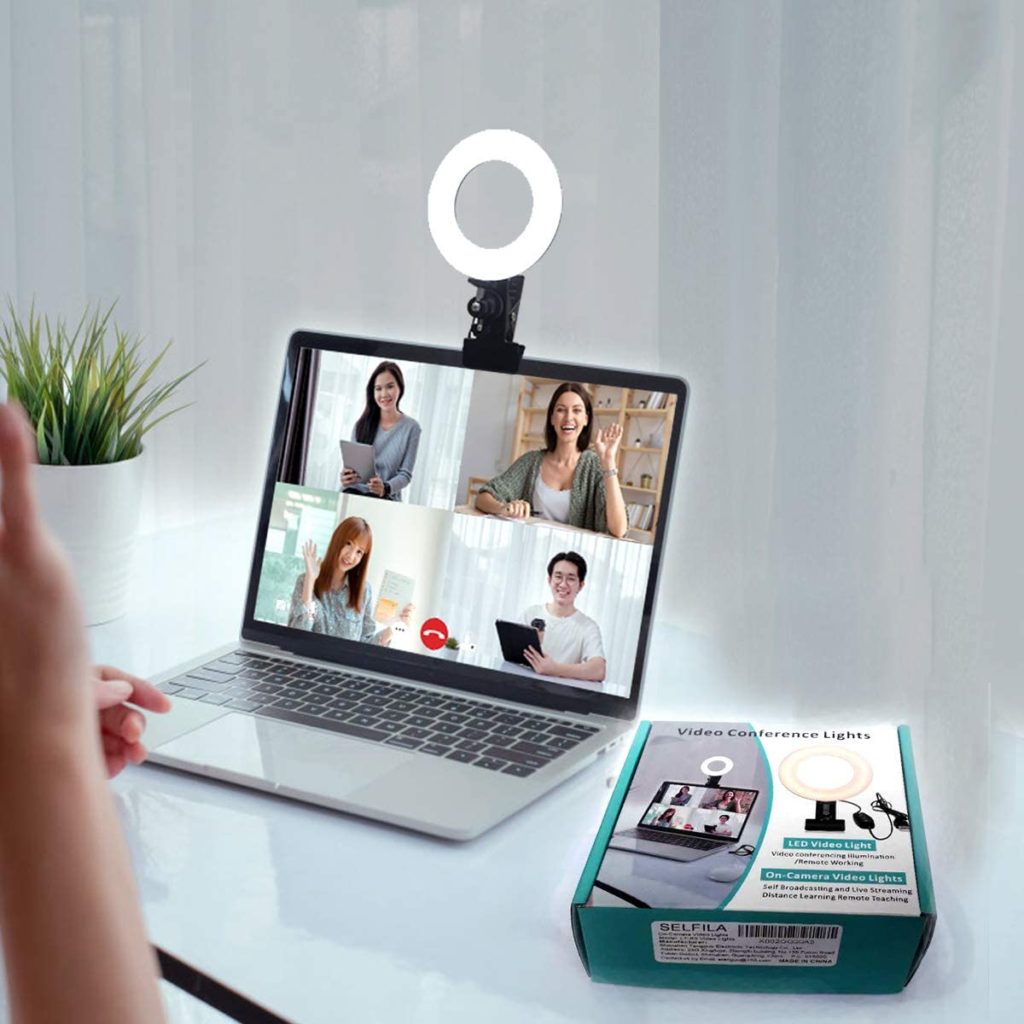 This clip-on ring light has 5 brightness levels and 5 temperatures to choose from, so you're bound to find a setting that is flattering to you. It runs off of USB power, so while you won't have to worry about battery life, it will draw power directly from your laptop and again, you will need an adapter for a newer Mac computer.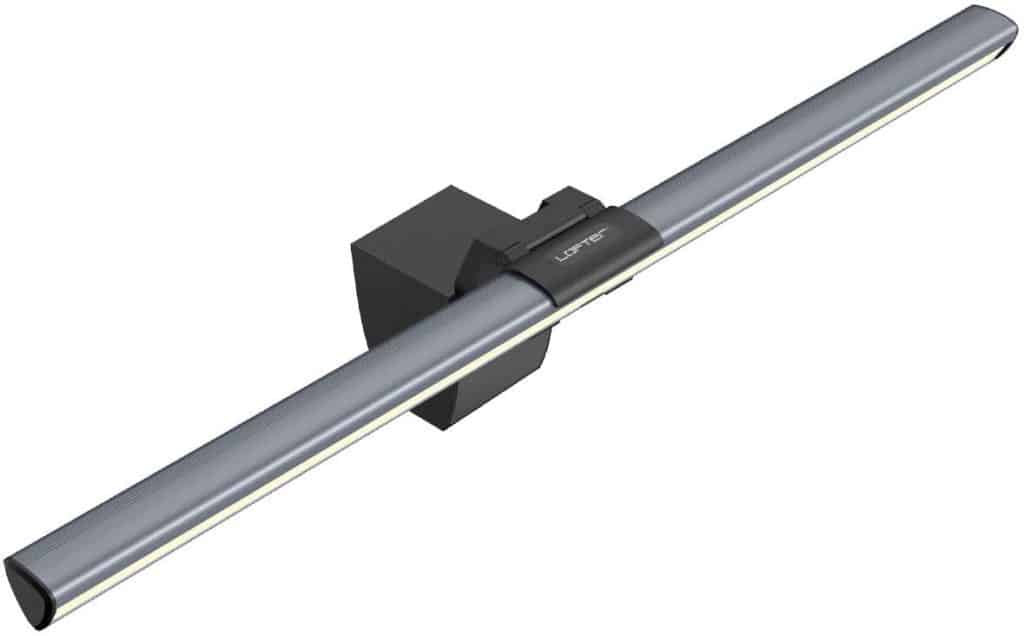 This bar light clips to the top of your monitor to illuminate your keyboard and your immediate workspace. It is an ideal laptop light for small spaces that need an extra bright boost. Some users have said that the light bar can be swiveled to provide selfie lighting, but this is not the intended purpose.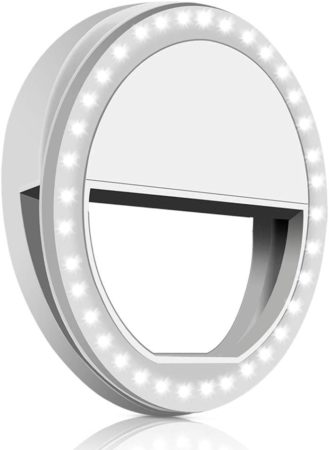 At less than $10, this Whellen light is a great one to try out if you're on the fence about whether or not to get a laptop light. Be aware: it is battery powered, so if you're using it often, you'll want to invest in a bulk pack of AAs.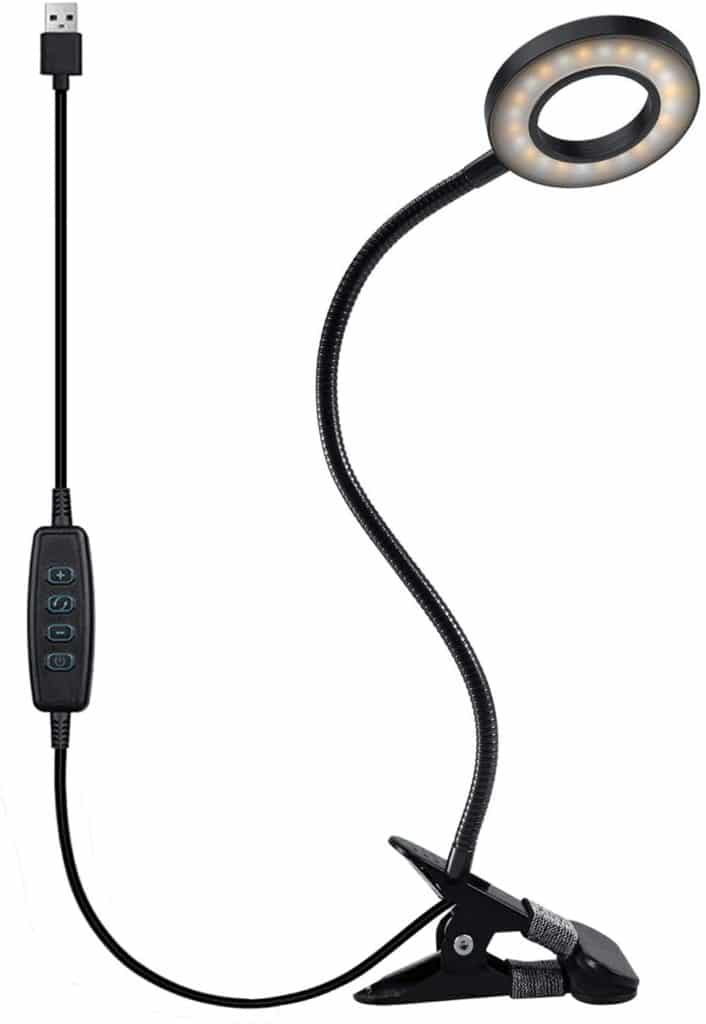 This laptop light, made by QQAPPU, combines a ring light with a goose-neck reading light. This gives it some great versatility––it can easily light your video conferences, and then swivel into more of an ambient function. This clip light also runs on USB power.
This inexpensive laptop light is small, clips to a desk or directly to your laptop, and lights the space around your workstation to reduce eye strain. It's small and compact, but has no internal battery. It plugs into the USB port, so it can run off a portable battery if needed.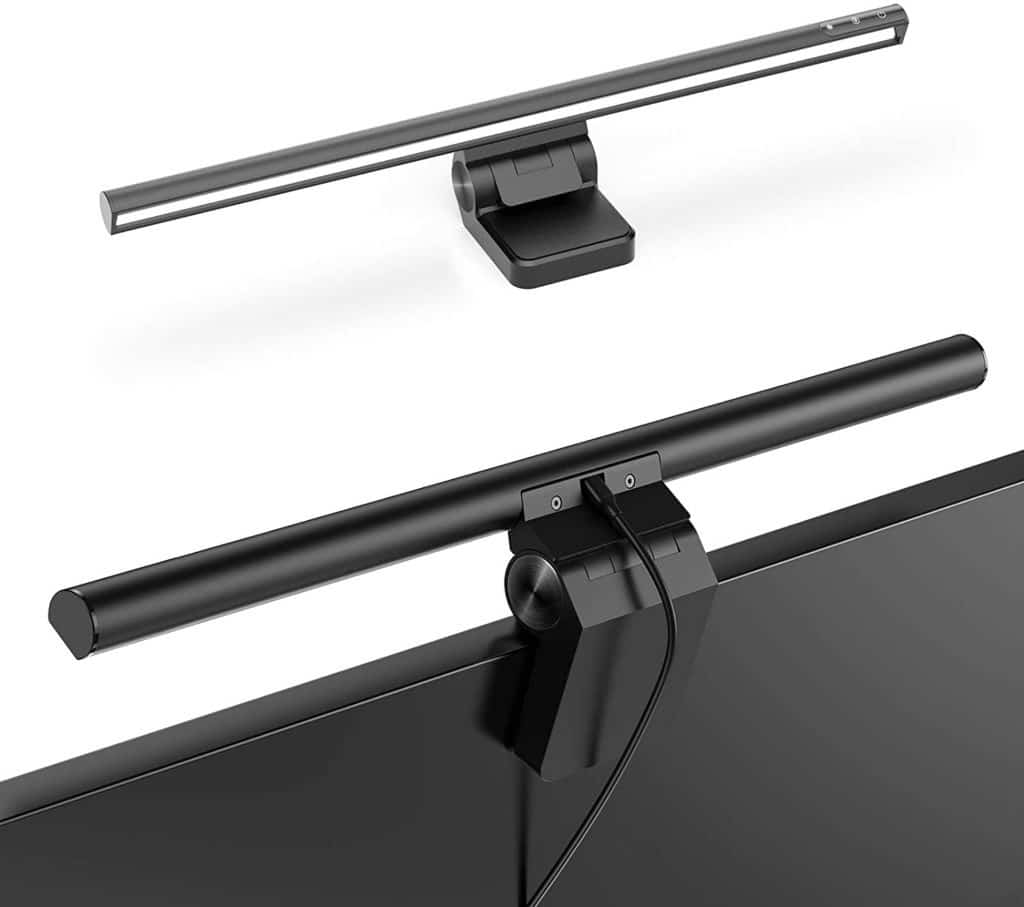 The final laptop light on our list, this light bar by Baseus clips to the top of the monitor and has a touch sensor, so adjusting is a breeze. It's a bit on the pricey end of bar lights, but has a great design and reviews seem to agree that it is well-built.
For newer macs with the USB-C port, you can still run any USB laptop light if you grab an inexpensive adapter here. Not only will the adapter help run a laptop light on your new computer, it will allow you to plug in all of your old hardware, including card readers, hard drives, flash drives, printers and speciality tools, so it's well worth the investment.
Who Should Use a Laptop Light?
The short answer to this question is really…everyone.
A laptop light or a ring light is a way to add more even lighting to your webcam. If you've been on a video conference call, you have probably noticed either yourself or others looking either washed out and tired, or like the Phantom of the Opera with half of your face in shadow.
A laptop light changes all of that. Good lighting not only shows your best self to the camera, it's a signal that you take yourself seriously as a professional.
Anyone planning on attending a virtual interview, appearing on a video podcast, or conducting conference calls with high-power clients should make the relatively small investment in a laptop light as soon as possible.
Even if you aren't planning on spending all of your time on video calls, investing in a laptop light is not a bad idea.
Placed correctly, an adjustable laptop light can help reduce eye strain by providing less harsh ambient lighting in your home office.
A good ring light is also a great gift for photographers. They can be used for product shots to help designers, or video shoots for almost anything. In a world that demands a constant stream of content, good lighting just makes sense.
Which is a better laptop light: ring lights or bar lights?
There are a couple of main types of laptop lights. The two most common are ring lights and reading lights.
One is not really better than the other. They simply service different purposes. So how do you choose?
A ring light is just what it sounds like––a circle of LED lights with a hole in the middle for your camera. They typically clip on to either your cell phone or laptop in the area of your webcam lens. Ring lights are best for illuminating your face for video calls or self-portraits, and they work well for certain photography situations, too.
A bar light is meant to brighten up your workspace, not you specifically. These types of laptop lights are great for those without backlight keyboards or who just need a little extra lighting in a small workspace.
Either kind of laptop light can help make your professional life shine. Just pick the one that suits your needs.
Conclusion
As more and more people switch to a work from home or flex work model, the good news is that people working in non-traditional office spaces are becoming increasingly accepted. The fallout may be that, because working from home is more common than ever, a more professional look and feel is expected.
A laptop light has become more than just a fun accessory. Serious freelancers who spend any amount of time video conferencing, taking photos or filming videos need to up their lighting game.
Keep the conversation going...
Over 10,000 of us are having daily conversations over in our free Facebook group and we'd love to see you there. Join us!