DON'T MISS THIS: Through Nov 30, you can get our fav freelancing tool, Hectic for $0 FOREVER. 😮 12+ Tools in one place including proposals, CRM, invoicing, calendar, client portal, and lots more. No catch. Never pay. Redeem Now »
Whenever people ask me for help with their marketing, I give them one suggestion. Yet no one ever takes my suggestion seriously.
They maybe think they "get it" – but without actually doing the exercise:
they don't get the results it generates,
they don't have the "aha" moments it creates, and
they stay stuck.
When they DO take my advice though, everything in their business changes from there on out.
What's my advice?
Get on the phone with your customers, and find out what makes them tick.
[Tweet "Get on the phone with your customers, and find out what makes them tick. #marketingsuccess"]
Sounds too simple, right? "Is that really your advice, David?" 
Here, let me explain:
For years, every time I've created marketing for a new market, my first request to my clients has been this:
Get me on the phone with 5 of your best customers who truly represent your target market better than anyone else. I then spend about 60-90 minutes with each customer finding out answers to these questions:
What problems were you facing that made you look for someone like my client?
Did my client solve those problems for you? If so, how?
What's your life like now that those problems are no longer a part of it?
I want you to read back over those questions.
They're too important and powerful to only glance over once.
Why? Because those questions give you everything you need to:
Connect with your market in an earnest, trustworthy manner,
Educate them on how you can solve their problems,
Make them believe that you really can help them achieve their goals.
See, marketing is the art of presenting a solution to a problem. Your market has a problem. That's why they're looking to buy something. Your client, or you, have a solution. Marketing is just the bridge that connects one to the other.
[Tweet "#Marketing is the art of presenting a solution to a problem."]
But without knowing what makes your market tick – you only have half the pieces to the puzzle. You can't create marketing that's effective.
Yet even I forget how powerful this method is at times. Sometimes I get over-confident and think I know better. But whenever I use it, I'm always humbled and amazed. I have a new sense of direction. I'm reminded that the market always knows better than me what it truly needs. 
I'll give you a perfect example.
Recently I've been promoting a marketing conference. Our goal is 600 seats. We've sold close to 500, and things have slowed down a bit. So, I looked at the order log, reached out to a few of our most recent customers, and got on the phone with them.
When I did, I asked them one simple question: what made them finally decide to buy a ticket?
After all, we've been promoting for months. I wanted to know what happened "now" that finally got them to buy.
And then, I sat quietly and listened. I pried for more info based on their answers. I heard about their goals, their issues, what parts of the conference appealed to them the most, etc.
Keep in mind: I've been marketing to this audience for literally years now. I have a great track record of generating sales from them. But it had been a while since I got on the phone with them and heard their stories.
I was blown away by the things they told me that I would never — could never — possibly consider.
Already sales are going up from the marketing I've produced from this research.
Not only that – I have a renewed sense of direction to take with our marketing and have crafted new sales funnels utilizing it as well.
So get in touch.
Don't sit there and think to yourself, "What are my customers' problems?" Get out there and talk to them. Today. Send an email to 1 or 2 and set up a time.
Their answers will enlighten you. And surprise you. And help you take your business to new heights.
Did you get a lot out of this post?
Did it provoke any interesting thoughts? Leave me a comment.
I'd really love to hear from you.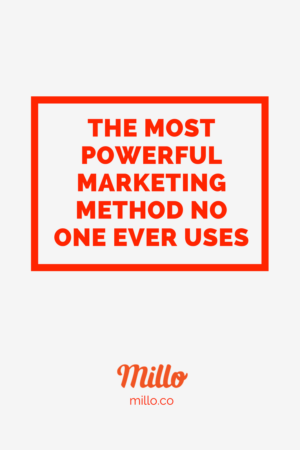 Keep the conversation going...
Over 10,000 of us are having daily conversations over in our free Facebook group and we'd love to see you there. Join us!