Table of Contents
This post may contain affiliate links. See our affiliate disclosure for more.
If you have decided to give "this freelancing thing" a serious go, you must have noticed that you won't get very far without technology and processes supporting your work.
One of these pieces of the puzzle is almost always a client management tool like Dubsado. Why? Because clients are what keep your business running, and if you want to keep operating and growing your business you have to keep each client happy.
If you have tried Dubsado, or if you're looking for a new client management tool, this article will help you decide what's the best according to your needs. With that in mind, let's dive in.
What is Dubsado?
Dubsado is an all-in-one system that streamlines the necessary, but normally time-consuming, tasks for freelance business owners.
You can use Dubsado to communicate with your clients, manage contracts, invoices, proposals, keep track of new leads, etc.
Starting at $20 per month, it's a very complete tool to manage your clients, your operations, and run a freelance business in general.
You may know by now that, as a freelancer, you have to wear many hats on an ongoing basis. Still, you can't afford to pay for one software tool for every area of your business.
That's why tools like Dubsado and its alternatives have become very popular.
Something great about the market right now is that you can find many client management tools that also include supporting features for accounting, invoicing, time tracking, and more.
Let's analyze the top 8 Dubsado alternatives to manage clients.
Top 8 Dubsado Alternatives
Moxie is a tool that claims to help freelancers solve this massive need for control and order.
It allows freelancers to manage and grow their business by putting all their fronts into one app.
Yes, from project management to accounting, customer service, invoicing, and a lot more – it can be all done with Moxie (you will still have to clean your own office, though).
Moxie is a tool entirely focused on freelancers.
Yes, you and me. It was made for the typical and the not-so-typical freelancers.
And this is not an ad. After testing it for a while, I can tell it is true, and it was no surprise to me that one of Moxie's core values is to "Put Freelancers First."
Pros
An all-in-one solution
Made for freelancers
Very affordable, without any "extra" or hidden costs
Easy to use
Cons
Some features may be "too simple" if you are looking for very niche-focused solutions
Pricing
Moxie has two plans. The Pro tier, their most popular plan, is $16 per month if you pay annually. They have another plan focused on Teams of up to 5 members, and custom pricing for bigger teams.
As a freelancer, there are many tasks that you may not know how to do or that are boring, exhausting, etc. They are all part of running your business, so you have to deal with them in some way or another. That could be collecting payments, proposals, accounting, etc.
Bonsai was built to help freelancers handle these tasks without dying in the attempt.
Be more productive by minimizing the time you spent on this administrative work, make more money, and feel better about your freelance journey.
Pros
High quality product
Built and designed specifically for freelancers
Very comprehensive tool
Cons
Budget can be a constraint for some freelancers
Payment processing may include extra fees in some regions outside the US
Pricing
Bonsai pricing starts at $24 per month, with a free trial, and a free plan available.
Plutio was designed to help freelancers manage their projects, proposals, and invoices in one place.
It allows freelancers to track their work time manually or automatically and share it with their clients. It also works very well if you manage a small team of subcontractors.
Plutio makes project management simple with features like file sharing, project statuses, notes, and custom fields. E-signing of documents, email reminders, customizable templates, file storage, permission management, are also included.
Pros
Plutio is very easy to use and to integrate with other tools that are part of your workflow.
Their customer service is great and they are constantly improving their product
Mobile app available
Cons
The visual part of the interface may be too simple for some people, plus, this part of the product is not improved often
Pricing
Plutio's prices start at $19 per month and there's a free trial available.
Bloom.io is a suite that combines the best tools, to either get started with a freelance business, grow it, or just operate it.
Average freelancers use at least 10 different platforms to run their business.
From invoicing to messaging, and building their website, this practice increases costs considerably as well as time invested.
Bloom.io helps freelancers solve this cost and productivity problem with a solid set of tools to run and scale any freelance business.
Pros
You get a TON of value for the price
Bloom implements true innovation in many of its features
The tool is made for creatives and freelancers
Free plan available
Cons
No email marketing
Lacks team collaboration (multi-user functionality coming soon)
Pricing
Bloom.io has a free plan that supports many of its features for one project. After that you can get a start package for $39 per month (if you pay yearly) or $49 monthly.
HoneyBook is a customer relationship management service designed for freelancers. It helps  freelancers manage their clients and other important parts of their business from A to Z.
You can manage projects, get new clients and their paperwork done, send invoices and get paid using Honeybook.
Why be all over the place when you can have everything in one service?
Honeybook has a good set of things to automate things like outreach, communication, and all-things payment management. That on top of a great set of good-looking invoice and contract templates.
Pros
It provides a very visual way to work that enhances productivity
Invoices are easy to create and send and even easier for your clients to make payment
Cons
Customer service/technical support is not the best
It does not support SMS communication
Pricing
Honeybook costs $39 per month or $390 per year.
Bitrix24 serves as an online workspace for businesses of all sizes.
Since it has more than 35 features to manage your team, business, projects, and clients it basically eliminates the need of subscribing to other services at all.
Main features include instant messaging, automation, bulk messaging, payment processing integration, project management, calendar, productivity tools, and more.
Pros
Everything you need to manage projects internally and with collaborators
Easy to migrate from other services
30-day free trial available
Cons
It gets pricey as you scale your team
Customer support is hard to reach (difficult when you face a bug)
Pricing
A 30-day free trial is available for Bitrix24, as well as a free plan with basic features.
After that pricing starts at $61 per month with many upgrades based on features or seat count available.
Another important alternative is 17hats.
With similar features to the previous mentions, 17hats is focused on automating, optimizing, and delegating so that freelancers can focus more on their craft than on the busy work.
17hats electronic signature, document sharing, and communication features work to eliminate the need for paperwork and exhausting back and forth with clients.
Get your time back and focus on the work that makes you the money.
Pros
It gets new features added often
Integrates smoothly with several solutions
Cons
It's not the best fit for teams or bigger companies
The visual distribution of its workspaces could be improved considerably
Pricing
7 day trial available. Plans start at $25 per month (yearly) and $45 per month if you prefer to pay each month.
Indy is a very complete suite of marketing, management, and collection tools designed to give freelancers full control of their life and work balance.
Designed specifically for freelancers, it helps you stop digging in so many places to get your work done and to keep your business running.
It has all of the basic tools you need, plus a great library of contract, form, and invoice templates.
In the "Why Indy?" section of their site you can also look at great guides to learn how to use their product depending on the type of freelance work that you do.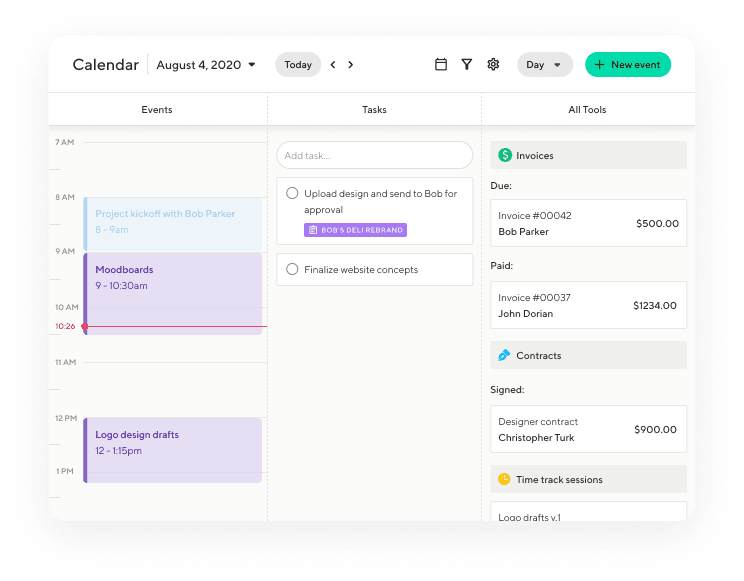 Pros
Makes the process simple for clients
Doesn't charge extra for payment transactions
Cons
Invoicing features are very basic
The mobile app has many opportunities for improvement
Pricing
Indy's pricing starts at $5.99 per month, with a free trial, and a free plan available.
How to decide between Dubsado alternatives
Now that you know more of the top options available, it's time to decide.
My best advice would be to:
1) Evaluate your processes
Regardless of if you are choosing your first client management tool or looking to move to a new one, the decision should not be dictated by the newest trend or the fanciest option in the market.
Take some time to assess your needs and try to match them with an option that would satisfy them. Ask yourself something like, "What features do you need the most and which software is the best at it?"
2) Consider your budget and long-term goals
Don't be quick to choose a client management tool if you haven't considered the financial aspect behind your decision.
This is an expense you will need to cover constantly for months or even years to come, so it would be ideal to pick up a tool that you'd be comfortable paying for many months.
Hint: the pricing may change depending on the number of projects, or team members, so be sure to consider your long-term plans if you think that's necessary.
3) Sign-up for a free trial (if possible)
Many tools have a free plan or a full-access free-trial available. Use them!
They were created for you to know, test, and understand the actual experience behind those products.
Free trials help you:
Decide with certainty if the product is what you need
Test the features that you will need the most
See if the pricing is a good fit for the value you get
Do this and more without paying the subscription fees
Conclusion
If you don't manage your clients' projects properly, they will leave. Because of that it would be good to consider a project management tool like Dubsado or any of its alternatives.
Dubsado is a very complete tool to communicate with your clients, manage contracts, invoices, proposals, keep track of new leads, etc.
If you're reading this article you're probably looking for an alternative to it.
If that's the case then we've given you a list of the top 8 best alternatives for client management.
The editor's choice is Moxie. From project management to accounting, customer service, invoicing, and a lot more – it can be all done using Moxie, even on their starter plan.
Feel free to try it. Consider if it aligns with your process, budget, and long-term goals and let's go!
I hope that your business gets a big boost in retention and customer satisfaction by the implementation of the client management tool that you choose.
Keep the conversation going...
Over 10,000 of us are having daily conversations over in our free Facebook group and we'd love to see you there. Join us!