Table of Contents
This post may contain affiliate links. See our affiliate disclosure for more.
If you are looking to become a freelancer on Upwork, then this guide is for you. The platform allows you to grow your profile and gain experience with some of the biggest names in the industry.
One of the biggest hurdles for a freelancer's growth is the challenge of finding good projects. You have to either compromise on the kind of project you want or, more commonly, on the price you can charge. Then there is the dreaded task of following up for payment.
Upwork is one of the top freelance platforms in the world, with freelancers and clients from over 180 countries. Its quality projects allow you to gain more expertise in your domain.
It tackles two of the biggest problems for freelancers: finding clients and getting paid on time. It has been successful in helping thousands to grow their portfolios. This guide will look at the steps of how to become a freelancer on Upwork. Let's dive in!
3 Easy steps to become a freelancer on Upwork
Imagine if you could be your own boss, get quality work, and not have to send a hundred emails for payment. Sounds too good to be true? Upwork offers this and more, and in three easy steps, you can start or expand your freelance career.
The site has a wide range of skills and industries to help you grow your career. It also tackles the two major problems for any freelancer — payments and quality work.
From tech to SaaS ecommerce and web development to marketing, the site has a wide variety of clients offering both long-term and short-term contracts. Hate the endless back-and-forth of emails? Upwork also has a neat feature that allows you to chat and video call your clients from within the platform.
You can become a part of the growing Upwork community and find projects that excite you in three easy steps. Just create a profile, find a job, and get paid! Let's see how you can get started and become a freelancer on Upwork.
1. Choose a Plan & Build a Profile
Upwork has three tiers of memberships, starting with a free plan. The free plan is the Freelancer Basic. For more benefits like seeing competitive bids, you can opt for the paid Freelancer Plus plan.
They also have a plan for agencies looking to find work on the platform. Sign up for an account on the site using your email address. Pro tip: Don't want to miss important information? Create a new email account just for this purpose.
Next, create your profile by adding your personal and professional information. Try to include as many details as possible here. Add your experience, educational qualifications, skills, and hourly rate.
You should also write a short introduction that sums up your work. Add a video introducing yourself and your work. The profile, image below, is your chance to tell the clients why they should choose you. From the languages you know to the number of successful jobs, it allows you to highlight your work.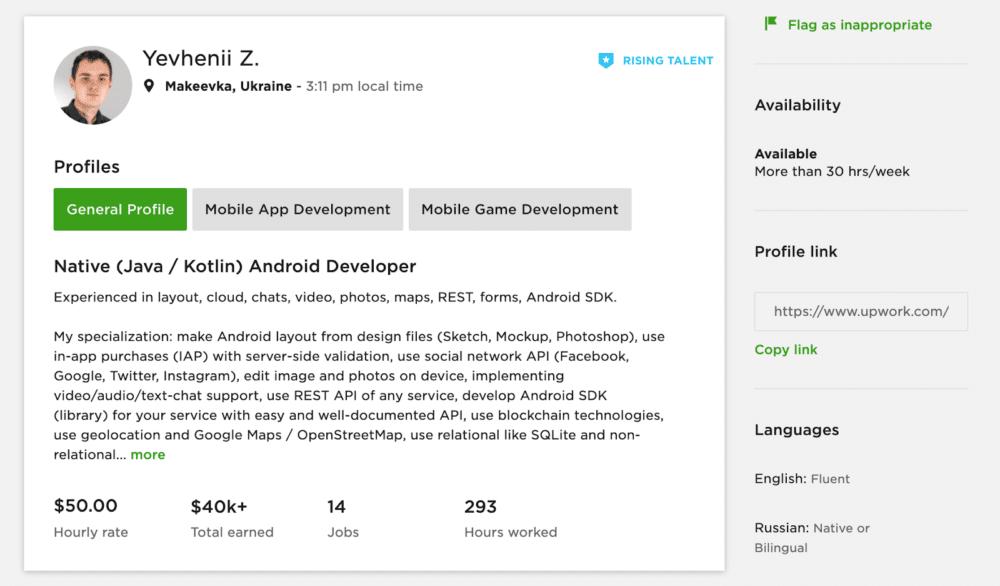 The profile allows clients to make an informed decision about your bid. Here, you can also add any niche-specific skills and relevant certifications or awards. Bonus points for you if you can also add a portfolio with past samples of work and experience.
Use the tabs to highlight your specific work. The information helps the client determine if you are a good fit for their project.
Finally, set up your payment preference and specify how you want to be paid. It is best to add at least two options to make sure that you have a backup if there is a problem with one of the options.
2. Search & Find Upwork Jobs
No more scrolling through endless jobs to find the one that matches your skillset. The easy-to-use search bar filters all available Upwork jobs based on your preferences. Simply key in your skills and set the right filters in the search bar, then add them to your job feed so you can keep up with new postings.
Select a job that you want to apply for and submit a customized proposal to the client. It should include a well-crafted and targeted cover letter, relevant work samples, and any other attachments or evidence that will help you make your case.
A well-crafted cover letter with work samples helps you in two ways. Firstly, it enables you to stand out from the sea of candidates and gives you a better chance of landing the job. Secondly, when you include relevant work samples, it signals that you understand what the company wants and are the best fit for the role.
At this stage, the client might also ask for a paid test. Remember that unpaid test assignments are not allowed on Upwork. Once the client accepts your proposal, they may schedule an interview to understand you better.
When they make an offer, review the terms carefully. The terms will include the payment schedule, the length of the contract, and other deliverables. If all seems in place, you can accept the offer and start working!
3. Choose How You'll Get Paid
There are two main ways of getting paid when you become a freelancer on Upwork. The first is the hourly contract model, where you are paid based on the number of hours you put in every week.
Your client may put a cap on the number of hours you can work each week. The second is the fixed-price system where you are paid at agreed-upon milestones during the project. Depending on the project, you and the client can opt for either of these payment options.
If you opt for the hourly contract, you will need to install Upwork's desktop app that tracks your progress at random times during 10-minute intervals. Don't worry, it is not a micromanaging tool.
Upwork's desktop app is there to ensure the clients that the work is being done and proof in case of disputes. You can always delete the snapshots that you don't want to be billed to the client. At the end of the week, the client reviews the log and finalizes the payment.
The other method is the fixed-price contract system. Here, you and the client will create milestones that are pre-funded at an agreed rate. When you hit the milestone, the payment will be released to you.
No matter which option you choose, Upwork guarantees your payment's safety and ensures that you get paid. No more running after the client with endless messages to follow up about your payment.
The best part? Upwork's payment protection is available at all membership levels, including the free plan.
What to consider when you become a freelancer on Upwork
When you become a freelancer on Upwork, there are a few tips and tricks of the trade that will help you navigate the platform. It will help you find the best way to make Upwork work for you.
Here are a few critical things you'll need to be aware of:
Upwork fees. The platform charges a fee in three tiers: 20% for the first $500 you earn, 10% between $500 and $10,000, and 5% for billings that exceed $10,000.
Hourly vs. fixed based pricing. You should decide which of the two options suits you better. It depends on how frequently you want to get paid and how large the project is. While both qualify for protection, hourly payments are subject to the client's approval after the work is submitted, while fixed-based payments are pre-funded.
You'll need to communicate well. Communication is vital on this platform. From making your first proposal to navigating the job, you'll need to talk to your client at every stage. Communication is critical when you negotiate payments and decide on how to break the job into phases.
Refresh your profile and portfolio regularly. As you gain more experience and deliver completed projects, make sure that your profile reflects the same. Add links (with permission from the clients) of successful projects and new skills that you picked up. You can also add testimonials from happy clients.
Upwork has a host of great features such as payment protection and messages that help you navigate relationships with your clients. While many sites promise high payments and plenty of work, Upwork has outpaced the competition with its superior features and has emerged as a legitimate resource for freelancers. The site is trusted by both freelancers and clients.
The platform, the world's largest marketplace for freelancers, enables you to tap into the growing freelancing market. According to a study, about 42% of the workforce in the United States will do some freelancing work by the end of 2021.
Upwork is a great place for freelancers to take on quality projects. In the next section, we will look at some of the platform's pros and cons that you should know before you begin.
Pros and cons of freelancing on Upwork
While Upwork is a great platform, it is not perfect and has some drawbacks. You should consider the pros and cons before making a decision — or even consider some other sites like Upwork. For example, it saves you time from email prospecting for work but also charges a sizable fee.
Weigh the pros and cons to see if the platform can be of help to your career. It would be helpful to look at some of the cons in relation to your approach. For example, if you think you don't want to pay the fee, compare it with the effort you have to put in to secure clients and payments as an individual freelancer.
Let's look at the advantages and disadvantages of Upwork as a platform.
1. Pros
The Upwork platform has more than 5 million businesses that rely on it to find the best freelancers. These clients are spread across 12 categories, offering a wide range of work. It is hard to find such diversity anywhere else.
There are opportunities to find projects with reputable corporations on Upwork. Some of the biggest names like GE, Airbnb, Coty, and GoDaddy work with freelancers who they hire from the platform.
The Upwork verification feature enables you to choose from legitimate businesses that offer good projects and have a proven track record. It also provides skill certifications that help go the extra mile to get the top clients.
Upwork has a unique program where they give badges to top-rated freelancers. These allow you to stand out and even get you access to private jobs that are not open to the public. The more work you do, the more you are rewarded with better clients and exposure.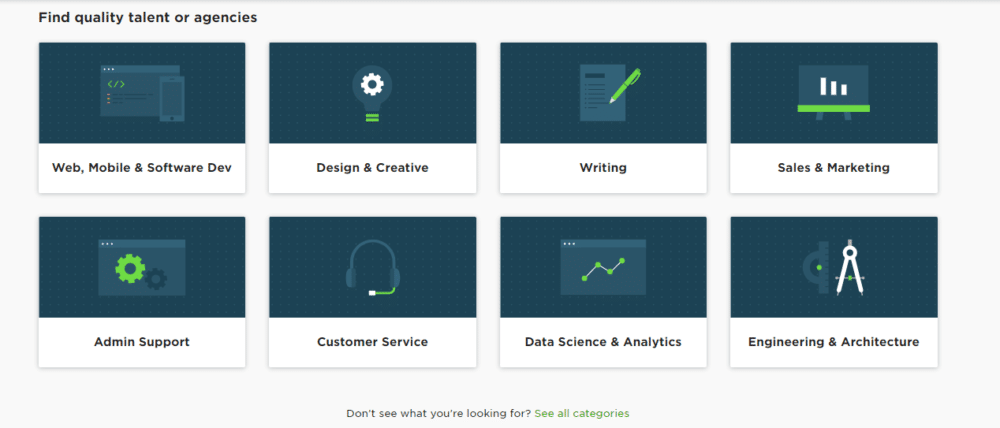 Another benefit is the freedom it gives to freelancers to choose their projects. You can select only those projects that excite you and help you in your professional growth. It is a far cry from scouring through social media channels and undertaking cold outreach to find projects.
Upwork's payment system also means that your money is protected, so the client cannot disappear without paying you. Want your freelance career to be more than your client and the laptop?
Upwork has an excellent forum where you can expand your network and talk to Upwork representatives to give feedback or get answers. The Upwork community forum has more than 7 million members and gives you a place to start and engage in discussions about the platform and your skills.
2. Cons
The service fee that Upwork charges takes away from your take-home pay from projects. The fee may seem steep to many but bear in mind that this powers all the site features.
The platform has freelancers from over 180 countries, so the competition is intense. You are competing with others around the globe for jobs posted daily. Upwork says about 8000 jobs are posted every day, but you will be competing with its vast network of freelancers each time you apply for one of those jobs.
Upwork has a unique system to submit a proposal using "Connects." These are a kind of currency on the platform and can be purchased at $0.15 each.
Depending on the project, you may have to pay anywhere between 1 and 6 Connects to apply. For the paid membership (Freelancer Plus prices at $14.99 per month), you will get 70 connects monthly to submit your proposals. You can also purchase more at the same price of $0.15 for additional Connects.
Conclusion
Upwork is an excellent platform for freelancers and addresses several of the critical hurdles to their professional growth. If you are starting a freelance career or want to expand, this is the site for you. Just create your profile, set your job and payment preferences, apply for jobs, and start working.
Before you join the platform, there are a few things you should consider. Upwork provides an easy way to look for clients and protects your payments. To do this and more, it charges you a fee for each project you bill. You must decide if the saved time and added convenience are worth a slight reduction in take-home pay at the end of the job.
While the platform offers freedom and a wide variety of projects, it also has a few disadvantages, including the fees we've mentioned. You will also face intense competition from its vast community of freelancers for work.
Upwork has become a site trusted by clients and freelancers alike and gives you unparalleled exposure to build your skills. So, what are you waiting for? Your next project awaits!
Psst! If you hate scouring tons of freelance websites looking for your next freelance project, then, we know you'd love Vollna. With Vollna, you don't have to spend hours daily searching for jobs on Upwork, Guru, PeoplePerHour, etc. Vollna crawls these websites 24/7 to get the best job listings and then sends them to your email or mobile phone, irrespective of your location or timezone.
Keep the conversation going...
Over 10,000 of us are having daily conversations over in our free Facebook group and we'd love to see you there. Join us!