Table of Contents
This post may contain affiliate links. See our affiliate disclosure for more.
Staying on top of workflow, deadlines and cash flow is vital to the success of any business. For freelancers, all of these tasks fall onto a single person's shoulders. That's why a quality work management program is so important — enter Asana vs Monday.
Asana and Monday are two very popular project management tools, and both are great options to consider. But with so many different features available, how do you know which one will work for you?
They have similar offerings, but they aren't identical, so we'll break down the Asana vs Monday differences in detail to see which is better suited for your individual business.
Here we go.
Asana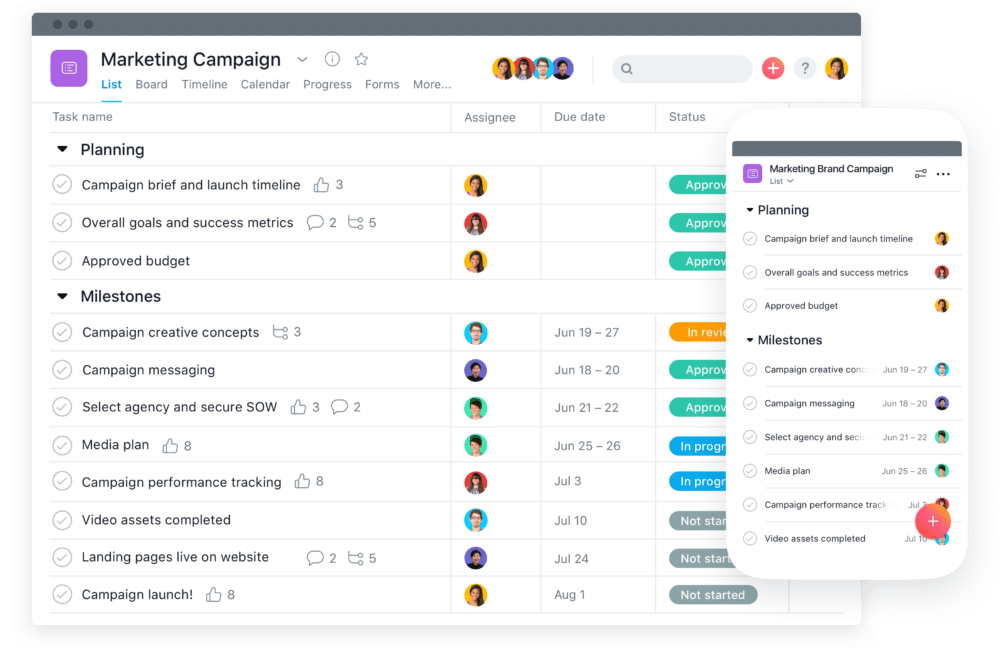 Asana is on a mission to help businesses organize their work in a single place, instead of having tasks tracked individually. One of the company's values is, "Do great things, fast," something that small business owners and freelancers can definitely relate to. Originally founded by two former Facebook engineers, Asana is growing quickly and constantly adding new features.
Features
Speaking of features, we can't compare Asana vs Monday without discussing what each has to offer. Asana has a long list of tools that make a huge difference in the daily organization of a business. Here are some of the highlights:
Scheduling
Asana offers a variety of options when it comes to the timing of your workflow.
First up is the intricate Workflow Builder, a new feature that aims to bring tasks from different people, teams or departments all into one place. Probably the most useful part of this tool is the ability to set up automated processes, so as soon as a task moves from one place to another the right people are notified and protocols are triggered.
Second under scheduling is the useful Timeline tool. You input the action items that need to be completed for a given project, time estimates and final deadlines, and Asana spits out a visual Gantt chart that can be shared with everyone.
Finally, there is a simple Calendar option within Asana. This works similar to many other calendars available––you can input appointments and share it with your team.
Tasks
Organization is so important, whether you are a freelancer or a larger business owner. In the Asana vs Monday comparison, understanding how task management stacks up is important.
Asana addresses tasks in four ways:
Asana Boards use the Kanban method––organizing things by "do, doing and done." This helps everyone visualize what work still needs to happen and what is already in progress.
Forms is a simple way for team members or clients to submit work requests. You can embed the form right on your website, and the request automatically goes into your Asana workflow.
The Workload function is useful for managers with several employees, or a group of contractors sharing work. At a glance, you can see how much each team member has on their plate, so no one gets overwhelmed.
Finally, the Reporting feature uses data from within the workflow to show where everything is at and identify pain points.
Strategy
Asana also has an eye toward the long term, with several tools that help you address strategy and planning.
Within Asana, you can not only set Goals, but track progress and share milestones with collaborators. If you are working with a team, everyone can see which goals are in jeopardy and jump in as needed.
Asana also has a convenient mobile app, so there are no excuses for not keeping up with project management. And Asana can integrate with other apps, as well, such as Teams, Creative Cloud, Slack, Salesforce and more, so you have everything you need to get work done.
Lastly, Asana has great automation options. It takes time to set up processes, but there is a range of templates you can start with, so you can save time or make the automated rules as customized as you need them to me.
Pricing
You can't make a decision on Asana vs Monday without knowing how they stack up on price, so here's a handy guide:
Free 30 day trial
Basic: free forever, but with limited features
Premium: $10.99 USD / seat / month when billed annually
Business: $24.99 USD / seat / month when billed annually
Enterprise: Custom pricing
Pros
Asana has a lot of great collaboration tools. Teams can check in on each other and be ready for anything.
Easy to use once you are familiar with it.
The various software integrations mean that your team doesn't have to learn something completely new, you can just streamline all of your tools in a single place.
Cons
The most useful features are behind the paywall, so for solopreneurs or very small businesses, it might not be the right fit.
The higher end plans also have more storage, so depending on the amount of projects you have going, you may need to upgrade.
So many features mean that new users might be overwhelmed and struggle to get started.
Monday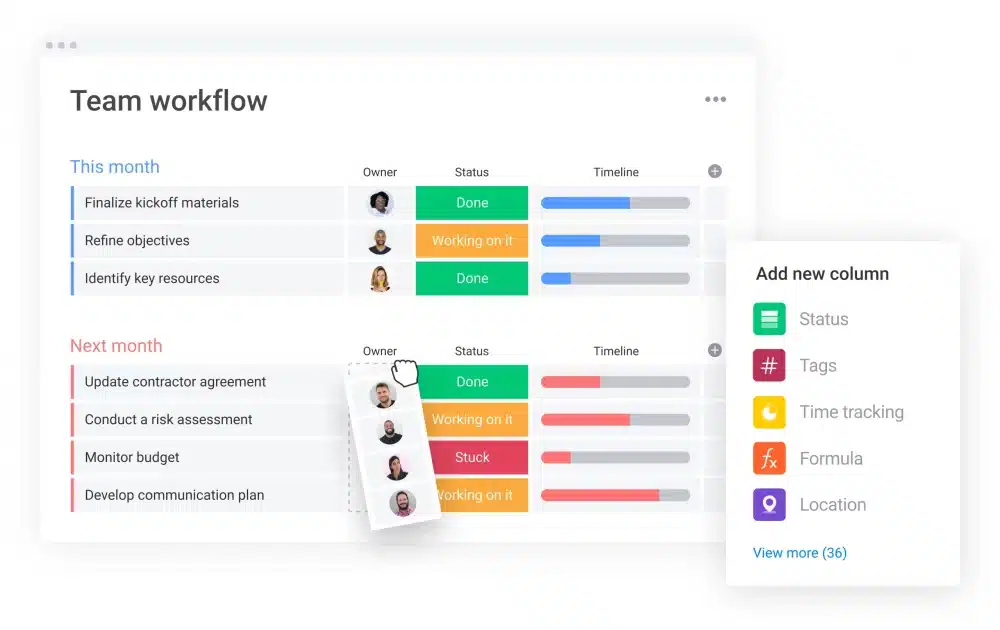 Monday has positioned itself as the #1 alternative to Asana. Monday stands out with multiple offerings based on industry, so you get tools very tailored to your needs. With a few different features and a different pricing structure, it is definitely worth looking at Monday vs. Asana when you are choosing your project management software.
Features
Let's start with the different features in the Asana vs Monday matchup. Like Asana, Monday has a variety of tools that help organize, plan and track your work. Here is how the features stack up:
Scheduling
Similar to Asana, Monday offers a Calendar Widget with a variety of filters that help you organize and understand your task schedule. Additionally, Monday can integrate with Google calendar, if your team prefers.
Monday also has customizable scheduling Templates, and a variety of Workflow Views using lists, Gannt charts, a Kanban board and more.
Tasks
For task management, Monday has so many features that help keep everyone on track. From simple Task Tracking to Task Dependencies that help move projects from one place to the next, Monday has a full range of options.
Additionally, Monday can integrate with more than 50 different software options, so whatever makes the most sense for your business, you can find an option to pair with Monday.
One of the coolest features within Monday is Docs, which automatically turns your team chats into action items or goals. Use tags to assign tasks and embed boards right into the conversation so everyone can see what is going on.
If that weren't enough, Monday also has the ability to attach files to any task so nothing falls through the cracks.
Strategy
Where Asana has Reporting, Monday has Dashboards. The Dashboards feature gives valuable insights into projects, timelines, goals, payments, progress and more. Whatever data is available, you will find it in the visual Dashboard.
Not only does the Dashboard data help you make smarter decisions, Monday's hundreds of templates include business plans, go-to-market plans, content strategy, marketing strategy, B2B strategy and countless others.
Monday also offers a mobile App, so workers can get information in whatever way works for them. The tool will last long into the future as it caters to multiple generations.
Pricing
In the Asana vs Monday debate, pricing is an important information point. Here's how Monday breaks it down:
Individual: Free Forever / Up to 2 seats
Basic: $8 per seat
Standard: $10 per seat
Pro: $16 per seat
Enterprise: Custom pricing
Pros
Most users reported great customer support
File housing tied to tasks is convenient and keeps things organized
Great visualization of data and projects
Cons
Not all features are available on the mobile app
Some of the automated features are only available with upgraded plans
Some users complained about too many unwanted emails
Asana vs Monday: What's the best choice for you?
So, who wins the Asana vs Monday battle?
Both Asana and Monday can be used effectively to track projects, break things down into tasks, and set goals for the future. So the question is, which is better for your goals?
Asana offers a robust features base that works very well for large teams and collaborations. They also have the forms function, which means your clients can come to you with tasks at any time, and nothing gets lost.
Monday's powerful docs feature is great for remote teams who need to channel digital conversations into actual work. Additionally, the vast variety of templates they offer for all types of strategies and tasks helps make everyone's job easier.
If you're on a tight budget with many team members, Asana offers a less expensive, flat rate model that is ready to scale. However, if your business is just you, or a group of 2-3 people, Monday's per seat pricing may be cheaper overall.
Which program you choose depends on your long-term needs and your personal preference for the visual tools. Keep in mind, both offer a free basic version, so it's worth trying both for yourself to at least poke around the software and see which you prefer.
Don't get too hung up on exactly which one is better, and more so what has the basic features you need to manage your workflow and processes.
Get organized
In this day and age, project management is not optional. Clients want work done quickly, efficiently, and within the agreed upon budget.
Choosing Asana vs Monday is ultimately an issue of fit and preference. Whether you choose Asana, Monday, or another alternative altogether, the important thing is that you get started now, get your team's buy-in, and follow through with your project management goals.
Keep the conversation going...
Over 10,000 of us are having daily conversations over in our free Facebook group and we'd love to see you there. Join us!