This post may contain affiliate links. See our affiliate disclosure for more.
What a paintbrush is to DaVinci, Keynote is to Steve Jobs and a basketball is to Michael Jordan—a computer is to most freelancers. Of course, you are one of the best freelancers so you most definitely need the best laptop for freelancers am I right?
Even if your speciality is not in digital services, computers are one of the most vital tools for communication, marketing, sales, and a myriad of other tasks. And in order to work remotely, span time zones and serve clients from multiple organizations, a good freelancer needs a good laptop.
But what is the best laptop for freelancers? When you're spending your hard-earned money on what can be a sizable investment, you want to know you are getting the right tool for the job.
Searching online for a laptop or even walking into a store presents you with hundreds, if not thousands, of options. It is nearly impossible to narrow down the choices to find the best laptop for freelancers.
Luckily for you, we've scoured the internet and put our heads together to come up with a shortened list of just six of the best laptops for freelancers for your consideration — ranging in price, features and capabilities.
Of course, picking out the best laptop for you depends on a whole host of factors, including your budget, your skillset, your lifestyle and the general features you need.
It's important to evaluate this list through the lens of what you do in a typical day to ensure you wind up with the kind of laptop that will help you do your best work.
With that in mind, here's our list.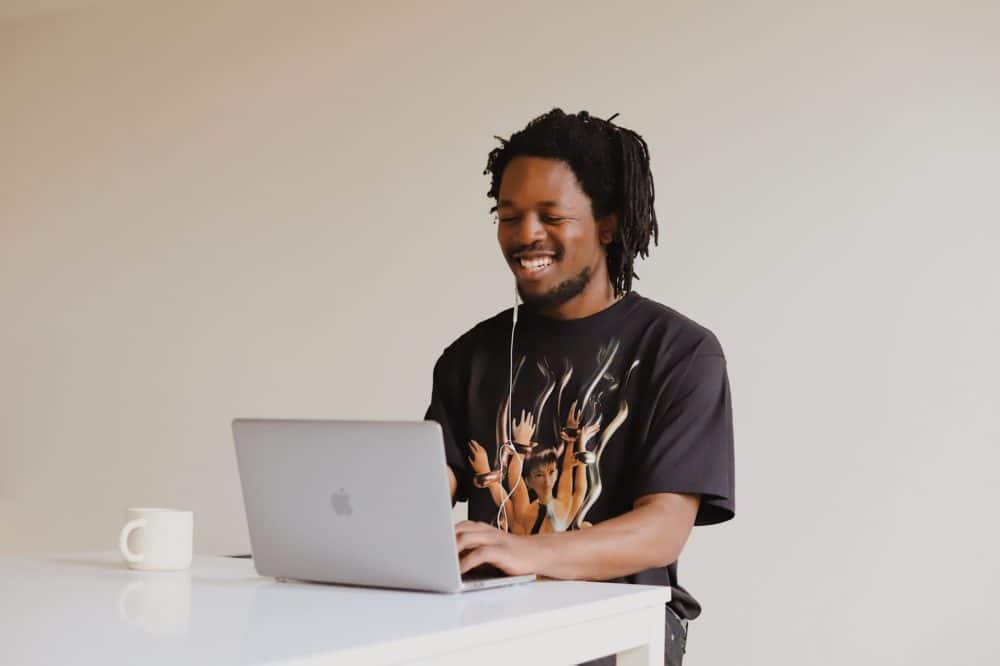 Best laptop for freelancers (in no particular order)
For freelancers who do heavy photo or video editing, the all-new MacBook Pro might fit the bill. With an extremely fast graphics processor and even longer battery life than the MacBook Air, this is definitely one of the best laptops for freelancers who are designers, photographers, digital artists, videographers, video editors, visual arts specialists, or involved in other intense graphic work.
For the PC fans out there, the Dell XPS 13 has a lot to offer. Still lightweight, this laptop for freelancers has a high-resolution display that users rave about.
As a bonus, it is a built-in touch screen, so if you prefer to use a stylus or other touch aspects you can do that without an add-on accessory. The XPS also has a small footprint, so this machine might be the best laptop for freelancers worried about space on a home office desk or other small areas.
If you are a Mac user who needs basic programs like Chrome, Microsoft Office, Adobe, and the like, it's hard to go wrong with the MacBook Air. (Full disclosure—this is the laptop I use). Weighing less than three pounds, it is incredibly easy to transport — making it ideal for freelance nomads as well.
The MacBook Air has up to 512 gigs of hard drive space and the new Apple M1 chip, so it's fast. Add to that an incredibly long battery life, and you've got one of the best laptops for freelancers who don't need heavy graphics use.
The Surface has come a long way since it first debuted in 2013. The newer iterations are lighter, have longer battery life and have better screen resolution than ever.
This particular model is more budget-friendly but does not include a touch screen. That said, this is in the running for the best laptop for freelancers at a middle price point with a good blend of portability and full-service capabilities for Windows users.
For freelancers who only need basic functions like a word processor, spreadsheet capabilities, email and web browsing, it really is hard to beat out the Chromebook. (We're looking at you, freelance writers!)
One of the least expensive laptops available, Chromebooks integrate with your Google account to allow full access to G-Suite. As a bonus, the Chromebook offers two USB-C ports and a USB-A port, so you can use all of your devices seamlessly with the latest in technology.
Acer sometimes gets a bad rap, but let me tell you why the Aspire 5 made our best laptop for freelancers list. This lightweight machine has a decent processor, good battery life and a good display, and all for under $400. Visual artists won't find this to be a good fit, but for other types of work, this machine gets the job done.
What to consider when choosing the best laptop for freelancers
Choosing a laptop isn't like choosing an office chair. You need the right machine, or your freelancer business will come to a standstill pretty fast.
As you can see from our list above, the answer to the question, "what is the best laptop for freelancers?" is different for everyone. Let's walk through some considerations that will help you make the best decision.
What is your speciality?
Every type of freelancer needs a laptop with different strengths.
Writers need quick internet speeds for research, access to Google docs or Microsoft Word, and portability so they can meet tight deadlines from anywhere.
Freelancers who work with video software need a crazy good processor and a huge hard drive, along with the ability to run Premiere, Final Cut Pro, or their software of choice.
Designers will care about the monitor quality, a processor that can handle Adobe programs and again, lots of memory to store large files.
Developers need at least 8G of RAM, a high-quality graphics card and a large monitor to see detail.
The best way to determine the specific specs you need is to work backwards. What does a typical day look like for you? What programs do you need to run? Where do you plan to work most often?
Write down everything you can think of, then narrow the list down to what you absolutely need your computer to do. This should help you determine which best laptop for freelancers fits your unique needs.
Mac or PC?
There are some cliches in the business world surrounding Apple Products vs. Microsoft products. Artists love Mac, gamers love PCs—that sort of thing. Some of these biases exist for a reason.
For example, Microsoft machines tend to offer higher processing speeds at a lower price point, so playing graphics-heavy, complex games may be a better experience on a comparable Microsoft laptop.
Some of the Mac vs PC debate is a self-fulfilling prophecy. To stick with our gaming example, since more gamers started buying Microsoft machines to handle their games, game companies stopped producing certain games for a Mac at all. This lead to more gamers buying PCs.
Either type of computer has contenders for the best laptop for freelancers. In the end, choosing a Mac or Windows-based machine depends mostly on personal preference.
The basic difference is the user interface, so if you are used to one over the other and aren't motivated to learn something new, stick with what you know. If you're looking to cross over for specific programs or just a new experience, talk to current users to troubleshoot any issues that might come up.
What is your budget?
When you're looking for the best laptop for freelancers, it's time to be brutally honest with yourself. What can you really afford?
Sure, it would be nice to have every feature under the sun, the longest battery life, and the best display. The reality is, most of us can't drop thousands of dollars on the nicest possible laptop.
Think about how much you're likely to earn in your freelance business. Factor in your current job, if you have one, and decide how much you can really spend.
If you're just starting out, a good-enough machine will do just fine. If you're already pretty far down the freelancing path and starting to make serious money, go ahead and reward yourself with a fancy upgrade! More than likely, you'll be able to get your return on investment in a short amount of time.
Conclusion
The best laptop for freelancers is the one that allows you to do your job well. Hard stop. Your computer doesn't have to be a status symbol, but it shouldn't be something you overly compromise on, either. For most freelancers, a computer is an integral part of the business.
Once you've determined exactly what features you need, programs you have to run, and lifestyle you need to fit your work into, go ahead and include a wish list on the side. Some of those nice-to-have add ons really will make a difference in how you think about your job.
If a feature is going to help you be more productive, or put a smile on your face when you sit down to work every day, it's worth it.
Whether you choose a PC or Windows machine, spend a few hundred dollars or a few thousand, go for the best graphics card on the market or the most memory, your laptop should really reflect your wants and needs. Once you figure that out, you'll have no trouble finding the best laptop for freelancers.
Keep the conversation going...
Over 10,000 of us are having daily conversations over in our free Facebook group and we'd love to see you there. Join us!