Table of Contents
This post may contain affiliate links. See our affiliate disclosure for more.
Before starting my career as a full-time freelance blogger, I used to sell landing page designing gigs on Fiverr part-time. Back then, I used to make $2,000+ each month with little effort on my end, and so far I've made $33,640 from Fiverr.
In case you've been living under a rock, let me explain what Fiverr is. It is the largest marketplace for selling small services starting at $5. As there are many different categories on the site, you can sell any service in which you're really good at.
With that said, Fiverr is no longer just a platform for selling gigs for pennies. Around the globe, many sellers are making a full-time income by offering their expertise on Fiverr, as well as many other Fiverr alternatives.
Though I am no longer selling on Fiverr, it was a great learning experience for myself as a freelancer.
What I learned by selling on Fiverr
When I was successfully offering small services on Fiverr, I got asked the same question often, "Why did you choose Fiverr to sell your services when there are lots of other freelancing platforms that don't limit the price you set?"
A great question indeed!
One of the things I hate about being a freelancer is that if you're just getting started, most likely you'll need to spend a significant amount of time searching for clients. With Fiverr, finding a client isn't a hassle. All you need to do is simply create a gig and wait for orders to begin rolling in. It's that easy!
Obviously, like any other marketplaces, before creating a gig on Fiverr you'll need to look at the competition in the category and make yours distinct from the rest.
Compared to searching for clients on other freelancing/bidding sites, you'll only need minimal effort.
In fact, Fiverr is one of the easiest ways to get started with a freelancing business.
In this post, I'll explain a few business lessons I learned as a Fiverr seller and how I used it for growing my freelance business independent of Fiverr.
1. Repurposing is the easiest way to create a product
As I said above, back when I was a Fiverr seller I used to help my clients grow their email list by creating high conversion landing pages. Aside from creating HTML landing page designs, I also offered a WordPress landing page design service using various WordPress landing page plugins.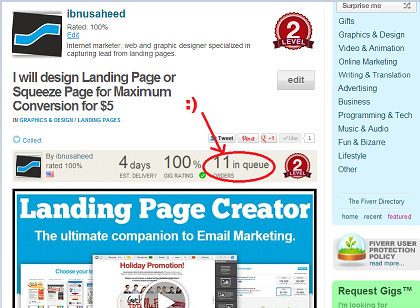 If you look at the above screenshot, you will notice that my gig was one of the most popular and I used to have several  orders in the queue. Are you wondering how I was able to deliver that many orders in such a short deadline, despite being a part-time Fiverr seller?
The secret is that I don't create and sell brand new designs to each client. Rather, I repurpose existing designs and make simple changes to meet the design brief of each individual client. It's that simple!
Also note that almost 95% of my gig buyers order my service to create basic landing page designs, so for me repurposing works fine and customers remained happy. (See the feedback I received for my gigs in the above screenshot. 100% gig rating!)
Lesson learned: If you're creating a product, you shouldn't necessarily build it from the ground up. You can simply repurpose an existing product and turn it into a brand new product.
For example, Darren Rowse from Problogger creates ebooks by repurposing his published blog posts and turns them to premium ebooks. Needless to say, repurposing your existing product is the fastest way to create a so-called 'brand new' product.
2. Upselling is more profitable
When it comes to making more money from Fiverr, upselling is the secret marketing weapon.
If you're a level 1, level 2, or a super seller, Fiverr allows you to upsell your services as 'gig extras'.
In addition to the gig extra, Fiverr recently allowed sellers to offer their service as a package. This allows sellers to bundle their basic gigs with built-in revisions and extras so they can make more money.
For example, if you provide artistic services, offer the option for your customers to purchase editable copies of your work as a 'gig extra'. This feature allows sellers to sell their services exactly how they want to, at a price they choose.
At the end of the month, if you look at the revenue you generated, you'll notice that you made more money out of selling gig extras (upselling) than selling your primary gigs.
Lesson learned: The reason why the upselling principle works is because it increases the perceived value to your clients. For your freelancing business, instead of charging a flat fee for your services, split your services into different add-ons and persuade your clients to buy them all for a higher price.
If done correctly, you can make more profit by this approach rather than offering a flat fee for your service.
3. Always build a platform-independent business
Since Fiverr is a closed platform, it restricts its sellers to sell their services only within their platform.
Unlike other service marketplaces, like Envato Studio, popular freelancing sites like Upwork and Fiverr don't allow users to promote their website or LinkedIn profile. As a seller, you can't share your email address or Skype ID with the gig buyers unless it is necessary for your service, and if you do so, your account will be restricted.
In the case that your account gets restricted, your money flow will come to a stop. Additionally, when Fiverr updates their marketplace algorithms, chances are it will affect the visibility of your gig, resulting in a reduction of orders.
If your long term plan is to grow an independent freelancing business, Fiverr might not be the right choice for you.
Lesson learned: Undoubtedly, Fiverr helps you to kick start your freelancing career with ease. However, if you're looking to build an independent freelance business, consider looking at other marketplaces like Envato Studio.
Should you offer services on Fiverr?
Many people used to sell gigs on Fiverr just for fun and to make some extra money in their spare time. You'll also find that some people are making a full-time income from Fiverr.
In my opinion, Fiverr is a great place to make some extra income. In fact, you don't necessarily need to spend a lot of time on Fiverr to earn money.
On the contrary, making a full-time income from Fiverr can be disastrous. Because you have no control over the Fiverr website, if they reduce the visibility of your gig, you'll be forced to quit selling on the site.
Like everything else, Fiverr has many pros and cons, but ultimately you'll decide if it can be a benefit to you and your business.
Keep the conversation going...
Over 10,000 of us are having daily conversations over in our free Facebook group and we'd love to see you there. Join us!