Table of Contents
This post may contain affiliate links. See our affiliate disclosure for more.
Freelancing is a great way to make money working for companies of your choice at your own pre-set times. The downside of freelancing, however, is that work is almost never constant. Freelancers are always on the lookout for new work opportunities so that they don't get caught in that feast/famine cycle we all know too well.
Freelance graphic designers are not exempt from this. The good news is that it's pretty easy to find design jobs online. The bad news, though, is that there are tons of freelance graphic designer websites, and not all of them have great reputations.
That's why we've scoured the internet and rounded up 12 of the best freelance graphic designer websites to find well-paying gigs.
12 freelance websites to find graphic design jobs
If you're a freelance graphic designer looking for jobs, here are 12 of the best freelance websites to find graphic design gigs.
1. Dribbble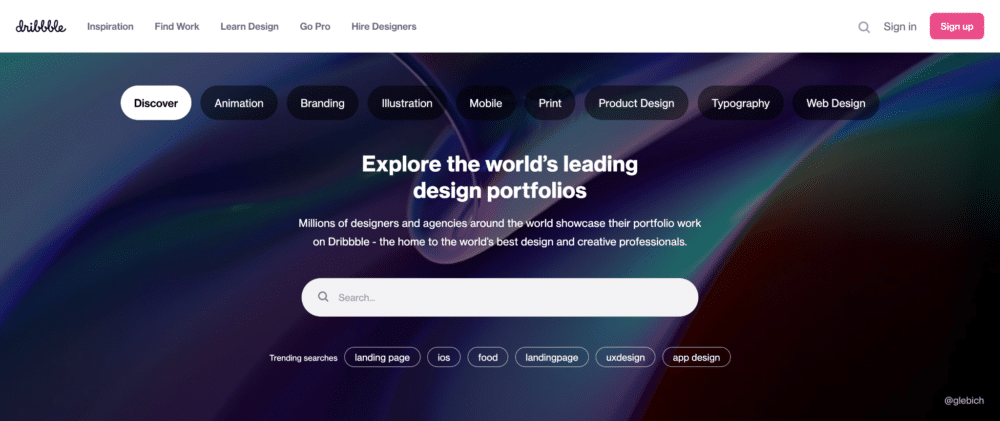 Dribbble is one of the best freelance graphic designer websites that houses the portfolios of millions of top designers, agencies, and creative professionals. In fact, 70,000+ companies hire graphic and web designers straight from Dribbble.
Although this platform mainly functions as a kind of design community, it does have a job board where companies list high-quality freelance graphic design jobs every day. The projects range from graphic design and logo design to product design and web design. To find the perfect job opportunity on Dribbble, you can filter through the design briefs using keywords, skillsets, and even budgets.
If you become a Dribbble member, you'll get their freelance design jobs newsletter delivered to your inbox every day. As you spend time on the platform, your profile will catch the eye of great clients and, with time, you'll be able to build a consistent client base.
Unique features
Social media features
Designers can sell their goods
Daily freelance jobs newsletter
Exclusive access to the freelance job board
How to apply
To get on Dribbble, sign up for the platform, upload a profile photo, and specify that you're a designer looking for work. Once you do that, you'll be able to upload your portfolio to your profile and start looking for clients.
Pricing
Dribbble offers a free, but limited, plan. The paid plans range from $5 (Pro) to $15 (Pro Business).
2. Toptal

Toptal is an exclusive job-matching service that connects experienced freelancers with some of the world's best companies. In fact, Toptal's website claims that the company accepts only the "top 3% of freelance talent." So even though thousands of people apply every month, only a few get accepted.
Because they want to get the cream of the crop, Toptal uses a rigorous screening process to vet all freelancers who apply. This screening process includes multiple rounds of interviews, a demonstration of skill through your portfolio and/or an online test, and a live problem-solving session. This makes it hard for new freelance graphic designers to get accepted.
Toptal also vets clients to ensure that they have a sizeable budget and the right intent.
Getting into Toptal is difficult, but once you do, you'll get access to graphic design opportunities with companies like Shopify, AirBnB, and Duolingo that use this platform to search for designers.
Unique features
Toptal caters to freelancers with diverse skill sets, including different kinds of developers, designers, finance experts, project managers, and product managers
Intensive screening process
Full talent integration
Flexible invoicing
How to apply
On Toptal's homepage, you'll find "Apply to be a freelancer" on the navigation bar.
Once you click on it, you'll be led to a form you have to fill out to apply.
If Toptal accepts your application, you'll move on to the screening process. Toptal will assign you a point of contact who will answer your questions and keep you updated as you progress.
Pricing
Toptal is free for approved and vetted freelance graphic designers.
3. Working Not Working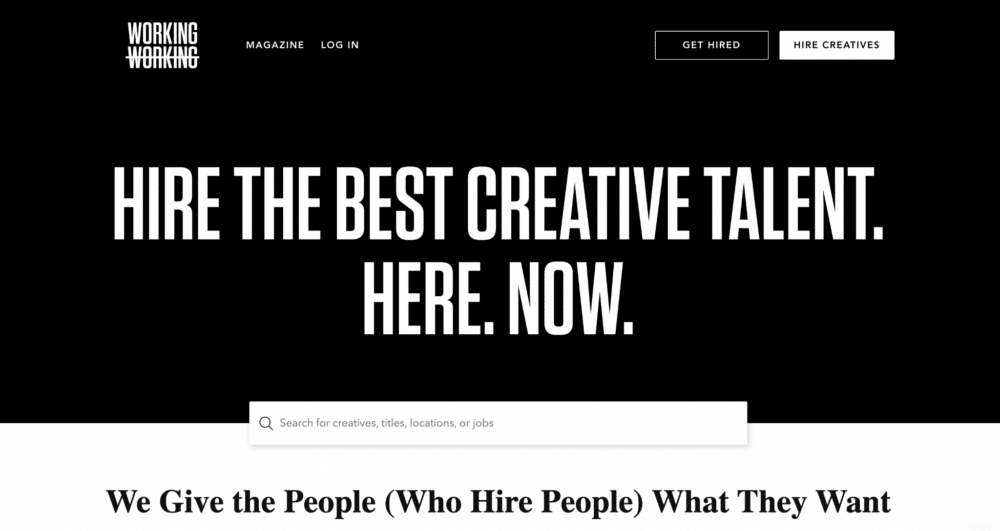 Working Not Working is one of the top freelance graphic designer websites that connects freelancers in the entertainment, marketing, media, consumer services, design, and other industries directly with companies that are looking to hire them.
Experienced graphic designers who pass this site's vetting process get access to high-paying jobs from top companies like Google, Apple, Meta, and Nike. Once you get in, you can find jobs by searching for keywords and narrowing them down with filters. You can even search for open roles at specific companies, so you can land your dream client.
Unique features
Access to some of the world's top companies
Access to freelance, part-time, full-time, and remote job postings
No charge for freelancers when companies hire them. Working Not Working only charges clients who hire from their pool of freelancers.
How to apply
To get on Working Not Working, click "Get Hired" on the navigation bar. You'll be led to a multi-page form where you'll enter your name and password.
Then, you'll upload a profile photo, a bio, your portfolio link, your job title, and rates. You also have the option to select companies you'd love to work with and add your social media profiles.
Next, you'll input your resume which will include your previous work experience, skills, and other details about yourself. Submit your profile for vetting. The vetting process usually takes between 2 and 5 weeks.
Pricing
Working Not Working is completely free for creators.
4. 99 designs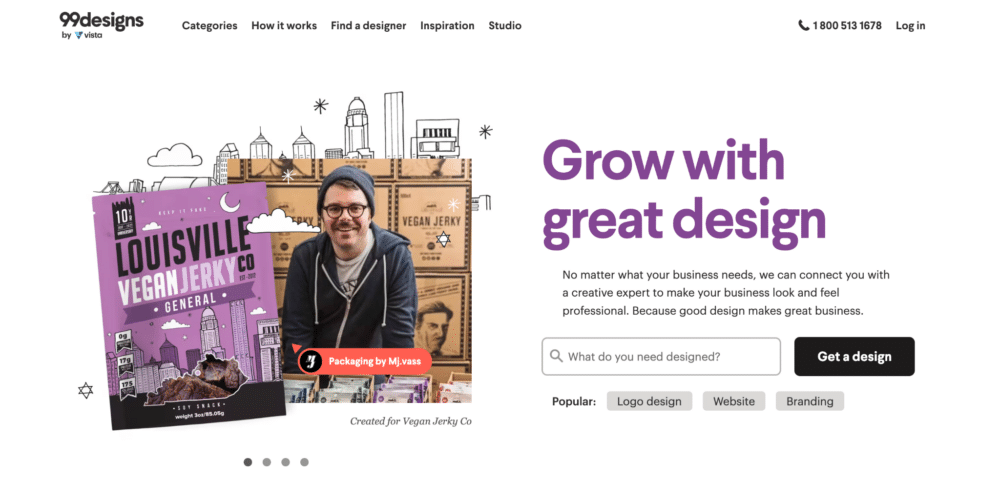 99designs is a design-focused freelance website that connects designers with clients who need their services. This website offers over 90 design services—hence the name—from simple image edits and webpage graphics to logo designs and mobile app designs.
The website offers two options: you can either work directly with a client or you can compete in design contests to nab new clients.
Working one-on-one with a client is as straightforward as looking through their project brief and sending them a pitch. If you're going the design contest route, you'll compete with other freelance graphic designers by sending detailed proposals to potential clients. The clients will choose the freelancer whose proposal they like best.
As a freelance graphic designer on 99designs, you will be placed in one of the site's Entry, Mid, or Top levels, based on your skill level. But you can apply to be promoted to the next level every six months.
Unique features
Design contests
Design expert consultation
Existing client migration
Full final design copyright ownership
How to apply
First, you need to sign up for 99designs with your first name, last name, email address, and password. You can also use Google, Apple, or Facebook to sign up. Once you do that, you'll go through 99 designs's vetting process. Here, you'll provide information such as your name, profile photo, timezone, and languages you speak. You'll also provide information on your professional background and area of expertise. Finally, you'll share 6-12 samples of your best work.
Pricing
99designs charges a $100 introduction fee when a freelancer starts with a new client. This fee is spread out over the first $500 bill. 99designs also charges platform fees that range from 5% – 15% for each project.
5. Behance

Behance functions as a freelance job website, portfolio-building website, and social media network for creative freelance designers. Clients post job opportunities ranging from web design, graphic design, app development, illustrations, and more on the platform.
Freelance designers who are looking for clients can find the right job opportunities by searching the job board by keyword and using filters to narrow down the search. They can also share their best work and personalize their content, which makes it easier to get noticed by potential clients.
Because Behance is a part of the Adobe tools ecosystem, it's easy for you to upload the designs you make with any other Adobe product, including Adobe Photoshop Express. You can also use Behance to connect with other brilliant graphic designers and freelance graphic designer websites to form a strong network.
Unique features
Freelance job board
Pre-made portfolio templates
Group management
Adobe integration
How to apply
All you need to do to get on Behance is to sign up for the platform, upload your personal information and profile photo, and set up your portfolio. Once that's done, you'll have access to the job board where you can find fitting clients and send them a cover letter and your portfolio for consideration.
Pricing
Behance is completely free for freelancers.
6. DesignHill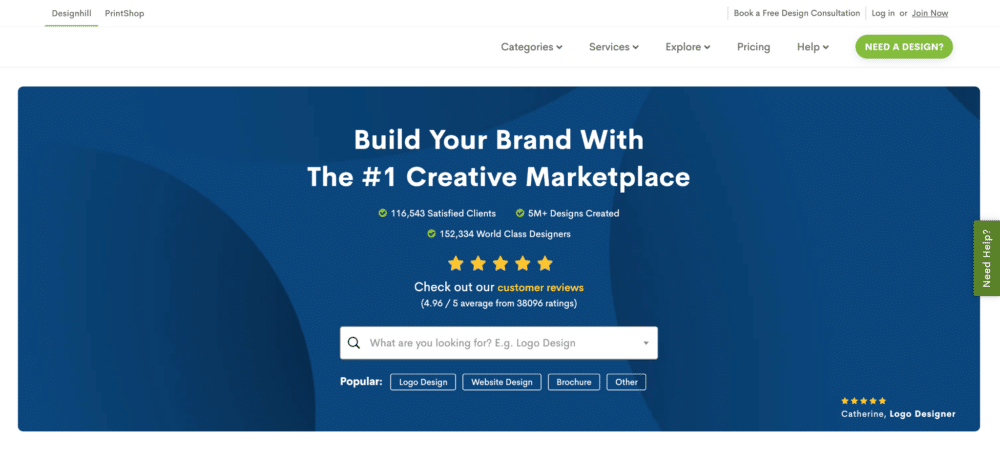 Just like 99designs, DesignHill is a freelance marketplace built for designers with a strong focus on design contests. During these contests, freelancers can submit their work based on the instructions stipulated by the hiring company. The company will choose the best design and pay the creator.
In addition to contests, freelance designers can also productize their services. DesignHill has a smooth process for gathering all the necessary information a designer needs from a client before starting the work. The designers will develop their own profiles and submit their portfolios. DesignHill has in-house consultants who'll review and approve this information before accepting a designer onto their freelancing team.
The star feature of DesignHill, though, is its printshop which gives designers a chance to show off their expertise and earn passive income by designing, printing, and selling merchandise on their online store.
Unique features
Design contests
Freelance job board
A.I. logo maker
Brand kit
Printshop
How to apply
To get on DesignHill, click Join Now in the upper right corner of the homepage. This will lead you to a signup form where you'll fill in your email and password, and specify if you're a client or a designer. You can also use Facebook, Twitter, or Google to sign up.
Next, you'll create your profile by adding personal information like your name, avatar, date of birth, home address, bio, and languages. Next, you'll upload your best designs, and complete your sign-up. Once you're in, you can start participating in contests and getting clients.
After working for a while on DesignHill, you can get PRO designer status and a PRO badge next to your name.
Pricing
DesignHill is free for freelancers. The company makes money by charging companies a fixed 5% commission.
7. DesignCrowd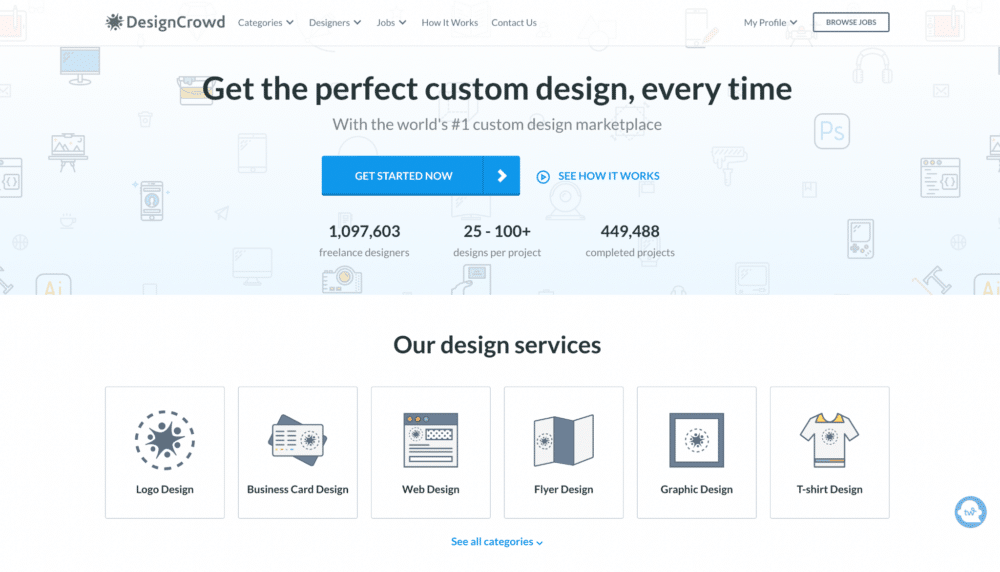 DesignCrowd is a freelance marketplace for newbie designers who want to build out their portfolios. This platform allows clients who are hiring designers to post jobs across several design categories, including logo design, graphic design, web and app design, illustrations, product and merchandise designs, and everything in between.
DesignCrowd boasts over 1,000,000 designers and clients like Microsoft, UNICEF, Spotify, and Amnesty International. When these companies post design projects, all you have to do is make a design and enter it into the design contest. If the client loves your work, they'll hire you and pay you for the piece you made.
Unique features
Wide range of design categories
Large community of designers
Design contests
Flexible package options for clients
Project privacy for clients
How to apply
To get into DesignCrowd, you'll need to sign up for the platform with your email address and password. Once you're in, you'll add your name, location, payment email, and portfolio. After that, you'll be able to apply for jobs and reach out to clients on the job board.
Pricing
Registering a designer account on DesignCrowd is free, but the platform charges a 15% commission on design fees.
8. Upwork
Upwork is one of the largest websites for finding freelance jobs. This platform caters to freelancers from different industries, including graphic design, content marketing, and even virtual assistants to help with work meetings and admin work.
Once you apply and get in, you can choose from a vast collection of job postings that appear on your feed. To get a job opportunity that matches your skillset perfectly, you can filter through the job board by categories, experience level, job type, number of proposals, client history, client location, and more.
The downside of Upwork is that it has thousands of freelancers who are looking for the same types of jobs. So if you want to get a client, you'll have to craft and send a proposal that shows your skills. You'll also have to bid on the project according to your pay rate. If the client likes your proposal, they'll get in touch with you.
Because clients on Upwork rely on reviews and prices to make a decision, you'll have to climb the ranks to become a top-rated freelancer. To get to this level, ask your existing and past clients to rate you on the platform.
If you get enough positive client reviews, you might earn some badges. You can also complete Upwork's skill certifications and apply to be an expert-vetted talent to boost your credibility.
Unique features
Freelance screening
Large database of job opportunities
Project bidding
Invoicing and reporting
Global payments
Mobile app
How to apply
To get into Upwork:
Sign up for the platform with your email, Apple, or Google account
Add your personal information and specify whether you're a freelancer or a company looking to hire
Create your Upwork profile by adding a photo of yourself, your job title, work history, and skill tags
Next, highlight your educational background and past work experience
Set your hourly rate
Indicate your job title and an overview of what you do
Add a profile and contact details
Submit your profile
Pricing
Getting on Upwork is free. However, Upwork charges freelancers based on their total billings, a total of 10%.
9. Freelancer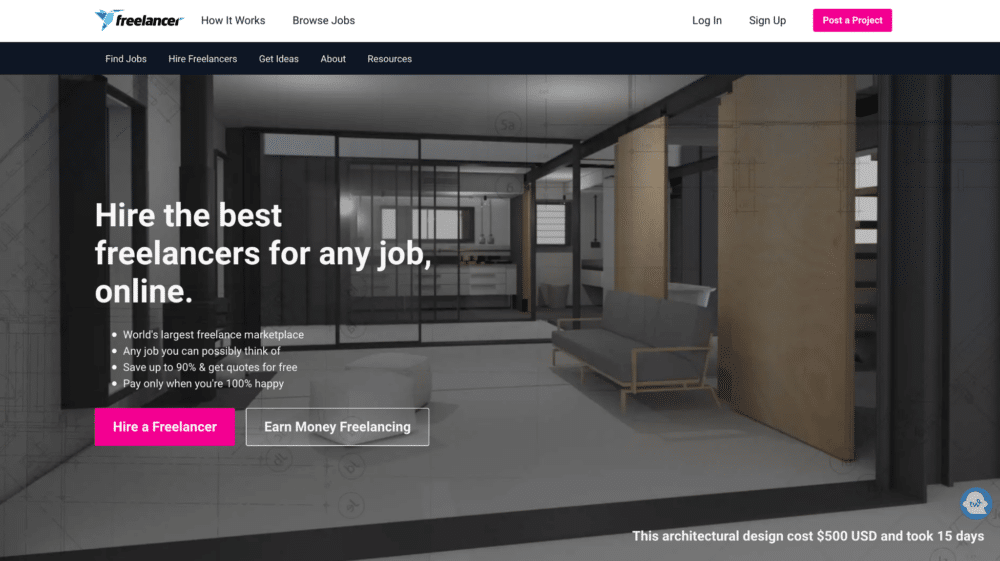 Freelancer operates similarly to Upwork. But because it is less popular than Upwork, freelance graphic designers with limited work experience will likely find it easier to snag jobs on Freelancer.
Like Upwork, you can search for design jobs by keywords and narrow it down with filters. Once you find a job that fits your skillset, bid on it and send a proposal detailing your skills and experience, and why you're the best person for that project. You can also set up notifications for new projects that meet your criteria.
As you build experience on Freelancer, you can apply to be a Preferred Freelancer—which helps you gain more credibility with clients. You can also apply to be a Service Provider so you can offer productized graphic design services.
Unique features
Free job posting
Custom offers
Time tracker
Milestone payments
Mobile app
How to apply
To get on Freelancer, sign up and build your profile. Add your profile photo, specify your design skills and expertise, and complete the Verification Center checklist to verify your account.
Pricing
Freelancer's free plan includes up to 15 bids per month. The paid plans range from $5 – $70 per month, including additional monthly bid allowances and eligibility to become a Preferred Freelancer. If you're a service provider, Freelancer will charge you a 20% fee on each job.
10. Fiverr
Just like Upwork and Freelancer, Fiverr is a general freelance website that newbie freelancers often use to kickstart their careers. Although you can find all kinds of services on Fiverr, graphic design services are one of the most popular niches on the platform.
Fiverr started as a freelance marketplace where companies can find service providers who charge as low as $5 for their work. But with time, Fiverr grew into a website that allows freelancers to offer a wide scale of services for as much as $10,000.
As a graphic designer on Fiverr, you can offer different design services and packages at price points set by you. However, if you want to stand out from the crowd and get clients, you'll need to put extra effort into your bio and portfolio—especially if you're new on the site.
Unique features
Multi-category jobs
Custom offers
Project-based pricing
Seller ratings and feedback
Secure payments
How to apply
To get on Fiverr, you need to sign up for the platform. Then add your personal information, profile photo, and bio. Finally, specify the service(s) you're offering and the rates you're charging for your work.
Pricing
Fiverr charges a flat 20% fee for every payment you receive from clients.
11. Guru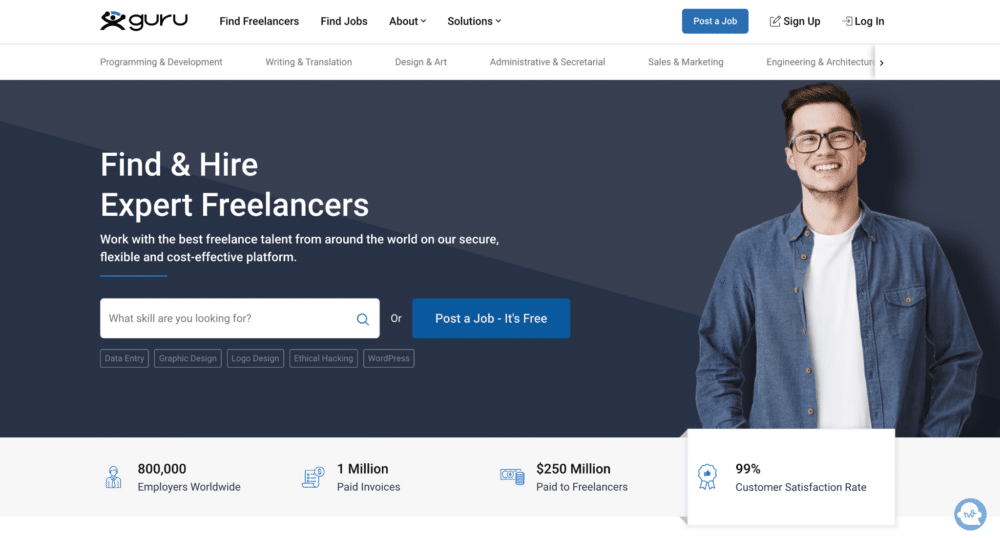 Guru is a freelance platform that connects the best freelance talent to top clients all over the world. In fact, Guru has over 800,000 employers in its system, so you're sure to find clients who are hiring freelancers in your industry.
This platform, however, isn't limited to just graphic designers. Clients hire all kinds of freelancers, including writers, SEOs, content marketers, and even engineers from Guru.
Once you pass Guru's screening process and set up your portfolio, you can start browsing jobs to find the graphic design opportunities that interest you. Once you find one, pitch a proposal to the hiring company and wait for the approval.
Unique features
Large pool of freelancers with diverse backgrounds and skillsets
WorkRoom for freelancers to communicate and collaborate
No membership fee
How to apply
To get into Guru, all you need to do is sign up for the platform, and upload your personal information and portfolio.
Pricing
Guru is free for freelancers.
12. PeoplePerHour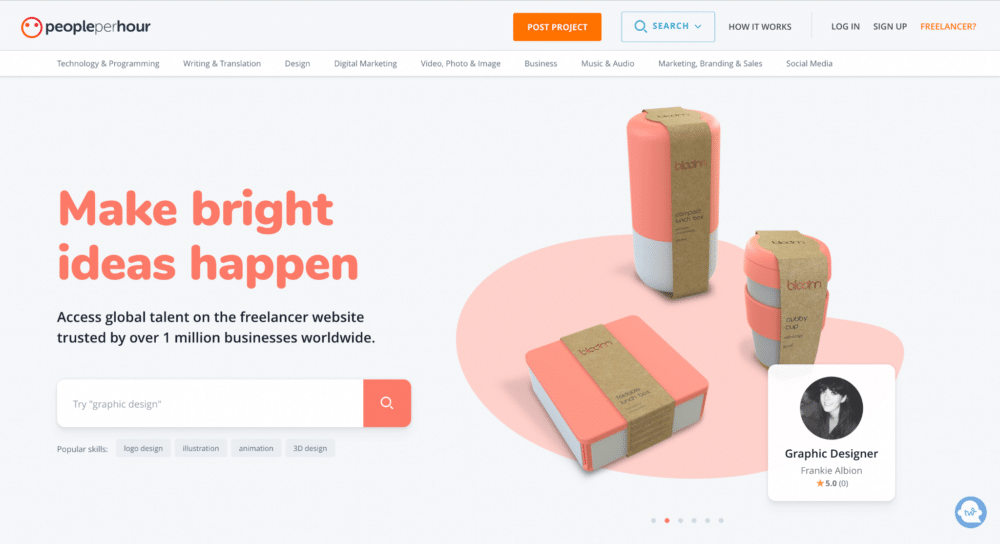 PeoplePerHour is a freelance jobs platform that helps freelancers get jobs from hiring companies globally. Just like some other freelance graphic designer websites on this list, PeoplePerHour is not limited to just graphic designers. There are also skilled writers, translators, online tutors, social media managers, and marketers who get clients through this platform.
When businesses post freelance projects on the platform, freelancers can apply with proposals and portfolios to show their skill level and convince the client that they're the right person for the job. Freelancers can also post offers based on their skill sets and attach their rates.
Unique features
Easy-to-use interface
Built-in workstream system for clients and freelancers
On-site listings
Hire Me widget for freelancers
How to apply
To apply to PeoplePerHour, you have to sign up for the platform first. After signing up, you'll have to fill out an application form with your profile picture, job title, skills, bio, location, languages, and hourly rate.
Once approved, you'll have access to projects that are open to your country.
Pricing
Joining PeoplePerHour is free, and you'll be allowed to send 15 free proposals per month. To send more, you'll have to buy extra credit. In addition to this, PeoplePerHour charges a 20% fee for projects worth $350 or less. Projects between $350 and $7,000 incur a 7.5% fee, and those about $7,000 have a 3.5% fee.
Choose the right freelance graphic design website for you
None of the freelance graphic designer websites are perfect, but these platforms are great for helping graphic designers—especially newbies—kickstart and grow their careers. When you choose the right freelance website for your experience level, you'll be able to connect with great clients, build a solid portfolio, and earn a steady income.
The caveat, though, is that getting great gigs requires effort on your part. While some of these platforms may match you up with ideal job postings, you'll likely not get gigs if you don't consistently put yourself out there and reach out to potential clients.
Keep the conversation going...
Over 10,000 of us are having daily conversations over in our free Facebook group and we'd love to see you there. Join us!