Table of Contents
This post may contain affiliate links. See our affiliate disclosure for more.
If you're a person who is constantly on their phone checking their social media accounts and posting regularly, you are likely already a social media manager in your own right.
Do you have a strong following and do your posts generate a large response from followers? If so, a freelance social media manager career is probably a good fit for you.
These days, most companies, entrepreneurs, and start-up businesses strongly rely on social media to gain exposure for their products or services. They likely need a Facebook, Instagram, Twitter, LinkedIn, and TikTok account for their business.
In order to become successful and obtain greater revenue streams, they need to increase their visibility. Social media is the easiest way to do that and when people see something appear on a social media platform they're visiting, they will often buy that item or service.
The problem is most people are not as versed in social media management as others. That's where you come in. You can fill a businesses' needs by being their dedicated social media manager.
A social media manager is someone who regularly posts appealing content that draws people in, increases the company's base of followers, and creates or executes the marketing plan for the company.
A social media manager does this by researching the target customer base for the business and determining the trends or marketing campaigns that are likely to draw them in.
The beauty of being a social media manager is that you can do this by working completely as a freelancer. Freelancing allows you to not even be in the same city as the business for which you work. You can work from home and on your own time while dictating how much to charge for your savvy social media management services.
What is a Freelance Social Media Manager?
A freelance social media manager is someone who prefers to work on their own terms, on their own time and dictate how much they will be paid. They have the ability to choose who they want to work with and what projects they want to pursue.
This is a perfect scenario if you are someone who needs flexibility in your life to take care of family, household, or other obligations.
By becoming a freelancer, you are able to work from most places in the world as long as there is an internet connection. You can work from home, a coffee shop, or on the beach in paradise if that's what suits you. These days, with the accessibility to so many technology platforms, staying connected to each other is seamless.
Another major benefit of being a freelancer is that you are able to dictate how much you want to be paid for your talents and skills. Usually, a freelancer publishes a profile on a freelance job website and bid on projects that intrigue them.
This profile will include a short bio about yourself as well as the skills that you have become adept in or consider yourself an expert at. You also have the ability to post your preferred hourly rate.
While it is tempting to post a high hourly rate, it is important to keep in mind that most of these websites go on a rating platform and the more positive reviews and successful jobs you have completed, the more likely a company or entrepreneur would be willing to pay for your services.
So, if you're just starting out as a freelancer, it is highly recommended to start with a lower rate, complete multiple projects successfully and encourage your clients to give you a good rating and review. As you build up your profile and complete more and more successful projects, you can eventually bump up your price.
Freelancing also allows you the ability to pick and choose your clients. Conversely, as an employee of a company, clients are assigned to you and you have to work with them regardless of whether you like them or what their values are.
With freelancing, if it is a product or service that you are not familiar with or doesn't interest you, you simply don't bid on their project. Simple as that.
Couple all these benefits with your social media savvy, and you are a freelance social media manager.
How to Become a Freelance Social Media Manager
Now where to start? You've spent so much time reading about the awesome benefits and flexibility, now it's time to put your business plan in motion. It won't take long, but there are a few steps to take to put yourself out there.
Educate Yourself
It's safe to say that there are thousands of social media managers out there bidding on projects. It's advantageous for you to stay abreast of the latest trends, technology, and insight. There are a number of online marketing courses available. Many ways to stay ahead of the competition and allow yourself to stand out, the better.
While there are a number of courses available that are reasonably priced, there are also many free useful online courses for marketing, more specifically, social media marketing. You can find courses on Skillshare, Udemy, HubSpot Academy and Google Analytics Academy Courses to name a few.
If you'll be using any type of graphic design for your social media content, you may want to check out websites like Canva and Visme. They offer free tutorials and helpful tips for users to use their graphic templates.
Build Your Portfolio
When it comes to freelancing, employers choose to hire freelancers based on ability. Because they don't know you personally and are specific about what skills they need, they need to see your work. People are visual by nature, so having examples of prior social media posts or content on your profile is required.
If you've done any social media work for yourself, friends, or family, this could be part of your portfolio. After getting their consent, post samples of your most successful content.
If you don't have any samples to share, you could do some voluntary work for now just to get the experience and have something to show. Consider offering your services to a non-profit or start-up company. They don't have big budgets to allocate towards marketing so they would appreciate the offer.
It'll be a win-win for everyone involved. You can increase their followers, thus resulting in more revenues and greater profitability and you will have material to list in your portfolio. You might also offer to work for them on contingency. For example, they only pay you if your posts get a certain amount of comments or shares.
If you have any higher education in marketing or social media management specifically, you can use those projects in your portfolio as well. Use anything that highlights your ability and creativity to draw in your future clients.
Once you have a few projects to put into your portfolio, there are a few other things to consider before putting yourself out there.
Make sure you have adequate equipment and/or software. Do you have a computer, phone, and/or tablet that allows you to run social media software and apps?
If you've answered no, then you need to consider investing in the appropriate equipment that will make you adequately prepared to take on freelancing projects. Social media management can be done strictly on an iPhone or Android device, but make sure it is reliable and up to date.
Important Factors to Keep in Mind
Being a successful freelancer is all about ability and reliability. You may have the most savvy skills imaginable, but if you're unreliable and a poor communicator, you will most likely not succeed with your projects and your clients will give you a poor rating.
It is extremely important to be reachable and flexible with your clients' questions or issues. If they want to interview you over the phone or through Zoom, be on time and look and sound professional. Treat a freelancing interview just as you would a normal face-to-face interview. First impressions are important.
Once hired, if they have questions or want to schedule another time to call, be timely with your responsiveness. A client will greatly appreciate working with someone who is highly dependable and easy to get a hold of.
Earlier in the article, I mentioned that it is easier to increase your online rating by receiving multiple positive reviews. While content creation is important, being someone that is easy and pleasant to work with will get you far.
If your client likes you, they are likely to hire you for future projects or refer and/or recommend you to others looking for a freelance social media manager.
Another important thing to keep in mind is to not take on more than you can handle. It's recommended to start small with a few small projects here and there to get your feet wet and assess how long it will take you to deliver certain project items.
Once you are comfortable and confident that you can deliver certain things based on deadlines, you can start bidding on larger projects or work on projects for multiple clients.
Also, make sure the deadlines you commit to fit your life schedule. We all get busy with other aspects of life and sometimes it's hard to say no.
Once you are a freelancer for a few months and have a few solid clients, you'll end up declining projects simply because there are not enough hours in a day.
Time management is crucial and necessary for any freelancing gig. The flexibility and ability to work from anywhere mean freedom, but if you don't have the self-discipline to manage your time and submit your projects without missing a deadline, then freelancing may not be the lifestyle for you.
It is important to consider all of these factors before entering the freelancing world. Once you have acquired the necessary equipment, taken the proper courses, and built a solid portfolio, it's time to launch your profile and start bidding on jobs as a freelance social media manager.
Below are some popular websites for finding freelance social media manager jobs. While the concept of all of them are basically the same, there are a few small services on each that differentiates each of them.
Sites Online to Find Freelance Social Media Manager Jobs
FlexJobs is a top-rated online platform to find remote, work from home, and flexible job opportunities. They offer full and part-time jobs, employee options or strictly freelance, or flexible on-site positions. FlexJobs differentiates itself from other jobs sites as they are a premium job search service, offers personalized support, and provides guided tools and resources that enables you to find a job that perfectly suits you.
There is a small fee to sign up, but the personalized support and large catalog of social media manager jobs available will be worth the investment.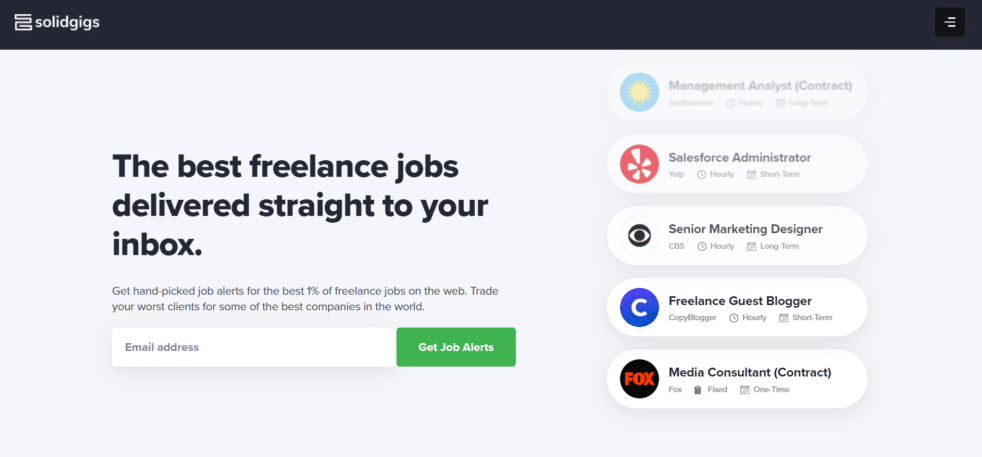 After creating a profile on SolidGigs, you choose the specific types of jobs you want to be alerted about. SolidGigs will send you hand-picked jobs that will be delivered straight to your inbox.
Their team manually checks nearly 100 sites, gig lists, and job boards for the best freelancing social media manager opportunities on the web and sends them to you.
This eliminates hours of searching and bidding on an array of social media manager jobs on other online job search sites. There is a $2 30-day trial and if you choose to sign up, the price is $19/month.
Thousands of users everyday choose Fiverr to find qualified social media managers to produce compelling content for their accounts.
Their platform is easy to use as you set up your profile, price you charge per hour, and average delivery time for a project. Once you complete a number of 5-star rated projects, you can become ProVerified where you will have the chance to increase your hourly rate.
Wing Assistant is a managed platform and service out of Irvine, CA, connecting busy professionals and teams with vetted remote talent. The company specializes in helping small businesses and entrepreneurs find the perfect virtual assistant for their needs.
One of Wing's specialized services is the Wing Social Media Assistant. Most Wing Social Media Assistants work full-time, rendering services to one client for 8 hours a day, 5 days a week. However, the company also accepts professionals who want to work part time hours. Their assistants are located around the world, are college educated, and speak English.
Wing clients and social media virtual assistants can collaborate through Wing Social, an app combining a content planning system, chat capabilities, and a media library, all in one place.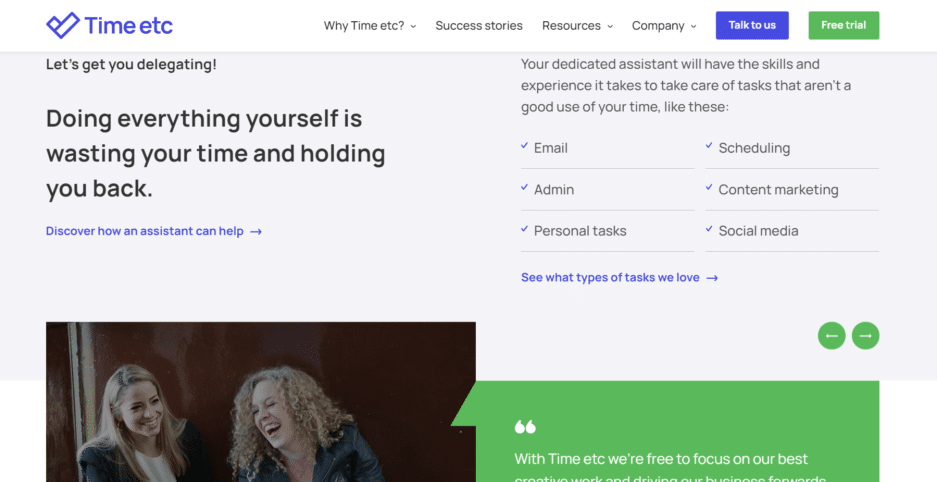 Time etc is an online job site that focuses on matching virtual assistants with employers or small companies who need a specific skill set for their job requirement.
Their social media managers provide a variety of content marketing services such as writing social media posts, writing articles and content, researching content ideas, creating email campaigns, and creating marketing and sales material.
Time etc allows you to work virtually with a dedicated person or employer and be their go-to person for anything social media related.
PeoplePerHour allows you the benefit of choosing how you work and when you work. You are in complete charge of how many hours you want to dedicate to being a freelance social media manager and how much you want to charge for your services.
PeoplePerHour allows clients to post projects and review proposals from freelancers that bid on their projects. Their Project Stream capability allows the client to keep track of all the jobs they have with freelancers to keep the project organized and ensure the freelancer gets paid on time and accurately.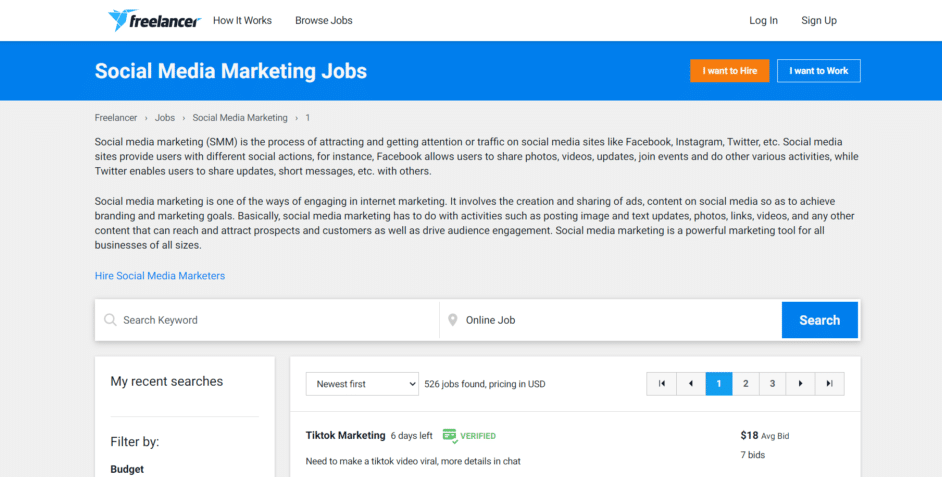 Freelancer works the same as other popular job sites where freelancers bid on projects that suits their skills and abilities. Freelancers are paid securely using their Milestone Payment system when the project is complete and the client is 100% satisfied.
Freelancer also provides a mobile app so that collaboration between the client and freelancer is seamless with their Live Chat and project tracking capabilities.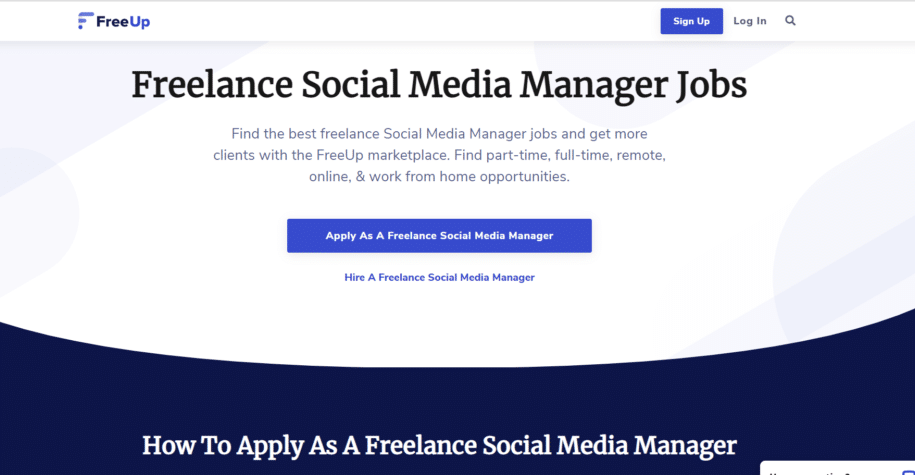 FreeUp is a virtual assistant platform for popular freelancer gigs such as data entry, social media management, and research, and administrative functions. FreeUp is intended for individual entrepreneurs rather than large businesses to find assistants to grow and manage their businesses.
As social media managers, FreeUp is an excellent platform for someone to hire your specialized skill set as most entrepreneurs need to grow and launch their business with increased visibility through social media.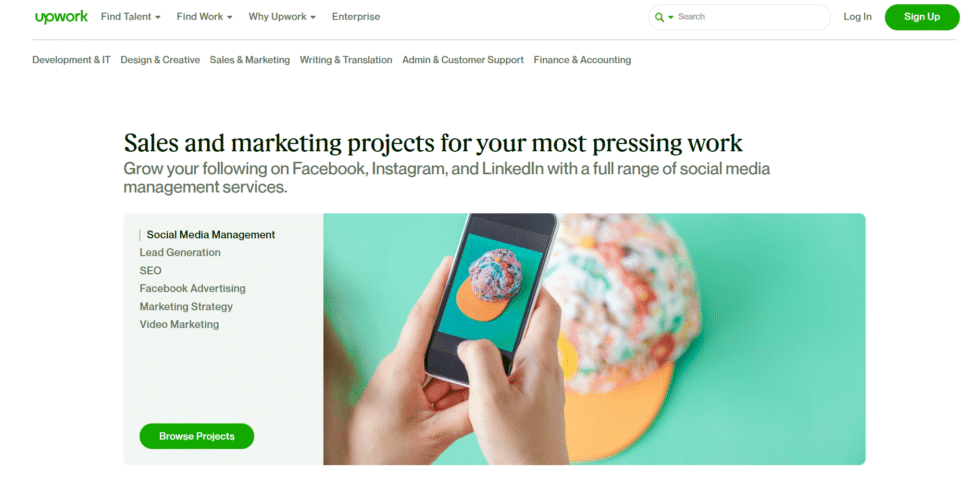 Upwork is a great platform to find a number of social media manager opportunities. Their online platform includes thousands of companies who post regularly with social media manager opportunities, whether it be to post their content on Instagram, Facebook, or LinkedIn. Creating a profile to find work on Upwork is free and their secure payment online system is hassle-free and you choose how often you want to get paid.
Upwork has an option called Product Catalog, which lets you create samples of a job that you are able to complete where you set clear expectations and prices.
Do you have what it takes?
Now that you've read about what a freelance social media manager does, needs to do, and what online platforms they could use, it's time to strategize a plan and execute. Most of the above websites are free to start, and there are a number of cost-effective options out there.
There are hundreds, if not thousands, of successful freelance social media managers in the world. They all had to start somewhere, work hard, and be consistent. The hard work, long hours, and client communication are all challenges, but they are worth it.
The more experience you have, the more comfortable you will become to bid on large projects and up your price per hour. Before you know it, you will be a successful freelance social media manager and have the quality of life of which most people dream.
Keep the conversation going...
Over 10,000 of us are having daily conversations over in our free Facebook group and we'd love to see you there. Join us!