Table of Contents
This post may contain affiliate links. See our affiliate disclosure for more.
Freelance writing and ghostwriting jobs in particular provide you with an opportunity to get a better work-life balance. And that's great.
But what about money? Do you feel financially secure?
The sad truth is that not every freelance writer is satisfied with the amount of money he earns online. So if you faced financial issues working as a freelance writer, don't worry. You are not alone with your problem.
So don't rush to go back to a 9-to-5. We have a solution for you.
Here is a list of sites where you can find ghostwriting jobs that are paid well. Check out these professional websites and essay writing services to land your first ghostwriting jobs and double your income.
What does it mean to be a "ghostwriter"?
Before we start, let's clarify what ghostwriting is all about. In a nutshell, a ghostwriter is a writer who is not credited for his work.
It means that if you work as a ghostwriter, you will see your name neither on the cover of the book nor on the blog created by you. And you will not be allowed to share your writing anywhere on the web.
But the good news is that you will get more money for your work. The clients will pay you not only for your writing but also for the right to use your work as their own in the way they want.
So if you don't mind that someone else will be credited for your work, and if you want to get more money for your writing, ghostwriting jobs are right for you.
29 Best ghostwriting jobs sites
If you're constantly trying to just keep up with balancing work, looking for ghostwriting jobs, upkeep a personal life, and would love if someone else did the job searching for you — try SolidGigs. It's a gig finding service that sends you top tier freelance jobs directly to your inbox once a week.
New members can sign up for just $2. Think of all the time you'd save!
Freelancer is another popular platform that can help you to land ghostwriting jobs. It works in the same way as Upwork does. The only difference is that you don't need to pay for submitting proposals for job posts.
Besides, if you have already written a book, but haven't sold it yet, you can sell it at Freelancer. Some clients use this freelance platform for hunting for unpublished writings. So if your book is a good read, you will make money on it really fast.

Another option to find ghostwriting jobs is to become a seller on Fiverr. For using this platform, you should create gig packages and set the specific price for your writing services.
Fiverr allows freelancers to create three gig packages (premium, standard, and basic) and price them anywhere from $5 to $995.
If you don't like to waste time on job bidding, this freelance platform will work for you. All you need to do is to make your account look catchy – and your clients will find you at Fiverr.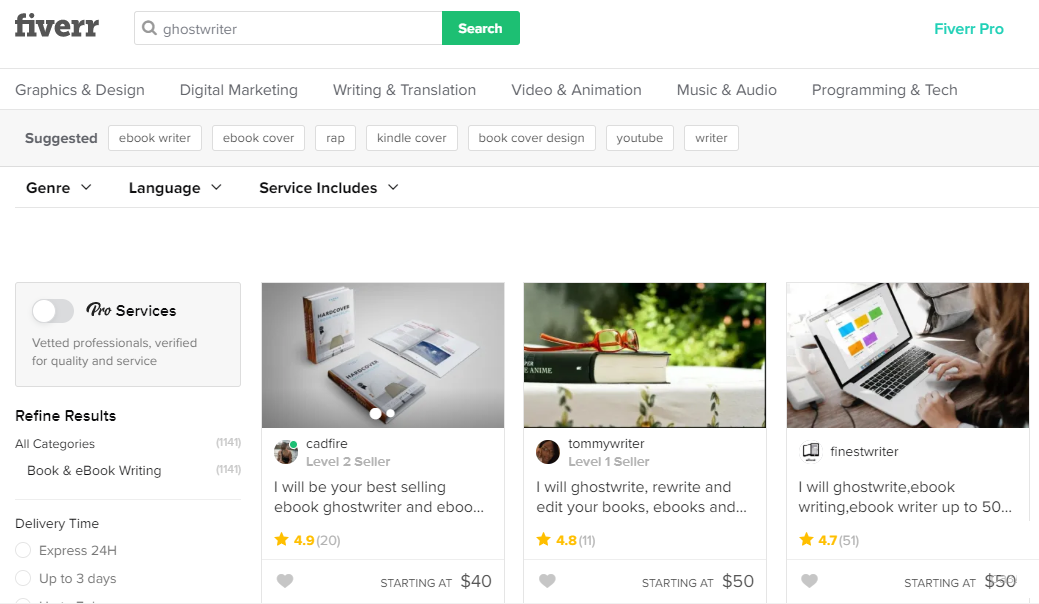 If you are interested in getting a remote job, visit FlexJobs. This platform will not only provide you with access to ghostwriting jobs, but also allow you to use such educational resources as webinars, skill tests, and freelancing tips for free.
Upwork is the biggest freelance platform that you can find online. And, naturally, it's a great place to search for the highest paying ghostwriting jobs. Whether you are an experienced writer or a newbie, you will find a job that fits your skills.
It is worth mentioning that in May 2019, Upwork presented a new connects policy. And now, freelancers should pay from $0.15 to $1.05 to submit a proposal for a job post. The good news is that invitations from clients continue to be free.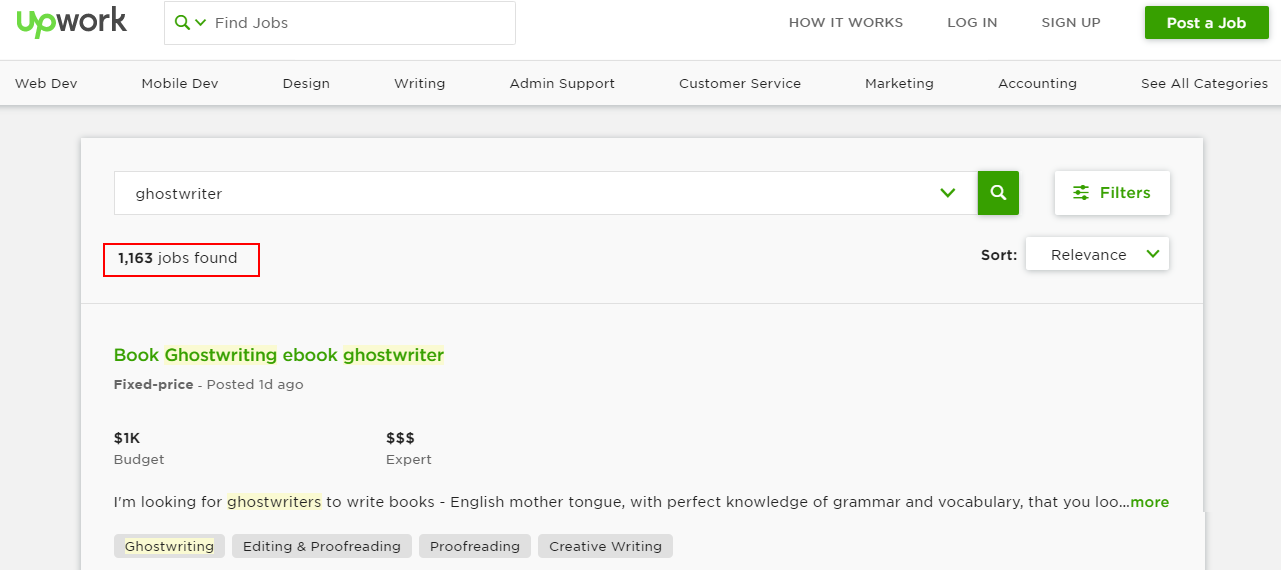 The vast majority of modern companies publish new jobs on their websites and social media accounts. But as a ghostwriter, you know that it's a time-consuming task to check updates on Twitter, LinkedIn, Facebook, and corporate websites.
FreedomWithWriting is a site that provides up-to-date information about recently published jobs. You can sign up for newsletters and get regular email job alerts straight to your inbox.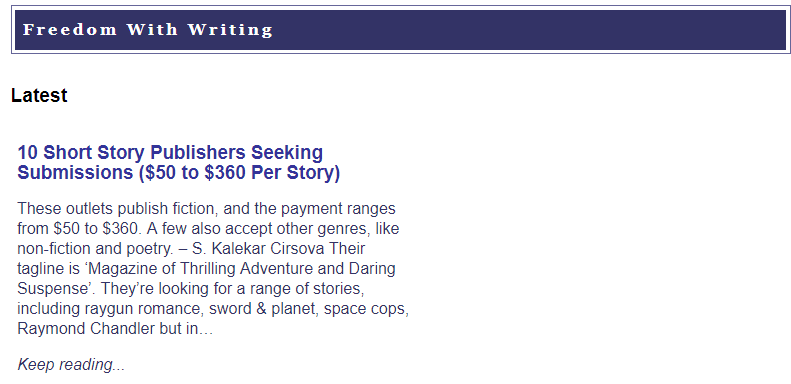 If you are an expert in academic writing, check out this website. Here you can find dozens of ghostwriting jobs. Whether you have a background in marketing, engineering, healthcare, economics, or other fields, Studicus will provide you with relevant projects to work on.
The level of your income will depend on your experience and your productivity. If you are a recent graduate with little knowledge, you can write research papers and essays for high schoolers.
If you are an experienced writer, you can write the master's thesis papers and earn more.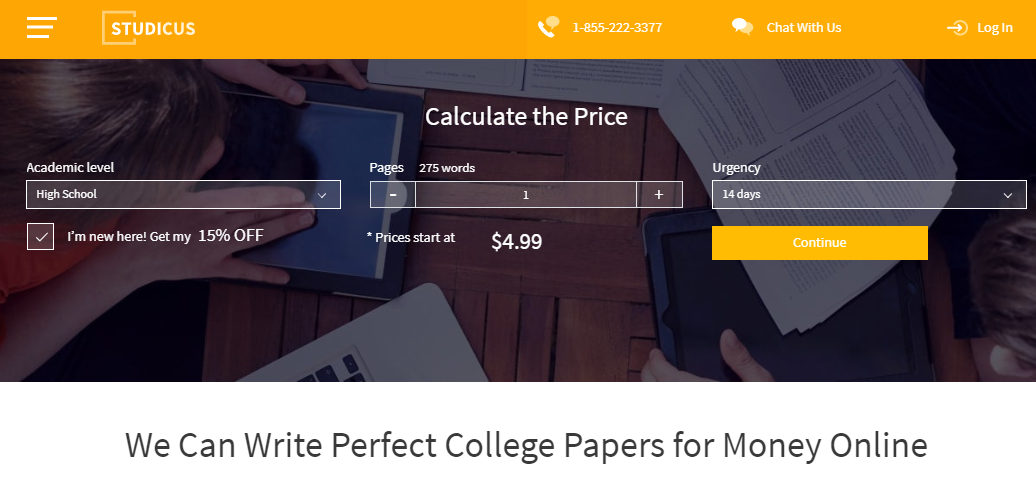 Writers Work is a unique website that helps to build a career in writing. It provides career training, writing tools, an online portfolio, and other resources. And, most importantly, it allows writers to find ghostwriting jobs quickly and easily.
Writers Work scours the World Wide Web for the best writing gigs and delivers them straight to writer's dashboard. It helps to optimize the job searching process and achieve better results.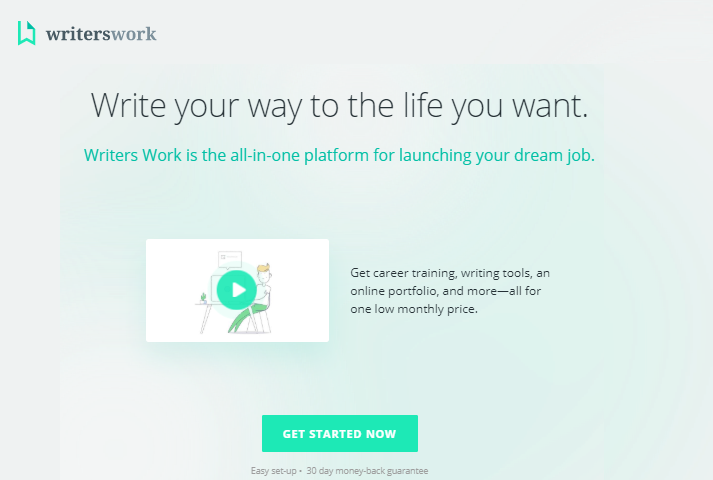 PeoplePerHour is a freelance platform similar to Fiverr. So if you have ever used Fiverr, you will find it easy to navigate this site.
The great news is that PeoplePerHour is more popular among high paying clients than Fiverr. So if you want to boost your revenue from ghostwriting, you should migrate to this platform.

If you are a newbie in writing, you can skip this site. But if you are a professional writer, you should try your luck to become a writer at Toptal.
Toptal is a freelance platform that accepts elite writers only. If you prove that you have excellent writing skills, you will be listed on this site. You will get a chance to reach wealthy clients and land some of the best ghostwriting jobs.
Big companies are ready to pay huge money for high-quality copies. So why don't you benefit from that? Apply for Toptal today, and take your freelancing experience to the next level.

Do you dream about working with bestselling authors and publishers? Your dream can come true if you join Reedsy.
Visit this website today and create a profile: list your skills, host your portfolio, and showcase previous work experience. If your application is accepted, your profile will be showcased on the Reedsy Marketplace.
You will get access to collaborative writing tools, to-do lists, calendars, and messenger.
Guru is a freelance platform that provides unlimited opportunities for ghostwriters. Clients use this site to find talented writers who know how to create good romance novels, fiction eBooks, and erotic stories.
So if you are an expert in one of these niches, you will easily land a job on this website.
At this freelance platform, you can choose whether you want to work on an hourly or fixed project. Also, you can check how much money your prospective client has spent on Guru.
It will allow you to ensure that the client is capable of paying for your work.

Textbroker is a website that provides access to thousands of ghostwriting jobs opportunities for each topic. Whether you want to write articles about wooden furniture, fragrance, or food photography, you will find a project that matches your interests.
Besides, Textbroker allows writers to choose when and how much content they want to create. It means that there is no limit to how much one ghostwriter can earn.
If you are ready to work more than 40 hours a week, you can make really big money.

Hiring managers from all over the world are constantly looking for new ghostwriters at Media Bistro. If you want to help them to find you, join the Media Bistro community.
This platform will provide you with the tools and resources necessary to master writing skills. If you use them wisely, you will be one step ahead of the competition, and you will see no difficulties in finding new ghostwriting jobs.

If blogging is "your cup of tea", you should take a look at Problogger Job Board. Whether you want to write about fitness, medicine, supplements, or electronics, this site will provide you with great job opportunities.
Problogger Job Board is a platform where you can get acquainted with other bloggers and learn blogging tips. If you are thinking about starting your own blog in the future, this site is the best option for you.

Verblio is another great platform for passionate bloggers. Business owners use Verblio to find ghostwriters who can create remarkable content for their corporate websites and blogs.
If you like to write page descriptions and business-related articles more than eBooks and novels, this platform is right for you. Here you will find ghostwriting jobs that will not disappoint.
Constant Content accepts only experienced writers who know how to create high-quality, SEO-friendly copies. So if you have worked in this field before, you can apply to write for this platform.
Once your application is approved, the system will allow you to create a profile. You will be eligible to choose the projects to work on.
Constant Content is a platform that helps you land ghostwriting jobs on a daily basis. So if you are looking for a site that will help you to feel financially secure, Constant Content is a great option to consider.
PickTheWriter is not a freelance platform, but a website with reviews of online writing services. It hires ghostwriters on a regular basis. If traditional freelance platforms do not work for you, don't hesitate to check it out.
Do you want to join a team of talented ghostwriters and work on interesting projects? If your answer is "yes", then PickTheWriter is the best site for you.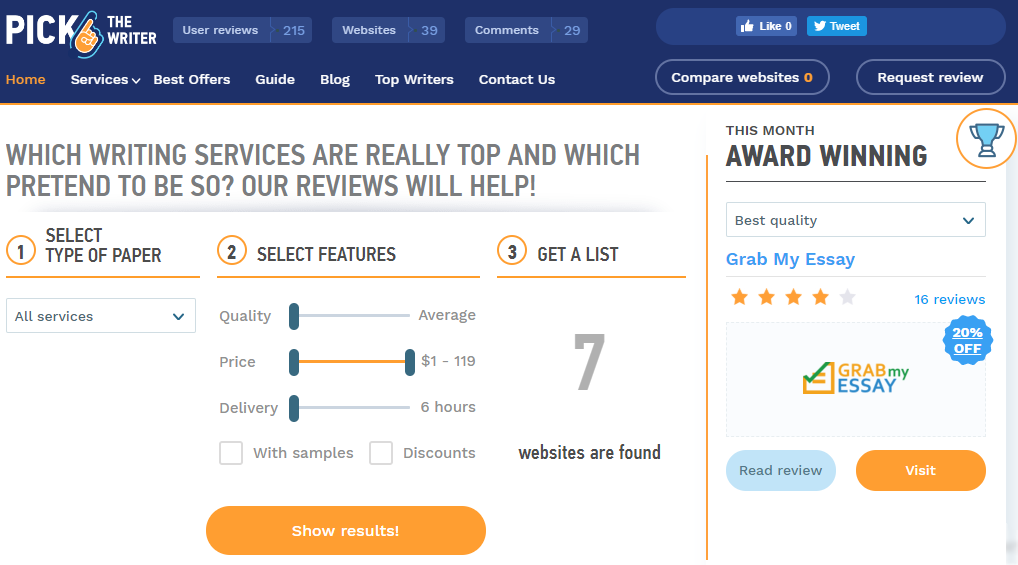 If you want to become a member of a ghostwriting community, join Writology. It's a website that provides writers with great support and the opportunity to make big money.
Writology is rather popular among professional writers. And once you find ghostwriting jobs here, you will understand why other writers work at this platform for years.

Writing Jobz is a platform that offers ghostwriters to get paid for writing research papers, business plans, and dissertations. It offers ready to hire writers with different educational backgrounds.
If you are an English native speaker, you can take a chance to join this freelance writing platform. All you need to do is to submit your application and take a language test.
Workana is a new freelance platform. It's not as popular as sites like Upwork and Freelancer, but it's also worth your attention.
Workana offers three membership plans that are affordable for every ghostwriter – a monthly price starts at $4.90. And Workana doesn't charge any additional freelance fees.
And in contrast to other freelance platforms, this platform is available not only in English, but also in Portuguese, and Spanish.
Are you tired of looking through hundreds of ghostwriting jobs every day? Do you spend more time on job search than on writing? If you want to find ghostwriting jobs fast and easily, use Periodix.
Periodix is an AI-powered platform that works super effectively. It helps to discover jobs with the highest chances to be hired within a minute.
Using Periodix, you can save your precious time and find better job opportunities.
Do you want to create content for such famous companies as L'Oreal and LinkedIn? Check out Scripted.
Scripted is an online writing service that is very popular among well-known brands. This site provides jobs only for the most talented writers. According to statistics, only 2% of applicants become writers on Scripted.
If you believe that you are really good at writing, take a chance and submit your application.
BKA Content is a website where you can find ghostwriting jobs and also meet other ghostwriters. Working at BKA Content, you can choose the articles you like from the list of available options.
You can set your own schedule and get paid for each piece you write.
The only issue is that BKA Content hires U.S. citizens only. So if you are not an American, you are not eligible to apply.
Do you want to work remotely for innovative companies, but don't want to spend hours and hours on the job search? Join Working Nomads and get access to the curate lists of the most interesting ghostwriting jobs.
This site will help you to save your time on job search and optimize your working process. You will be able to focus on writing and deliver better results.

If you have never worked as a ghostwriter before, check out this website. HireWriters will not help you to earn lots of money. But it will help you to land your first ghostwriting jobs and gain experience.
Once you improve your writing skills, you will be able to set a higher price for your services. If you are dedicated to writing, your income will be steadily growing.

If you want to develop your writing skills, you may be interested in this site. It works as an educational platform for newbies and as a job board for experienced writers. If you need a coach in writing, you can also find one here.
No matter whether you live in the United States or any other country, you can use this site. Contena is accessible for ghostwriters across the globe.
LinkedIn Job Search is an effective tool for finding ghostwriting jobs. If you keep your account up to date and check companies' updates regularly, you will easily attract high paying clients.
Don't repeat the mistake that other freelancers make. Don't ignore the importance of social media presence. Use your LinkedIn account wisely, and you will succeed in life as a writer.

Go Find Ghostwriting Jobs!
Now you know what sites you should visit to find ghostwriting jobs. So go ahead and check them out!
Choose three ghostwriting job sites from the list, and sign up for them today. You do not want to miss out on fantastic job opportunities, do you?
Remember that you are not the only writer who is hunting for high paying clients. You have competitors. So the sooner you join popular freelance platforms, the higher chances you will have to land good ghostwriting jobs.
Keep the conversation going...
Over 10,000 of us are having daily conversations over in our free Facebook group and we'd love to see you there. Join us!