Table of Contents
This post may contain affiliate links. See our affiliate disclosure for more.
If you Google "How to make money as a content creator?" you get 73,20,00,000 results.
That's not surprising.
Every content creator aims to engage and convert quality leads and generate revenue. But not all content on the web converts.
One common challenge is that search engine dynamics and social newsfeed algorithms keep changing, and content creators try their best to stay on top of these changes.
So, what kind of content can help? How can you make money as a content creator irrespective of the trends?
The simple answer is to draft evergreen content. In this post, we have shared the best practices that will help you understand how to make money as a content creator and reap great rewards. Let's get started.
Top 5 Ways to Make Money as a Content Creator
Here are the top five tips that will show you how to make money as a content creator.
#1: Create Amazing Content Upgrades
Cold email is an effective tactic to find and convert leads. But the tricky part is to find prospects interested in services like yours. The consumers receiving your emails may or may not open or even delete your message. No one has got the time to entertain unnecessary stuff.
No wonder content creators and marketers spend a lot of time implementing PPC, SEO, and other strategies. They know how to monetize content by reaching the right audience.
Unlike those generic lead magnets, content upgrades can generate high-quality leads fast. A content upgrade is a bonus piece of helpful material that you can offer the readers in exchange for their email addresses.
The most common formats of content upgrades include the following:
Checklists
Expandable Content
Cheatsheets
Video and Audio Transcripts
Worksheets
Printables
Case Studies
Here are a few examples that will help you understand, produce, and use the content upgrades.
Notice the following screenshot that depicts how the Media Shower offers expandable content to its audience.
Can you see how they've implemented an expandable content upgrade?
Readers interested in exploring the entire article need to give the publisher their email addresses. This strategy invokes the interest of users. It creates curiosity by indicating that some informative and valuable content awaits the readers.
Check out how the HubSpot team uses a similar strategy with a different format.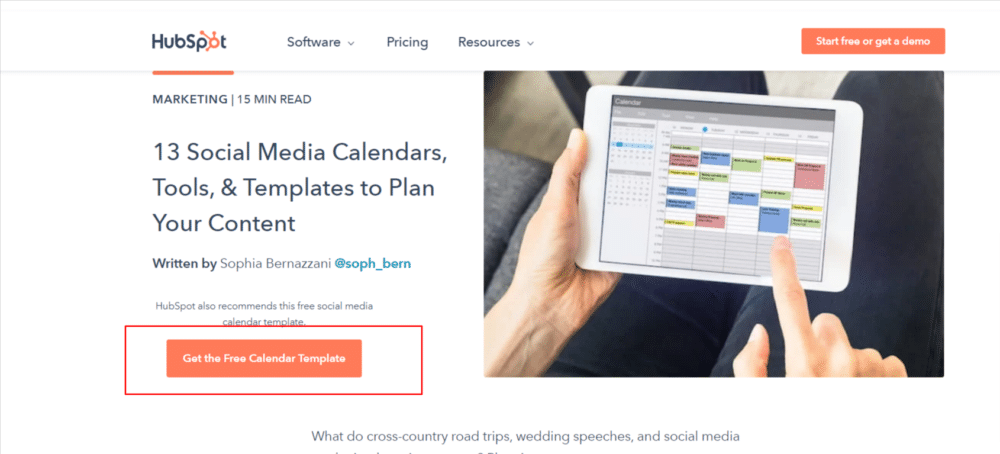 Content upgrade strategy saves time and effort to attract and approach the target audience. It improves your chances of conversion as the content upgrade has a contextual relevance to the users' intent.
What format of content upgrades can add value to your customers' lives? The answer depends on your content topic and the user's intent.
For instance, if you aim to make money by writing a blog, before opting for a specific format, ask yourself:
At what stage is your reader in the sales funnel?
What is their pain point?
What information can help them take action?
If you want to target users at the bottom of the sales funnel (BOFU), offer them information to encourage their buying decision. Similarly, if they are at the top (TOFU), create and share educational or informative content upgrades.
Creating purpose-driven content upgrades is the key to monetizing your content.
#2: Make the Most of Your Social Profile Links
Italian economist Vilfredo Pareto's 80-20 rule states that 80 percent of results come from 20 percent of efforts. This principle is true for content strategy as well. If you dedicate 80 percent of your time to creating a killer piece and only 20 percent to its promotion, the content may not receive the traction it deserves.
Don't get our advice twisted. Spend time producing quality content. But instead of creating content in bulk, use most of the time promoting what you've created.
Where should you start? Social media channels have become a powerhouse for content creators. Nearly 66 percent of content creators and marketers admit to generating qualified leads via social media platforms. They allow the target audience to get an up-close view of your perspective.
So, social media channels are one of the best platforms to make money as a content creator.
All you need is to leverage the most effective channel for your content and tick the following things.
For blog content promotion, platforms, such as Facebook, Twitter, and LinkedIn can be great options. If you create visual content, choose Instagram and Pinterest. Notice how Whole Foods has created a simple yet enticing post for Facebook. In this update, they have shared a recipe with a friendly caption to invoke the interest of their users. They are well aware of how to monetize creativity.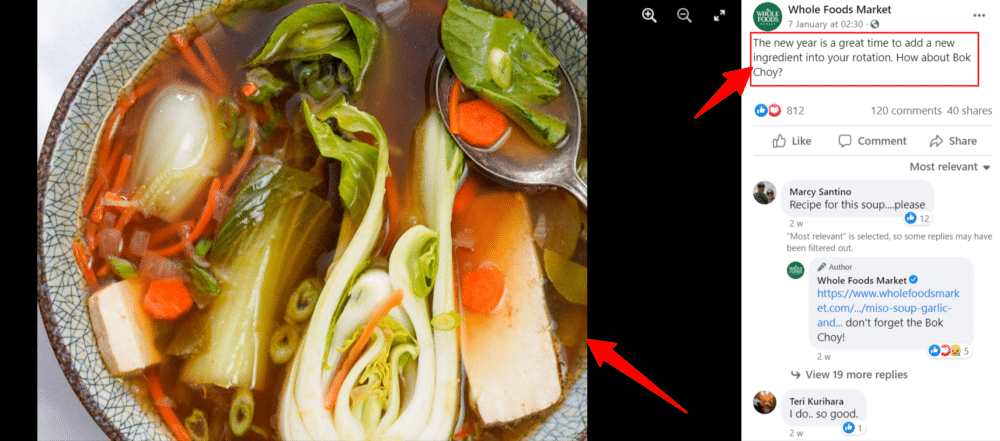 Put a relevant featured image with the content to grab the attention of the audience. This tactic can bring 120 percent more engagement. Here's a great example of yet again a HubSpot post with a featured image. The image is relatable and appealing enough to catch the attention of audiences.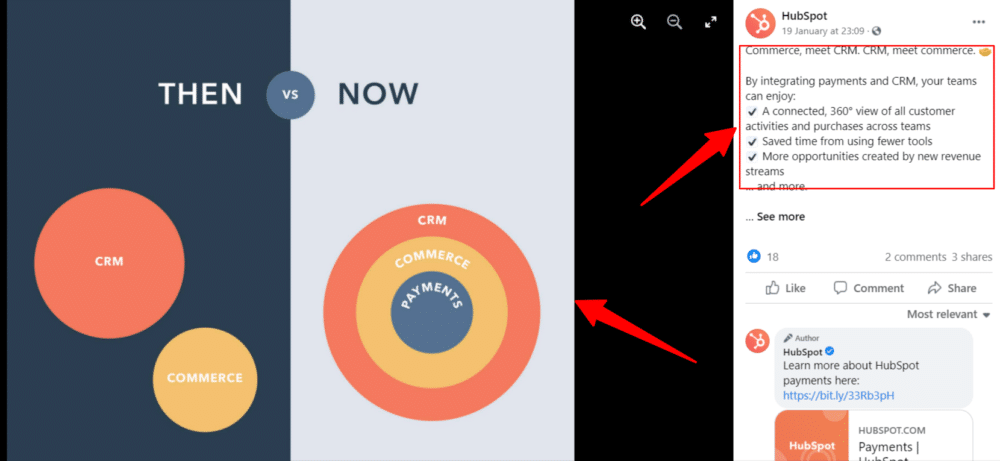 Couple your social media post with an engaging caption and clickable link in the bio. A clickable link encourages the audiences to visit your website and boosts conversions. Simply put, it acts as a call to action (CTA). Here's a screenshot of the Instagram page of Travel Yosemite. Observe how smartly they have customized their link in bio to direct leads to their landing page.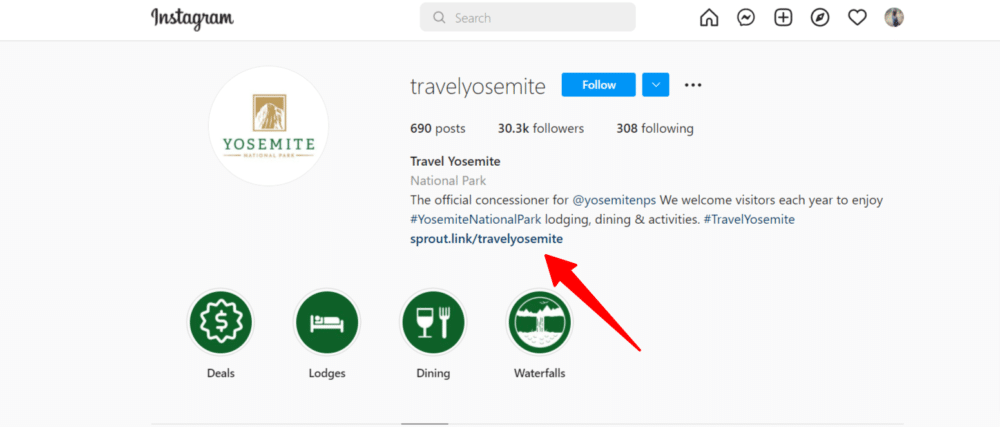 What's the best way to optimize your link in bio? Count on tools like Link in Bio that allow businesses to optimize and add links to Instagram. This user-friendly tool also enables you to curate an attractive single-page site to direct your leads to whatever destination you like. It also includes a "tip jar" functionality, so your followers can send you micropayments in appreciation for your work.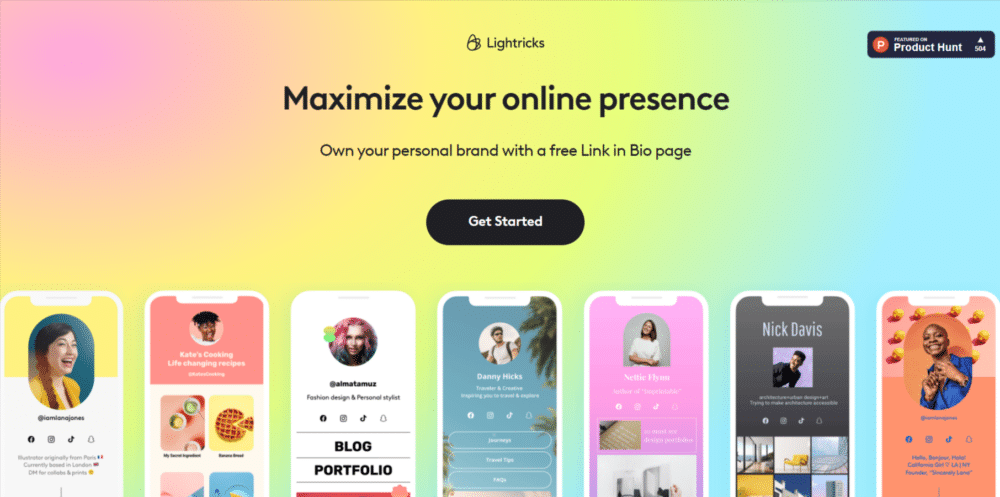 #3: Host Live Shopping Streams
Video content has been gaining massive traction these days. Experts state that 82 percent of customers will use the internet for streaming videos by the end of 2022. No wonder content creators, especially artists, are hosting live streams to sell their products. They know how to monetize content by following this trend.
Live stream shopping is not as complex as it sounds. Have you seen home shopping network programs like QVC? That's the concept of live stream shopping. A host showcases several products, which the audience can buy by calling on their broadcasted numbers.
That said, live stream shopping is way better than the traditional home shopping practice.
It's far more engaging, interactive, and fun. Live stream shopping allows the audience to talk to the speaker or host via likes, comments, likes, and polls.
For instance, if you are an artist aiming to sell access to a movie you made, you can directly start a live stream and promote it. Allow the audience watching the live stream to directly ask you whatever questions they have. So, the entire experience offers a convenient way for the audience to know more about the product.
Here's a screenshot that depicts a live streaming session on Amazon, which has a dedicated platform that allows content creators to engage with their audiences.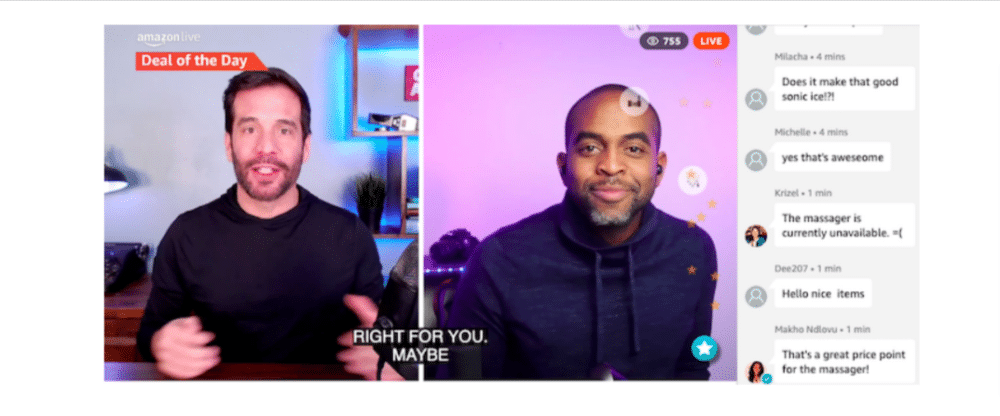 The concept is similar to watching live unboxing videos. The only difference is that you can buy the product right away. Hosting such live shopping streams is one of the best ways to make money as a content creator.
Here are some of the top-notch platforms you can use for live shopping streams.
IGTV by Instagram: IGTV by Instagram is one of the best platforms to monetize content. It allows viewers to buy and receive badges during the live stream. Reports state that 44 percent of consumers use Instagram weekly for buying products. Using Instagram can help you generate ROI fast. While Instagram Live is where your stream will take place, as soon as it ends, you can post it to your profile as an IGTV item, for on-demand replays and extended discoverability.
TikTok: TikTok is an engaging platform to sell your content and earn money as a content creator. This platform allows hosts to skim the real-time comments and respond to their viewers.
Facebook: This platform offers the option of ad-based video monetization. Display your content to guide your users about your offerings. Besides, the ads can help you generate a lot of revenue in a short span.
Uscreen: Uscreen is a user-friendly video content monetization and OTT platform. It allows content creators to produce and upload their videos with a few clicks. As a content owner, you get complete ownership of the content. The platform also offers a website builder to help content creators direct their traffic to the website.
These content monetization platforms allow comments of viewers in real-time to make the session more engaging and drive more sales.
To ensure your live stream is a success, you can try the following strategies to create hype:
Choose a platform with a good number of followers.
Create a sense of urgency by offering limited-edition products.
Offer time-bound discounts to attract more users.
Host the live stream at the appropriate time. Use analytics to know when your audience is active.
Publish a promotional post beforehand to make your audience aware of the live streaming session.
Get these things right, and you'll be able to capitalize on a new approach to making money as a content creator.
#4: Collaborate with Influencers to Amplify Reach
There's a fine line between content creators and influencers. While both produce content, their way of presentation and approach are different.
A content creator produces content, such as blog posts, photography, videos, reels, and more. Influencers also create similar content, but their goal is to influence the target audience.
Here is an example of a content creator's account: @poets on Instagram.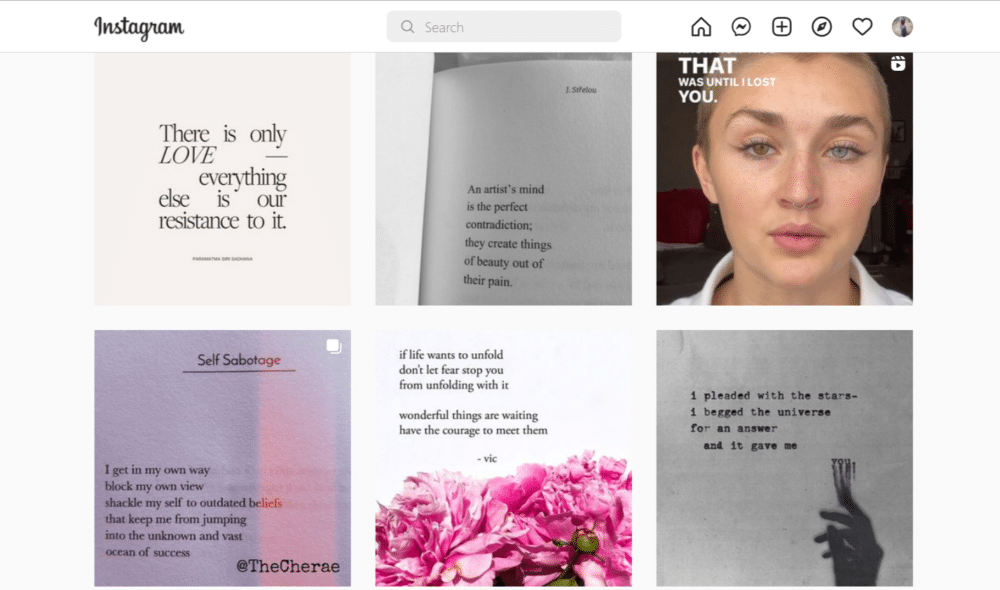 Notice how the content creator pays attention to producing text and visual content.
Now see this post by a famous fashion influencer @sophia_hardy.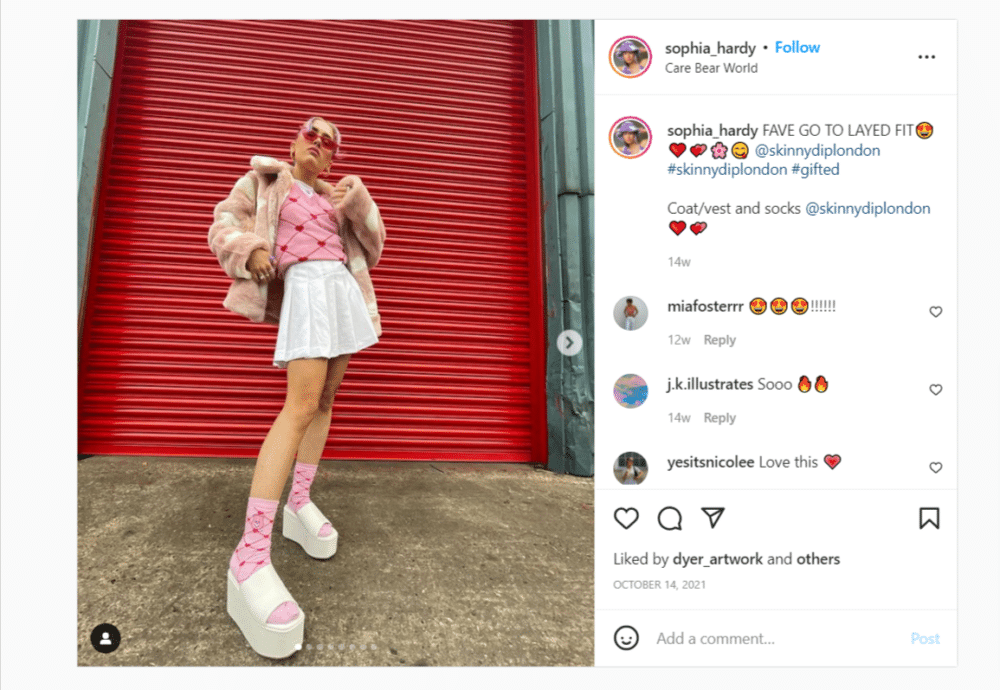 Her content focuses on influencing and engaging the audience.
If you compare the two, influencers portray a particular image to grow their audience base. They have a personality that their audience appreciates and their followers are likely to buy a product on their recommendation. As a content creator, take advantage of their popularity and improve your conversion rates.
Keep in mind the following essential elements to find the best influencer.
What type of content do you create?
Who is your target audience?
Why should the audience buy your content?
Is the influencer suitable to promote your content?
Will their audience find your content relatable?
For instance, if you create holistic content related to Yoga and health. Your aim will surely be to the target audience interested in such content. If you contact an influencer who proactively promotes health-related stuff, your journey will become easier. You won't have to think twice about how to make money as a content creator.
Here are the main advantages of collaborating with influencers.
Influencers share a great relationship with their audiences. So, the chances of engagement become higher.
Collaborating with influencers can help you reach target audiences fast.
Reports suggest that influencer marketing offers better ROI than other strategies.
#5: Hunt Paid Partnerships With Niche Brands
Content creators can partner with brands that resonate with their content.
For instance, if you write blogs on fitness apparel, try collaborating with a brand that sells a similar range of products. Use your creative mind to serve the brands looking for engaging content. This strategy can help in long-term career growth.
All you need to do is create unique content and pitch it to renowned brands of the same niche. But why would a brand trust you? There are billions of content creators producing viral content. Before thinking about how to make money as a content creator, ask yourself: What's your credibility?
Here are some tips that will help you create a unique and reliable identity in the market.
Create well-optimized, trustworthy, and expert-level content by conducting in-depth research.
Understand the nature of various social media platforms. Produce content that appeals to the target audience of these platforms.
Try to gain followers by posting content regularly.
Promote content free of cost for popular brands to attract new followers.
Research your competitors well. Always offer something that your competitor can't.
Here's a great example of these tactics used by the content creator Eric Rubens.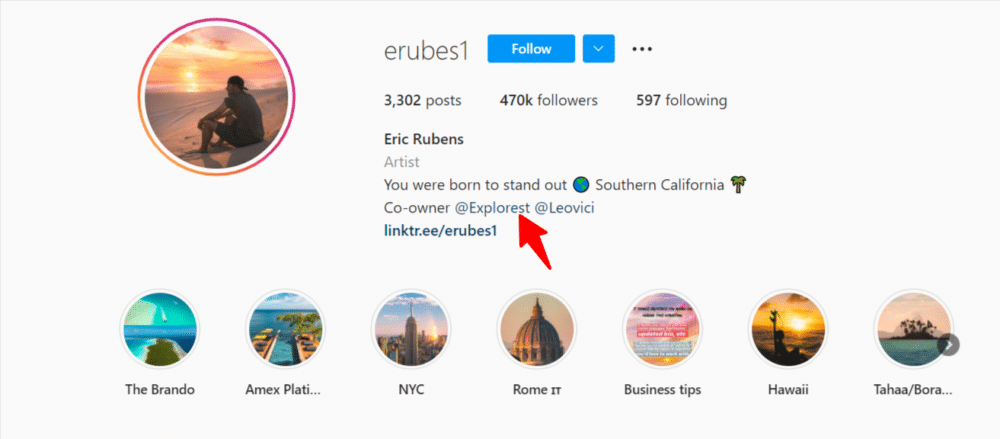 Eric has over 400K followers on his Instagram account. Observe his bio. He creates and promotes stuff related to his brand image. Eric's partnership with Explorest is what grabbed our eyeballs. Explorest is a unique mobile application that allows users to find beautiful and capture-worthy places.
Eric loves snapping cool pictures. So, this partnership is something that doesn't look like a promotion. His followers can relate to this brand as they also love visual content. For many, this is likely the main reason they follow Eric.
Explorest's team might have seen his credibility and content before deciding to offer a partnership. You can also find a brand for partnership by taking these aspects in mind.
Never copy big names. It's easy to get influenced by a successful content creator, but it may not help you in the long term. Before paying attention to how to make money as a content creator, build your skills first. Do what you are passionate about and find brands that would appreciate your work.
To Sum Up
Making money as a content creator has never been this easy. The golden opportunity to create content sitting at home and make a great profit is worth exploring. A large chunk of active internet users has made this dream possible. There are so many ways to make money as a content creator.
But, as the marketing tactics keep changing with the trends, you will need to be observant. There's no substitute for working hard and creating the best content.
The strategies shared in this article will only serve as a pathway. Executing them and staying committed is your responsibility. So, put the steps in action to enhance your money-making skills.
Keep the conversation going...
Over 10,000 of us are having daily conversations over in our free Facebook group and we'd love to see you there. Join us!