Table of Contents
This post may contain affiliate links. See our affiliate disclosure for more.
Social media is taking over the marketing world. The number of people on social media has risen rapidly over the past decade, from just below one billion users in 2010 to over 3 billion projected users in 2021.
Brands are starting to devote more of their marketing budgets to social, and the social marketing industry has grown as a result too.
You might be thinking of cashing in on the social media trend by setting up a marketing agency. If that sounds like something you'd be interested in exploring, we've put together a guide on how to start a social media marketing agency.
The guide will provide you with a framework to follow to grow your social media marketing agency. With that in mind, let's dive right in.
1. Determine your niche
Part of knowing how to start a social media marketing agency is the ability to niche down and offer a targeted service that fills a specific sector's needs. I recommend you find a sector that you find interesting. After all, you'll be providing a service in this sector for years to come.
There is a logic to defining your target market.
Businesses like to work with either established companies that have a reputation for delivering results, or people who are an expert in their field. As a new agency, you have no reputation.
It makes sense to set yourself up as an expert that offers services that fit your target market's specific needs. The secondary benefit of setting yourself up as a niche expert is you'll find it easier to establish your reputation and get referrals.
2. Focus on specific services
After you've decided on a sector, you need to define your services. There are many services you can offer as a social media marketing agency. You can specialize in a specific platform, for example, LinkedIn or Instagram.
You can also focus on a specific approach. For example, you might decide to specialize in influencer marketing. Alternatively, you might focus on Pay Per Click advertising and offer social media retargeting services or customer acquisition through social media.
The services you offer should align with your skill set, your interests, and customer need.
The Venn diagram above nicely illustrates this approach.
As you learn how to start a social media marketing agency, it's important to choose a service where you are confident that you can deliver results. Each platform has unique audiences, content formats, and posting rules. You'll have to use different marketing strategies for different platforms such as Instagram and LinkedIn.
The quickest way to fail as a marketing agency is by getting customers and failing to deliver on your promise. Customer churn kills agencies just as quickly as it can damage SaaS businesses and any other type of company.
3. Undertake competitor analysis
Regardless of your niche, you will always be fighting it out for traffic, leads, and clients. One of the best ways to set up a winning customer acquisition strategy is to conduct competitor analysis to see what other agencies are doing and learn from their successes.
I recommend you research the top social media marketing agencies in your region. Reviewing your local and national competitors is a logical first step as you lay out your strategy for how to start a social media marketing agency.
Google relevant search terms. For example, "LinkedIn marketing agency + city."
You'll undoubtedly see a mix of organic search results and paid search results when you do your search. I recommend clicking on both the paid ads and the organic search results.
Click through the companies in the search results.
Find examples of landing pages that make you want to reach out to the company. You should note down:
Sites with a well-designed landing page?
Examples of great copy?
That initial research will help you develop ideas for your MVP website, something we'll discuss a little later on.
Alongside reviewing the sales pages for different agencies, review their social presence. Look at the strategies that they are employing to acquire customers. These are social media marketing agencies; they should have some interesting social media marketing strategies.
Take the example of Seed to Branch, a LinkedIn marketing agency. They have a popular LinkedIn business page. It has 58,143 followers at the time of writing.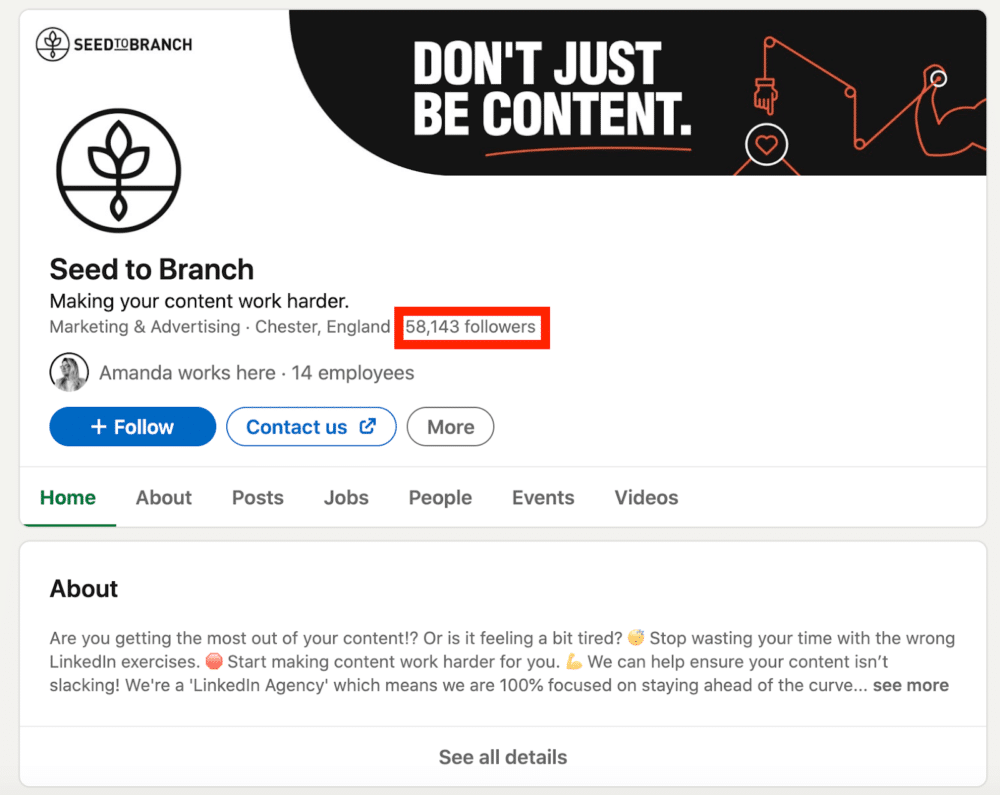 A quick review of the page provides plenty of interesting insights about effective LinkedIn marketing strategies. You can learn something from their approach.
You want to identify what companies like this are doing to engage people, develop leads, and make sales. You don't need to imitate their strategies, but they could be sources of inspiration as you plan to start a social media marketing agency.
In addition to reviewing their social presence, you should also review their search presence.
Keywords and trending topics are the cornerstones of search marketing. Continuous keyword research and analysis are crucial for good search performance, not just on Google searches but also on social media.
Through such research, you can:
Track popular and trending topics
Discover the level of interest in a product or service
Gain a better understanding of the customer journey
Identify important points of interaction
You can get appropriate keywords from a keyword database for keyword analysis. Or you can use tools like Moz, SEMRush, or Ahrefs.
I'll use Ahrefs to illustrate how keyword analysis works.
Ahrefs has a powerful collection of keyword analysis tools that can help you quickly and effortlessly recognize competitor keywords. You can search for keywords or URLs, filter results by location or region, specify different match types for PPC (Pay-Per-Click) keywords, and look at domain analytics data for a website.
Let's say we look at Single Grain, which is a digital marketing agency with a significant web presence. Here is a quick review of their top-performing pages.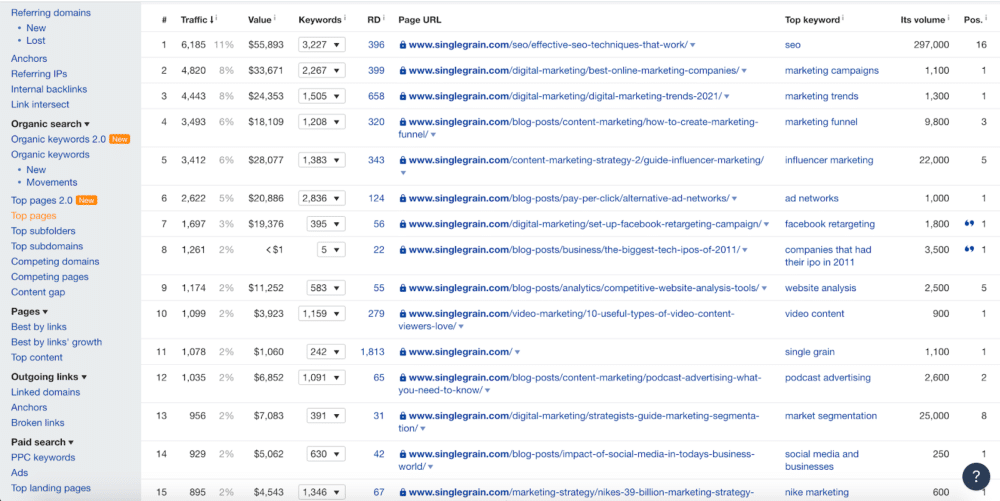 You can see that one of their most popular pages is an article on the most popular marketing campaigns. I'd imagine that this article helps generate a lot of leads for the company.
Competitor analysis is critical because it will show you how to improve your business plans and outperform your rivals. Effective competitor analysis will help you on your journey as you start a social media marketing agency.
4. Create your MVP website
In product development, the acronym "MVP" refers to "minimum viable product". Your MVP website contains the minimum number of pages you need to launch your social media marketing agency.
You can probably start a social media marketing agency website with just a handful of pages. They include:
Your homepage
Pages for your services
A case study to show you're amazing
Your MVP website only needs the most basic features.
You don't need to limit yourself to these features. You can and should build out your site over time. Invest in content marketing, create content for your blog, and bring traffic to your website.
An MVP website is a powerful tool for unveiling your company. Your MVP website gives customers something to reference when they consider your services.
5. Identify your best marketing channels
In digital marketing, you need to weigh everything you plan to do. If you've been in business for a while, you've already put together a marketing strategy and are using various digital marketing platforms.
As a new business owner, you will probably have a minimal web presence. You'll also have limited resources. That means you need to invest your time wisely and implement strategies, for example, schedule Google My Business posts to help you find customers.
There are a lot of digital marketing channels you can use. Logically, it makes sense to promote your business through the channels where you profess to have expertise.
The example I gave earlier, Seed to Branch, is a nice case in point. They claim to be experts in LinkedIn marketing. You can see that they are experts when you look at their LinkedIn business page.
You'll find a lot of stats online that discuss the most effective marketing channels. The results vary according to the study, but the top two marketing channels seem to be; email and content marketing.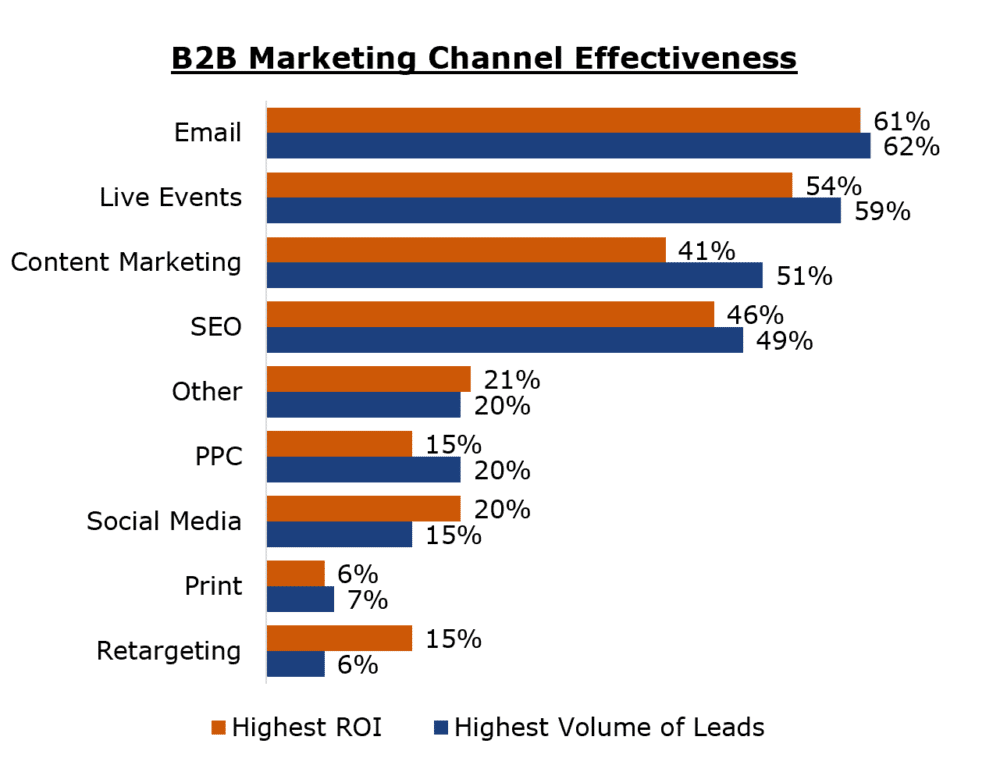 Regardless of the channels you choose, these three simple steps will help you get started:
Define and grasp your KPIs and goals: Determine what you want to accomplish with your marketing activities. Break down your targets into manageable chunks, such as customer acquisition, retention, brand recognition, and lead generation.
Using the relevant data: Your primary metric should be conversions from leads into customers. After all, that is how you make money. You should also use supporting metrics that measure engagement.
Analyze your online results: review the results of your marketing campaigns. Invest more time and money in the channels where you see a positive return on your investment.
You can assess your success and refine your approach based on your key competitors' marketing spend by conducting a custom study of them. Use this data to find underperforming networks and differentiate between those that perform well and those that don't.
With this information in hand, you can make actionable decisions, such as the platforms you can try to mimic your competitors' success and where the cost of advertising is lowest. You can also discover marketing platforms that your rivals aren't using, allowing you to make the most of your current marketing budget while saving time and effort.
6. Create a list of target clients
Customer acquisition is another important skill to master as you learn how to start a social media marketing agency. The more new clients you have, the more exposure your agency will get.
Here are a few things you can do daily to reach new potential clients:
Use LinkedIn to create your network: Write posts, respond to questions, and join LinkedIn groups to build your professional network. You can reach out to potential clients you'd like to partner with, but don't be spammy. At the same time, some potential clients can approach you, but if you feel they aren't a good match, say no while keeping a professional attitude.
Organize and lead online events: Hosting webinars is a great way of establishing credibility and reputation in your field. It is also a gold mine of industry contacts, especially those who register for your event using email. These contacts can become your clients in the future.
Encourage people to leave feedback: If you have a customer who's particularly happy with the service you give them, encourage them to write a testimonial and get their permission for you to include the testimonial on your social media page. You can go one step further and ask if you could feature their business logo as well.
Re-evaluate your approach regularly: Social media is constantly changing. What works today might not necessarily work tomorrow. Facebook's algorithm, for instance, changes regularly. You need to revisit your strategy periodically to keep in step with these changes.
New business won't land on your lap. You have to look for new clients and reach out to them actively.
7. Craft your outreach strategy
Reaching out to your customers and getting their interest is the first step in every sales process. You'll need a foolproof outreach plan to accomplish this effectively. It does not, however, end with just making a connection. You must constantly work to keep your prospects interested and cultivate your leads.
Email Outreach
Before you launch your automated email campaign, you must first create templates. Create a compelling subject line. Your subject line should pique people's attention and make them want to open the message.
Next, you need to write an engaging piece of email copy where you lay out the services you offer and the value you can provide the business. Mailshake has a nice case study where a person discusses the email outreach strategy they used to generate leads from Inc 200 companies.
Below is the email template the freelancer used for their outreach.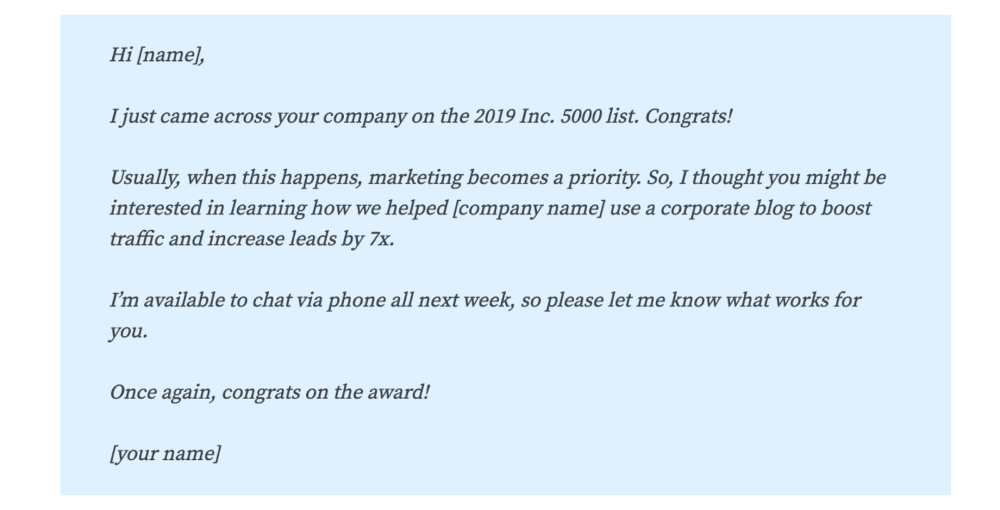 The email is nice and direct. You can see the second paragraph's value proposition, where the freelancer talks about boosting blog traffic and increasing leads. That's an enticing offer.
Your outreach email needs to have a similar hook, making people want to respond to your message.
Use the power of social media
You're a social media marketing agency, so you're expected to know how to reach new customers through social media. Instagram, Facebook, and Twitter are all good platforms for reaching new clients, especially those who are looking for a portfolio of your previous work.
You must take care not to brag about your brand too much. Instead, showcase your clients – what they do, why they partnered with you, and how your work helped them. Everybody loves a good story.
8. Deliver on your promises
Knowing how to start a social media marketing agency also involves realizing that you need to earn your customers' trust. That means following through on the promises you make, whether you've made those promises outright or just implied them during your negotiations.
Once you have a client, you need to deliver on your promises. Your ability to deliver on your word will help build a sense of trust and customer loyalty. Your customers appreciate it when you go the extra mile to make them happy. In turn, they will bring in new clients through referrals.
In Closing
In this guide, I discussed how to start a social media marketing agency. The guide broke down the steps you should follow to launch a successful agency.
Once you've laid the foundation for your agency, you can start promoting your services through a MVP website, creating a list of potential clients, identifying what you're really good at, and creating an effective outreach strategy powered by automated email marketing tools. Finally, to keep your current clients and win new ones through referrals, you need to deliver more than you promised.
Running a social media marketing agency is a marathon, not a sprint. Building your brand and reputation takes time and effort. Because social media platforms change all the time, you need to embrace change and take advantage of it to stay ahead of the competition.
Keep the conversation going...
Over 10,000 of us are having daily conversations over in our free Facebook group and we'd love to see you there. Join us!