Table of Contents
This post may contain affiliate links. See our affiliate disclosure for more.
Upwork is one of the most well-known freelance marketplaces on the internet. Also considered one of the largest, it continues to grow its user and client base rapidly. It's no wonder that freelancers with diverse skill sets choose Upwork as their ideal source of freelance work. But, is Upwork worth it?
However, competition can be steep due to Upwork's size and popularity, and newbie freelancers may get lost in the crowd. If you're thinking of starting a career in freelancing, you may be wondering, is Upwork worth it? Is it truly worth investing my time to look for employment on Upwork?
This article will give you a closer look at the platform to tell you everything you need to know about the platform.
What is Upwork?
Upwork is an American freelancing platform that acts as the middleman between businesses and freelancers. As the largest online platform, or so it says, it has created opportunities for many freelancers to find jobs and have a legitimate source of income.

Upwork's talent marketplace is designed to align the goals of both the client and freelancer. Its talent market is diverse, with freelancers across design and creative categories, development and IT, sales and marketing, admin and customer support, and many more.
Becoming a freelancer on Upwork is relatively easy. You first need a presentable profile that attracts prospective clients. It should be noted, though, that not all freelancers are accepted on Upwork– to balance freelancer and client needs, they sometimes limit the number of new freelancers and reject freelancers who fit into an already oversaturated category.
To join Upwork, you must be 18 years of age or above, have a reliable internet connection, and provide the proper equipment to finish tasks like a laptop or computer.
Once you have an account set up, you can start getting jobs on Upwork by submitting proposals to clients. Once a client accepts your offer, you can charge using an hourly or fixed rate. You can continually earn by getting consistently positive feedback and connecting with more clients.
Deciding is Upwork worth it value wise? There are two plans for freelancers on Upwork: Basic plus membership. The basic plan is a free membership, while the plus plan charges a monthly fee of $14.99. Aside from additional features, the number of 'connections' you will have per month sets these two plans apart.
Connects are the primary Upwork currency you need to have to submit proposals for jobs. The basic plan gives freelancers ten connections per month, while the plus plan provides 80. However, you can buy more connections for $0.15 each if you're using the basic plan.
Is Upwork worth it for freelancers?
Working on Upwork allows you to be a self employed business and earn money from anywhere. It ensures that you get paid for your work with its organized and easy-to-use billing and hour tracking system.
As a beginner, Upwork is a great place to get your freelance career started as it has a robust network of clients and fellow freelancers. It allows you to develop a reputation and establish a more robust profile by taking more jobs. The platform has had a strong history of success for freelancers as they have reportedly earned a total of $2.3 billion in 2020 alone.
One drawback, however, is the freelancer fees you need to pay on Upwork. Aside from paying for connections, the platform charges a 20% commission fee for every project you get through Upwork. However, that decreases if you have worked with the client for the long term.
Upwork also has a job score you'll need to maintain as it can be tough to recover from one lousy rating or get jobs, for that matter. That is why you need to be consistent in your quality of work. Nonetheless, these fees and job scores are part of the Upwork freelancing experience.
The environment on Upwork can get competitive with the millions of freelancers registered on the site, but skilled freelancers can get around it by building a solid profile.
So, is Upwork worth it? Overall,  Yes — Upwork is worth it. It's an excellent platform for both new and experienced freelancers so long as you know how to use it to your advantage.
So how can you set yourself up for the most success to make Upwork worth it for you? Here's some tips to help.
Landing the right gigs on Upwork
Although there are thousands of projects on Upwork, finding the right jobs for your skills and experience level is challenging. When you begin looking for jobs on Upwork, you may encounter several difficulties. You may, for example, come across a large number of scammers.
Also, clients will hire someone to complete the work at the lowest possible price. That means you may have to bid low to be able to land a project.
If you try to work on a project that's not right for you, you might produce subpar results and get lower client satisfaction. That said, here are some tips on how to land the perfect gigs on Upwork:
Set up an impressive freelancer profile
On Upwork, having a professional profile is crucial to your success. Your Upwork profile is like your resume– it's the gateway to a job interview. Hence, it needs to make a good impression. Your profile needs to showcase your skills, personality, experience, and portfolio.
It aids you in grabbing attention and distinguishing yourself from the competition, not just in your proposals but also for future clients who may come across your profile—every part of your profile matters, from the title to the overview.
Take this example from freelance mobile developer Scott B. He begins his profile by showcasing the type of clients he has worked for, the tools he's familiar with, and then proceeds to what he can offer through bullet summaries. Those and his impressive 100% job success rating allows him to land jobs easily.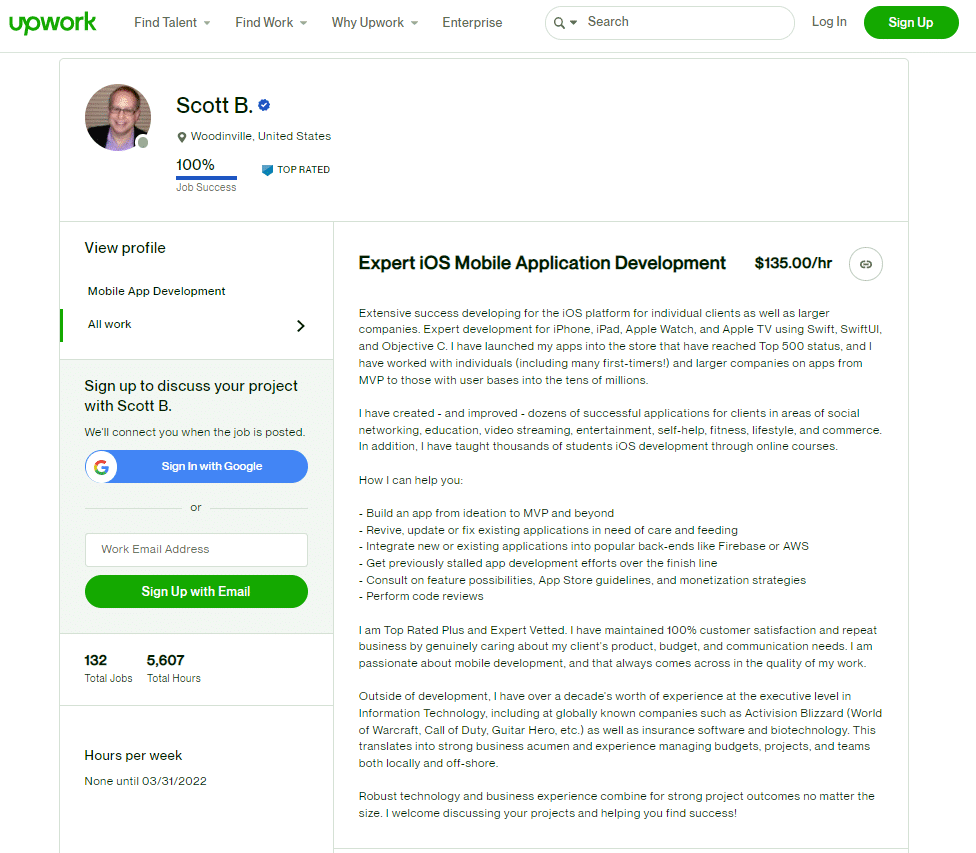 Using a similar format for your profile makes it easier for prospects to scan it, which can be helpful for competitive jobs where numerous other freelancers are applying. If you're a beginner still trying to build a strong profile, you can feature your skills and showcase some sample works through a portfolio.
Choose the work categories that are most relevant to your skillset and choose an hourly rate that reflects your talents and degree of expertise.
Be creative and concise in crafting your portfolio so that prospects can quickly grasp your capabilities. Make sure your profile is 100% complete to be eligible for Upwork badges like Top Rated or Rising Talent badges.
Focus on a specific skill
Freelancers may often find employment in a wide range of sectors, executing projects and filling responsibilities for customers on an as-needed basis. Upwork, on the other hand, categorizes freelancers depending on their talents and where they fit in.
So, before looking for jobs, you first must identify what particular category bet represents your skillset. These skills include web development, IT and networking, data science and analytics, writing copy, customer service, and other skills.
As a freelancer, you may emphasize your particular strengths by utilizing various hard and soft skills. However, you should emphasize one skill while providing the rest on the side.
Being strategic in choosing your focus area is essential to growing your freelance career as it will be the one that determines the types of jobs you get. To do this, you need to ask yourself where you most excel and what value sets you apart from other freelancers who also offer similar services. It is essential to research the most in-demand talents and specialties.
Sagar M's specific skill, for example, is iOS architecture. He began his introduction by stating that he is a former Apple engineer, which will add value to his abilities and help him stand out from the crowd.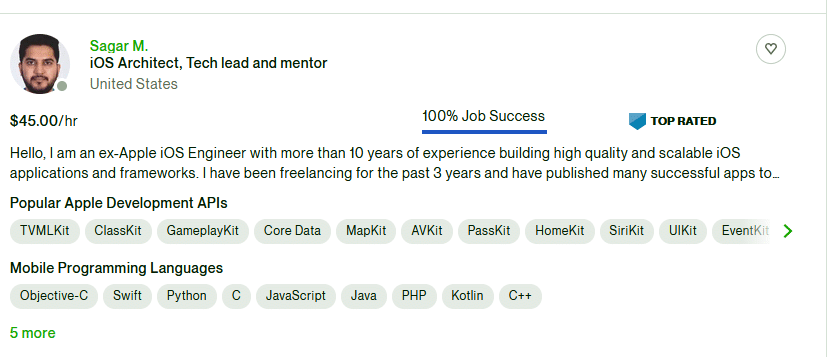 Once you've chosen a focus area, develop your skills to elevate your services and be able to charge more. You can do this by either taking up jobs and adding to your experience, taking relevant courses, or studying new tools and trends.
Focus on your JSS score
Upwork's evaluation process differs from other freelancing sites, such as Fiverr and Freelancer.com. It doesn't rely just on positive feedback and ratings but on a criterion known as the Job Success Score (JSS).
JSS aids Upwork's algorithm in determining whether or not you are deserving of a 'Top-Rated' badge on Upwork. It is determined based on the client's satisfaction signals and some factors. For example, when you succeed in getting more contracts and work from previous clients, your JSS will significantly increase.
It provides a comprehensive overview of your performance as a freelancer in the marketplace. That is how JSS appears as a percentage on your profile.

You must always maintain a high JSS score to rank higher, establish credibility, and lead your progress on the proper path. To be eligible for a JSS, you must complete four contracts within two years, at least two of which must be with distinct clients.
Also, you must receive some positive reviews and ratings. Remember that your score may go up or down. When a client closes projects without leaving feedback, your JSS score drops, affecting your ranking and trustworthiness.
This picture depicts the factors that influence your JSS score.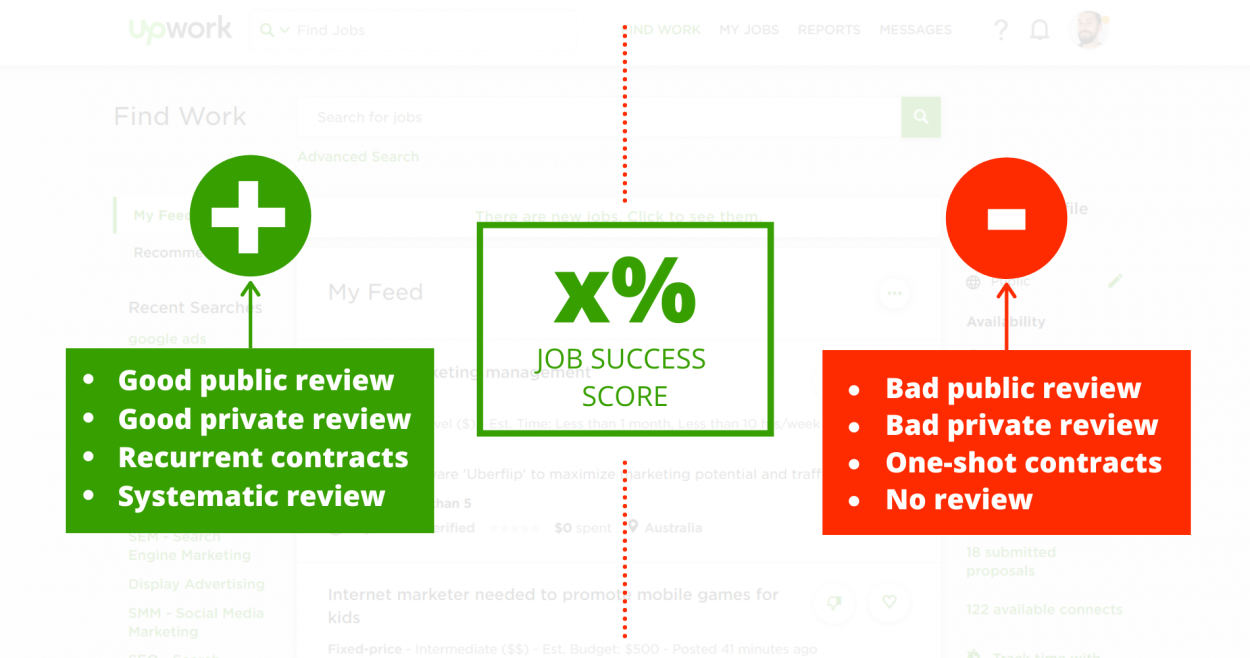 To improve your score, choose your contracts and clients with care. Make an effort to develop longer-term connections and ask for reviews. Keep in mind that you can't ask for 5-star reviews on Upwork because it violates the Upwork Terms of Service. Instead, you might respectfully and professionally solicit positive feedback from your client.
Additionally, try to get better-paying work because it will also have a higher impact on your score.
Aim for Upwork Job Invitations
Invitations from Upwork are excellent opportunities. When you receive job invites, you have a fantastic possibility to lead the discussion in the direction you want it to go. So, you must improve your profile so that potential clients may find you when looking for services.
To begin with, choose a niche and make it evident on your Upwork profile. You can narrow your focus by industry or service type. Clients love specialized freelancers. It demonstrates the extensive knowledge and competence of the freelancer. For instance, when customers need advertising services, they will search for specific advertising services, such as "Facebook ads."
So, they are more likely to look for candidates with Facebook advertising expertise, as seen by this Upwork example.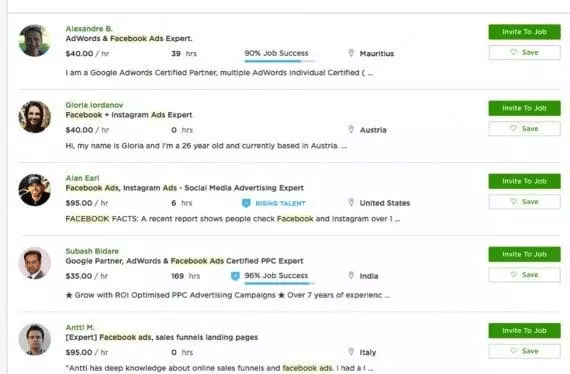 It's also crucial to create a headline that is results-oriented. When clients view your profile, the first thing they notice is your headline. That means it must be exciting and compelling.
Rather than employing a title like "Digital Marketing Consultant," concentrate on the results you want to achieve with your clients. You might, for example, use the following template: I help [ideal type of client] get [result] with [how you do it].
In your Upwork title, you must use particular keywords or long-tail keywords. So, you must employ precise keywords from the buyer's perspective in your industry niche. It's good to start your description with a testimonial from a previous client to keep the client interested in you.
Ensure that you have uploaded relevant portfolio items, taken relevant tests, and completed a work experience record. Also, if you have a blog, you may use it to market your profile while working to boost your blog following to acquire more invites. It's also critical to have a high rating and positive feedback and recommendations.
Send a solid proposal
A proposal on Upwork is similar to a business cover letter in that it showcases your services and how you can help the customer reach their objectives. It's critical and vital for landing Upwork gigs and standing out. So, you have to learn to write better and more successful proposals.
Every customer is unique, with their own set of project needs. It is critical to grasp the client's particular needs and assess whether or not you can meet them. Also, it helps you to keep to only the crucial details that your customer wants to know while avoiding unneeded fluff. Your proposal must be clear, concise, and tightly written.
Ensure that you have thoroughly read the description since often clients add a specific word somewhere in the description and ask freelancers to mention it at the beginning of their proposal. They do that to determine whether or not the bidding freelancers have thoroughly read the description.
For example, in this proposal, the candidate proves that they read the description by starting with a recap of the customer's requirements. That way, the candidate makes his proposal about the client, and the client will be more engaged. Then it goes into detail about what he can accomplish if he is employed.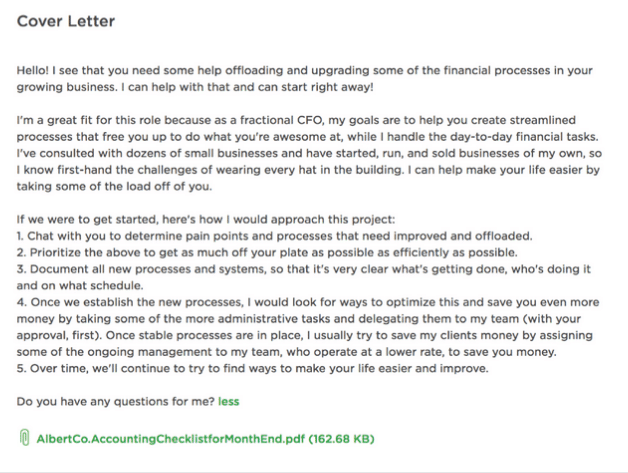 It is also critical not to copy and paste templates. Personalize your proposal by addressing your customer by name and modifying the greeting and intro paragraph to match your tone of voice and style.
To engage the client, it's a good idea to provide a complimentary tip and guidance. You must also ask intelligent questions to demonstrate your worth right away. The appropriate questions can entice clients and convince them that you are competent and knowledgeable about your field.
Last but not least, ensure your closing statement includes a call to action (CTA) that directs the customer to take the next step.
Upwork's competition
Still deciding, is Upwork worth it? According to i-Programmer, there are 12 million registered freelancers and 5 million registered clients on Upwork. Furthermore, Upwork receives 10,000 new signups every day, prompting the platform to implement a strict rejection policy.
As a result, competition is fierce, and obtaining new freelance employment is challenging. Luckily, several Upwork competitors and alternatives might help you get your foot in the door and gain more clients.
These rivals also provide a good level of service, a secure method for managing contracts and payments, and other unique features. Some of these sites, such as Fiverr, Hubstaff Talent, Freelancer.com, and so on, are free. While others, such as Flexjobs, need a membership fee to access jobs and apply.
Apart from that, some of them are highly specialized. 99designs, for example, only connects designers with clients in need of design services. So, you should search for and review sites like Upwork from around the web to see what else might serve you well.
Conclusion
As more individuals start working on a freelance or contract basis and remote working becomes more prevalent, freelancing sites like Upwork have become popular places for freelancers to find employment. But, is Upwork worth it?
Upwork can be an excellent alternative for you because of the wide variety of assignments accessible. You could get lucky and meet an excellent customer that wants to work with a freelancer on a long-term basis for ongoing projects.
As a freelancer, you may work on exciting projects for customers worldwide. Upwork provides you with a worldwide pool of prospective consumers. It also matches you with projects that you might be interested in, and you can explore the site for employment that appeals to you.
We've heard many Upwork success stories, and in the end, do believe that Upwork is worth it for those seeking freelance work.
However, you'll need to work a little more initially to establish a reputation on the platform and make yourself appealing to the top companies. Once you have that reputation, those employers will just keep lining up in front of you.
Keep the conversation going...
Over 10,000 of us are having daily conversations over in our free Facebook group and we'd love to see you there. Join us!