Are you looking for a PeoplePerHour review and full on guide? You've come to the right place.
The number of people who prefer taking on freelance projects over 9-5 jobs is growing rampantly. The freelancer population in the US is estimated to be over 65 million, projected to grow to 90.1 million by 2028. People value the ease and convenience of working anywhere, anytime.
That has opened a business gap for freelance marketplaces to bridge the gap between businesses and freelancers. Statistics show that 73% of freelancers get their projects from marketplaces. PeoplePerHour is one of those platforms.
The PeoplePerHour platform has existed since 2007. It has connected more than a million clients to its 2.4 million freelancer community. Read this PeoplePerHour review to learn how it works and whether it is worth your time and money.
What is PeoplePerHour?
PeoplePerHour is a freelance jobs platform that was started to connect clients and freelancers globally. It is a transactional platform. The freelancers on the platform are the sellers, and the clients paying for the services are the buyers.
Businesses can post freelance projects on the platform. Then, the freelancers respond with proposals and portfolios to show their experience level. Freelancers can also post offers defining their skill set, services, and rates.
Who is PeoplePerHour best for?
PeoplePerHour is best for freelancers looking to earn from freelance gigs. That also makes it a good platform for businesses looking for skilled freelance talents. There is a whole list of skills you can provide or look for on the PeoplePerHour platform, including:
Technology and Programming
Writing and Translation
Design
Videography and Photography
Marketing and Branding
Social Media
Does the platform have your attention? Keep reading this PeoplePerHour review to learn more about how the platform works.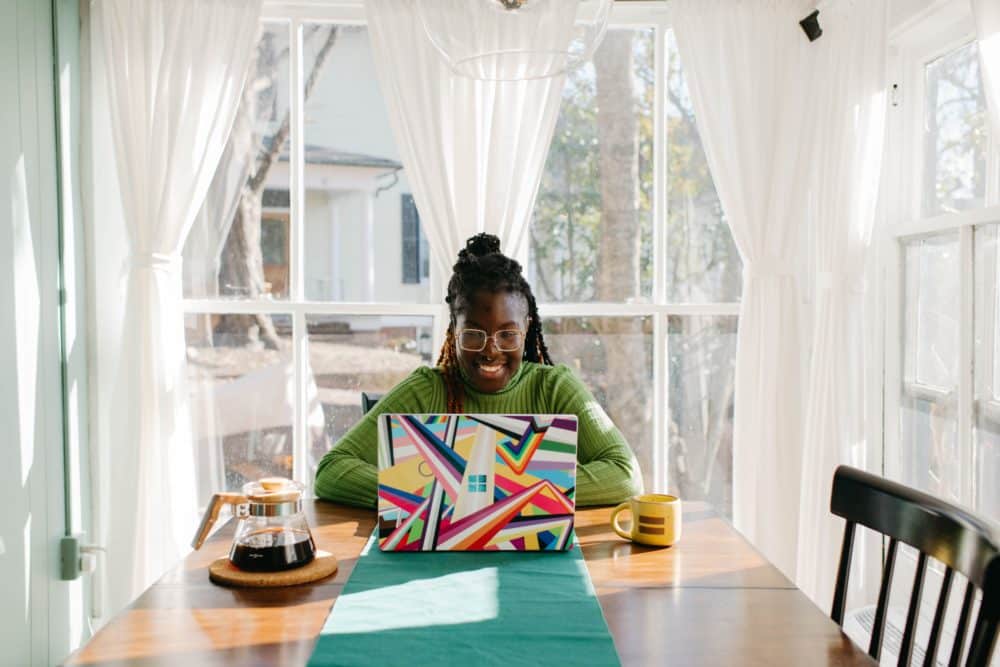 How does PeoplePerHour work?
Because PeoplePerHour is a freelance platform created to benefit businesses with projects and freelancers. That also means that it works differently for the two categories.
Freelancers send proposals to clients to bid for open freelance projects. They can also create offers outlining services and rates. In this case, the clients will have to contact freelancers for more details. The client then chooses a freelancer to work with and makes payments.
How to use PeoplePerHour as an Employer
Businesses in different industries are hiring more freelancers, mainly due to increased resignations. The 2021 Freelance Forward Report shows that the arts and design industry has the biggest percentage of freelancers at 77%. Most employers use freelance platforms like PeoplePerHour to hire.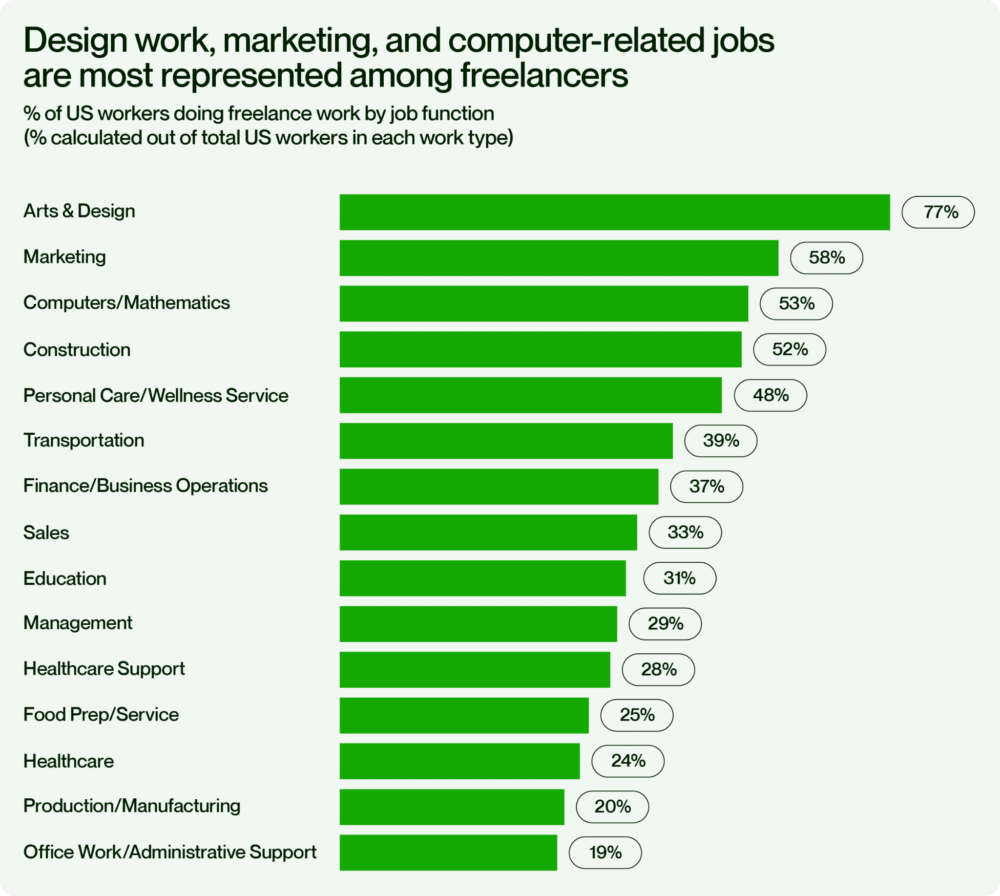 Are you an employer looking to get certified freelancers to work on your projects? Here is how you can use PeoplePerHour to achieve that:
After settling on the project, post on the PeoplePerHour platform and ensure the project is clearly described to attract relevant freelancers.
Start by navigating to the bold "Post Project" menu at the top. Clicking that button takes you to another page where you can select a category and subcategory for your project.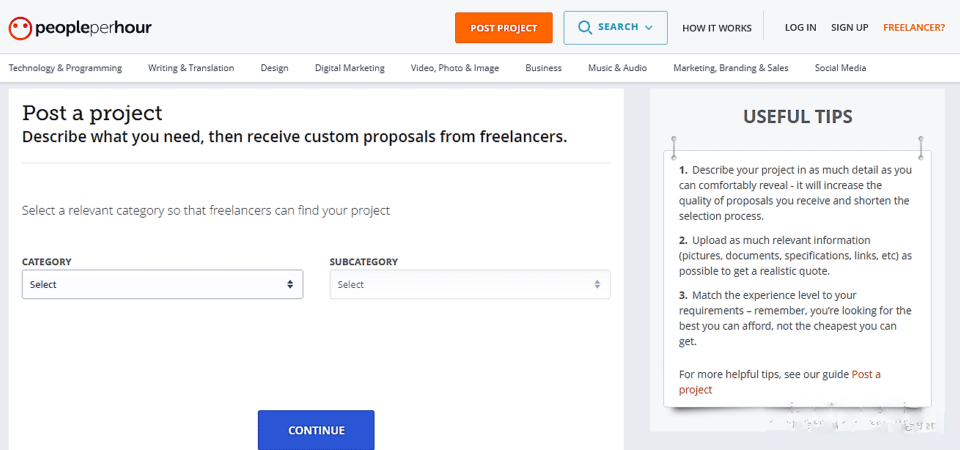 Then when you scroll down, you will notice more spaces to fill in more details about the project.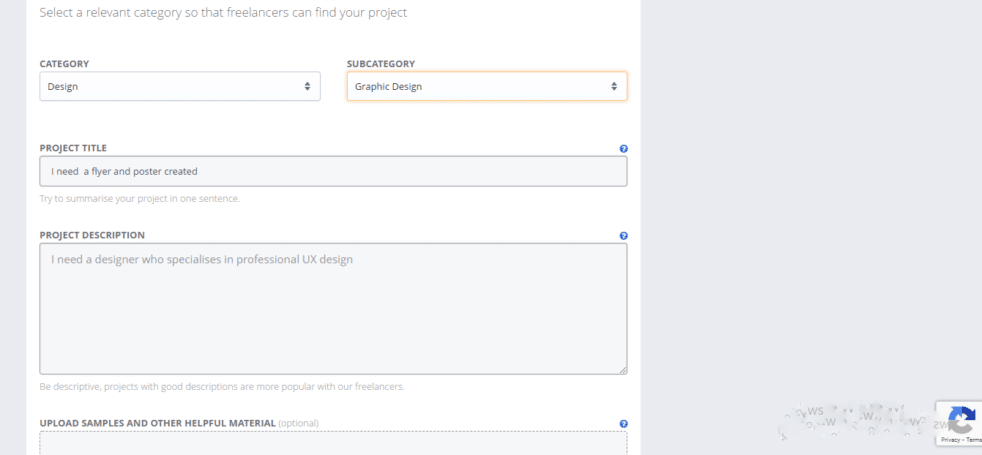 Finally, you have to set a budget before you post your project. Include the payment details like the currency you will use.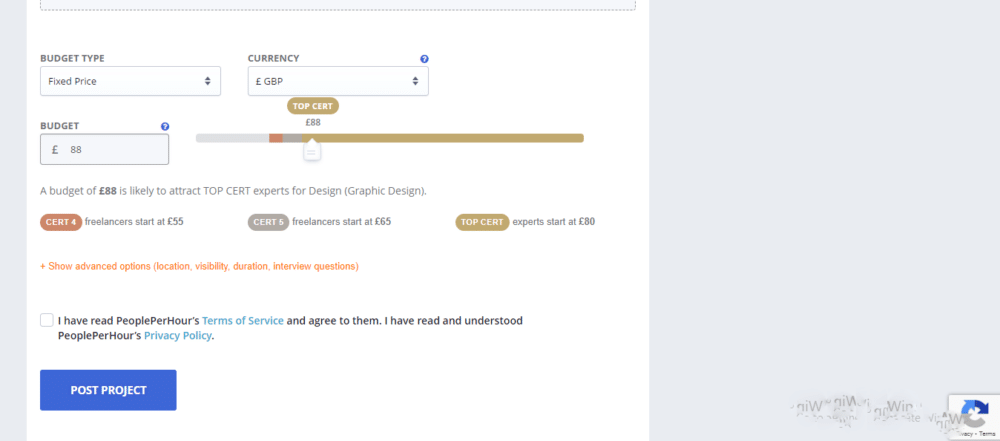 Next, the platform's AI system will match and contact freelancers whose bio and skills fit those required for your project. Then interested freelancers will respond with proposals. But note there is more than one way to get the right freelancer for your project.
For instance, you can use the search features to find the right freelancers for the job. Then you can reach out to them and request proposals.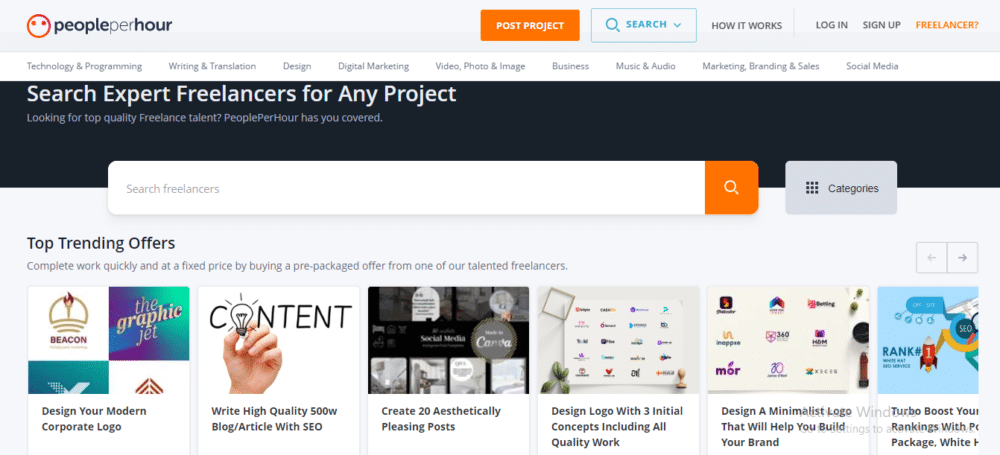 You will need to be more specific with your search to get the best suggestions from the platform. You can refine your search by including location, rates, and skills details. Then, you can request a proposal for a specific project from a freelancer.
You can also use the freelance offers feature on the platform. The offers are pre-set packages that include skills and their rates. Here is an example: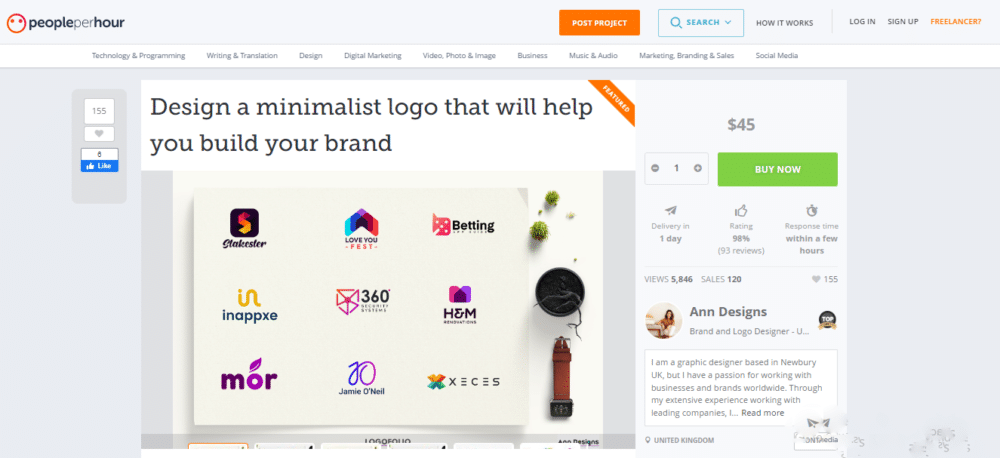 You can browse different offers and choose one that works for you. Then, take an offer bundle, and let the freelancer work on a test project. If you're happy with their work, you can give them the project and pay a deposit.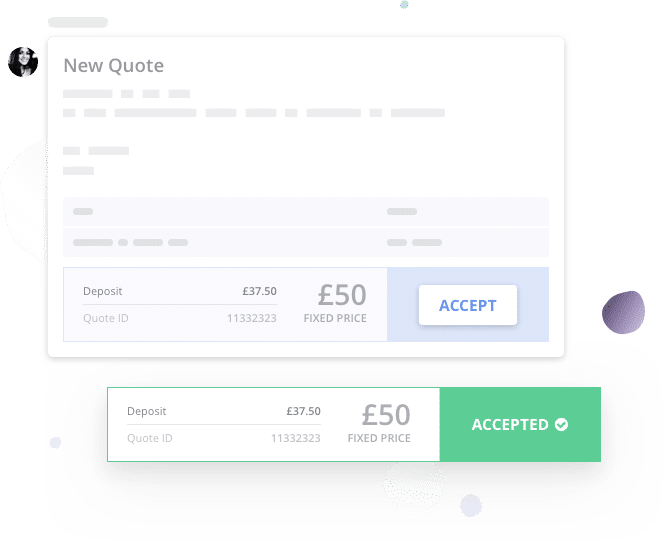 The next step is connecting with freelancers and managing projects. The PeoplePerHour platform makes conversation with freelancers easy through project streams.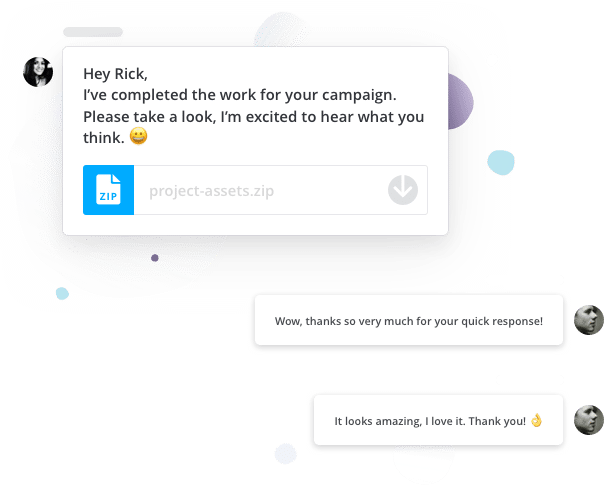 The feature makes it easy to communicate and organize project details. You can receive or send messages, attachments, and notifications via email reminders. That makes it easy to track projects to their completion.
Once the project is completed, you can make payments through the PeoplePerHour payment systems with a single click.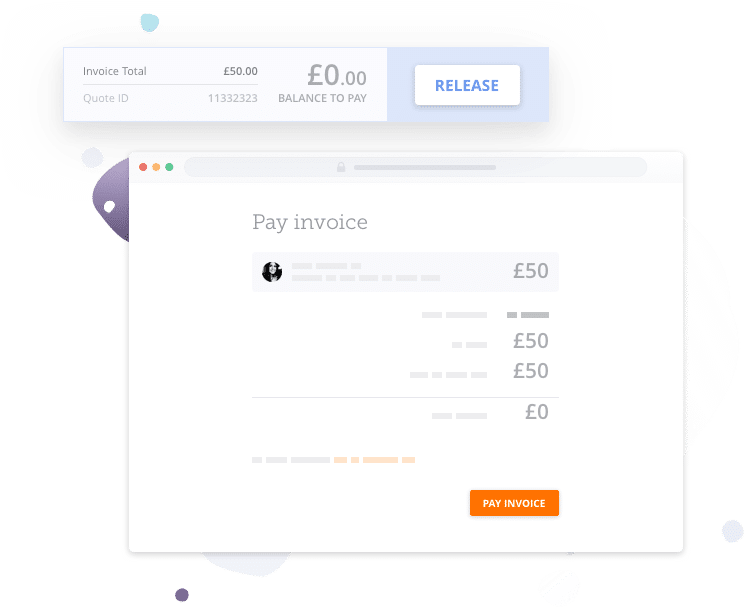 The final stage for you as an employer on PeoplePerHour is rating the freelancer and leaving your feedback. The review and the rating help define the status of your freelancer on the Cert Algorithm used by the platform.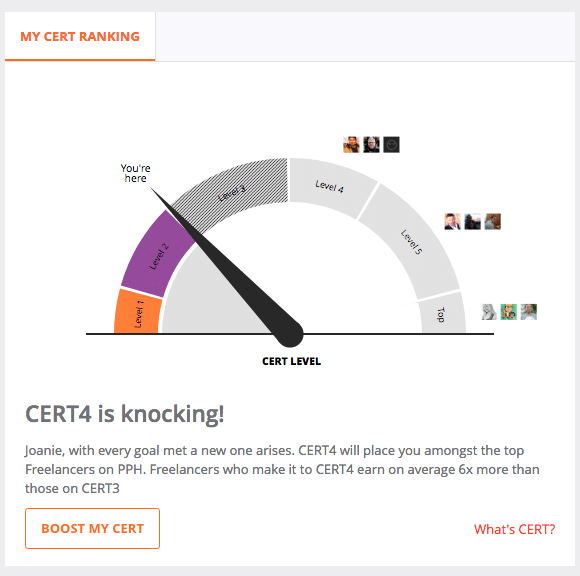 The feature ranks a freelancer based on reviews and completed tasks and compares them to the other freelancers. You can use the feature to vet the freelancers based on their past employers' feedback.
How to use PeoplePerHour as a Freelancer
If you're looking to get started as a freelancer on PeoplePerHour, here are the steps you need to follow:
First, you need to apply to become a certified freelancer on PeoplePerHour. That is the stage at which the platforms look at whether you comply with the requirements or not. You can look at it as the freelance version of applying for a business license.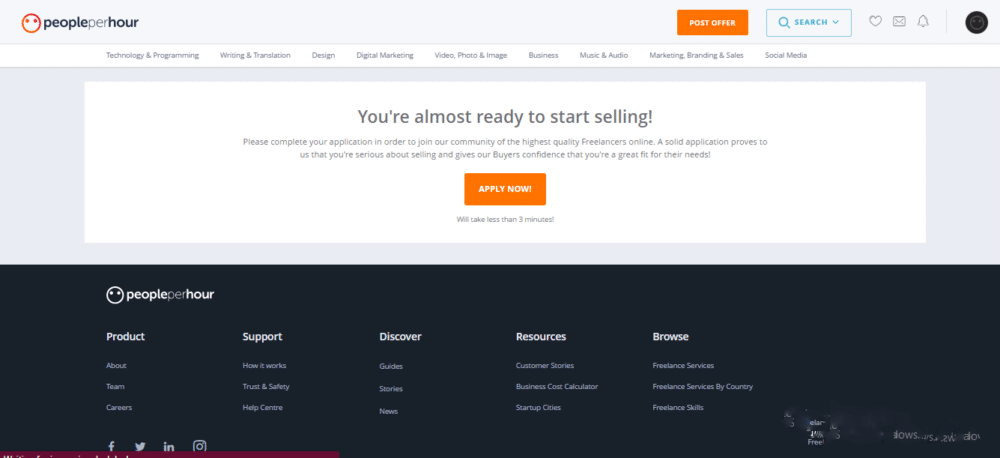 You will need to include an application letter, portfolio, and personal details like location and phone number. Your application is then reviewed and approved by the PeoplePerHour moderation team.
Once approved, you can now access global projects open to your countries. The platform currently has a freelance community from 180 countries. But any freelancer can easily apply to join the community and get projects open to their country or region.
The next step is building a great profile to help you stand out among the other freelancers on the platform. Your clients also expect your profile to reflect who you are as a professional. It's also a chance to express yourself in a distinct way that showcases your skills and experience.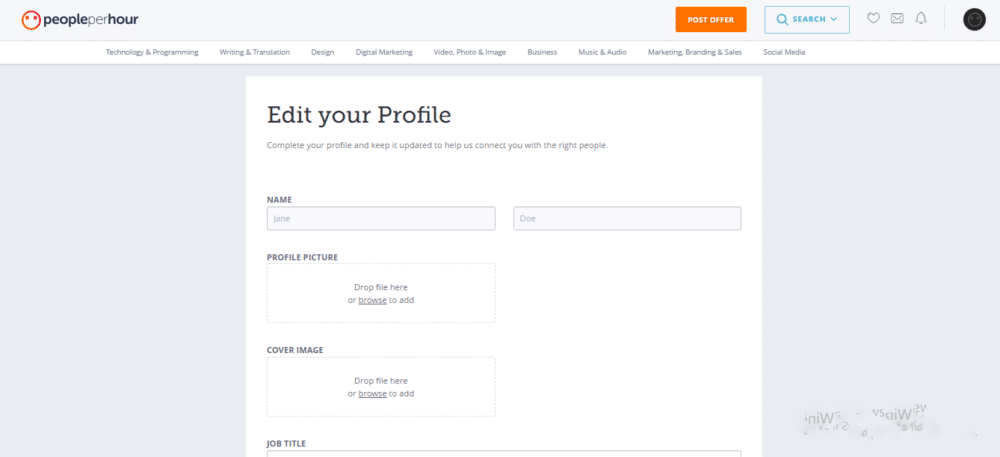 You can personalize your profile by giving more personal but relevant details that attract employers to you. For example, include a portfolio of projects you have worked on to prove your experience to the clients. Also, remember to save your profile.
Your next step will be finding the projects that fit your skill set. The PeoplePerHour system matches and recommends suitable projects based on your profile and abilities. But, you can also search manually and create project alerts.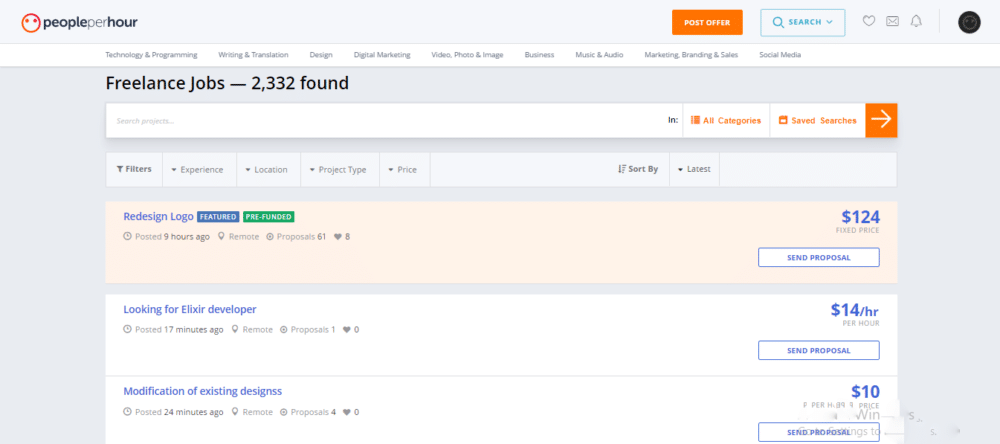 After identifying suitable projects, bid for them. For this, you'll need to send compelling proposals. PeoplePerHour allows you to send 15 free proposals per month. To send more, you'll need to buy extra credit.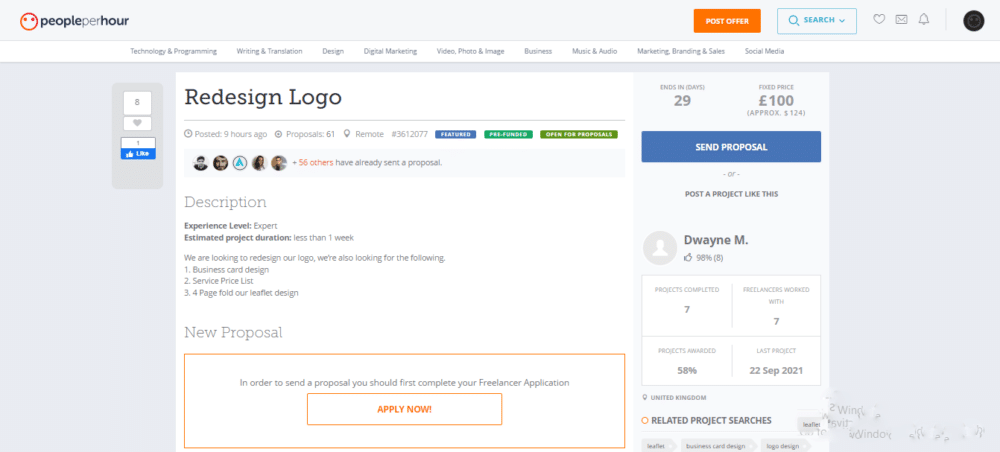 You can also take advantage of the offer feature to get freelance clients. The feature allows you to create packages highlighting custom services and the rates you charge.
So you can start with cheap offers and build and grow your ties with clients. Encourage them to turn into return clients once they see your work.
The next step is waiting and receiving your potential clients' responses to the bid. Of course, they reserve the right to either reject or accept your bid. If the client accepts the bid, PeoplePerHour encourages people to use the project work stream.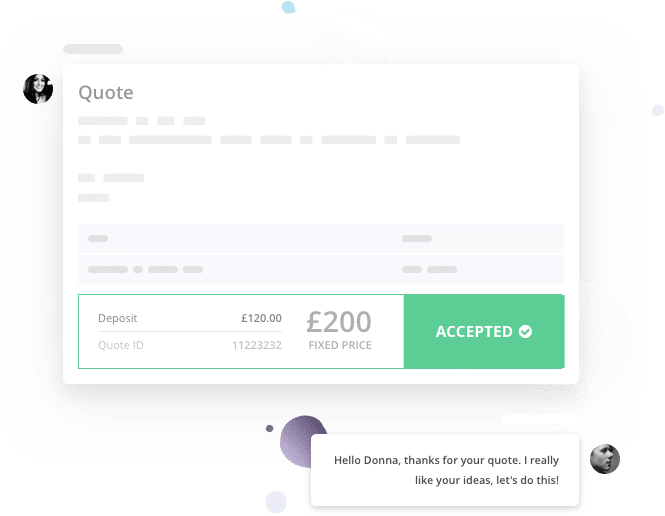 Now it's time to get paid for completed projects. Your client needs to accept your work for it to be a complete project. PeoplePerHour allows at least two revisions to ensure client satisfaction.
You can quickly raise your invoice from your project stream. The system provides all the invoice data without needing external freelance invoice apps. Your client gets instant notification of your invoice.
Afterwards, they release the funds to you via the online payment and bank details provided.
PeoplePerHour makes payments in either USD, GDP, or EUR. You can also choose direct bank accounts deposit or e-platforms like PayPal to receive payments for your freelance services.
Finally, encourage your clients to leave customer reviews and ratings. You can quickly become a CERT freelancer if you deliver projects worth 5-star ratings. But, remember, you also reserve the right to leave PeoplePerHour reviews about your experience with your clients.
PeoplePerHour Pricing & Fees
Like any other freelancing platform, you must pay attention to the fees before committing. Having all the facts makes it easier to know if the platform is the right fit for you. It can also guide the project you should take on since some jobs are paid hourly.
For the freelancer, the main fees charged are platform fees. Freelancers pay a 20% fee for projects worth $350 or less, a 7.5% fee for projects between $350 and $7000, and 3.5% for those above $7000. The more the value of your sales, the lesser the fee.
The clients also pay PeoplePerHour a service fee, as shown below.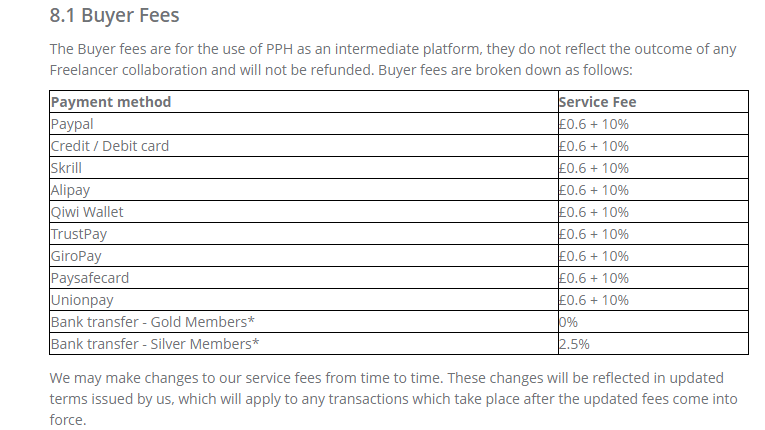 Besides the main fees, there are more that each party using the platform incurs, including:
A non-disclosure fee and optional urgent-listing, talent scout, and featured project fees for the buyers.
Extra proposals, withdrawal, invoice fees, and bank transfer fees for freelancers.
Optional $13 application fast track fee, $14.95 featured offer fee in the PeoplePerHour listings for freelancers.
A $9.95 monthly admin fee for the inactive user accounts that hold money beyond sixty days
A 2.5% foreign currencies conversion fee for every transaction done by PeoplePerHour
You will need to pay attention to each fee stated above when calculating your total net pay and other payment details. Also, note that the above fees do not include VAT charges, which will vary depending on your location.
Pros of PeoplePerHour
There are a couple of freelance websites globally. But what gives PeoplePerHour an advantage over the rest?
Extensive global businesses and freelancer network
PeoplePerHour provides a wide global freelance and employers network. That provides a larger work and experienced freelancer workforce volume, which the two parties require. You can also own both a seller and buyer account.
Multiple hiring options
Employers can use freelancers' offers to filter the results based on skills, experience, and rates. They can also wait for freelancers' proposals. That provides options for the clients, making the recruitment process more manageable and shorter.
Simple-to-use visual interface
The interface makes it interactive for employers and freelancers. Online PeoplePerHour reviews also support that the interface makes it easy to find project details and freelancers' ratings, portfolios, and descriptions.
The built-in workstream system
Thanks to this system, conversation between the parties is secure and easy. Clients and freelancers can send messages, files, and other attachments on the same platform. That makes tracking and managing projects, generating invoices, and making payments easy.
It is also easier for the sellers to manage their freelance contracts.
Additional Privileges
Finally, posting jobs is free for clients, and freelancers have the privilege of choosing their rates.
Cons of PeoplePerHour
Some things are good, but nothing lacks a flip side. Here are some of the platform's cons:
Stiff competition
Freelancers face stiff competition for projects due to the large freelance community. As a result, there is no job security or guarantee of constant work. That compels most people to lower their freelancer prices.
Too many fees
The fees frustrate both clients and buyers, leading to negative PeoplePerHour reviews—especially from new freelancers or those yet to find high-paying projects that are charged lower service fees.
What freelancers are saying about PeoplePerHour
Here are a few PeoplePerHour reviews from real clients. You can learn more about the platform's user experience and other details.
"The first freelance website that gave me trust in online money. Completed 2 orders in a couple of days."– Arkam Kaleel, Trustpilot
"Medium size marketplace with built-in features that ensure quality work and fair competition."– Muriel R, G2.com
"We have built a network of trusted freelancers we can depend on when we need something done."– Ana Rodriguez, Santamaria Shirtmakers.
"People per hour is a fantastic way for freelancers anywhere in the world to find work in their respective fields. I recommend it to anyone who is actively looking for work. I have applied for and received various jobs in the past year." – Richard Powell, Trustpilot.
So should you sign up for PeoplePerHour?
PeoplePerHour is an excellent marketplace to start your freelance career. It is also a good platform for employers looking for freelance professionals to complete your projects in time.
Also, as explained in the PeoplePerHour review above, it can help you grow in your trade. Look at it this way: If your PeoplePerHour freelancer's CERT level increases, you gain more business.
In the end, yes, we think you should sign up for PeoplePerHour and give it a shot — it can be an excellent way to gain clients and experience.
Keep the conversation going...
Over 10,000 of us are having daily conversations over in our free Facebook group and we'd love to see you there. Join us!