This post may contain affiliate links. See our affiliate disclosure for more.
Your customers are the lifeblood of your business. They are your most vital asset and the reason you exist. So how do you say "thank you for your business" in a meaningful way?
In this article, we're going to explore 10 proven ways to say "thank you for your business" professionally in order to keep clients coming back and build long-term client and customer relationships.
As you'll see, this is not exactly rocket science. All you need to do to win over the hearts and minds of your customers is offer an authentic, memorable display of gratitude. Let's dive into how to do this.
How to say "thank you for your business"
Thanking a customer for their business effectively boils down to two things: being memorable and being authentic. The more authentic and memorable your gesture of thanks, the more appreciative your customer will be – and the more likely he or she will be to respond positively to the gesture.
Being authentic and memorable requires you to do your homework, personalize your message, and figure out the appropriate medium for delivering your message. Here are 10 ideas below that are generally foolproof and will leave a lasting impact on your customers.
1. Handwritten Thank You Card
Who says you need to be expensive, high-tech, and flashy when it comes to thanking a customer for doing business with you. There is something powerful about a traditional, old-fashioned handwritten card.
Delivering a personalized message in ink conveys a sense of timelessness to your customers – and it stands out from a simple email or phone call.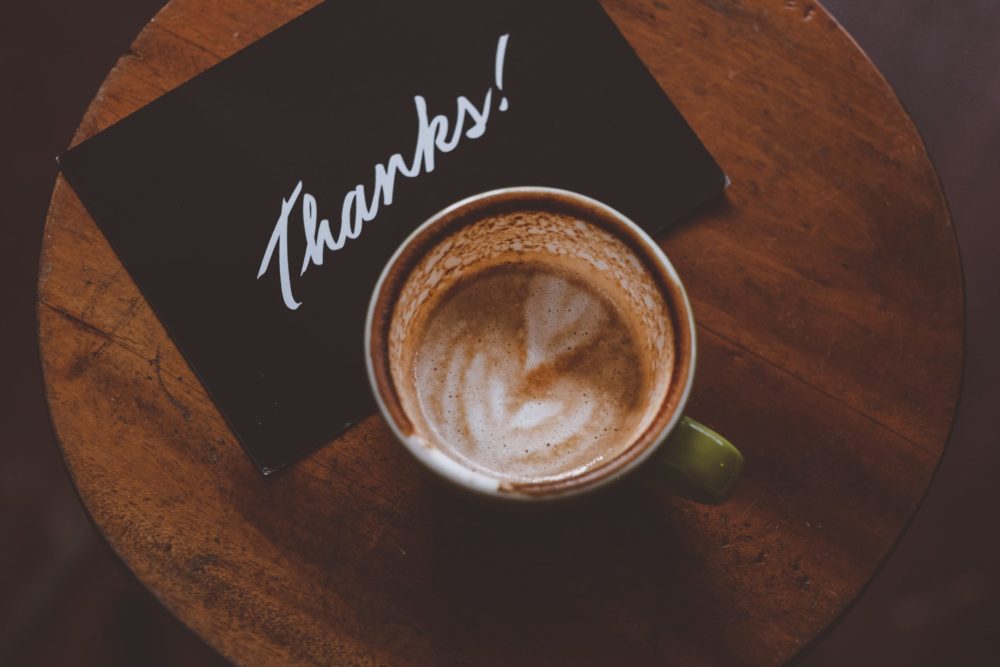 Get some nice stationery, sit down, and craft a thoughtful thank you message explaining why you love serving the customer and what you hope the future brings for your relationship.
Your customer will appreciate the gesture and the fact that you took the time to handwrite a personalized message more than you expect.
Publicly thanking your customers over social media is a great way to show appreciation to them on a public forum.
If you have a customer that is highly active on a particular social media platform such as Twitter, LinkedIn, or Instagram, then a social media post or message on that forum thanking the customer for doing business with you makes sense.
You can go with either a public post or a one-to-one message, depending on your level of comfort with publicly acknowledging that the person is a customer of yours.
For example, here at Nextiva, our CEO Tomas Gorny sends a personalized LinkedIn message to every new customer who signs up for Nextiva service.
Regardless of which approach you take, using social media to thank your customer will help you stand out from the pack and set the tone for how the customer feels about your company.
Vendors love receiving acknowledgement as a great company to do business with – so don't be afraid to use social media as a platform to thank you for customers.
3. Personalized Thank You Gift
The personalized client gift will never go out of style. Your customers deserve them, too.
These do not have to be expensive gifts. Your customers don't need Tiffany bracelets, tickets to the theater, and the like.
Something as simple as a trinket from their favorite sports team, a copy of a book by an author they like, or a toy for their pet or child can create a "wow" factor and induce their loyalty.
To make your life easier, use personalized gift services such as Greetabl to automate the gift-giving process while personalizing and tracking the experience for each customer.
Final words of wisdom here – the more personalized the gift, the better. Take the time to get your customer something he or she will truly love.
4. Phone Call Just to Say Thank You
Have you ever called a customer out of nowhere just to effusively and authentically thank him or her for being an awesome customer of yours?
Have you ever held a conversation with a customer where the sole point was to tell the customer how much his or her business meant to you – with no strings attached?
Have you ever been on the receiving end of these phone conversations?
Chances are, if the answer is yes to any of these questions, the incidents of them occurring are few and far between.
That alone should tell you how impactful making such a call to your customers will be. Customers so rarely get phone calls for the sole and exclusive purpose of telling them how much they are valued.
Make thank you phone calls to your customers a regular part of your business and see how much customer satisfaction and loyalty skyrockets as a result.
5. Video Thank You Message
Thanks to services like Vidyard, it's never been easier to record and send a video message to your customers thanking them for their business.
You can get Vidyard's free tool, GoVideo, record a quick thank you message to your customer directly in your browser, and send the customer a link to the video in the time it took you to read this section of the article.
If your clients are hard to reach via phone or prefer asynchronous communication, a video message over email is a great option.
You can stand out and personalize your message as much as you want – at zero cost. Plus, you can track when they open your video and the number of times they view it.
Try this thank you method with your customers and see how positively they respond to your messages.
6. LinkedIn Recommendation
An unorthodox approach to be sure, a LinkedIn Recommendation is a great way to publicly thank a customer for his or her business, especially if your relationship is of a B2B nature.
Is your customer using your product or service to solve a business problem creatively? Shout him or her out via a LinkedIn recommendation.
Your customer will be surprised and delighted by this – very few vendors shout out their customers for their skills and dedication, usually the opposite is what is expected.
A LinkedIn Recommendation is a great way to offer a public and timeless display of thanks that will benefit your customer's professional reputation as well.
7. Cameo Thank You Message
This thank you method is relatively new and it is absolutely golden. Cameo is a service that lets you order personalized video messages from celebrities to anyone you want for various levels of fees.
Is your customer a diehard Green Bay Packers fan? Order a Cameo message from Brett Favre for $300, your customer will receive a personalized thank you message from the Lambeau icon on your behalf.
You don't have to break the bank with this thank you message. If $300 sounds like way too much money, there are major celebrities available for less than $50. Is your customer a fan of the TV show Game of Thrones? Get a Cameo message from actor James Cosmo for just $50.
A Cameo message is guaranteed to be memorable and appreciated by your customer. This is about as personalized as you can get. It's worth trying out for every business.
8. Gift Card + Thank You Note
Sometimes, it pays to go general with your thank you gift to a customer.
Amazon gift cards are great because they allow the customer the flexibility to use them for whatever they want, and they allow you to attach a personalized thank you message when you send them. Tremendous gift cards also allow you to send Amazon gift cards to clients anywhere across the globe.
Gift cards work best when they are coming out of the blue and contain an authentic, personalized message. Everyone has something he or she has been wanting to buy – sending a $50 gift card can let them choose their own gift and credit your business for helping them get it.
The moral of this approach is – you don't always have to overthink your gift-giving. Sometimes it pays to keep things simple.
If you have a customer who has been with your company for a long time but has been relatively quiet, an Amazon gift card is a great way to break the ice and potentially deepen your relationship.
9. Surprise Discount on Services
This is a great option for enterprise businesses and small businesses alike. Want to make your customer happy? Give them a discount on their current service out of the blue. No questions asked.
Why do this? Case in point: at my old apartment in Tennessee, I once checked my EPB statement and was shocked to find that the cost for my cable and internet service had actually gone down on its own.
This was a stark contrast to my prior experiences with juggernauts like Comcast who would furtively raise my bill after a year – every single time.
The result: I felt a diehard loyalty to EPB that was borderline rabid. Just by lowering my bill on their own, they had treated me with more respect and kindness than any other cable provider I had done business with in my 10 years of being a cable consumer.
Do likewise with your business – and don't be surprised when your customers feel the same sense of loyalty and appreciation to you. Just be sure to tell them that you are lowering the price as a thank you for their loyalty to your business.
10. Complimentary Dinner or Event
This tenth and final way of saying thank you worked back in the Mad Men era of business and it works just as well today.
A memorable dinner or event is always a great way to thank a customer, especially if the restaurant or event in question is one they are known to enjoy.
Is your customer a massive baseball fan? Take them out to the ballgame (literally). Is he or she a known foodie? Take him or her out to the finest new restaurant in town.
Dinners and events are great ways to offer up exceptional experiences to your customers, spend quality time with them, and get to know them better on a one-to-one level.
Never skip an opportunity to visit a customer and take him or her out to dinner or an event. This will be money well spent, especially when it's on your bigger customers.
When to say "thank you for your business"
Now that you know ways to say "thank you for your business", let's look at an important preliminary step in successfully saying thanks – knowing when it is the right time to thank them.
Timing is key to successfully telling a client "thank you for your business."  You don't want to thank a customer for doing business with you, say, when the customer is smack dab in the middle of a billing dispute. Here are a few times when it is not opportune to say thank you for your business.
When NOT to thank a client for their business:
When the customer is going through a billing dispute.
When the customer is attempting to resolve a service issue.
When the customer has just had a poor experience with your team member.
When the customer is asking to cancel or refund his or her purchase.
When the customer is complaining about your business online.
While it is fine to offer nominal thanks for a customer's business during these times, you should avoid going all out with major gestures in these scenarios.
When you SHOULD say "thank you for your business":
Your ideal scenarios for thanking a customer for their business are when the following conditions takes place:
The customer has just signed up to do business with you.
The customer is approaching a renewal or up-sell opportunity.
The customer has just referred you new business.
The customer has just evangelized you on social media.
The customer has expressed pleasure with your company in their latest interaction.
The customer has just had an issue resolved successfully.
These are all highly opportune times to offer a memorable gesture of thanks to your customer, one that will amplify the feelings of goodwill they are currently experiencing and operationalize them into future good karma for your business – new referrals, testimonials, and so forth.
Here is another important note on when it is the right time to thank your customers: if you are evaluating a customer for a future reference, testimonial, case study, or so forth, you should absolutely precede the "ask" with a gesture of gratitude for their business.
This will set a foundation of goodwill leading into the request and increase the likelihood of them saying "yes" to offering themselves up as an ambassador for your business.
Remember that timing is critical to the success of your thank you gesture to your customers. If you are going to invest the time and effort into thanking your customer, be sure to do so at a time when you'll be able to generate positive returns for your business.
Now that you have the foundation for saying thank you to your customers, let's dive into why it's important.
Why it's important to say "thank you for your business"
Too many businesses give too little thought to this matter. In fact, many businesses take their customers for granted, offering them no personalized touch, no genuine appreciation for their money and loyalty, and no reason to become a long-term client of their company.
This oversight can be your gain. Companies who prioritize their customers and offer personalized, thoughtful appreciation can get a massive leg up on their competitors.
In the age of the customer experience, online customer reviews, and increasing transparency into how businesses treat their customers – for better or worse – it's high-time to get on the right side of your customers and go the extra mile to show them how much you care about their business.
Treating customers with this extra-degree of love can increase the likelihood of them evangelizing your business on social media and online review platforms, referring new customers (the most likely lead source to convert by far) to your company, and renewing and expanding their purchases with your company.
Conclusion
Saying "thank you for your business" to your customers does not have to be expensive, time-consuming, or a sunk cost for your business.
Done right, thanking your customers can dramatically improve customer satisfaction, retention, referrals, brand loyalty, and awareness. Think of thanking your customers as a means of generating good karma for your business and practicing the golden rule – treat others the way you want to be treated.
In thanking your customers, you'll be doing business the right way. You'll feel good about yourself and the work you're doing. You'll transform transactional relationships into deep, meaningful friendships, partnerships, and alliances. You'll spend the rest of your life reaping the rewards.
Be kind. Be thoughtful. Say "thank you for your business" in meaningful and powerful ways. The returns will compound faster than you expect.
Keep the conversation going...
Over 10,000 of us are having daily conversations over in our free Facebook group and we'd love to see you there. Join us!