Table of Contents
This post may contain affiliate links. See our affiliate disclosure for more.
If you're feeling a bit hesitant when it comes to designing your first logo, never fear. I've got 5 simple phases of logo design you can follow in order to create masterful logos every time.
The research
Dare I say this is most important phase of the logo design process.  Research may include asking the client questions about their preferences when it comes to the design of the logo.  It should also include research of the competitors logo and creative work.  In addition, you should research the target audience and makes plans to tailor your design to their needs.  Remember, you have been hired to design a logo for a lot of reasons but the most important reason is to help the business or organization become easily recognizable.
The development
Each designer handles this phase differently.  Personally, I like to take the information I discovered in the research phase, and start with word association & brainstorming, make my way to sketching on paper and then move into Adobe Illustrator.  This process can be quick or time-consuming and will be greatly affected by the time and effort you put into the research.  I have found the better my research, the easier the development process goes.
The proofs
This is the first point at which the client gets to see what you have been working on.  Remember, presentation is half the secret to success. I recommend putting each logo on a separate sheet of paper so that the designs do not conflict with one another.  Also take time to number/name each logo for easier identification in the future. (It's much easier for a client to say, "I like version 2a" than to say "I like the one with the orange thing and the square letters".)
It may also be necessary to provide several levels of proofing for the client.  Just remember to stand firmly by your convictions as a designer and, when the client wants to make changes, work patiently with them but maintain your integrity as a designer. Graphic Design is an industry where the customer is definitely NOT always right. Designing a logo is a lengthy process, so be sure to have some patience.
The completion
You've made it! After lots of time and effort, collaboration with the client and finalizing the logo, you've finally arrived at the point where you deliver the logos and get paid! Be sure to give your client a number of different formats to work with. Remember, most specialty printers prefer an .eps or .ai file, printers may prefer a .jpg and web designers might ask for a number of different versions including .png .gif etc.  Make your clients life easier by providing him with a number of different file versions of their shiny new logo.
The follow up
More often than not, this phase will help you land you next gig, make a few extra dollars, or gain some extra exposure.  I always like follow up with each client directly after designing the logo for them with questions like the following:
Do you have anything else you need help with? (business cards, collateral, web design, etc)
Do you know anyone else who might benefit from my services?
Do you think you might need help from me in the future?
Would you be willing to write a brief testimonial about your experience with me?
I then like to call in a month or so and ask similar questions. They may have gotten so much praise about the logo during that time, that they decide they want you to do more work for them.  They may also have found someone who admired their logo and was looking for similar work.  The opportunities are endless so just ask!
BONUS: The key to ultimate success
The key to making it all run smoothly is to execute each phase perfectly.  Don't be lazy and miss an important point of research. Don't rush through the development phase. Don't shortchange them on the number of proofs or the various forms of the completed logo. The key to making your client happy is simply to do the work he is paying you for.
What other tips can you provide us with? Please share.
One last thing: if you're really overwhelmed by designing your own logo, there are lots of options out there to help you get a well-designed logo for a very affordable price.
Either way, wishing you the very best of luck!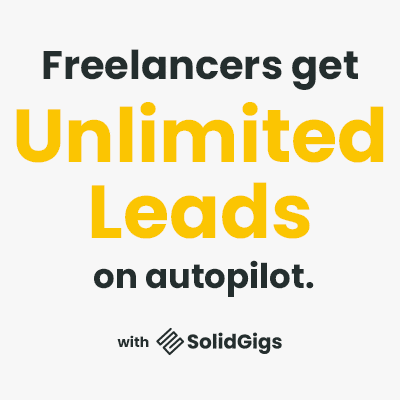 Keep the conversation going...
Over 10,000 of us are having daily conversations over in our free Facebook group and we'd love to see you there. Join us!