Table of Contents
This post may contain affiliate links. See our affiliate disclosure for more.
Video is an increasingly important medium of communication. We use video on social media to engage our audience, create sales videos to convert prospects into customers, and create YouTube channels in the hope of online fame.
As a video editor, there are more opportunities for employment than ever before. If you're struggling to find work, though, you might need a bit of help.
This guide will walk you through how to find video editing jobs online. I'll walk you through some of the most popular online job platforms. We'll also discuss the different kinds of video editing jobs you can take up as a budding video editor. Let's dive into the guide.
Where to find video editing jobs online
Upwork is one of the most popular online job marketplaces for freelancers. You can easily find video editing jobs online through the site.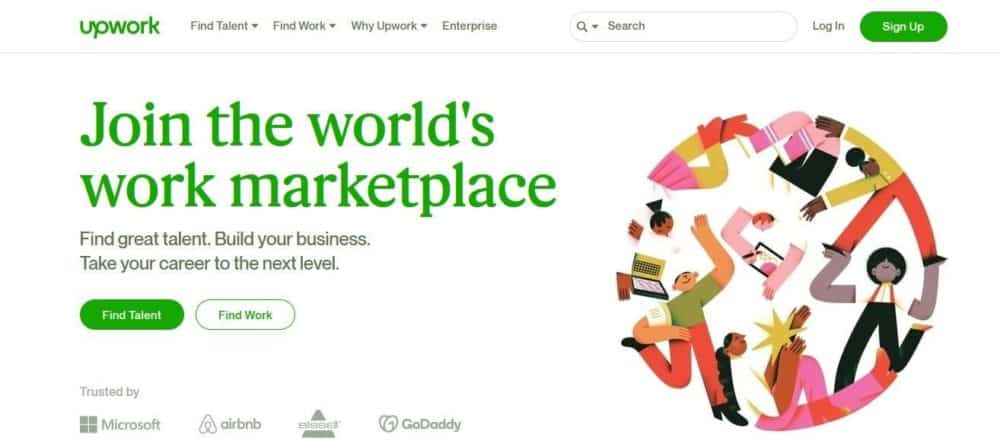 There are two sides to the Upwork platform. For established accounts, Upwork helps you find the right job by recommending you to potential employers. You'll also need to search and apply for relevant projects.
Upwork is easy to use, which is why it is one of the best freelance websites around.
To improve your chances of getting a video editing job online through Upwork, you need to build up your profile. Start by pitching for small projects. You might need to charge less than you normally would initially.
As you get positive reviews via your profile, you can increase the cost of your service. After a point, maybe you don't even have to look out for job listings. Potential employers will come to you and ask you to take on projects.
Upwork doesn't charge until you've completed your work. It charges you based on monthly earnings with each client.
The rate is scaled to try and incentivize you to do all your work through the platform. The minimum charge is 20% of your gross earnings. That rate is for monthly earnings under $500, 10% for billings between $500.01 and $10,000, and 5% for total billings of over $10,000.
Indeed is one of the largest job sites. Unlike Upwork, companies tend to post full-time or part-time positions on Indeed. Furthermore, they don't charge a commission on your earnings, which is handy if you're looking to find video editing jobs online.
Indeed is a global jobs portal. You can upload your CV online and search for employment opportunities. Since you're competing with other video editors, your resume, however, needs to stand out, of course.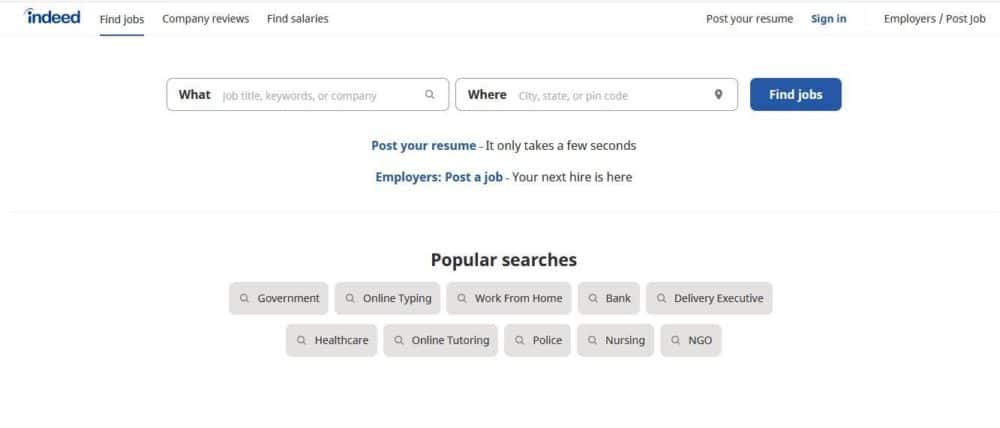 The good thing about Indeed is that it strives to make the job search intuitive.
You can use the search fields to specify the role you're interested in. Some of the job postings will require you to be based in a specific physical location, and other opportunities will allow you to work remotely.
You can even set up an alert, so Indeed will send you an email if there's a suitable video editing job opportunity. It's a handy feature that saves you from staring at the screen.
Indeed also shows you an overall employer rating for each company based on previous employee feedback. The overall employer rating is an average score based on feedback across four categories:
Pay and benefits
Job and security advancement
Management and culture
You can apply for as many jobs as you want through Indeed. Although the platform is more suited for people looking for longer-term employment opportunities, they do have short-term options as well.
If you want to see job opportunities across various platforms then use SolidGigs. All you need to do is specify the type of video editing job you're looking for, and SolidGigs will scour the web for opportunities.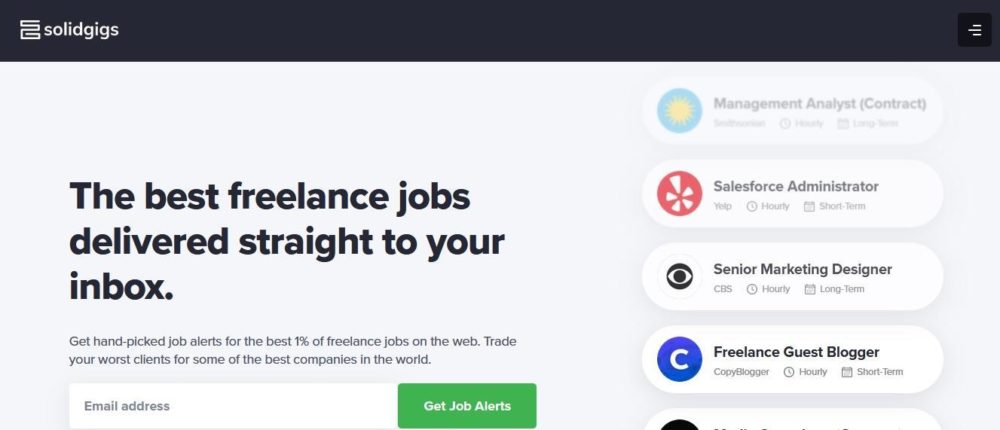 The SolidGigs team checks nearly 100 sites and updates its list with the top 1% of freelance jobs. They mail job opportunities direct to your inbox multiple times a week.
That means you don't have to spend too many hours sending pitches blindly or looking for video editing jobs online. You can just use your time to work–and the job opportunities will come to you.
With SolidGigs, you can also say goodbye to complicated pricing bundles. Everyone gets the same unlimited access at the same fixed price. There's a 30-day trial, which costs $2. After that, you only need to pay $19 every month. It's a great service. You can invest the time you save into passive income ideas.
FlexJobs has been helping people find flexible jobs since 2007. As a new user, you need to fill in a short questionnaire. Just check the boxes that best describe your current job situation.
The questions are straightforward. You also need to share some personal information. For example, FlexJobs will also ask for details like your zip code.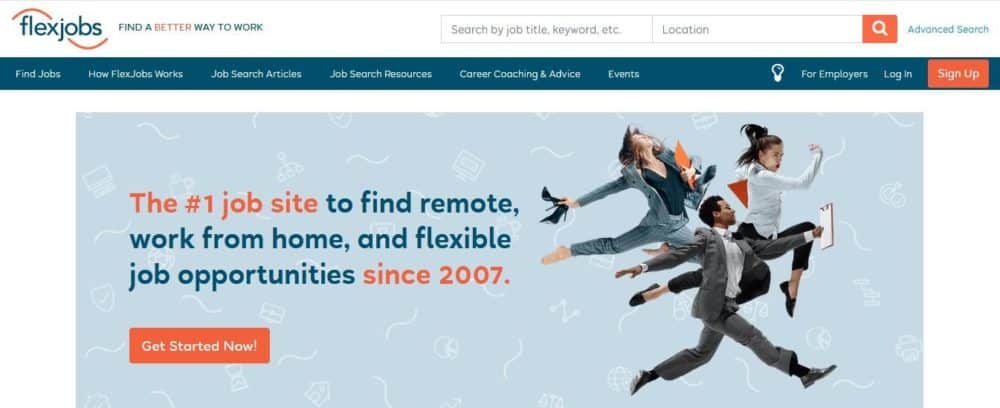 Your answers will help FlexJobs determine the types of job ads you receive.
Each job ad is pretty detailed, too. It comes with the date the job ad was posted, the "remote work level," the location of the company, and the job schedule required. It also shows the career level of the vacant position, the education level needed, and the salary and benefits.
With an account, you'll get access to job search support and skills tests and courses to help you land that job. FlexJobs costs $14.95 a month. There are discounts for the annual or the quarterly membership. The good news is, there's a money-back guarantee.
SimplyHired helps you find local job opportunities. The site gathers open posts from all over the internet and brings you the more relevant ones. You can easily find video editing jobs online through the site.
SimplyHired is focused on the US jobs market. Forget about looking for jobs elsewhere in the world. The SimplyHired database is exhaustive for mainland US.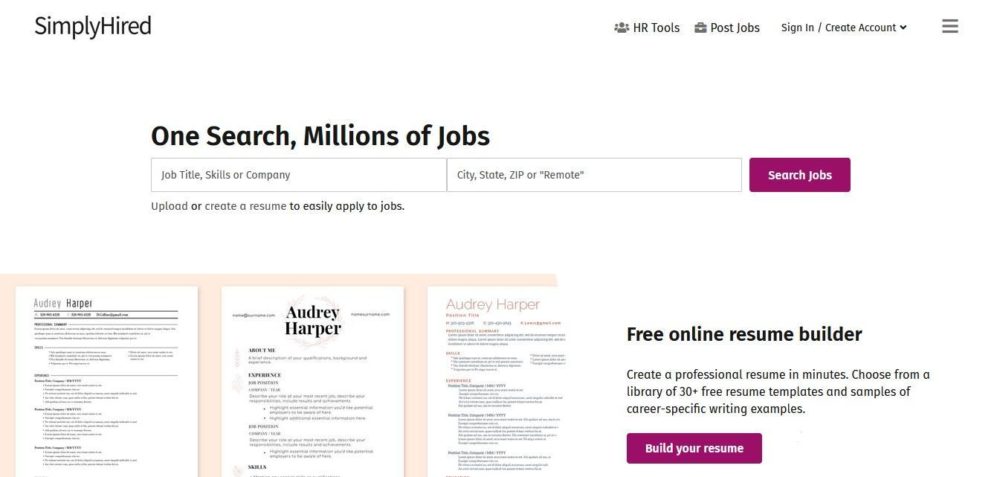 One of the neat features of the SimplyHired platform is the free 'build your resume' option. The platform has a library of over 30 free resume templates you can use. There are even samples of career-specific writings.
You don't have to research a particular employer either because SimplyHired has an exhaustive database of US employers. SimplyHired allows for free job postings, but employers can only get a candidate's details if they pay. The cost varies, starting from $9.99 per candidate.
Freelancer is the world's largest freelancing marketplace. It connects more than 52 million employers and freelancers. The platform is best for people who are actively searching for jobs. After employers post a job, interested freelancers need to bid on the project.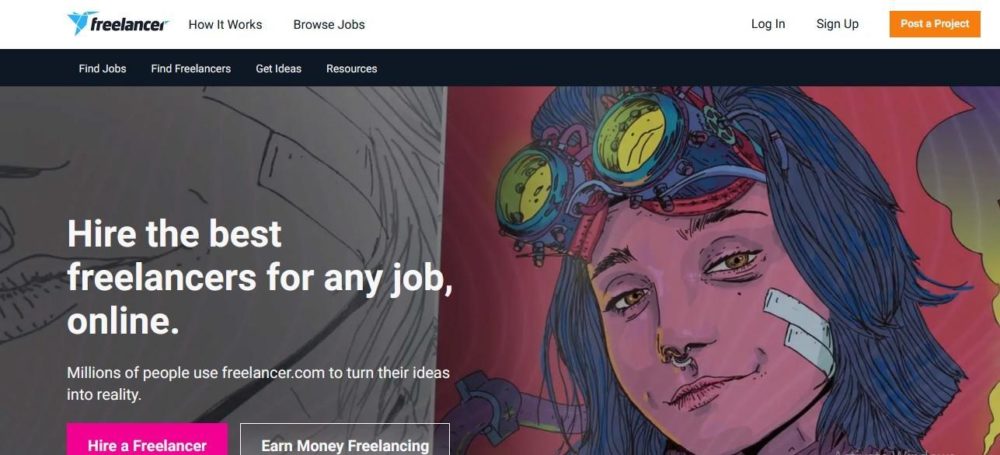 The good news is, Freelancer shows you the average bid from other candidates who are interested in the video editing job. The platform also shows you how many people have submitted a bid to the project. That gives you a pretty good idea of how much you should ask the employer.
Freelancer is also easy to use. Just go to the search option and adjust the filters. Do you want fixed-price projects or hourly projects? If you prefer hourly projects, what's your preferred duration for each project?
Freelancer members receive eight project bids per month for free. It then charges an introduction fee of 10% or $5, whichever is higher. For hourly projects, the fee is 10% of the payment.
If you are looking for a video editing job online, you should consider ZipRecruiter.
ZipRecruiter uses matching technology to help you find job opportunities. That gives you more time to focus on other things, including your current project. When someone views your video editor application, ZipRecruiter will send you a notification.
ZipRecruiter allows you to send as many job applications as you want. It isn't free. However, you can try the platform for free.
It would be unfair not to mention LinkedIn on this list of the best places to find video editing jobs online. LinkedIn boasts of a professional network of about 760 million users. That makes it one of the best platforms for job seekers.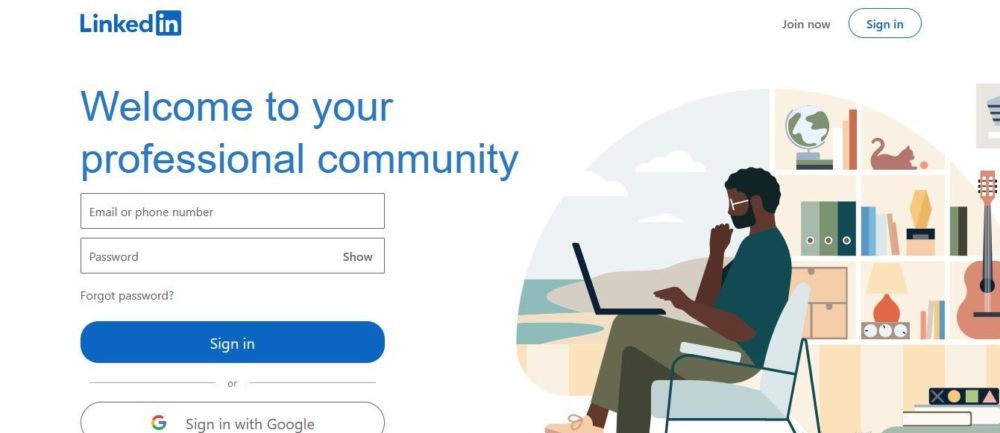 You can post your profile for free, but if you want to avail yourself of other essential features, you'd need to upgrade to the LinkedIn Premium account. Premium Career, in particular, costs around $29.99 a month.
With Premium Career, you get three InMail message credits. You can also compare your profile with that of other video editors and get access to resources that will help you land a job.
LinkedIn also allows you to post relevant content and share your work. That can help boost your authority as a video editor. It can help increase your visibility, too.
If you're looking for projects, not just hourly work, Fiverr is the place to be. Fiverr helps you connect with businesses looking for talented individuals to complete specific projects.
As with any other platform, you need to find ways to stand out. When employers search for video editors on the platform, after all, they will find themselves in a virtual marketplace. The video editor with the best sales value proposition wins the bid.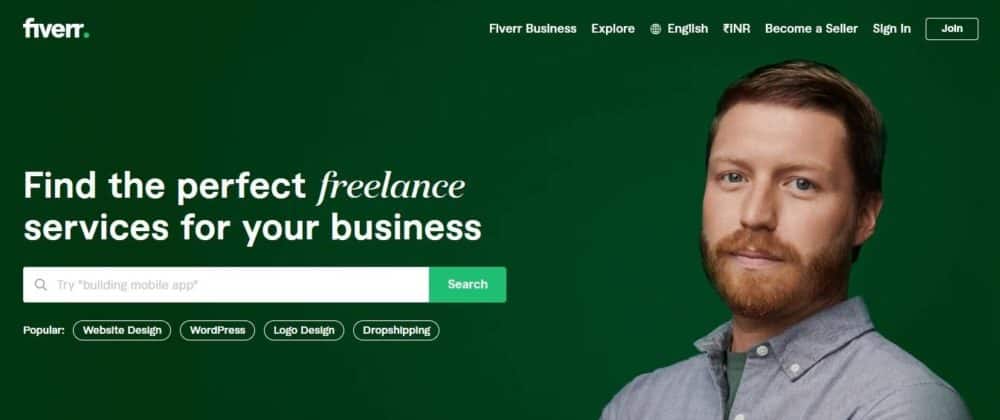 Make sure you turn in high-quality work and on time. Your previous employers, after all, will be rating you. Your average rating will then appear on your profile: the lower your score, the lower your chances of getting that job.
The good news is, you'll also get to see how much your competitors are asking for every completed project. That can help you set an asking price that will interest potential employers.
You don't need to pay to join and post your services on Fiverr. The platform keeps a 20% commission of all payments.
If you're looking for a purely remote video editing job, try Remotive. All you need to do is type the word "video editor" in the search field, and you'll get a list of job vacancies.
Each job ad specifies location restrictions, too. For example, if a company is looking for video editors based in the US only, the job ad will say precisely that. If the company is looking for people based in the UK, it will say so, too.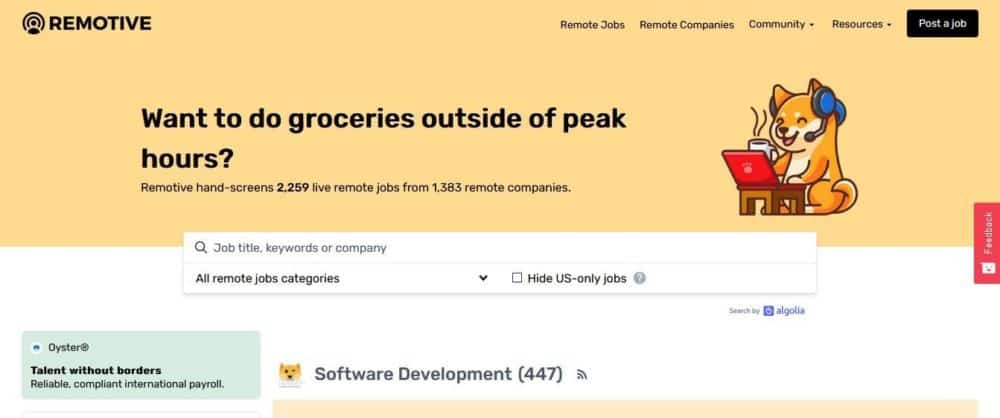 Applying for a job is easy, too. Just click on the job ad you're interested in, and review the requirements. The job ad will also tell you what you need to submit to be considered for the position.
Once you click on that Apply button, you have three options: Apply through Remotive, apply through Indeed, or apply through LinkedIn.
Remotive charges a fee to people who post job. It's free for applicants. The base price is $299 for a job post to be visible for a month. Every job post listed gets exposure on the Remotive website, on the Google Jobs Career Network, gets shared on Twitter three times (Remotive has 16,000 followers), and gets shared on the Slack channel with over 1,600 users.
Jobs also get sent to Remotive's list of over 25,000 email subscribers.
Types of video editing jobs
Now that you know the platforms where you can look for jobs, here's a list of the types of video editing jobs you can apply for. You don't need to apply for only one job. If you have other skills, by all means, send your application to be considered for the other ones. The more projects for you, the better!
1. Film Editing
Film editing is the most popular and sought-after video editing job. But getting into film editing is difficult. It takes hard work and luck to climb up the ladder from an assistant editor to senior video editor.
Also, film editing requires technical knowledge and creativity. You're conceptualizing ideas and bringing them to life after all.
A complete film editing can be a long-term project, so make sure you can commit to that if you're sending your application. There are other short-term projects you can submit your application to as well.
2. TV Video Editing
You can get video editing jobs strictly for television. So, you can edit videos for a scripted TV show or something less scripted (or maybe it's still scripted) as a reality TV show.
As a TV video editor, you need to know how to create drama from the available footage. You'd need to craft a story out of the material you have and present an idea in the most exciting way possible.
3. Event Video Editor
People love to capture important moments for posterity. That's why video editors for events always stay in demand.
You can edit videos of weddings or birthdays. You name it. When you're an event video editor, you get a sense of fulfillment because you're part of someone else's history.
4. Commercials and Music Video Editor
Commercials or music video editors are paid well, but that's not all. Commercials and music video editing can be your stepping stone to other more significant editing projects.
You need to be very creative to assume this role. Your output should also reflect your client's preferences in the best way possible.
5. Colorist
A colorist is responsible for the color and contrast of the video. Colorists set the color scheme of the video according to the emotions you want to portray. Colorists bring out emotions through visual settings.
6. News Video Editors
Everything that is telecast in video form needs editing. News videos are no exception.
To do news editing, though, you need to be quick and accurate at the same time. News footage, after all, comes in only hours before the live broadcast. You need to be able to edit appropriately at that time.
7. Social Media Video Editor
Nowadays, social media can no longer be ignored. There are 4.2 billion social media users worldwide. Businesses can't afford to ignore that number anymore if they want to succeed.
That's why social media video editors are in demand. The best part? You can do this with an online video editor or with a simple video maker like Veed.io. It doesn't matter if you're editing a Facebook video or a YouTube video. As a social media video editor, you need to know how to say things effectively in the least amount of time possible.
To wrap up
Video editors are in demand and are likely to remain as such in the future. The good news is, making that career switch isn't hard nowadays.
That's because there are available platforms you can leverage. If you're already a video editor looking to take in more challenging jobs, you can leverage these platforms, too.
I mentioned ten of these in this article. From Upwork to Remotive, just choose the ones that work for you.
Once you've set your eye on specific video editing jobs, buckle down to work to land those projects. Be persistent. Once someone hires you, put your heart into your work. Do all these things, and those clients will just come and look for you. Who knows? You might just be the next Chris Ronzio in the making.
Keep the conversation going...
Over 10,000 of us are having daily conversations over in our free Facebook group and we'd love to see you there. Join us!