Table of Contents
This post may contain affiliate links. See our affiliate disclosure for more.
Some of the world's most famous writers, such as Franz Kafka, H.P. Lovecraft, and Herman Melville, didn't achieve fame for their work during their lifetime. Many good writers in those days either had no access to publishers or were way ahead of their time.
However, today's writers have a multitude of resources that can help them polish their craft, gain exposure to clients or publishers, or act as inspiration for their writing.
Whether you're writing to reach an audience, generate passive income, or seek an outlet for your creativity, there is always a writing website where you can share your work and learn from other writers.
However, with thousands of writing websites in existence today, it's hard to pick out the really good ones from those that won't help you improve.
For this article, I've chosen 38 writing websites that can help you grow as a writer. I have also sorted them into categories so you'll find the right website for your goals.
Freelance Writing Websites
Every person who's new to freelancing will probably have a lot of questions. With this in mind, seasoned freelance writer Elna Cain started Freelancer FAQs to help freelancers of all levels of experience with their questions about the art and industry of writing.
One article discusses the pros and cons of different freelancer platforms, while another gives suggestions for getting paid by clients whose invoices are past the due date. If you have a question about making it as a freelance writer, Freelancer FAQs will likely have the answer you're looking for.
The Freelancer's Year is a website where Lindy Alexander, an award-winning writer, shares the knowledge she has acquired throughout her ten-year freelancing career.
Aside from featuring her own tips and industry insights, The Freelancer's Year also has interviews with seasoned writers, editors, and content marketers that give you an inside look at the industry. Lindy also offers courses on the foundations of freelance writing and scaling revenue up to six digits by acquiring high-value clients.
The International Freelancer offers us a look at the world of freelancing as seen through the eyes of journalist Natasha Khullar Relph. Since starting her blog in 2002, Tasha has seen her work published in major websites like the New York Times, CNN, ABC News, and The Independent, and through The International Freelancer, she gives pointers for achieving the success she's had so far.
The website offers different kinds of free resources for freelancers, such as a list of high-authority sites that pay $1 per word or more, query letter templates, and phrases that can give you the upper hand when you negotiate your rates.
If you're thinking of working from home full-time while being your own boss, The Quiet Type gives you all the resources you need to run a freelance writing business.
The site's founder, Katie Jenison, is a freelance copywriter and content marketer who specializes in the housing industry. Through her site, Katie offers free resources for every step of the freelancer journey, from choosing a niche to letting go of a client.
Inspiration Writing Websites
As a bestselling author who's sold over 600,000 copies of her books, Joanna Penn is an inspiration to aspiring writers worldwide. Through her blog, The Creative Penn, Joanna offers more than 1,000 articles and 500 hours of free video and audio content for writers.
The website also offers a free author blueprint and courses on writing novels and non-fiction, creating online course content, and collaborating with other writers. Joanna's breadth of knowledge makes The Creative Penn one of the best writing websites for writers who need instant inspiration.
Taking its cue from Ernest Hemingway's famous six-word story ("For sale: baby shoes. Never worn."), Six-Word Memoirs poses a unique challenge to writers who normally charge by the word: tell a story in six words. It's a useful framework not just for writers, but for everyone who's had to sit through hours of meetings that ended up not resolving anything.
You may submit a generic six-word story or check out the different themed submission stages, including "Life" and "Pandemic Stories". Your story might even be featured beside those submitted by famous personalities, such as Lin-Manuel Miranda and Julianne Moore.
Ali Luke is a writer based in Leeds, UK who has been writing blogs, non-fiction books, and fiction. In her website, Aliventures, she offers tips for writing as well as motivation for tired writers in need of inspiration or time for their writing.
Aliventures also offers a series of writing lessons that help you understand the importance of each word that you write. Her motivational posts, including "Eight Secrets Which Writers Won't Tell You", have inspired thousands of writers to improve their craft and make money from their passion.
Abbie Emmons has been a storyteller ever since she learned how to hold a pencil. When you visit her website, the best-selling author of "100 Days of Sunlight" offers tips for aspiring writers of all ages that goes beyond writing and getting published. She also teaches writers how to lead a lifestyle that gives them the time and energy to write their best work.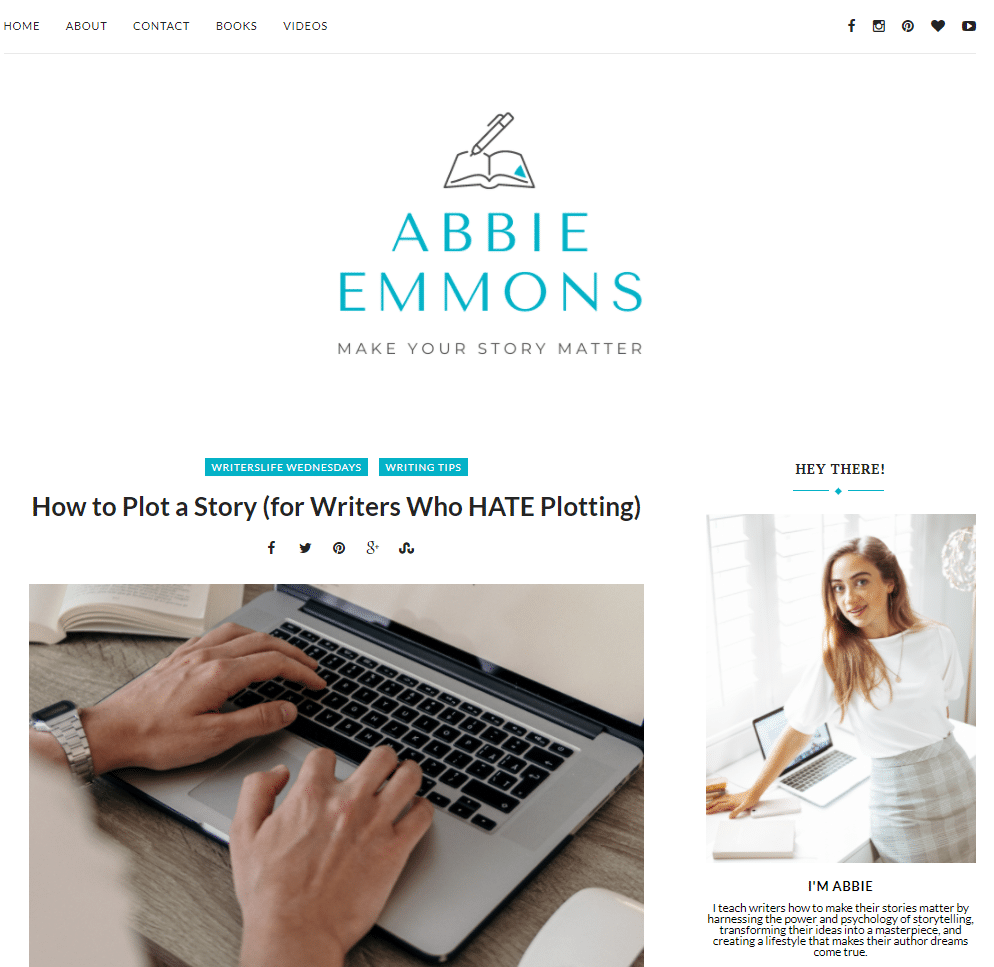 Aside from running multiple writing websites, Abbie also posts writing videos and story reviews on her YouTube channel. She is a good example of an author who uses different platforms to showcase her work.
As one of the longest-running writing blogs, Write It Sideways has been guiding its readers around the world through the finer points of writing. The founding editor, Suzannah Windsor, is also the founder of the Compose literary journal and works with writers from different genres, giving site visitors an impressive array of writing resources.
The articles on the site are neatly sorted into categories, which makes it easier for visitors to find the resources they're looking for. Subscribers also get a free copy of Suzannah's Read Better, Write Better workbook that lets them develop their skills.
If you're stuck in a rut and can't think of the next line to write, the Positive Writer website could help you. Bryan Hutchinson, the founder of the website, had struggled with what he calls "writer's doubt" for a long time, but through hard work and encouragement, he was able to get his works published. The Positive Writer hopes that it has the same impact on other writers.
Through motivational articles and useful instructional blog posts, Hutchinson gives upcoming writers the tools they need to succeed. His free ebook, Good Enough, warns readers about being obsessed with perfection and instead encourages them to express themselves freely.
For most people, Wix.com is synonymous with web development tools that make creating a website easier for the casual user. However, the company's copywriters are its best-kept secret. Words Matter, Wix.com's writing blog, has more than 100+ in-house writers among its contributors.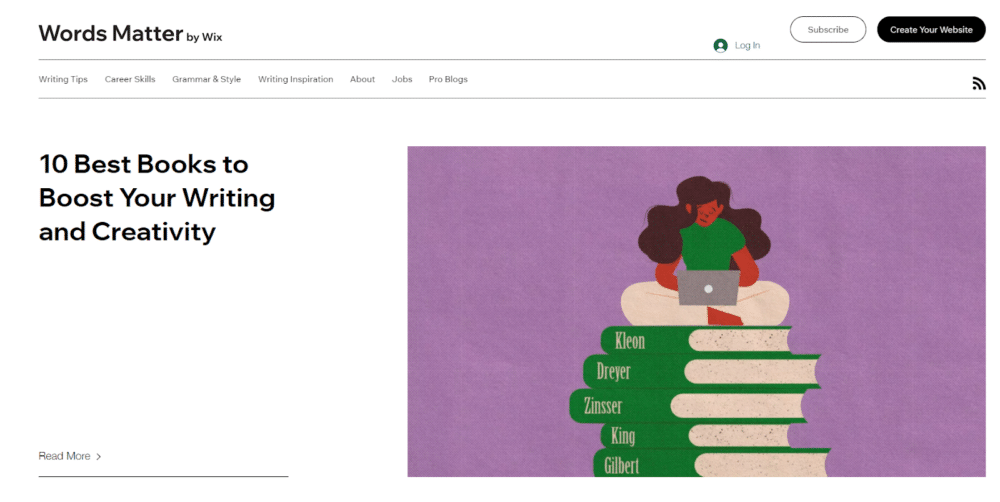 Each of Words Matter's writers contributes something in their area of expertise to the blog, which means you can find different topics in the blog ranging from UX and social media to technical writing and internal communications. If you're looking to break into the business writing industry, Words Matter is a valuable source of information.
Poets & Writers is a 50-year-old magazine that runs features on new and classic books, promising young writers, and leading literary figures. It also supports hundreds of writers who participate in literary readings and conduct writing workshops each year.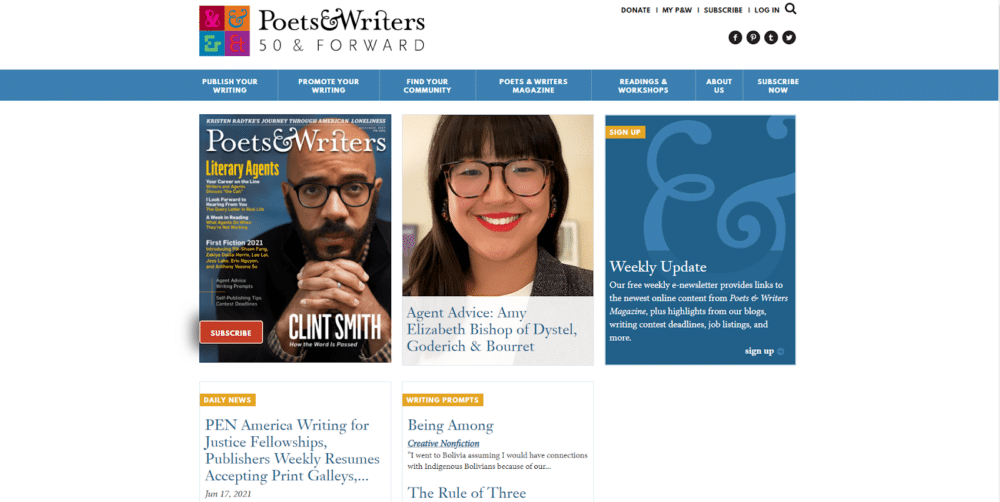 The P&W website also lets writers connect to others in the same industry by listing MFA programs, literary readings, writing websites, and writing groups. It also has a directory of over 10,000 writers, poets, editors, and agents looking for their next big break.
Writing Websites for Blogging
There are many reasons to start a blog: promote a business, share recipes, talk about friends and family. How To Blog A Book focuses on writing a book through blogging. Nina Amir, a seasoned journalist and editor, has helped several of her clients sell hundreds of thousands of copies and land deals with large publishers.
Nina walks us through the process of transforming a blog into a book, starting with writing compelling blog posts to monetizing existing blog content. It's a good resource for bloggers who feel that their work deserves a larger audience who's willing to pay for good content.
Whether you're starting your first blog or have been blogging for years, ProBlogger offers various resources that help you improve your writing and increase your followers. Since 2004, Australia-based Darren Rouse has been publishing articles to help bloggers at every stage of the blogging journey – from starting a blog to making money out of it.
Over 8,000 posts on the blog discuss topics such as preventing content theft and plagiarism, hiring writers, and creating a content calendar – all useful lessons every serious blogger should know. It also has a job database for bloggers who would like to try their hand at professional writing.
Many bloggers struggle with getting their blogs to appear at the top of Google search result pages, mostly because they don't know how to optimize their content. The Blogsmith, an SEO agency founded by Maddy Osman, not only offers SEO services to businesses but also provides useful resources for owners of writing websites who'd rather do SEO themselves.
These resources range from instructions that help beginners establish freelance writing processes to steps for conducting content interviews for SEO clients. The website gives you a glimpse into how professionals do SEO the right way.
The Write Life might be dedicated to writers in general, but we find their blogs about blogging very helpful to both rookies and experienced bloggers. It not only provides useful tips for improving the quality of your content, but also gives you pointers for monetizing it.
One of my favorite articles in the blog is "7 Clever Ways to Turn Your Old Blog Posts Into Cash". Blogging takes a lot of time and effort, and if you feel like you're not earning enough for the work that you're putting in, the tips in the article can help you get the income you deserve.
Writing Tools & Software Websites
Some people work best under pressure but are easily distracted by the things they see on social media. The Most Dangerous Writing App forces users to focus on their work by deleting a user's work the moment they stop writing.
You can set up the free app to delete your work if you stop typing within a set duration, which ranges between three to 60 minutes. There's also a hardcore mode that blurs out everything you've written so far. If this tool won't force you out of your writer's block, I don't know what will.
If you feel your writing is derivative and uninspired, Cliche Finder will help you make your work unique and effective. This tool uses an advanced algorithm and an extensive cliche library to find cliches in your work. All you have to do is paste your content into the text box and click Find Cliches.

This tool is very useful if you're a creative writer who's always aiming for originality. It helps you find your own unique voice and develop your communications skills. If you are an editor, this tool will save you a lot of time and effort.
Ernest Hemingway was famous for his terse, straightforward writing style, and the Hemingway editor tool promises to make your content as lean as The Sun Also Rises.

This tool detects and highlights long sentences, adverbs, passive voice, and other common writing mistakes to improve your content's readability. If you don't want your blog to look like it was written by someone who's ingested a whole dictionary, Hemingway will trim your content and leave out only the meaningful parts.
Sometimes, all the inspiration a writer needs to finish their job is seeing their manuscript being published in book form. Reedsy allows you to design your content as you go and gives you a glimpse of your book even before you finish writing.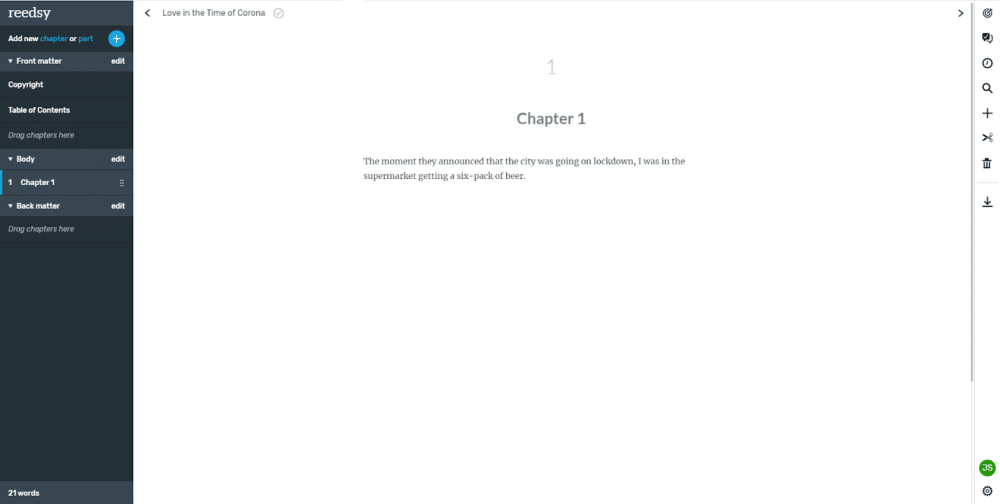 Aside from letting you design your book, Reedsy helps you connect to both clients and freelancers who can make your publishing dreams come true. You can also submit your work so other Reedsy users can review and polish it.
An MFA (Master of Fine Arts) degree is often considered the pinnacle of academic achievement as a writer. However, not everyone has the money or time to go back to school. The DIY MFA offers courses on most topics discussed in a typical MFA program that you can study at your own pace and at zero or low cost.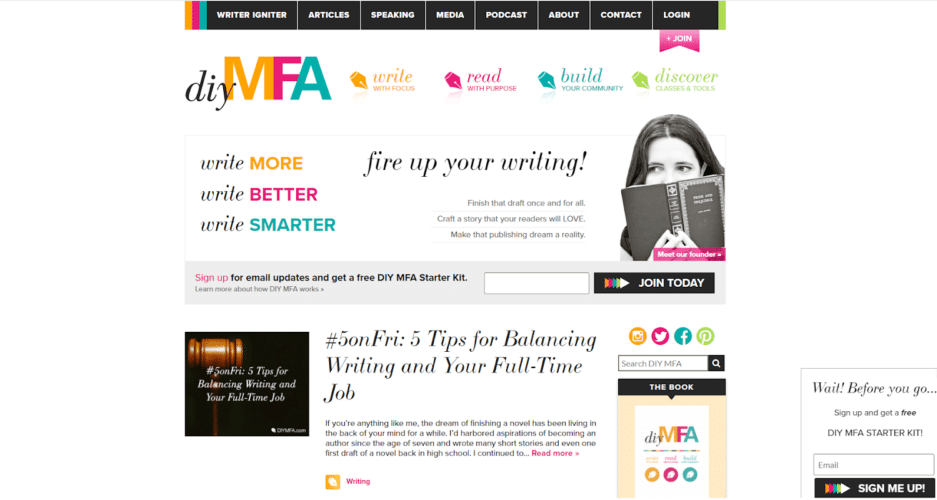 These tools include articles on writing villains as well as one article about writing a dual timeline novel. If you're a writer who's very serious about improving your work, the DIY MFA has tools for every type of scenario.
Writing Communities Websites
Each November, writers all over the world work non-stop to finish an original 50,000-word novel. The National Novel Writing Month (NaNoWriMo) is an organization that encourages budding writers from different backgrounds – school teachers, mechanics, stay-at-home parents – to become novelists.
In 2020 alone, more than 500,000 writers participated in NaNoWriMo programs that included mentorship from authors such as John Green and Veronica Roth. Best-selling novelists who got their start in NaNoWriMo include Marissa Meyer, Hugh Howey, and Sara Gruen.
The horror genre might seem scary and intimidating from the outside, but at the heart of it lies a tight-knit and supportive community. HorrorTree is a community for speculative fiction authors that connects them to publishers and editors.
HorrorTree also helps out community members by posting calls for support on its blog and promoting calls for submission. What I like about HorrorTree is that it sorts anthologies according to the form of payment, such as direct payment, royalties, or physical copies for contributors.
The Freelance Writers Den is a subscription-based, members-only community that offers access to freelancer resources, including training courses, free templates, and monthly events. It also hosts an online forum where writers can discuss their work with experts in the field.
The Freelance Writers Den has helped close to 12,000 writers grow their income over the past decade. For $25 a month, you also get the opportunity to learn advanced techniques to help you earn more from your freelance writing.
She Writes is one of the largest communities and writing websites exclusively for women writers. It allows writers from all over the world to connect with other women writers and provides a safe space for discussion.
Aside from being a community, She Writes also offers writing prompts, free webinars, and other resources to help women writers improve their craft and increase their chances of getting published. The WriteMinded podcast gives upcoming writers of all genders a glimpse into the creative processes of best-selling women authors.
If you're looking for a quick dose of inspiration for your next writing project, the WritingPrompts subreddit is the perfect place for you. Over 15.3 million "Promptians" either contribute writing prompts or write stories or poetry based on other people's prompts, making it one of the most active writing communities online.
Readers are also encouraged to leave constructive feedback in the comments. It also works with NaNoWriMo to provide exercises for writers who plan to participate in the yearly challenge.
Writing.com welcomes all kinds of writers: novelists, poets, essayists, and story writers. It provides an environment for storing and displaying your written work and offers hundreds of tools and opportunities for improving your writing and getting it noticed.
Aside from seeking feedback on your work, you may also comment on other members' portfolio pieces. The website also offers a Notebook function where you can post messages and reply to messages from other users, just like a social network feed. Writing.com's wide array of features makes it one of the top writing websites for both beginners and experienced authors.
Writing Websites for Getting Published
The Book Designer is the brainchild of veteran publishing consultant Joel Friedlander, who was instrumental in starting the self-publishing careers of hundreds of best-selling authors since 1994. Since it first went online, The Book Designer has not only been a valuable resource for aspiring book designers, but has also become one of the go-to writing websites for first-time authors.
The Book Designer offers lessons on the finer points of writing and publishing, including book and cover design, book production, and editing. While Joel has sadly lost his battle against cancer earlier this year, his legacy lives on in the work of all the writers he has mentored and nurtured through his website.
Bestselling novelist K.M Weiland is a widely-recognized name in writing circles, having helped writers become published authors for the past decade and a half. Her website, Helping Writers Become Authors, offers lessons on character and plot development, story structure, and outlining.
When you sign up for Katie's email newsletter, you get a free copy of her ebook Crafting Unforgettable Characters. It's a must-read for every writer who needs inspiration for creating compelling characters for their stories.
Whether you're a screenwriter trying to break into the TV or movie industry or a novelist struggling to get your work published, Bang2Write offers writing tips and publishing pointers that will help you reach your dreams.
Among the free resources you can find on Bang2Write is the mini-course on the foundations of writing craft. It focuses on what Bang2Write founder Lucy V Hay calls the "Holy Trinity" – concept, characters, and structure. It's essential learning for everyone who wants to get started on writing a novel.
Books & Alchemy is the labor of love of Holly Ostara, an indie author of fantasy romance novels. The website provides valuable lessons and tips for aspiring authors who are going through struggles with finishing their novels.
Holly deals with different kinds of fiction, including epic fantasy, LGBTQ+ themes, and paranormal romance. Her resources on Books & Alchemy teaches writers the right way of fixing their writing mindset and drafting their novels quickly so they can make more money out of their work.
C.S. Lakin has authored and published more than 30 books in the past 10 years, an average of more than three books per year. Through her website The Self Publisher, she teaches aspiring authors how to get their works published on Amazon and similar self-publishing channels.
Thousands of books are published on Amazon everyday. If you're trying to make a living off your writing, you need every ounce of help you can get. Through the free ebook 8 Simple Secrets to Big Book Sales on Amazon, Lakin guides writers through the process of writing, producing, and promoting a book.
Writing and publishing a book is hard work. Self Publishing School aims to help you save hundreds of hours' worth of labor and thousands of dollars' worth of investments while allowing you to keep control of your book and earnings.
The Self-Publishing School offers an array of paid programs for writers, ranging from children's writing to selling more books. All programs include 1-on-1 coaching and access to group coaching sessions.
Writing Websites with Jobs
While many writers earn millions of dollars per year, there are too many writers out there who are struggling to put food on the table. FundsforWriters, founded by Hope Clark, searches the Internet for writing opportunities that pay well – no $1/piece blogs or pay-per-click sites allowed.
Aside from serving as a bridge between writers and clients, contests, or grants, FundsforWriters also offers numerous resources for writers who want to hone their craft. These include a curated list of books on writing and publishing.
The BloggingPro website is pretty straightforward if you're looking to hire freelance writers: Place an ad for a writer and see the applications coming in. If you're looking for a writing job, Blogging Pro has updated listings too.
Aside from job listings, BloggingPro has a few resources for writers who want to expand their skill set, including a curated list of writing books available on Amazon.
It also has a dedicated section for WordPress tips and tricks consisting of over 40 pages of blog entries. With BloggingPro, you can look for a well-paying writing job and learn more about blogging at the same time.
If you find that gig-hunting is taking up all your time, SolidGigs is a website that finds writing jobs for you. They scour the web to find the best freelance writing jobs on all writing websites and send them direct to you — all you have to do is apply.
Listverse isn't a writing job board. However, it is a pretty good way to make some quick money. It's pretty easy to write for Listverse: think of any topic (except sports, self-help, gaming, or personal stories), make a list of unusual things related to the topic, and submit it through the submissions form.
If your article gets accepted, Listverse pays you $100 through PayPal. Just remember to include one or two paragraphs per list entry.
Bamidele Onibalusi, a freelance blogger from Nigeria, has been writing since he was a teenager. Over the years, he and his work has been featured in Forbes and Digital Journal, among other websites. In his blog, Writers In Charge, he shares his secrets for blogging success.
Aside from sharing his experiences with his audience, Bamidele has a list of websites that pay writers organized by niche, ranging from health and wellness to equestrian publications.
Writers In Charge also has a definitive list of blogs that accept guest posts, including SEO blogs, food blogs, and wedding blogs. If you're looking for writing websites where you can guest post and grow your backlinks, Bamidele helps you get the exposure you need.
Bookmark your favorite writing websites!
While writing is hard work, it can also be your ticket to passive income. The trick is in knowing which writing websites are going to add value to your writing, either by giving you inspiration or training or by helping you find a steady writing job.
Whether you are a blogger, a freelancer, a novelist, or a poet, there is always a website which is willing to accept your work or help you polish your craft. The list I've just created will help you get a headstart on your writing journey. The best of luck with your writing career!
Keep the conversation going...
Over 10,000 of us are having daily conversations over in our free Facebook group and we'd love to see you there. Join us!