Table of Contents
This post may contain affiliate links. See our affiliate disclosure for more.
Becoming a freelance graphic designer is no easy task—but it's completely worth the effort.
Of course you could just stay at your desk, hating your job forever. Or, you could take my advice below and learn how to become a freelance graphic designer.
Being a freelance designer can be freeing. Working on projects you care about; determining your own schedule; being your own boss.
There's nothing better.
So if you're ready to join thousands of creatives who we've helped teach how to become a freelance graphic designer, keep reading because this article is for you!
Of course, this all assumes you have some sort of background in design. While I wish we could teach you how to become a graphic designer in one article, I'm afraid I can't.
This article focuses on what it takes to be a freelancer in the field of design.
If you're not a designer yet, becoming a freelance graphic designer will take far more time since you have to first learn the trade itself after which you can learn how to start a graphic design business.
If you haven't gone to school to learn design or haven't ever done any graphic design work, you can try to teach yourself by enrolling in design courses on sites like Udemy or you can explore traditional design education options.
This article will focus on becoming a freelance graphic designer—with an emphasis on the freelance business side of things.
Key Takeaways:
Focus on getting clients before anything else.
Establish a niche and develop a strong portfolio that showcases your skills and expertise.
Set clear boundaries and expectations with clients, including your rates and project timelines.
Be proactive about marketing yourself and building your network.
1. Find your first clients (fast)
If you want to learn how to become a freelance graphic designer who actually stays in business—instead of going back to your day job—then the absolute most important task at hand is getting your first clients.
Why? If you don't have clients, you don't have a business. And if you don't have a business, you haven't become a freelance graphic designer. You're just a hobbyist.
Too many freelance graphic designers waste time building a portfolio, coming up with a business name, designing their invoices, and doing other tasks that won't ultimately help you become a freelance graphic designer.
Getting your first freelance graphic design clients will give you confidence, momentum, and traction from which you can become a freelance designer more quickly.
There are a number of ways a freelance graphic designer can find their first clients, but after over a decade of working with designers on a regular basis, here are my two quickest (and most effective ways) a freelance designer can find clients:
Search for easy-to-get jobs on freelance job sites
There are hundreds of freelance job sites out there where you can find freelance design work. (Here's our current list of the best ones.)
Finding a few low-hanging-fruit jobs will get you started on your path to becoming a freelance graphic designer. Sites like Fiverr will offer some low-pay quick wins (although not a great long-term strategy) and marketplaces like Upwork add in a bit more stability.
If you're working on how to become a freelance graphic designer while working a day-job, you may want to save some time by investing in something like SolidGigs where they'll do the client-hunting for you.
Tap into your personal network
If you've been working a desk job for a while or you've been a student for a few years, you probably have a decent personal network. That's something you can (politely) tap into in order to help you become a freelance graphic designer.
Instead of blasting social media posts into the void, strategically think through friends or relatives you have that might know someone who has need of a freelance graphic designer.
Connect with them using a customized, personalized outreach email and ask them to start putting feelers out there. You'll be surprised what might come back.
Fore more ideas, read How to Get Freelance Clients—our article featuring 7 ideas that work for getting clients.
2. Brand yourself and name your business
Once you've got a few client leads cooking, you can start to think about the other elements of how to become a freelance graphic designer.
First up, is to think through how you'll brand and name yourself. This is important to tackle fairly early on because, for most freelance graphic designers, word of mouth proves extremely important.
Many freelancers debate whether you should use your own name or a business name. If your goal in becoming a freelance graphic designer is to stay a one-person business forever, then use your own name as the company name.
But if you ever want to grow your freelance business to be bigger than just you, you may want to consider coming up with a name for your design business.
If you need more help on coming up with the right business name, you might also want to take a look at our business name-generating workbook here.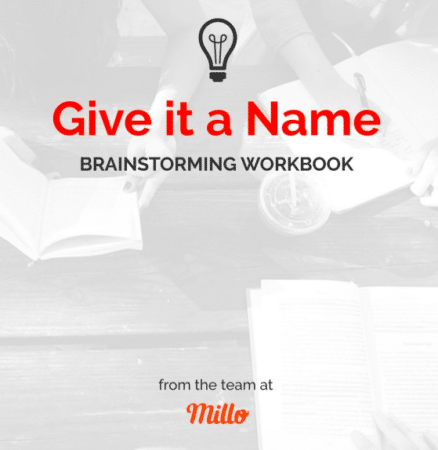 3. Build a minimum viable portfolio
You wouldn't believe the number of freelance graphic designers who I work with on a daily basis that tell me they're not ready to start marketing their business because their portfolio isn't finished yet.
What a sad waste.
To avoid the same fate and master how to become a freelance graphic designer who actually gets clients and grows their business, here's my advice:
Build a minimum viable freelance portfolio.
What do I mean by "minimum viable"? It's a phrase stolen from tech startup world that essentially means you answer the question "what's the least I can do to prove my hypothesis and satisfy my customer?"
If you're serious about learning how to become a freelance graphic designer, you should build a small (maybe even just one-page) portfolio that highlights only your best work and encourages visitors to hire you.
I've written extensively on the topic of minimum viable portfolios for freelance designers. The most in-depth piece (and most helpful, in my opinion) is this one:
Have a quick read and then come back here to finish out learning how to become a freelance designer.
4. Over-deliver for your first clients
The next critical step on your journey to learn how to become a freelance graphic designer is to make your current clients very happy.
It doesn't matter if you found your first clients through your personal network or through freelancing websites, in either case each client represents an opportunity for more work.
How? Freelance graphic designers who over-deliver on their promises with design clients:
Get more repeat design work
If you do a good job the first time (more than good, really) your client is far more likely to hire you a second time. You might even be able to convert your one-time client into regular, recurring revenue.
Get more design client referrals
Over-delivering for one client doesn't just impact the amount of freelance graphic design work you receive from that one client, but also impacts the likelihood of getting referrals from that client in the future. More on that below.
5. Master proposals, invoicing, and paperwork
Learning how to become a freelance graphic designer isn't just about getting clients and doing the creative work, though.
As a freelance designer, you'll also need to run your design business.
That means learning how to write an invoice, sending proposals to your clients, working with contracts at times, and lots more.
While you can do the bare minimum (Google Docs or similar) when first getting started, I recommend quickly finding some sort of freelancer invoicing software you can use to make your life easier.
Moxie, the software that helps you freelance smarter, is one of the top recommended tools tailor-made for freelancers. Client management, proposals, easy invoicing, and more — plus, they have a Free forever plan that includes unlimited clients. 
Another great option for getting paid as a freelancer is Bonsai, which is 100% free to try and has a really clean interface with an amazing set of options for managing your entire freelance business.
Freshbooks, not only helps you create professional invoices in less than 30 seconds, but also automatically follows up with any clients who forget to pay their invoices.
Readers of this blog can try Freshbooks free for 30 days and then it's only $15/mo after that, which I think is a pretty good investment.
If you'd like to try something else, Quickbooks makes a pretty good alternative to Freshbooks and Bonsai.
I can also confidently recommend Honeybook as well.
6. Don't get too picky too fast (that'll come later)
I'll assume since you've probably been searching how to become a freelance graphic designer that you've read a lot of advice from different experts.
And something many expert designers will tell you about becoming a freelance designer is to never compromise and always be picky about the kinds of clients you take on.
If you've been a freelance graphic designer for years, this advice makes sense (which is why most "experts" recommend it). But if you're just getting started and you're trying to figure out how to become a freelance graphic designer, this advice is flawed.
It can mean death.
In step 1, I encouraged you to find your first clients fast—giving you confidence, a bit of cash, and a good foothold on which you can become a freelance graphic designer.
This advice is similar.
If you turn down too many freelance design jobs all because they don't pay enough, or because you don't like the kind of projects they send you, you risk cutting yourself off long before you ever actually become a freelance designer.
Never compromise your morals. But understand that business is business. And it's the same when you're working toward becoming a freelance designer.
If you're new, the market isn't ready to pay you expert rates.
If you don't have many samples or testimonials, the market isn't ready to hire you on the spot.
You'll have to work a bit more for it. And, perhaps more importantly, you'll have to be less picky than later on in your freelance design career.
7. Build your network and utilize it
In step 1, I encouraged you to tap into your personal network to find clients. Once you've utilized your current network, however, you'll find you need to grow that network in order to continue to find new work.
Part of learning how to become a freelance graphic designer includes learning how to work with people, meet new people, and provide value to people.
We've published lots of great resources here on the blog to help you with networking (especially if you're more introverted and hate networking).
First, there's Kristin's 10 Networking tips that will grow your business fast. You're bound to find a few ideas there.
Then there's my friend David who has successfully built two design businesses from scratch. His new networking technique that actually gets clients is bound to help.
The truth is, on your journey to become a freelance designer, almost nothing will be more valuable than your network—including your clients, potential clients, former clients, acquaintances, former co-workers, family, and lots more.
Not to mention, one bonus side effect of building a network? It makes freelancing far less lonely.
8. Always be finding new clients
Do you know one of the biggest complaints I hear about becoming a freelance graphic designer?
The feast-famine cycle.
It's such a common concern for freelance designers. Essentially it's the challenge of having plenty of work this month, and not nearly enough work next month.
And it happens far too often to people striving to learn how to become a freelance graphic designer—and make it stick.
How can you not fall trap to the feast-famine cycle of freelance design?
Always be finding new clients.
No matter how much extra work you have to do; no matter how many client projects you currently have; no matter how swamped you feel; always make time to find new clients.
Dedicate a certain number of hours each week to client outreach activities such as cold-emailing, networking, or SEO.
Of course, if you're totally swamped, I recommend you automate your client-finding activities by signing up for free services like Google Alerts or paying a small fee for services like SolidGigs.
9. Collect payments on-time
The sad truth of becoming a freelance graphic designer is that if you don't get paid, you won't last long.
So one mission-critical task when learning how to become a freelance graphic designer is to collect your payments on-time.
At first, it can feel a bit embarrassing or awkward to ask for payment from your clients. But it shouldn't be either. Getting paid is just part of doing business.
Tools like Moxie, Bonsai, and Freshbooks can not only send invoices, but also collect payments, remind clients their invoice is due, remind them again when they forget to pay, and take credit cards right on the invoice itself.
Down the road, once you've become a freelance designer that's well-established, you may want to consider applying small discounts for paying invoices early or penalties for paying invoices late.
10. Get referrals every chance you have
Some of the happiest freelance graphic designers I've interacted with get most of their business through word-of-mouth marketing.
No expensive ad campaigns. No constant cold-outreach. No pestering local businesses at a meet-and-greet.
But getting automatic word-of-mouth promotion can be difficult early on in your journey learning how to become a freelance graphic designer.
Which means you'll have to build it in.
Start by asking for referrals from your existing clients. Every time you have an especially positive interaction with a client, ask them if they know anyone else that might benefit from hiring a freelance graphic designer.
Each time you deliver a project on time (and over-deliver too, remember?) is an ideal time to ask if they have any friends, acquaintances, coworkers, or colleagues who might want to work with you.
If you need some extra help, this referral-getting email script may come in handy.
After you do enough quality work for enough people, the referrals will become a bit more organic. But until then, it's up to you to make it happen.
You're on your way to becoming a freelance graphic designer
That's all I've got for you today! But it's my absolute best, most sincere, and proven advice for learning how to become a freelance graphic designer.
It won't happen overnight. It won't be easier than staying at your day job.
But if you want to become a freelance designer, you can do it. And hopefully today's article will prove to be a huge help.
For more support, to ask questions, or learn from other freelance designers who are growing their business, you should join our free facebook group and chat more with us there.
Keep the conversation going...
Over 10,000 of us are having daily conversations over in our free Facebook group and we'd love to see you there. Join us!