Table of Contents
This post may contain affiliate links. See our affiliate disclosure for more.
As a freelancer, your time is your most valuable asset, so generating income without sacrificing more of your time is a game changer. And one way to do it is by using print on demand sites for artists to make merchandise like T-shirts, stickers, mugs and so much more and sell them directly to consumers.
If you've been in the freelance world for even a short time, odds are you have heard the phrase "passive income" thrown around. This is the idea that you can make money when you aren't actively working. It's a must for freelance artists looking to push their business to the next level.
But how do you get from this fantastic idea to actually making money?
One option is to create and sell products on your own. However, this requires you to find a printer, store inventory, spend time running back and forth to the post office to ship things, and deal with customers all on your own.
There's got to be a better option, right?
There is!
The print-on-demand model allows artists to upload and sell their designs without having to handle all of the logistics.
In this article, we'll walk through some of the best print on demand sites for artists, talk about the features and warning signs to watch out for, and help you take that leap that will transform the way you earn money.
Here we go!
The 5 Best print on demand sites for artists
Printify is the technology platform that makes it possible for millions of people around the world to become instant entrepreneurs by selling high-quality customized merchandise online.
Pros: Printify has the largest range of products in the print-on-demand market (and it's always growing). They have partnered with over 85 of the world's best printing companies to make it possible to print and ship anywhere in the world. Printify offers the best prices on the market. They make sure that they offer every product at the lowest possible price point.
Printify is a single platform, replacing up to 5 separate software needed to complete design, ordering, and fulfillment. Merchants can seamlessly connect their Printify stores with top eCommerce and website platforms like Etsy, Shopify, WiX, Squarespace, WordPress, and more. Real-life human support agents are waiting to assist with orders 24/7.
Cons: Shipping times can be slow based on the supplier. Due to having suppliers all around the world, some only source unique products from countries like China which can have a long waiting time for a customer in the U.S. In addition, they have limited customization features available at the moment.
Fees: Printify has a generous free tier that allows unlimited products in five active stores. The premium tier expands the active stores to ten and offers a 20% discount on all products. The most expensive tier, enterprise, allows everything previous and unlimited stores. They recommend this tier for owners generating over 10,000 orders a day.
Gelato empowers independent entrepreneurs and artists in the e-commerce industry to establish their own global businesses.
Their services include on-demand production in 32 countries and a software platform connecting to over 130 production facilities. With a diverse selection of 48 product categories, ranging from greeting cards and t-shirts to hoodies, drinkware, wall art, and calendars, Gelato operates without owning any physical assets. Instead, they collaborate with local production partners, enabling efficient scaling of production volumes.
A notable advantage of Gelato is their ability to fulfill approximately 90% of orders within the destination country. This leads to faster delivery times, cost savings, and a reduction in carbon emissions, delivering a unique and satisfying experience for their merchants.
Key Information:
Gelato enjoys an outstanding reputation in the print-on-demand market, with an impressive average rating of 4.7 out of 5 on Trustpilot, the highest in the industry.
In 2022, Gelato expanded its network by adding 32 new production partners. They have set their sights on further growth, aiming to exceed 200 partners in the future.
If you have shopped for indie art, weirdly specific stickers or prints, you have probably heard of Redbubble.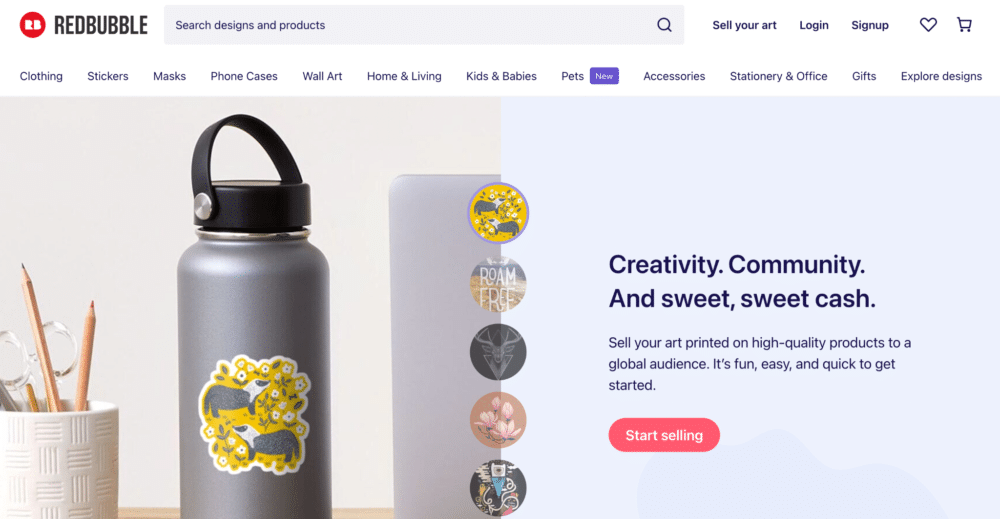 Pros: There's a lot to love about Redbubble. The site has a pretty wide reach and a reputation for high SEO ranking, with an analytics tool that you can use to tweak your own strategy. They run ads to drive traffic to your designs at no cost to you.
There are more than 75 different types of products, so you can upload a single design, and, with some tweaking, have a ton of potential options for buyers.
Redbubble also has a unique partner program that allows you to sell legally licensed artwork for, at the current time, 37 different popular brands. This helps the platform stand out as one of the best print on demand sites for artists.
Cons: Redbubble is a pretty saturated marketplace, so you are going to have to work hard to get your designs noticed. Also, they work on a commission-based model, so you don't make a huge amount of money with each sale. The profits come with high volume, which is definitely possible, but plan on investing some time into marketing.
Fees: Redbubble has no account or listing fees, it is entirely free to get started on the platform. When one of your designs sells, you get a portion of the sale price. You do have some control over the pricing structure—Redbubble sets the base price for the product type based on the region you are selling from, and you control the artist markup.
The higher you price your products, the more money you get from a sale, but remember that higher prices can sometimes drive customers away. Also keep in mind that Redbubble won't pay out until you hit $20 in commissions.
Zazzle is one of the earlier print on demand sites for artists. They specialize in customizable designs, meaning customers can order wedding invitations, T-Shirts with their name printed, and more.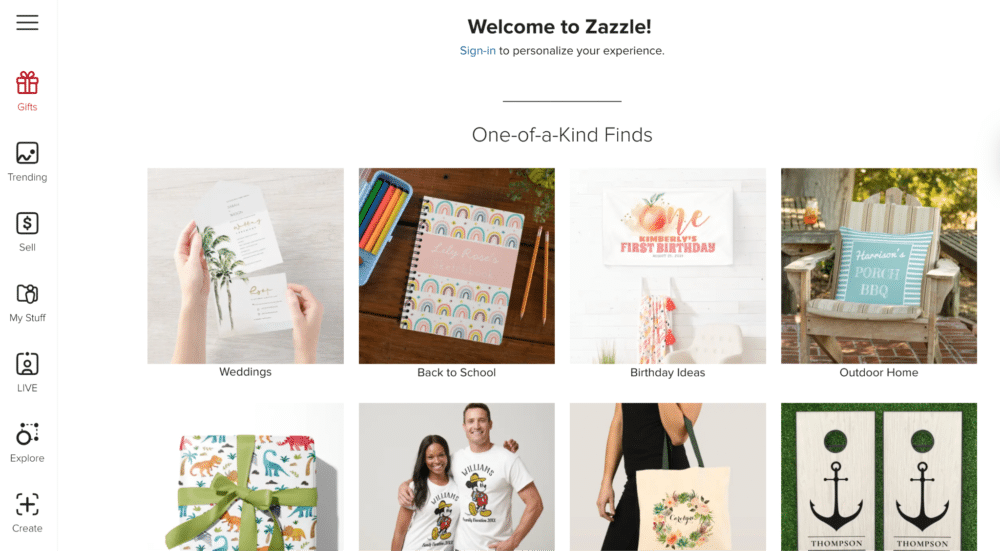 Pros: Like other sites on this list, Zazzle takes care of manufacturing and logistics for you, so all you have to do is create art and upload it. But what truly sets Zazzle apart as one of the best print on demand sites for artists is their additional affiliate program.
If you have a blog or WordPress site, you can even make money by posting links to products on the site, including your own products.
Cons: Some users complain about Zazzle's user interface, so it may not be as easy to learn as other print on demand sites. Additionally, Zazzle has what they call the "Zazzle Make Program." This is great for manufacturers looking to take on small contracts, but it means that your designs can be printed at different places, and the quality is not always the same.
Fees:
Opening a Zazzle account is free, and there are no listing fees, either. You control your own markup, anywhere from 15%-99%. Zazzle pays out monthly, but for the previous month's earnings, so it can take up to 75 days to get your money.
Printful operates a bit differently from some of the other sites on this list. Instead of paying artists a commission, you are opening a store, and you pay them for fulfillment services.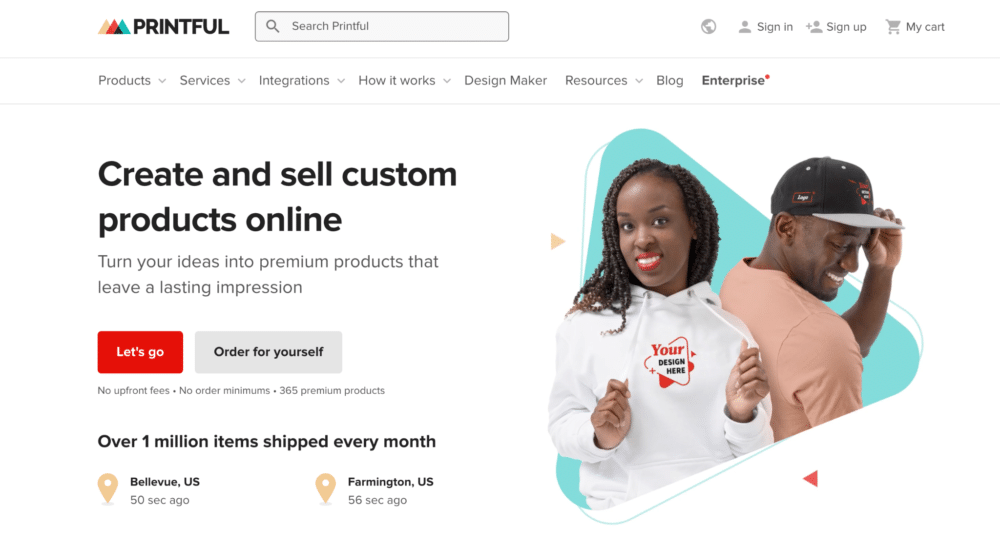 Pros: Printful makes the list of best print on demand sites for artists because they offer more personalized services for you as the business owner. You order your packaging, so you can add branded elements like colors and logos both outside and inside the box, making a truly shareable unboxing experience.
Another thing many artists like are the eco-friendly material options, so you can rest easy knowing your merchandise is sustainable.
Cons: Printful has fewer product options than some other sites, so you have more limited sales options. Prices are also high, which can equate to high quality, but drives some customers away, leaving you with fewer sales.
Fees: There is no cost to join Printful, and no monthly subscription. However, there are a variety of fees to watch out for. You pay Printful for all fulfillment, including printing, packaging, and shipping.
Printful does not provide a seller's platform, so you are also paying whatever costs you have for setting up your own website and billing service. You set your own retail prices, so you choose how much profit you make on every sale.
Society6 has a vibe all its own, with a stronger emphasis on home products like beautiful framed prints, tapestries, shower curtains and bedspreads. This means that designers and landscape photographers will probably feel most at home here, but anyone is welcome.
Pros: Society6 is highly rated by users, and they maintain a high standard of quality for all of their products, so your artwork will look great and customers will be happy. Society is also a global company, open to both artists and consumers worldwide, so your art can reach anyone, anywhere.
Cons: Society6 is a smaller site than some of the other print on demand sites for artists. And, there is not a lot of wiggle room in your profit margin.
Additionally, Society6 does not have a robust customer support service, so if you run into problems, you may be waiting awhile to work things out.
Fees: It is free to join and upload designs, and artists earn 10% of product sales, but can set their own markups for prints.
No list of best print on demand sites for artists is complete without mentioning the heavyweight champion of e-commerce—Amazon. Odds are you've ordered everything from books to toilet paper from Amazon, but did you know they have their own print on demand platform, Amazon Merch?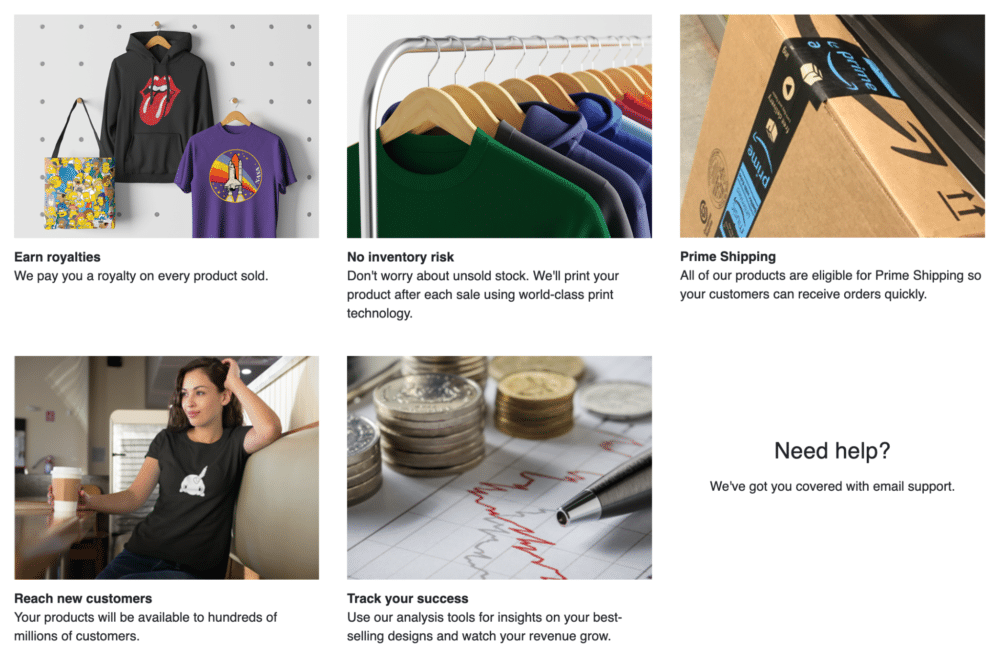 Pros: The obvious pro is that Amazon is a massive platform with access to more customers than any other site out there. As a highly visible brand, Amazon has a vested interest in protecting their reputation, so their print quality is usually solid.
Cons: The biggest downside to Merch by Amazon is that you need an invitation to join. The best way to get accepted is to grow your own social media presence and put forth your best designs.
The other major con is that artists have a complete lack of control. No control over pricing, profits, printing, or the products that are available. There is no flexibility in any of these elements.
Fees: As with every other option on our best print on demand sites for artists list, once you earn your invite, Amazon Merch is free to join. Sellers earn 13%-37% on each item that sells.
The best part of the pricing structure for Amazon is that the royalties are automatically added to your account with each purchase, and the monthly payout has no minimum. If your account is over $0, you get paid.
How to choose between the best print on demand sites for artists
Each site on this list has merit, and each has drawbacks. The best site for you will depend on your skillset, business model and goals.
If you are looking for a no-hassle experience, Amazon Merch is probably a good starting point. If you want to build a business that gives you the most control over your platform, products and pricing, look to Printful.
Check out each site and see which matches your style, your artwork, and level of commitment.
Start selling today
Perhaps the most important thing to remember when looking for the best print on demand sites for artists is that you will get out of your business what you put into it. With the exception of Amazon, most sites will not do targeted marketing for you. It takes work to get noticed, to get featured on home pages, and to drive traffic to your store.
However, spreading the word about your products is something that can be done from anywhere with nothing more than a tablet or a smartphone, so you can truly begin to create that passive income stream whether you are on vacation, in school, home with your family or on your lunch break at your day job.
Keep the conversation going...
Over 10,000 of us are having daily conversations over in our free Facebook group and we'd love to see you there. Join us!