Table of Contents
This post may contain affiliate links. See our affiliate disclosure for more.
For my entire life, I dreamed of travel.
I dreamed of visiting far off lands, experiencing new cultures and doing something unconventional with my life. Yet I always thought that travel would come someday in the future, someday when I had become wealthy and could afford it.
Today, I write this post from a small town outside of Barcelona, Spain. In about 12 hours, I hop a plane from Barcelona to Paris. France will be the 13th country that I will have visited this year.
I'm not independently wealthy and I'm not globetrotting on my parents' credit cards.
Instead, I've built a freelance career that allows me to work remotely and travel the world.
The emergence of a new age
We are in the emergence of a new age. The age of the digital nomad and the remote worker.
Years ago, tools like Skype, Dropbox and e-mail were just becoming mainstream.
Years ago, the internet was outrageously slow and hard to come by in many foreign countries.
Years ago, we lived in a completely different world.
Technology has granted us a new opportunity, an opportunity to work from anywhere.
For the first time in history, our income is no longer dependent on our location. This shift in how we do our work has the ability to completely reinvent your life.
The benefits of remote working
Maybe you desire to travel the world, or maybe you desire to work from home and spend more time with the kids.
Regardless of your motives, the ability to work remotely can dramatically improve your quality of life. Working remotely means:
less time commuting to an office or client meetings.
more time spent on what is important to you.
that you can travel the world, live in foreign countries or take extended vacations.
freedom that you can use however you see fit.
How to work remotely
It's easy to overcomplicate remote working, but in reality it is quite simple. To work remotely, you need two simple things.
The ability to create value without being physically present with your client
The ability to find new clients without relying on in person networking
If you can do these two things, then you can build a freelance career that allows you to work from anywhere.
How to create value without being physically present
This is highly dependent on the skills and services that you offer.
Some skills such as graphic design, web design, development, copywriting, video editing, consulting, etc. are all skills that require no in person contact. Everything about this type of work can be done from anywhere.
On the flip side, there are skills that do not lend themselves to remote working. Skills such as photography, videography, make up artists, event designers, etc. are skills that require you to be in person with the client.
So what do you do if your skill cannot be accomplished remotely?
Either you suck it up or learn something new.
I was a videographer in a previous life, but when I got hooked on this idea of world travel I knew I needed to change. I signed up for some courses on Lynda.com and learned how to become a web designer. The processes are similar, but the skills are different.
It required starting over from scratch in many ways, but for a life of freedom, it was worth it.
How to find new clients without relying on in-person networking
This scares many people at first.
It scared me as well since in-person networking is often an easy way to build a network and find new work. But the truth is that in-person networking is only one of the many ways to market yourself as a freelancer.
Some of the methods used to find clients remotely are marketing tactics you may already be using.
Below are just a few of the other marketing methods that you can use to get clients without being physically present:
Direct outreach / Cold e-mailing
Freelance job listing websites such as oDesk & eLance
Staying in touch with friends and past colleagues
Social media
Partnerships with agencies or other creative professionals
Asking for referrals
Online networking in forums and industry groups
Blogging / Content marketing
When you work remotely, you invest the time you once did in networking events and focus that on additional time in other marketing channels.
It takes time to build up, and it may mean learning some new marketing methods, but it's worth it for the freedom it provides.
How to make the jump to remote working
Start small. Start by setting up a home office and working from there.
This will give you a small taste of what it's like to work remotely.
If you still need to visit networking events or take in-person meetings, you still have that option. Get into the habit of trying to avoid these temptations. Start avoiding commutes and you will experience just a bit of what remote working is like.
Once you feel that you have some momentum, make the jump.
For me, when I landed my first client without ever meeting them in person, I knew it was time.
I bought a one way ticket to Mexico for my girlfriend and myself. We spent the next four months living on beachfront property enjoying margaritas as I built up a client base for my freelance career.
Start somewhere cheap
Why Mexico? If you're planning on working remotely and traveling, start somewhere with a low cost of living. You can find some seriously cheap places to stay in Mexico on AirBnb!
By going to Mexico, we dropped our living expenses by nearly two-thirds, which meant both that I needed to make fewer sales and that I had more time to invest in marketing, learning and building my business.
Starting somewhere cheap will make the transition to a digital-nomad lifestyle much easier.
The bottom line
Remote working is a completely new privilege, and it's simpler than most make it out to be. Remember, you just need two things:
The ability to create value without being physically present.
The ability find new clients without relying on in-person networking.
If you can do those two things, then you're well on your way to experiencing the freedom that remote working can bring.
For some, that means more time at home with the kids, more time to care for an elderly family member, or simply a more leisurely, hobby-filled, stress-free lifestyle. For me, that means 13 countries in one year and a series of experiences that I will never forget.
How you use that freedom is up to you.
How will you use the freedom?
Leave a comment and share what freedom has meant (or will mean) to you!
PS – Got questions? Drop a note in the comments and I'll do my best to answer those, too.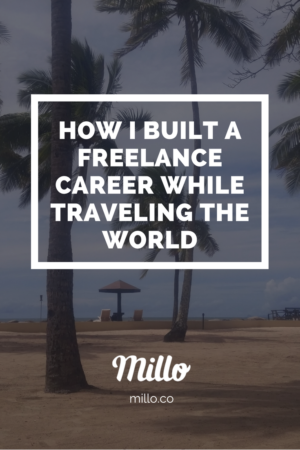 Keep the conversation going...
Over 10,000 of us are having daily conversations over in our free Facebook group and we'd love to see you there. Join us!