Table of Contents
This post may contain affiliate links. See our affiliate disclosure for more.
Client communication is one of the most important ways to grow your service-based business.
That's because good client communication leads to happier clients.
And happier clients means more referrals and a thriving business.
In one report from Harvard, client satisfaction rose 17% when client communication improved.
So what are some ways you can improve your client communications in order to grow your business?
In this article, we'll spell it all out including what exactly we mean when we say "client communication," why it's critical to your success, and how to improve your client communication with just a few small changes.
We'll also share helpful tools that can help you improve your client communication without spending every minute of your work days in client meetings.
What is Client Communication?
Let's start off by getting on the same page when it comes to client communication. What exactly do we mean when we talk about communication with clients?
Client Communication includes any interaction you have with your clients or customers, including current, previous, or future clients.
You can communicate with clients in-person, over text or email, during a video call, or even asynchronously using tools like ZipMessage.
Effective client communication can be formal—such as on an official call or informal—such as through a quick text message. It can be intentional or unintentional.
Client communication is happening at all times—whether you intend it or not. In fact, the act of NOT communicating with a client is, in its own way, a form of client communication (albeit, a poor one).
Why You Should Focus on Improving Client Communication
If you provide a service for your clients, you'll want to focus on effective client communication or you'll have trouble growing your business.
We recommend you start by reading these 9 Client Communication Best Practices You Must Use.
Ignoring or simply being unaware of client communication best practices is simply unacceptable.
That's because companies who focus on client communication skills:
Get more repeat work from their current clients
Stay retained for longer projects with their current clients
and
Get more referrals from satisfied clients
Let's look into each of these benefits below.
Get more repeat work from your clients
When you're a good communicator and deliver quality work for your clients, you'll get more repeat work from those clients.
While most freelancers and agencies know it's much easier to retain a client than to find a new one, we often forget the same is true for our clients.
No client wants to start the entire process over again: vetting applicants, getting their boss on-board, notifying HR, signing more paperwork. It's a lot.
Instead, if you focus on quality client communication and quality work, your clients will keep coming back to you over and over again because you've built a solid relationship with them.
For more ideas, we recommend you read 7 Tips for Building Client Relationships (At Scale).
If you can master this process, you only need 5-8 quality clients with repeat work in order to build a great, sustainable business.
Stay retained for longer client projects
Of course, even better than repeat work is getting retained by your best clients for long-term projects.
This can help generate monthly revenue you can rely on to grow from freelancer to agency and beyond.
But no client is going to want to work long-term with someone that doesn't communicate well. In fact, one study revealed a whopping 86% of workers blame ineffective communication as the main cause for workplace failures.
You can't afford to be the cause of failure for your client.
Get more client referrals
Word-of-mouth marketing is keeping many freelancers, agencies, and other service providers in business.
In fact, one Harvard study revealed that 84% of freelancers who make more than $100,000 per year receive most of their clients from "word of mouth" marketing.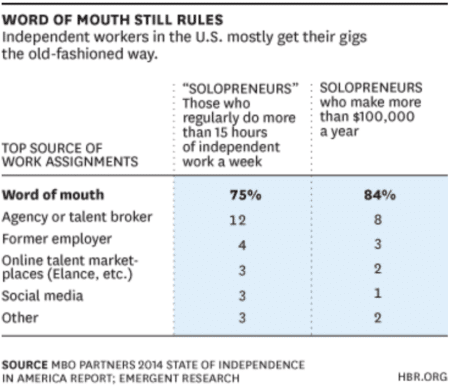 And that's not true only for freelancers. 64% of marketers agree that word-of-mouth is the most effective form of marketing and 92% of clients trust referrals from people they know.
If getting referrals is important to your service-based business (and it obviously should be) then improving your client communication skills should be at the top of your list.
How to Improve Your Client Communication Skills
Now that we've outlined exactly why you should focus on more efficient client communication, let's unpack exactly how you can do it.
We'll do that by outlining two important pieces:
Client Communication Best Practices
and
Client Communication Tools
We'll start with a few best practices and we'll include a few great client communication tools you can leverage.
Client Communication Best Practices
The good news about improving your communication with clients is you don't have to start from scratch.
Researchers, as well as other service providers have been communicating with clients for decades and many of them have shared their best practices and findings with the rest of us.
Here are 8 Best Practices for Communicating with Clients:
1. Start Early with Effective Client Communication
You can set your clients' expectations early on by over-communicating from the beginning. It's never too early to determine what your client expects in terms of communication.
Here are a couple of ideas to implement early on in the process:
Connect your clients with your communication tool of choice (we highly recommend you try ZipMessage) from the beginning of your relationship.
Be upfront and open about how and when your client would like communications.
While it's important to draw boundaries with your client, use the early stages of your relationship to over-communicate and be as available as possible until you've built up a strong and healthy relationship.
2. Over-communicate (your clients won't feel like you are)
Even busy clients appreciate frequent, quick updates on the work they're paying you to complete.
You can provide timely updates at regular intervals by letting your clients know that you are hard at work on their projects, and that you are on track to reach the next milestone or deadline as discussed.
Experts recommend sending at least one formal update each week—but you can use ZipMessage to asynchronously send important updates anytime. What's better, your client can view your message on their own schedule and reply when it's convenient.
When you're working with new clients, expect them to worry more than necessary. To abate growing concern, promise to keep them updated in the future and be sure to let them know immediately about any issues or delays you encounter as well.
During a project, send clients frequent messages summarizing what you discussed and supplying valuable information about the next phase of your project.
3. Maintain Transparency with Your Clients
Transparency is the key to maintaining good client communication practices and building trust between yourself and your clients.
You should remain honest and transparent at every step of the projects you work on, from providing pricing guides to supplying your clients with working timelines and delivery dates.
Be honest about potential delays and communicate directly with your client when you need additional time or resources to complete a job.
There is not a single problem you can encounter that will get BETTER by keeping it from your client. Eventually, the truth will come out and it will be worse if you failed to communicate with your client along the way.
4. Focus on Convenience for Your Client
There's nothing more frustrating as a client than hiring someone to get a job done, only to receive phone calls and emails multiple times a day asking for help in getting the job done.
Instead, focus on making your client communication extremely convenient. Here are a few ways to do that:
Use asynchronous software like ZipMessage so your clients can view and respond to your messages at their convenience.
Batch your requests and send them all at once instead of sending messages multiple times each day.
Be a problem-solver and take initiative to overcome challenges you encounter during your client projects instead of immediately asking for their help.
5. Don't Get Too Technical
Your client doesn't need to know the ins-and-outs of every detail of your project together. They hired you to handle the project and find a solution.
So when communicating with your clients, avoid highly technical or in-depth industry jargon unless requested.
Use clear, professional language and welcome any clarifying questions they may have.
6. Show Your Human Side
There are very few clients who prefer cold, robotic communication. Of course, you need to remain professional at all times when communicating with clients, but work to ensure that they feel comfortable interacting with you.
Establish a respectful human connection with them and you will be better able to forge and maintain a mutually beneficial working relationship.
7. Use the Right Client Communication Tools
Some communication channels are better suited to specific situations than others. You will need to consider how best to deliver news and updates to your clients.
Some popular tools for client communication include video conferencing, email, instant messaging, phone calls, video messages, text messages, personal letters or a fax (yes, some clients still communicate over fax).
The trick to choosing the right client communication tool usually lies in your client's individual preferences and your own professional workflow.
Some clients might prefer a quick update in the form of a WhatsApp message, while others would appreciate a more professional medium such as email.
If you aren't sure which communication tools your clients would be most comfortable with, don't hesitate to ask them when and how they would like you to communicate.
We also suggest using a tool like ZipMessage to take advantage of multiple mediums. With ZipMessage you can send a quick video, type text like an email, attach files, send audio, and a lot more. We recommend you take a look here.
For more info on client communication tools, including ZipMessage, scroll to the bottom of this article.
8. Manage Client Communication Expectations
Many communication frustrations come because your client doesn't know what to expect.
Imagine how you'd feel if you expected a weekly update and instead received an update every day. You'd be overwhelmed.
Or maybe you expect a daily check-in and receive an update every two-weeks. Again, frustrating.
To avoid this kind of thing, sit down with each of your clients and ask them how often they'd like updates and progress reports, which times of day suit them best, and the preferred methods of communication, as mentioned above.
You may need to step out of your comfort zone to meet their needs at first. Over time, as they begin to trust you more, you can start to set more boundaries for communicating with your clients.
The Best Tools to Improve Client Communication
Improving your client communication will take time. But your efforts can be compounded by finding the right tools for the job.
While there are lots of client communication tools out there, we'd like to highlight three that can really make a difference when communicating with clients.
1. ZipMessage
If you've been paying attention during this article, you won't be surprised at all that we highly recommend you use ZipMessage for communicating with clients.
That's because ZipMessage has done a great job making it possible to communicate regularly and effectively with clients—without bogging down your calendar with meetings. Plus, there's a free plan you can try out for as long as you want.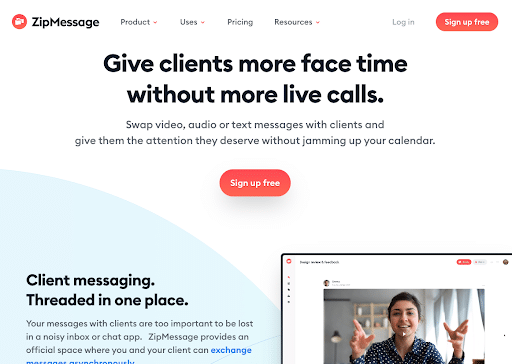 Zoom fatigue is real, causing more and more of us to dread client video calls.
But video is so effective. It's often much easier to communicate something by sharing your screen than by typing it all out.
That's what makes ZipMessage so great.
It has all the benefits of a real-time video call, without the hassle. You just send a video, text, or audio message to your client and they respond when they are ready—kinda like email but way better.
It allows you to give your clients the time and energy they deserve, without having to fill up either of your calendars.
Click here to see how ZipMessage can make you a better communicator.
2. Slack
If you've worked online for long, you've probably been invited to join someone's Slack channel. Or maybe you've even set one up for yourself.
Slack is the instant messaging equivalent to email. You can message your clients anytime and they can respond the same way.
The difficulty is your client will have to sign up for Slack and learn how to use it. It's not nearly as quick-to-use or intuitive as something like ZipMessage (mentioned above) and you have to upgrade to use features like screen-recording.
As a bonus, you can also easily integrate your ZipMessage and Slack accounts.
Click here to see why Slack can speed up your communication.
3. ContentSnare
If you find yourself constantly asking for assets or feedback from clients, you may want to consider taking a look at ContentSnare. It specializes in gathering information and assets from clients in an organized way.
It's not an all-in-one communication tool, but it does a great job at helping you wrangle those hard-to-get assets from clients who drag their feet.
Click here to see how easily you can collect assets with ContentSnare.
What's next?
And that's it. Some of our absolute best advice and resources for becoming a better client communicator.
In order to take advantage of what you've read today, here are some next steps:
Make a list of client communication best practices (from above) that you'll work on in your own business. Prioritize the list, research, and move forward.
Sign up for ZipMessage or another client communication tool of your choice. You'll notice a huge positive impact on your communication with clients almost immediately.
Never stop improving. You won't get it right immediately. But clients can tell when you're trying to be a good communicator. It's the effort that counts and, over time, you'll get really great at it.
Remember, client communication is as important as your billable work, your own marketing efforts, or anything else you do throughout the day.
Don't neglect it and you'll see it paying off in spades.
Keep the conversation going...
Over 10,000 of us are having daily conversations over in our free Facebook group and we'd love to see you there. Join us!