But if you have any experience with Google Analytics, you know that it can be a little overwhelming at first.
And maybe you're not exactly sure how to use it. But if you know how to use it, it can be a powerful tool get you a ton more clients and make your marketing more efficient.
So whether you're a complete newbie or you've been staring blankly at your stats for a while, here's a simple 3-step process for using Google Analytics to find more clients for your business.
STEP #1 – Install it
Google Analytics is a great tool, but sadly it can't start telling you anything about your website traffic before you actually install it on your site. (And, no, once you install it, it doesn't magically unlock years of website data.)
It only starts tracking the visits to your site from the day you actually set it up on your website.
So what to do? Head to Google Analytics and follow the prompts.
You might need to install a piece of code on your site, or depending on your platform, you might just have to add your tracking code to a setting inside the admin section of your site.
And if you think you already have Google Analytics installed on your site – you're not off the hook!
I can't tell you the number of times I've started to work with a client and either they think they have it installed and they don't (because it got lost in a website redesign or some other update).
OR – they definitely have it setup but they have no idea what their login is for the account.
So if you're an old hat at Google Analytics – make sure that:
You're still seeing traffic data in your account (this means that yes, in fact, the code is still on your site. If it's not, put it back on there!
You know how to log in at www.google.com/analytics for your site. If you don't, start contacting the people who have worked on your site to see if they have a login.
Once this is all set, you're ready for step #2!
STEP #2 – Figure out what's working for your business
Google Analytics can give you a *lot* of insights, which is part of the reason why it's so awesome (and part of the reason it can be overwhelming).
So let's zero in on one of the most accessible and impactful reports in Google Analytics:
The Acquisition Report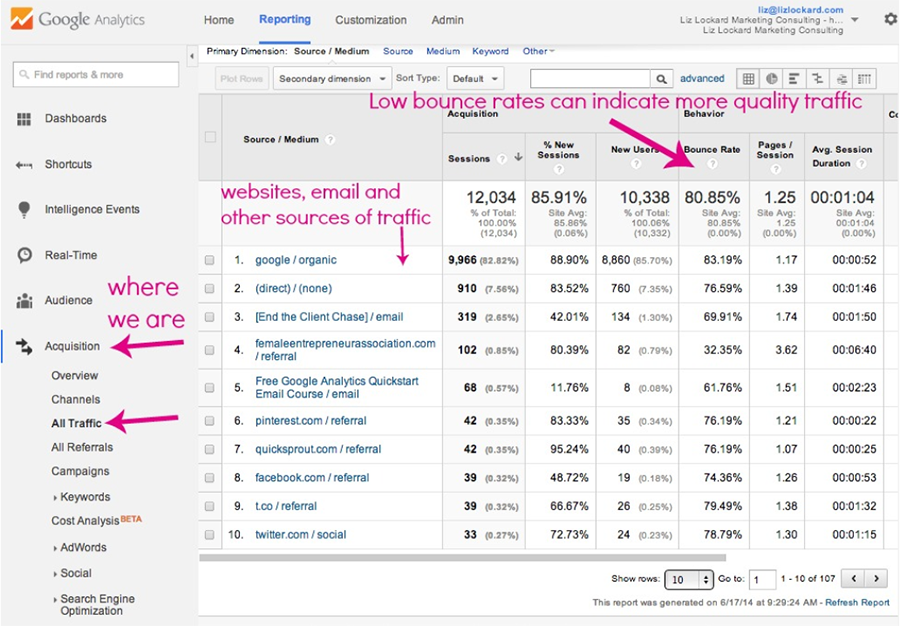 This is a screenshot from my own, real-live Google Analytics account.
You can get to this report for your site by logging in and then heading to Reporting > Acquisition > All Traffic.
As you can see in the screenshot, this report gives you a list of the websites that are sending your site visitors. Pretty cool, right?
But just knowing which websites are sending us the most visitors doesn't tell us the full story of what's actually working for our business and what's not. What we need is a way to measure the QUALITY of those visitors.
Out of the box – you can do this with bounce rate.
And if you know anything about bounce rates, you know the lower the better, because a bounce generally means someone is leaving your site having only viewed one page.
And since *most* of the actions we want visitors to take on our websites require viewing more than one page, this can be a sign that this traffic is lower quality. (Want to know if your bounce rate is "normal" – check out this post on the subject.)
Of course – a better way to do this is with Google Analytics goals & Ecommerce tracking – but those are both a little more advanced for the super beginner. (Leave a note in the comments if you'd like to hear more on the subject.)
So take a look at your account right now (if you have one) – what sites are sending you the most traffic with the lowest bounce rate? These might be what's actually working for your business.
STEP #3 – Act on those insights
Just knowing that certain sites or marketing activities seem to be performing better or worse for us doesn't actually do anything for our business.
But actually acting on those insights does.
So take a look. Of the sites sending you the most quality traffic:
Of the sites sending you the least quality traffic:
How much time or money are you spending on that activity?
Maybe it's time to stop pursuing that activity or hire some help to do it better.
Folding these insights into your marketing planning is what takes Google Analytics from "good to know" to "can't live without."
What are you waiting for? Head on in to your Google Analytics account and start acting on those insights to find more clients for your business!
Over to you
Do you have Google Analytics setup for your site? How often do you log in? Do you ever act on the data you see in your account? Share with us in the comments.
Keep the conversation going...
Over 10,000 of us are having daily conversations over in our free Facebook group and we'd love to see you there. Join us!