Table of Contents
This post may contain affiliate links. See our affiliate disclosure for more.
Social media management is not as easy as some people might imagine. You might have a sudden burst of inspiration and creativity—you've come up with the perfect way to hop on a current trend and raise brand awareness. 
But then reality hits. You can't release content at random, no matter how perfect the idea behind it. Instead, you have to wait while the post goes back and forth through all the various departments, waiting for everyone to agree.
By the time you get the green light from management, from HR, from legal…the moment has passed, and the content isn't going to land. Making a joke which stopped being funny months ago is hardly going to win your brand any fans. 
So, you need to find a way to get your content from the ideas phase to publication as swiftly as possible—no more delays or miscommunications. You need to make your social media approval process easier. This guide is here to show you how. 
What is a social media approval process?
A social media approval process is a system by which content is reviewed and approved before being publicly released on social media. Think of social media approval as a virtual thumbs up, letting you know that all the necessary departments, stakeholders, and clients have given the green light on a social media post. =
In theory, it shouldn't be too difficult to move the post from team to team, getting comments and confirmation. We probably don't need to tell you that this often isn't the case. Far too often, you'll come up with an idea for a timely and relevant social media post, but by the time it's approved for upload, the trend has died and the internet has moved on to the next thing. 
This is why you need to set up workflows to make your approval process as streamlined as possible. While it is important to make sure all relevant parties are on board with the tone and messaging of your social media content, you also want to avoid bottlenecks and keep the process running smoothly. 
It's a tricky balance to achieve. That's why this guide is here: to provide a detailed breakdown on how to make your social media approval process easier.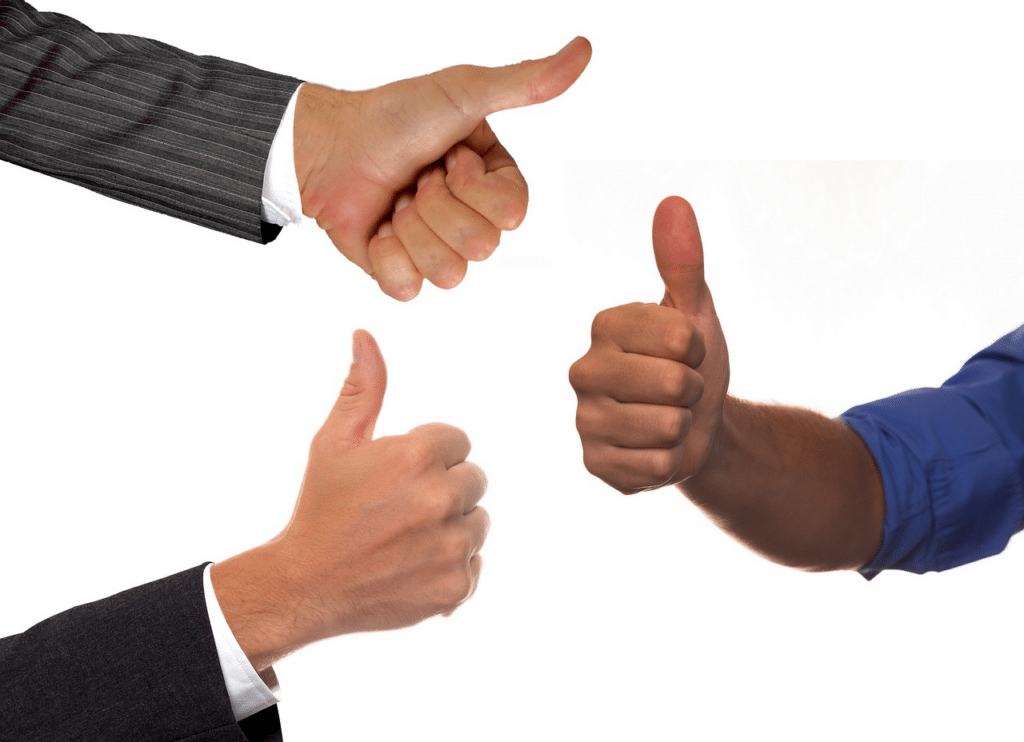 Who benefits from a streamlined social media approval process?
Social media managers benefit from using content approval processes to maintain brand consistency, avoid miscommunications, and ensure content quality across all platforms. A good approval process ensures an efficient collaboration between stakeholders and social media managers, ensuring client needs are fulfilled. 
Whether you're a freelancer or working for a big company or marketing agency, anyone who works in social media can benefit from a social media content approval process. 
Similarly, a social media approval tool can be helpful for:
Freelancers offering social media management services

Social media agencies

Companies with in-house social media managers

Companies working with external social media agencies

Companies with collaborative social media efforts across various teams 
Wondering whether you really need a social media approval process? Consider factors such as how regularly you post, how many people are involved in creating and scheduling content, and how much anxiety is associated with pressing the publish button. Are you managing more than one brand? Are there localizing efforts or audience-targeting methods involved in the job?
Social Media Strategists
If you are a social media strategist or similar, and you are juggling multiple stakeholders and considerations in your job, then this is the article for you. Chances are, you would benefit from improving your social media approval process, whether that means investing in a tool or implementing some of the advice from this article.
We'll cover the benefits of having a social media approval process to begin with, then explore the various types, how to build an easy-to-follow workflow, and best practices to ensure success. You might choose to leverage various technologies—from automation tools and social media management software, to communication tools like virtual PBX and internet phones service. 
Equally, this advice is applicable if you choose to go down the manual route. A good social media approval process is built on solid foundations of understanding how to plan smooth, easy workflows. 
Benefits of a social media approval process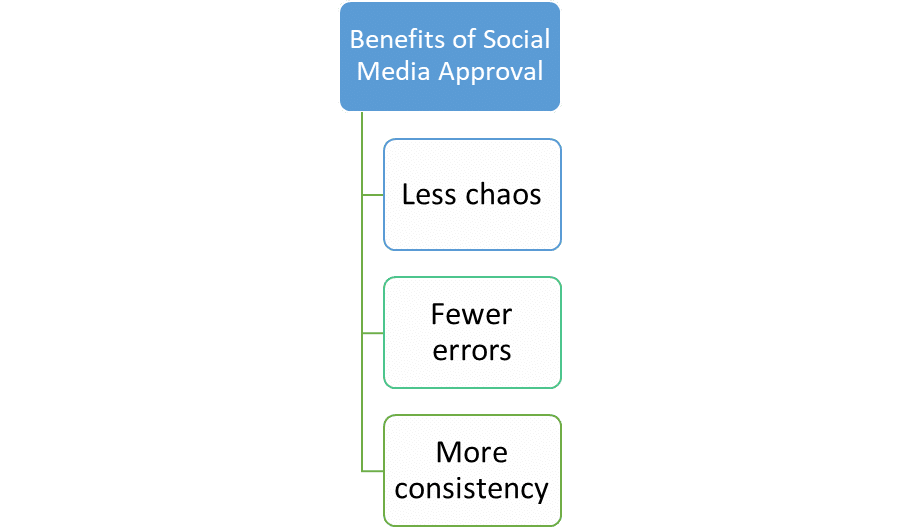 Less chaos
The more eyes on your content before it's posted, the better. That said, it can get chaotic when too many people are involved, and tasks get stuck at one stage for too long. 
By developing a structure to the process, assigning clear roles, communicating openly, and imposing specific deadlines, you make social media content approval easier for everyone. With less time spent chasing up coworkers, you can spend more time thinking creatively about strategy. 
Consistent brand messaging
With a well-functioning approval process comes a better understanding of all relevant perspectives. Feedback from various people and teams will give the social media manager a clearer picture of the brand's voice and values, so they can improve content going forward. As a result, the process will become easier and easier. 
Reduced risk of errors 
If your copy is read by multiple coworkers before being posted, it is likely that at least one person will notice the wrong "your" or a missing apostrophe. Clean, typo free copy is important to establish brand credibility. 
Then there are larger mistakes. If the messaging behind a campaign is off, you want to make sure someone catches it before the damage is done. 
A bad review or a negative comment isn't the end of the world, but it is avoidable. Rather than ending up in a situation where you need to respond to backlash, it's much better to take the time developing a sound approval process which prevents these blunders reaching the public eye. 
Types of social media approval workflows 
The type of approval you need before posting content is dictated by the brand or client you work for. You need to know the three types of set-up which you can adapt to any workflow. 
Optional 
As the name suggests, this is perhaps the most laid-back style of social media approval. It's best suited for social media managers who like to ask their marketing colleagues' opinions about their content, but they are not obligated to ask for permission to post. 
With this type of workflow, a social media manager may send potential posts to designated colleagues who will offer feedback, but this is a second opinion, not a formal yes or no. If no feedback is given, the social media manager is free to go ahead and post anyway. 
Required
This type of social media approval process operates on the agreement that no one is entitled to hit the publish button until the content has been approved. 
For some organizations, this is a key security measure. The approval team, social media managers, and clients keep a trust-based relationship. This method also saves a lot of trouble, as all required edits are made before a blog or social media post goes live. 
This option is best suited to brands with medium-sized followings in non-regulated industries, or small teams with a content creator and separate team of decision-makers.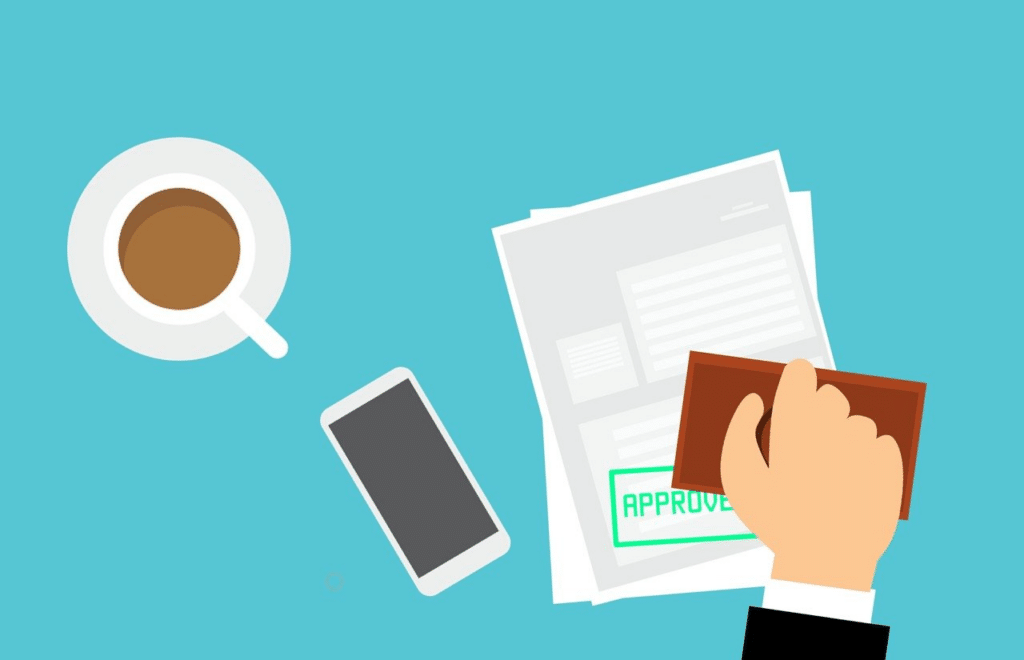 Multi-level 
With the multi-level approach to social media approval, you can establish several layers of approval, adding key stakeholders to each layer. 
Often, the proposed content is sent to more than one representative from each layer (for example the legal, marketing, and financial departments). Only one from each needs to give you an answer in order to move the status of the post forward. This approach is great in terms of efficiency and productivity. 
6 steps to build an efficient social media approval process
1. Develop clear plans and guidelines
Before you dive in, you need to establish strong foundations. You should be making plans for every stage of content developing – such as ideation, copywriting, design, review, approval, and publication. 
Start by making a plan for your content. What are the steps you have to take after creating content for this particular campaign? Do you have your copy, message, and visuals ready to go? Did you proofread for errors and typos? Which people or departments do you need clearance from? 
Making a specific plan is a great starting point, but you don't want to start again from scratch with each new campaign. Streamline the content creation and approval process by creating a set of guidelines for all posts going forward. If everyone involved has agreed on a set of expectations—from the tone of voice, to the brand color scheme—then it will be easier to ensure consistency and keep everyone happy. 
You could even create reference documents, a style guide, or various response templates which have been agreed upon ahead of time. For example, if you have established templates for your blog posts, you can publish and get readers fast, rather than wasting time deciding on formatting choices every time. 
By taking the time to plan, you cut down on any unnecessary back-and-forth email exchanges which would cause delays. 
2. Establish who is part of your approval process
Part of the problem with social media approval is that there are just so many people involved. Think clients, graphic designers, marketing managers, social media directors, HR teams, and legal representatives. 
For example, one person might take the lead when it comes to the ideas behind a campaign, but they might need to bring in copywriters or graphic designers to help execute their vision. These are the people who are directly involved in content creation, so put them together in one list. These are the people you will be collaborating with closely on early versions of the content. 
Then, make another list of coworkers, departments, and stakeholders who are indirectly involved. They don't need to see the content until it has been worked on by the people from the first list. For example, you wouldn't ask the legal team to check your grammar. You would only involve them in a near final draft. 
Even though the people on the second list are involved later in the process, their opinions still count—especially if the organization uses a required style rather than optional approval. If they decide that your content does not align with company values, then you will need to go back to the drawing board. 
Be clear about who needs to lay eyes on your content and when. This will make it easier to move quickly if and when you strike gold. It helps to assign clear roles, determining who is responsible for tasks at each stage. This way, tasks can move swiftly from one person to another without dissapearing.
3. Set deadlines 
Both internal and external deadlines are crucial to maintaining an efficient approval process. 
As a social media manager, you'll likely have peak posting times in mind, possibly even down to the hour. It's frustrating, then, when you cannot stick to this plan because you're waiting for the legal team to get back to you about using a certain song in a video, for example. 
To minimize disruptions, you need to clearly communicate deadlines. This keeps everyone on track, promotes a sense of urgency, and leads to more accountability between team members. Be sure to allocate sufficient time for each stage, while still stressing when you need a decision by. 
Setting deadlines in this context can be tricky. If one person is running late, this can result in a bottleneck. The task gets stuck at this stage, meaning that other departments also cannot do their jobs on time. Try setting up notifications, or using a social media management tool to make sure everyone knows when it is their turn to give feedback.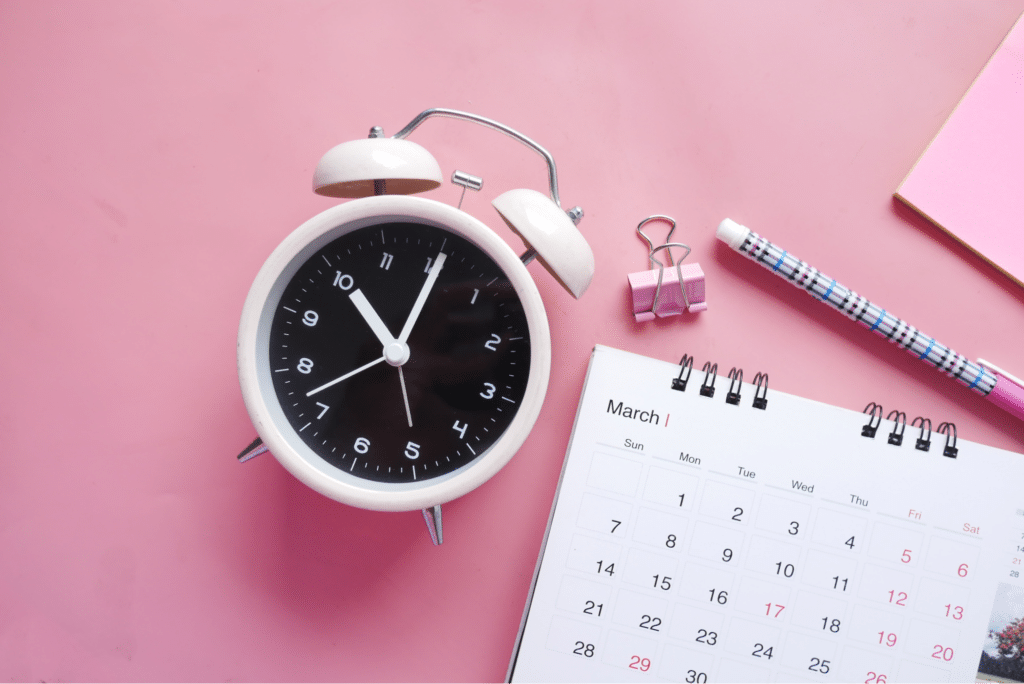 4. Create a content calendar 
As you know, consistent and well-timed posts are key in social media marketing. You want to time new content to align with your audience's online activity patterns. 
While the first step towards this is to set clear deadlines, you can go further than this. 
Consider also creating a content calendar viewable to everyone involved in the approval process, so they have a visual representation of the schedule they need to work to. 
Use the calendar to map up all upcoming posts, whether that's blog entries, TikToks, or Instagram reels. With an overview of your content in front of you, it's easy to identify gaps and inconsistencies and adjust accordingly. 
Share this calendar with stakeholders so they can easily see the upcoming posts still pending their approval. You may also find that this visibility helps to keep people accountable. 
You might choose to use a spreadsheet for your social media plan, but there are also plenty of tools on the market which allow for smooth collaboration and make the approval process easier.
5. Send your ideas for approval 
With the first four steps in place, you should have worked out a smooth workflow. Make sure you know who is part of the approval team, what their role is, and what timeline they should be adhering to when they give feedback. 
Now, it's time to send your proposed content down the pipeline and await their responses. 
This might mean sending off the first of many emails and manually reaching out to each party when their turn comes. Or, you might go for an automated approval process using a dedicated tool. 
6. Revise your content
Be prepared for feedback. 
Close collaborators may pick up on syntax or grammar issues, which you should handle before sending on to higher decision-makers. 
Hopefully, adjustments will be minor. If you've arrived to this point, you're likely proud of your work and have a top-quality post in which the visuals, sounds, and copy work together in harmony. 
However, you have to be ready for big changes. For a successful approval process, it's crucial that you're open to feedback. Ensure open lines of communication and foster open discussions. As frustrating as it may be, there's always a chance that you'll have to rethink the entire concept because of a legal or semantic issue. 
Only by navigating difficult conversations can the organization maintain an attitude of continuous improvement. Stubbornness or hostility can seriously stunt your approval process.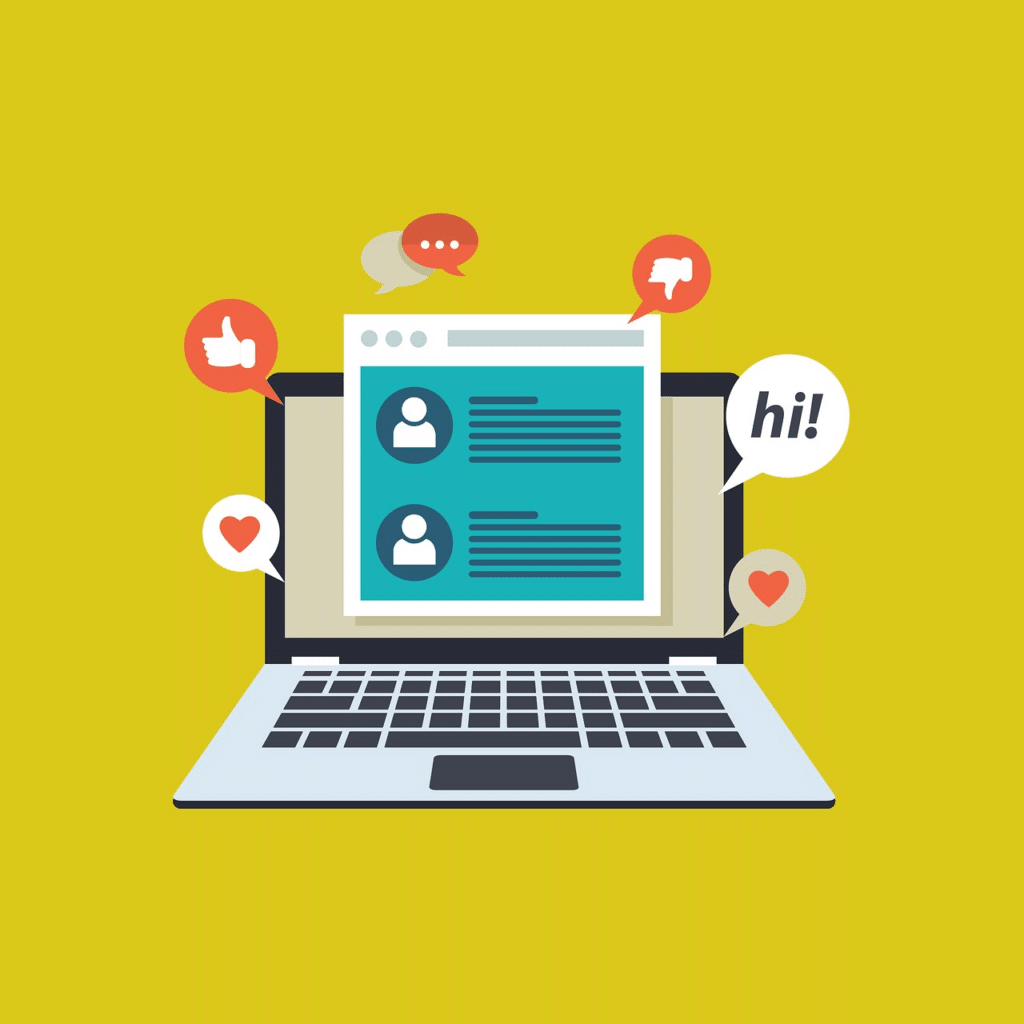 Best practices for an easier approval process
Once you've got the basics down and built a functioning workflow, how do you know your approval process is the best it can be? Here are some features and best practices to keep in mind. 
Keep an editing trail 
Save yourself confusion over version history by maintaining a comprehensive editing trail. You want to be able to look back over previous comments and changes to see who has made a particular effort and why. Having this trail keeps everyone accountable, removes the risk of shifting blame, and helps everyone gain more insight into the approach which works best. 
Avoid sharing access with others 
Keep track of who has access to different documents. Even among co-workers, it's important to prioritize security. This may be easier with a social management tool granting permissions and locking content as needed. Individuals can always send a "buzz" to nudge stakeholders to grant approval.
Collaborate efficiently 
A good social media approval process has many moving parts. The secret to a well-oiled machine is teamwork. 
As collaboration is so key to the process, many organizations use modern communications systems. For example, you might use virtual PBX (what is virtual PBX?) to facilitate cloud-based communications between each link in the approval chain. This makes it easier for decision-makers to connect and share feedback from wherever they happen to be working, meaning less WFH-related delays.
It's crucial that everyone is able to communicate and work together in a productive, time-efficient manner. Keep everyone in sync using schedules, reminders, and regular check-ins. When everyone knows what to do and when, they can play their part with minimum fuss and disruption. 
Final thoughts 
So, while it can be an annoyance sending your post through all these layers of approval, it doesn't have to stifle your creativity. A smooth and streamlined social media approval process means that you can still reach an audience with timely and relevant content—and you don't have to worry about backlash from your boss, legal team, or clients. 
Keep the conversation going...
Over 10,000 of us are having daily conversations over in our free Facebook group and we'd love to see you there. Join us!