Table of Contents
This post may contain affiliate links. See our affiliate disclosure for more.
Everyone dreams of a job they will enjoy that will allow them to have both creative and professional freedom. Seeking independent contractor jobs can be a solution to this problem. It gives you more opportunities and can even get you a better job than the one you have currently.
Once you have registered your business and decided what kind of role you want to be performing, you must start looking for independent contractor jobs. To help you with your search, here are the ten best websites for this:


Indeed is fifteen years old now and is perhaps one of the biggest job listing aggregators worldwide. It's an American website, but you can search for independent contractor jobs from all over the world.. It's a good place to start your search.

FlexJobs is the source for freelance, remote, part-time, and independent contractor jobs of a similar kind. The biggest advantage of this platform, as FlexJobs stresses, is that they hand-screen every job listing for legitimacy.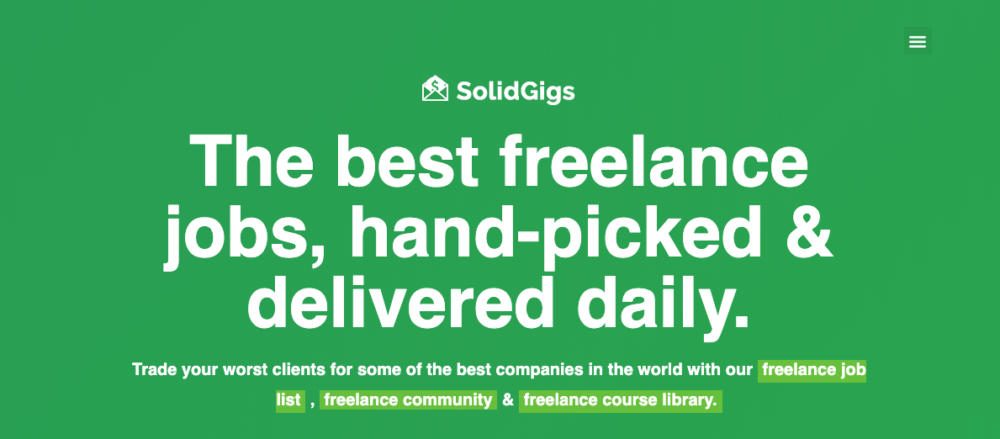 If you're like many freelancers, you probably don't have much time to be searching for independent contractor jobs. Insert SolidGigs — a weekly gig list sent straight to your inbox. Yep, they do the work for you! Although it is a paid subscription service, think about how much time (time = money) you'll save — plus, land just one job and the service is paid for (and then some). Try it out for only $2.
Unlike the previous two, Upwork is an exclusively freelance platform that operates worldwide. Upwork is beginner-friendly, but it takes a fair share of your earnings until you build up a regular relationship with your clients.

This website is for editors, translators, writers, and graphic designers to find independent contractor jobs. It is a global marketplace that allows you to connect with various startups and SMBs that are outsourcing certain aspects of their business.

SitePoint is an excellent independent contractor jobs site for those specializing in tech. With multiple jobs posted daily, you'll find several opportunities within software engineers, developers, designers, and more.

Fiverr is a freelance service marketplace for businesses. You register, publish the kinds of services you offer, and get orders. The logic is simple, but you will need to promote your services through other channels such as Facebook groups in order to land some independent contractor jobs.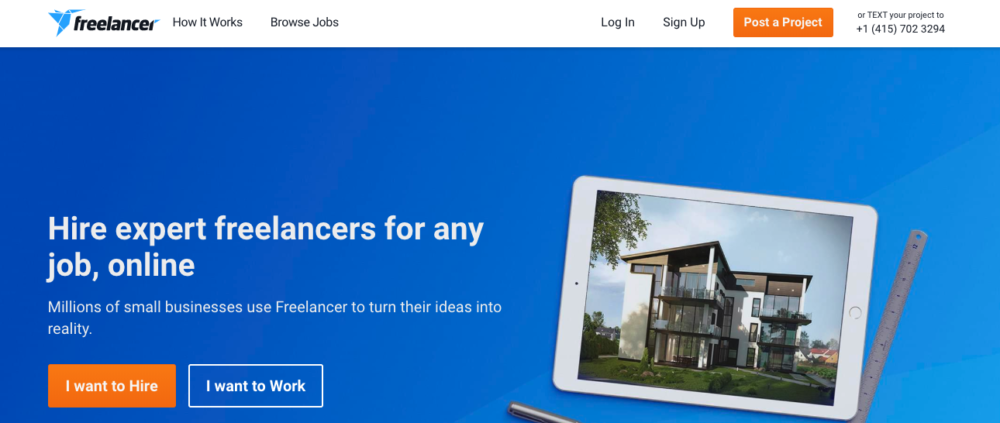 You could say that Freelancer has the same logic as Upwork, but is the complete opposite of Fiverr. Employers post independent contractor jobs and you can bid on them. Some projects that you can work on are formatted as contests, while others are hourly, so there is an additional variety you might like.

To find remote or independent contractor jobs on Craigslist, you will have to go to the corresponding city on their website and then choose an area and look for jobs there already. It's not the best scheme, but it works—just be cautious for scams and fake posts.

College Recruiter has entry-level jobs and is perfect for seasonal, part-time, and independent contractor jobs for college and university students (even those looking for internships). It's great for getting experience and growing your client base or simply gainig valuable connections.

Guru takes freelancing to a whole new level. It is primarily suited for freelancers, but independent contractors can also find the platform helpful. The job postings are sorted every day, while those looking for work can customize their profiles to show off their skills and experience.
Red Hat is an independent contractor jobs site that works with both remote workers and freelancers that deal with anything and everything from sales to software and game development. It's also great for finding virtual assistant jobs. However, you must have a high skill set and enough experience to be able to work with Red Hat.
Key Takeaways:
Look for job boards and online platforms specifically for independent contractors.
Network with other professionals in your industry to find job opportunities.
Consider working with a staffing agency that specializes in placing independent contractors.
What does it mean to be an independent contractor?
First of all, an independent contractor is not necessarily a single person. This can even be a business or corporation. An independent contractor provides goods or services under a written contract or a verbal agreement. You could say that it is another phrase for "freelancer".
Independent contractors do not work on a regular basis as usual employees do. Instead, they work as required and can have a much more flexible schedule. In addition to that, independent contractors are paid on a freelance basis.
You can also read more about what an independent contractor is in our glossary.
3 Steps to becoming an independent contractor
Becoming an independent contractor, and finding independent contractor jobs, is fairly easy. More often than not, you will want to set up a business or company through which you will be working as an independent contractor. Here's how to do it in three simple steps:
1. Determine your business legal type
You don't have to form a specific business legal type by registering with your state if you are new to this kind of thing. Simply start taking in money, paying business bills, and keeping records of all the transactions.
When you file your income tax return as a sole proprietor, you will need to include your business income. Alternatively, you might want to form a limited liability company if you are the only owner and don't have any employees. If you do have employees or you sell something, you can form a corporation. Or you can start a single-member LLC if you are a solo contractor offering services.
2. Complete all the necessary registrations
The next step is to apply for a tax ID number and other registrations. Once you get those, you will be able to register your business name. It is necessary that you get a federal tax ID number for your business, also known as an Employer ID Number or EIN. This number will be provided to you by the IRS and will enable you to establish yourself as a business entity.
In some cases, you will also need to register with your state for state sales tax purposes. You may also need to consider property taxes, self-employment taxes, employment taxes, and state taxes (e.g. gross receipts tax, franchise taxes, etc.) After your taxes are sorted out, select a business name and check that nobody else is using it. You can also trademark the name if you want to.
3. Set up the remaining aspects of your business
Finally, you need to set up your business checking account and business record-keeping system. The business checking account will show your customers that you are serious about what you are doing. It also improves your credibility for suppliers and helps you keep your business and personal transactions separate and manage them better. The record-keeping system will allow you to claim business tax deductions for your business expenses on your tax return. You will need to set up an easy way to capture information on each business transaction and then check it regularly to make sure everything is there. Record the transactions, consolidate and review the information, and act on what you learned by preparing to tax season beforehand. We highly recommend Freshbooks or Bonsai for your accounting needs.
How do I land independent contractor jobs?
There are two ways you can get independent contractor jobs: reach out to companies yourself and offer your services, or advertise your business and wait for them to contact you. Let's look at both options:
Reach out to companies
Getting in touch with companies directly for independent contractor jobs allows you to initiate the relationship and show that you are interested in that particular company. You are being proactive in your search for independent contractor jobs and that is much better than being passive. The downside is that it will take a lot of your time and energy and you may not find a job right away. Of course, you will encounter these issues with the second option, too.
Advertise your business
Promoting your business online through your website, social media, and ads is fundamental for increasing brand awareness among your target audience. Social media platforms are helpful in finding clients, especially if you offer something visual (e.g. art, photography, graphic or web design). Consider offline advertisement too if you want to target a local market.
The best thing you could do is combine these two strategies to make them more effective. This will help you grow your client base steadily through various channels and ensure that you are making use of every tool available to you for growing your business.
What is the difference between an employee and an independent contractor?
As mentioned before, there is a huge gap between what a regular employee does and what an independent contractor performs. There are both advantages and disadvantages of being an independent contractor, but the benefits outweigh the downsides.
The main difference is the working basis. An employee has a set schedule with a certain amount of work they must complete during a day, a week, or a month. An independent contractor works on a per-project basis or as the employer requires them to.
Such a situation allows independent contractors to have a more flexible schedule. Sometimes you will have an opportunity to decline a certain project or task, but this will depend on some other factors — such as whether or not you have a signed contract with the employer.
Independent contractors usually develop a large client base meaning that they can lose one or two clients and that won't have a big effect. The autonomy and freedom you get as an independent contractor are truly remarkable.
Most common independent contractor jobs
As an independent contractor, you have a wide variety of options regarding what you can be doing. Based on your skills, you will be able to find different kinds of independent contractor jobs that you can work on. Here are the top seventeen most common ones:
Consultant: Consultants are also often called advisers. This is a very broad term as consultants can give advice in almost any field or industry. However, more often than not, they help improve the performances of the various aspects of someone else's business. To be a consultant, you need to have extensive knowledge of the subject and enough experience to prove your worth.
Florist: Florists are considered artists as they sell and arrange flowers that they get from wholesalers or grow by themselves. Florists usually have a lot of knowledge about what flowers are in season and how long they last. This enables such flower specialists to create compositions that suit the needs and budgets of clients.
Graphic Designer: Graphic designers are sometimes confused with web designers or illustrators, but there are actually some distinctions between the three. Graphic design jobs usually deal with brand content, and range from print to digital design, but it all depends on what kind of services you offer as a graphic designer.
Hairstylist: A hairstylist does exactly what you would think them to be responsible for. From trimming your hair, to styling or dying it, hairstylists have all kinds of functions but can sometimes take on the tasks done by barbers such as shaving beards. Hairstylists can work both in salons and independently.
Illustrator: As mentioned above, illustrators are confused with graphic designers. At its core, illustrators are artists — which explains their job better than anything else. While graphic and web designers focus on creating pieces for brands, illustrators create artwork for virtually anything and anyone.
Musician: The majority of musicians aren't signed to big labels and have to find gigs by themselves. Musicians mostly play in bars, restaurants, and nightclubs, as well as at various events and ceremonies such as weddings, birthdays, and so on. If you get noticed by an agent, you might even be signed up to a music label.
Personal Assistant: Personal or virtual assistants are becoming more and more popular as they help businesses complete tasks that they don't have the time for. Personal assistants can do any kinds of tasks from finding contact information of a certain company to looking through emails.
Photographer: Being a freelance photographer has become a popular independent contractor job. . All you need to do is buy a camera and learn how to use it — however, there are many technical aspects to it that some may not think of. Promoting your work on social media is essential in this case.
Private Tutor: Private tutors teach both kids and adults. From knitting to foreign languages to skiing – you can teach people whatever it is you are good at. There are also online platforms for tutoring which can connect you with students if you don't want to promote yourself independently.
Programmer: When we talk about programmers, we mean both the ones who work on developing websites and the ones developing apps and programs. This is a very technical position within the list of independent contractor jobs, which would require extensive education and training.
Sculptor: This job may seem like an unusual one, but it is still pretty common despite the majority of sculptures being produced in bulk in factories. Sculptors carve objects from wood, stone, concrete, and many other materials. It's a rare skill, so such creations are valued a lot. On the other hand, it may be a little hard finding clients quickly.
Social Media Manager: With social media marketing being an integral part of almost any digital marketing campaign, social media managers are being hired more and more. You probably have some kind of experience in this if you use any social media platform at all. Consequently, becoming a social media manager and finding independent contractor jobs will not be much of an issue.
Transcriber: Transcription requires you to watch videos or listen to audio content and then type what you hear. Sometimes this will be used as the text that accompanies the video or audio while other times it serves as a basis for subtitles. Either way, transcribers need to be able to type fast and accurately.
Translator: There are many translation agencies online, but freelancers are also thriving. Translators work with different documents, but they can also translate content such as articles or product descriptions or even translate websites and apps. All you need is a good knowledge of English and be fluent in at least one other language.
Web Designer: By this point, you have probably figured out that freelance web designers deal with designing exclusively websites. They can work with other specialists such as illustrators and graphic designers in a team and coordinate their work with them appropriately. Usually, companies build their own teams of independent specialists from these fields.
Wedding Planner: There are agencies for this, but wedding planners sometimes prefer working alone too. If you have worked in the event industry, you can become a great wedding planner, as the jobs are very similar and weddings are certainly not going to quit happening.
Writer: Ghostwriters, guest post writers, contributors, book authors – all of these are a part of the umbrella term "writer". If you have mastered the written word, you will be able to find independent contractor writing jobs fairly easily.
Obviously, these aren't all the independent contractor jobs you can seek out. There are many more that will suit your skills better. In fact, even if you are a plumber or a carpenter, you will be able to find independent contractor jobs. Just browse through our job site list above and find what works best for you.
Final Thoughts
Being an independent contractor certainly has its benefits and you should definitely consider such a path if you want to have more professional freedom. But first, you must understand all the steps you will need to take to become an independent contractor.
Create and register your business (don't forget about taxes), join platforms for finding independent contractor jobs, set up your website and social media accounts, and start promoting your products or services. Nowadays, this is a lot more achievable than you may think.
Keep the conversation going...
Over 10,000 of us are having daily conversations over in our free Facebook group and we'd love to see you there. Join us!