Walking with your eyes closed is pretty tough, right?
Designing without adequate information is fraught with danger, too, and this is why every designer should develop a branding questionnaire.
So to help you create one that's sure to improve your productivity and cut down on time wasted veering to a new course halfway through the design process, I'm sharing my branding questionnaire below. Feel free to incorporate the best elements into yours.
Is a questionnaire really that important?
When a prospective client first contacts you to talk about creating identity materials, send over your branding questionnaire as a first step.
💔 Falling out of love with your clients? Trade some of your worst clients for the best companies in the world with SolidGigs, our premium weekly freelance job list & course library. Love your business again. Learn more »
Why? Three reasons:
it dramatically accelerates the development process
it always leads to a more effective solution for the client
it sells your services for you
What's not to like?
The branding questionnaire helps clients organize their thoughts in regards to the branding process – it asks the who, what, how and why questions about the upcoming work.
Is it a refresh or a whole new brand?
Are their existing materials projecting the right information to the right audience?
The answers to these questions will inform the design conversation and ultimately become your design brief (which rocks, because writing briefs is probably not why you became a designer).
A quick side note before we jump in: don't assume prospective clients know how to talk about branding and design. Many of them have zero previous experience working with a designer and come to the process with trepidation. Ask simple questions.
Now let's walk through my design questionnaire and talk about the three main sections.
Enter your email. Grow your business.
Submit your email below and join 45,000+ creatives who get our most helpful content via email every week. 100% free. Unsubscribe anytime. Privacy protected.
1. About your client and his/her business
Start with the basics, such as contact information and a current web address, if the business has one. With this information, you can start doing preliminary research on the company and begin generating ideas.
Next, ask for a description of the company – what it does, and what the history is. Many businesses have wonderful back stories, and tying these stories in with their branding materials can really help them get behind your design.
Finally, learn about their customer base.
Who are these people and what are their needs and values?
What is their perception of my client?
Who are the other players in the market?
This is where you get a basic understanding of their industry and start thinking about tone and hierarchy of messaging. How is the business currently speaking to its customers? Does that need to be re-evaluated?
2. About your client's existing identity
Now we really dig into specifics.
Ask for the current logo, if there is one, and also ask the client to supply some examples of logos that they like.
This is a super-quick shortcut to understanding what graphic styles might appeal to them – if they send a bunch of grunge-inspired logos, you're probably not going to start with concepts based on spare white Helvetica. Well, maybe just one…
Here I get a little abstract and ask about words or feelings that might convey the brand promise of the business.
Sometimes I even include a question asking for a description of the brand as if it were a person – what that person wears, what music he/she likes, and so on.
Again, this document is meant to help BOTH you and your client visualize this brand. By taking these steps, everyone gets immersed in that vision.
3. ONE LAST, REALLY IMPORTANT QUESTION…
…what holds you back from hiring a graphic designer to develop your branding?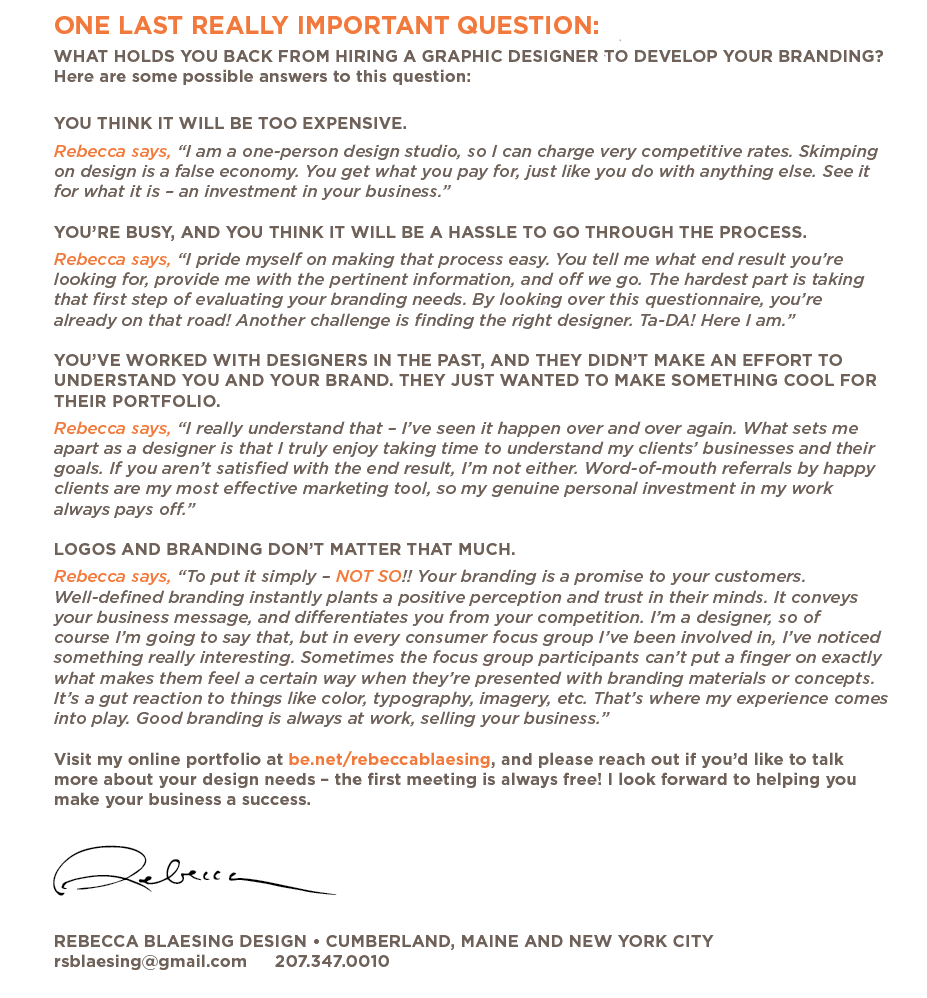 Put yourself in your clients' shoes. Understand that it may be stressful for them to think about hiring a designer.
In this section, be preemptive. As you can see, I've listed several possible objections and addressed them in a way that highlights my experience and reinforces my status as an expert at what I do.
Really, it all comes down to trust. If you lay out some reasons why prospective clients should trust you to be their designer, you're that much closer to winning that project.
Final thoughts
Just to be clear: I don't REQUIRE my clients to fill out the questionnaire. I just ask them to look at it and send back whatever information feels pertinent to them.
This isn't the whole conversation, but it's just a really good start. It lays the groundwork for DESIGNER TRUST, and that leads to a happy, long-term client relationship. Longtime clients start to believe you really "get" them. Every project going forward becomes more and more intuitive, and it all starts with this initial dose of information.
Then this happy client passes your name along to others, and the word spreads.
Do you use a branding questionnaire? If so, what are your most effective questions? Share your thoughts in the comments!
Keep the conversation going...
Over 5,000 of us are having daily conversations over in our free Facebook group and we'd love to see you there. Join us!