Table of Contents
This post may contain affiliate links. See our affiliate disclosure for more.
Sometimes, freelancing sneaks up on you.
Here you are, hustling every day to bring in clients, do amazing work, build a portfolio, manage relationships, get referrals and meet deadlines. And suddenly, you realize, your finances or your schedule or some other important detail has fallen by the wayside.
With all the hats that freelancers have to wear, it's nearly impossible to run your business without some kind of project management or bookkeeping software. And some of the best are Moxie (formerly Hectic) and HoneyBook. But which do you choose?
Moxie and HoneyBook are two all-in-one freelance software suites, each with strengths that make them strong contenders for helping gig workers manage their businesses. Both are great options to consider, and in this article, we'll help break down the Moxie vs. HoneyBook debate, show the differences between the two and help you decide which one is better suited for your freelance career.
Moxie is completely focused on helping contract workers. In fact, they built their platform specifically with freelancers in mind. Moxie truly strives to break down the barriers for freelancers in starting, managing and scaling a business in whatever way makes sense.
Plus, they have Moxie Academy, an online learning hub with video courses to fully help freelancers succeed.
When it comes to Moxie vs. HoneyBook, Moxie shines in its mission: "demystifying self-employment."
Features
From mobile options to client management, the Moxie features prove that this company really understands what freelancers need and want. Each feature is carefully chosen to amplify your business and let your strengths shine.
Client management
The client management arena of Moxie allows you to keep track of all of your internal client information in one place. Each client has an individual page with deadlines, deliverables and the amount you are billing. There is also a visual bandwidth projection that is incredibly helpful in planning your time.


Project management
There are hundreds of project management solutions out there, but Moxie has something going for it here: options. Three different view modes, the ability to break tasks down into subtasks and invite collaborators to your projects make this project management feature a versatile way to work.
Accounting
Like it or not, as a freelancer you are running your own business. That means you have to manage taxes, bills, expenses, profits and more. Moxie has you covered. They make it easy to add information and sort things by client, attach expenses to invoice, and integrate your finances with a variety of third party platforms like PayPal and Quickbooks.
Invoicing & Payments
Moxie has fully customizable invoices that allow you to turn hours directly into a line item, add your own branding, and whatever details are necessary. Not only that, but you can track what has been paid, remind clients they owe you money, and even charge automatic late fees.
Calendar & Meeting Scheduler
You are a busy entrepreneur, so finding a way to keep track of deadlines, events and meetings is crucial. Use the Moxie application or integrate your appointments right into your Google Calendar. My favorite part? You can share different availability with different audiences, so you can protect your time and stay productive.
Proposals & Contracts
Let's be honest, proposals are a pain in the neck. Luckily, Moxie offers templates to cut down the time, effort and mental energy you have to invest in winning work. They also have contracts that have already been reviewed by a lawyer, so you're protected.
Time Tracking
As a freelancer, your time is your most valuable asset. Knowing how you spend that time is crucial to the success of your business. Using Moxie's integrated time tracker makes invoicing a breeze, but beyond that, helpful reports allow you to make smarter business decisions.
Client portal
Moxie's client portal is a clear win. You can fully brand the experience, so your clients see a customized website with all of their information, options to schedule meetings, and incredible communication. You will come off looking like the professional small business owner that you are, instead of an overwhelmed freelancer.
Mobile app
All of Moxie's amazing features can be accessed right from your phone whenever you need them.
Pricing
When you're choosing between Moxie vs. HoneyBook, you want to get right down to it: how much is this going to cost?
For Moxie, there are two options.
Pro: $16/mo
If you want your own custom domain and all of the branding options, plus the ability to add collaborators, you'll need to use their reasonably priced pro plan.
Teams: $26/mo
For a group of freelancers with five or more team members, Moxie offers another tier to give everyone access.
These prices consider the annual payment option.
Moxie Pros
Moxie is an affordable solution for freelancers
Simple to use
Great customer support
Moxie Cons
Some features are pretty basic
You need to upgrade to have a branded website and to use the client portal
Overall, if you're looking at Moxie vs. HoneyBook, rest easy knowing that Moxie is an incredible option built for freelancers. The affordable, all-in-one solution is definitely worth a second look.
Click here to try Moxie for yourself
Our Moxie vs. HoneyBook discussion now moves on to what HoneyBook has to offer. According to HoneyBook, they have, "everything your business needs to get it done." They aim to replace all your tools and encompass managing your freelance business in just one platform.
While it wasn't created only for freelancers, HoneyBook caters to small businesses, allowing them to focus on doing the work they love and less time working ON the business.
Features
HoneyBook features focus on the big picture and automation. If you utilize these features correctly, it can have a huge impact on your freelance business.
Contracts
HoneyBook allows you to start with a template and fully customize client contracts. They have a useful online signature feature, so you can get things done fast. And all of it can be managed from your phone.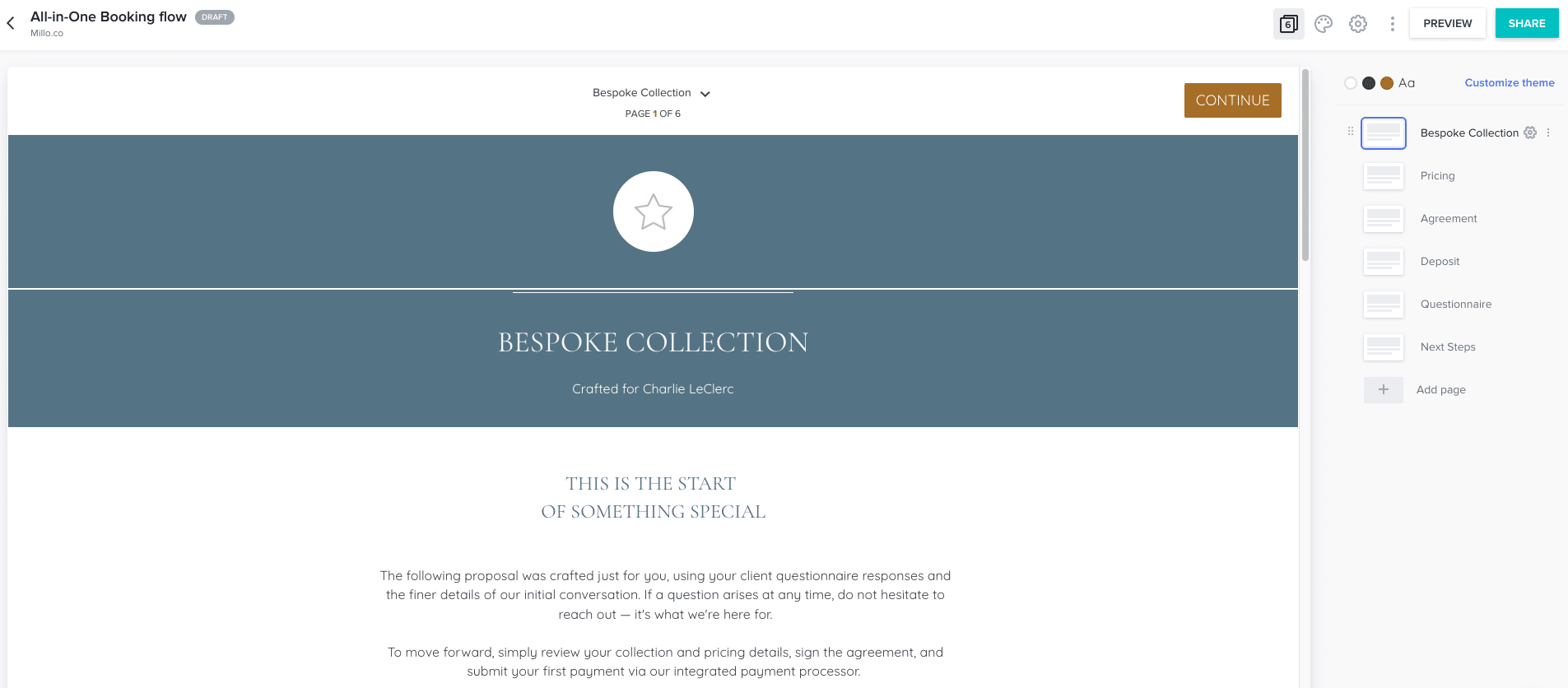 Invoices
Like Moxie, HoneyBook has fully customizable invoices. You can use a template, and once a client is in your system, you can easily tweak past invoices, saving you tons of time. And maybe one of the highlights: you can set up automated payments, so if you have retainer clients or a task that happens regularly, you take the guesswork out of billing for you and your clients.
Proposals
HoneyBook offers proposal templates that help you look professional and easily land clients. Looking at Moxie vs. HoneyBook, HoneyBook may have a slight edge here, with the ability to integrate proposals right into contracts and invoices.
Online payments
Use HoneyBook to collect payments right within the software for a small processing fee. You'll pay 3% to run credit cards or 1.5% for bank transfers. Everything will be in one place and easy to track.
Automation
This feature is where HoneyBook really shines in the Moxie vs. HoneyBook comparison. HoneyBook allows you to set up tasks, emails, and reminders that trigger each other or happen according to a set schedule. This automation is like having a virtual assistant, freeing you up for more billable projects.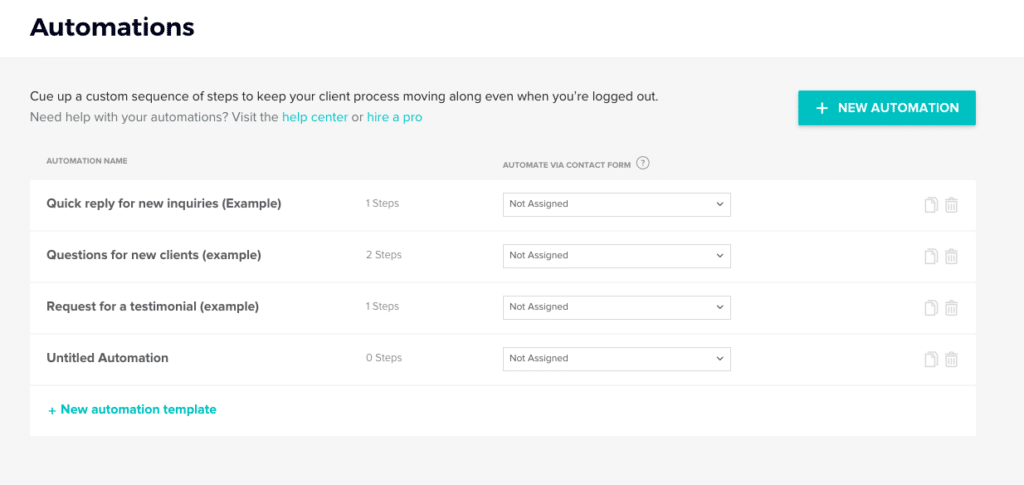 Project management
HoneyBook's mission control central allows you to see both the bird's eye view and every single detail. You can schedule projects, break things down to tasks, attach files, communicate with clients and manage payments all from one place.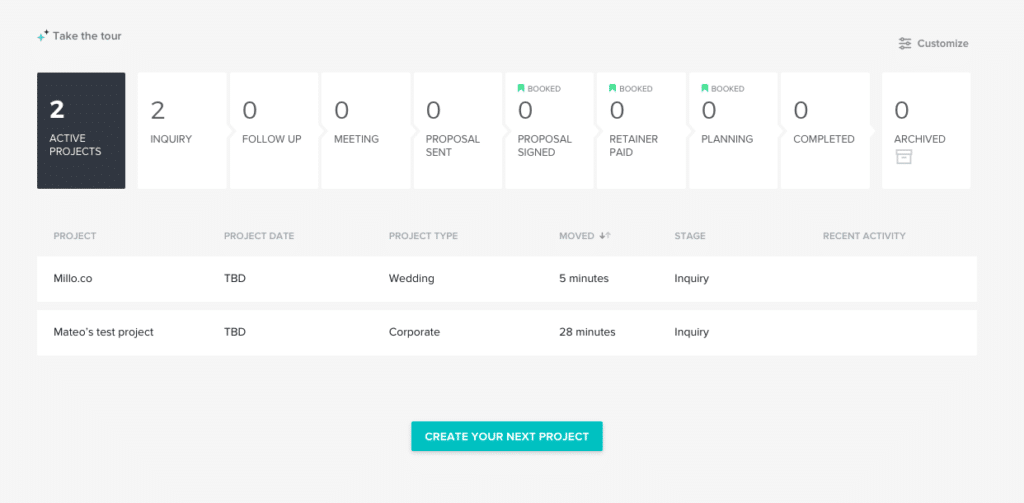 Scheduling
HoneyBook integrates scheduling—no need to use a third party solution. Client meetings will automatically sync to your calendar with all of the information you need to have a successful session.
Pricing
Looking at Moxie vs. HoneyBook, pricing is definitely going to be a factor. Depending on the features you need for your business, either option could save you money. Let's break down HoneyBook's plans.
Free 7-day trial
You can try out all of HoneyBook's features absolutely free, so you know if it is a good fit.
Starter Plan: $19/mo
The Starter Plan is a great deal, and gives you access to all of HoneyBook's features. The only limits are a cap on earnings: $10,000 in transactions annually, and customer support ends after six months.
Essentials: $39/mo
If you are a full-time freelancer, you will need to upgrade to lift the 10k limit. The good news is, this plan also allows you an unlimited number of team members and lifetime customer support.
Premium: $79/mo
The premium plan has all of the features you need, and saves you money in the long run.
HoneyBook Pros
Extensive features
Frequent updates
Automation
HoneyBook Cons
No free option
Starter plan has a low limit on transactions if you're a full time freelancer
A little more difficult to learn to use
Limited customization on design
Click here to check out HoneyBook
Moxie vs HoneyBook: What's the best choice for you?
So now we have reached the million dollar question.
Which is for you, Moxie vs. HoneyBook?
Moxie has the advantage in being built for freelancers, so each feature is tailor-made for a single entrepreneur to manage multiple tasks and make their business shine. Their Pro version has so many features, you can find out if this system works for you and then upgrade to Teams as you scale your business.
HoneyBook has been in the game longer and has a deep bench of features and an experienced team behind it providing support. Its automation offerings and integrated proposals give you the tools you need to really succeed.
There will never be one solution that is the perfect fit for every single freelancer. Each of these options has different features and tools that stand out.
Choose Moxie if you are a freelancer just starting out, usually work alone or with a small team, and are looking for a simple solution to managing your business.
Choose HoneyBook if you need more advanced features, usually work with large teams and collaborators, or plan to scale up to a larger business in the future.
Either way, let's revel in this age of technology that allows us to work as freelancers with access to the same kinds of software solutions that large corporations use to manage their business. Once you find the option that really works for you, freelancing will never sneak up on you again.
Keep the conversation going...
Over 10,000 of us are having daily conversations over in our free Facebook group and we'd love to see you there. Join us!