This past year I was lucky enough to be selected as the designer behind the new Millo logo. Preston reached out to a number of designers but ended up choosing me due to my quick response time and my stellar portfolio of hand lettered logo designs.
So when Preston found out that when it comes to branding projects I don't offer multiple concepts or rounds of revisions, it raised a few eyebrows.
The one concept approach is a relatively new way of doing things that goes against the industry standard of offering the client options rather than providing a single solution.
I'm going to walk you through how I used the one concept approach when working on the Millo logo in order to open your eyes to a new way of providing solutions to your clients.
💔 Falling out of love with your clients? Trade some of your worst clients for the best companies in the world with SolidGigs, our premium weekly freelance job list & course library. Love your business again. Learn more »
I believe this new approach will not only make your life easier, but also help you a become a better designer in the process.
Why I don't offer multiple concepts or revisions
Before we dive into the Millo example, let me explain my philosophy on providing just one concept.
When I first started in design, I always included revisions and multiple concepts into my workflow because that is what I was taught in design school. I didn't think anything of it.
I was paid my hourly rate, but more often than not the clients were starting to become more and more demanding, wanting all the options under the sun.
My clients starting acting like self-proclaimed Art Directors that were making decisions off personal preference instead of putting themselves in the mindset in their customers. These jobs lead to frustration and being forced down a path that I knew wasn't appropriate for my client.
I think we can all relate to a job or two where we HAD to design something because that's what the client wanted instead of giving them what they really needed.

Enter your email. Grow your business.

Submit your email below and join 45,000+ creatives who get our most helpful content via email every week. 100% free. Unsubscribe anytime. Privacy protected.
It was then that I decided to only offer one solution instead of burdening the client with options. I would still do multiple concepts and revisions, but I would do them all internally without asking for the client's feedback.
I would get all of the client's goals upfront and collaborate on an art direction, but after that the client was taken out of the equation completely. This process may require more trust from your client but it ultimately makes the client's life much easier.
Everyone has a different process and I'm not saying that my way is better, but what I can say for certain is that this approach has completely changed the way I design. I'm more accountable for my work, my projects are always on time and most importantly my clients always leave happy.
How I select the final concept
Now I know what you are thinking: "With all that pressure lying on my shoulders, how do I know which logo is ultimately the best fit for my client?"
Well, it takes a ton of research, experimentation and being able to take your own personal opinions out of the mix. At every step of the way you have to make sure your design decisions align with the client's vision and demographic.
Here's my one concept approach when designing the Millo logo that I think will really open your eyes and help explain my success.
Setting up a thought provoking questionnaire
Before you even start talking to a client you need to make sure they are in the right mindset for a new logo in the first place. Do they know their demographic, goals, and use cases for the logo? Can they easily communicate to you what they want and why?
It's the client's job to offer content, goals and all the info you need first so that you can create a solution based around their unique needs. You need to ask a ton of questions until you get all the answers to need to make well informed design decisions on their behalf.
This is why, before I give an estimate, I always require my client to fill out a logo design questionnaire. This form usually gives me enough information so I can decide whether or not me and this client would have a happy relationship working together.
If the client doesn't want to fill out my form, that means they're not ready to work with a professional designer. If they don't have the answers to my questions then they aren't taking their business very seriously and I politely decline their project.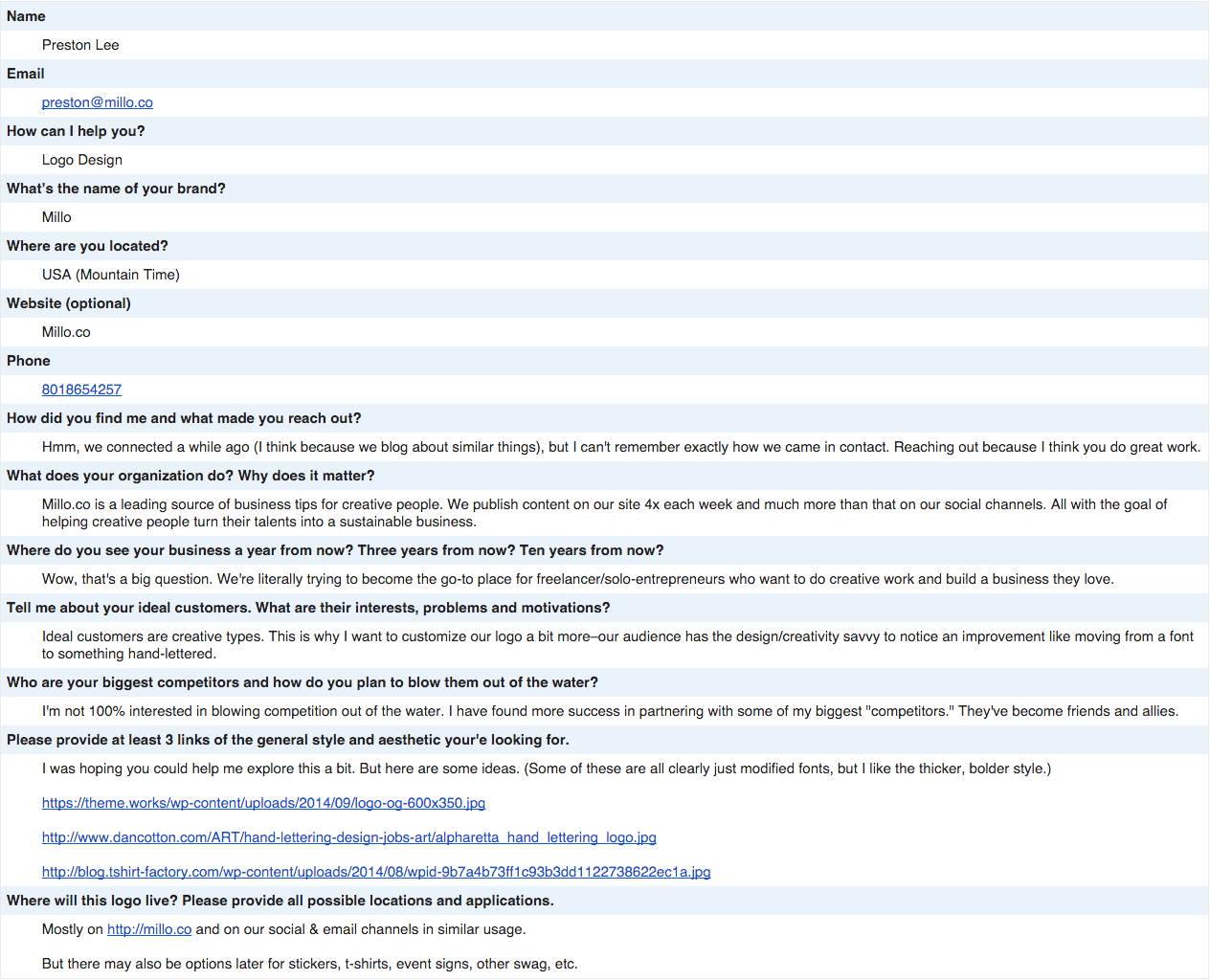 So when Preston filled out my form I knew he was not only passionate about the project but also knew what he wanted. Then, after a few rounds of follow up questions, I was ready to send over a quote.
Setting up expectations
One of the most important parts of the one concept approach is explaining it to your client. It's important that they know exactly what they should expect when they are working you. This is why it's so important to include not only your one concept process in your contracts, but also state that this project includes no revisions or multiple concepts.
Also include that, after this project is completed, it cannot be cancelled. This protects you just in case the client doesn't like your design so that you still get paid for your time. This forces the client to make decisions early on the process so that way there are no sudden new creative directions sprouting up mid project.
No longer are the days where designers somehow need to be magical mind readers giving into clients every fleeting idea and whim.
The only time I have ever had client not agree with with my final logo was because they changed their mind from the original art direction or changed their goals. In this rare case, the client actually paid me again for an entirely new project and started the process over again, accepting fault because they weren't more clear from the beginning.
Having an art direction meeting
Some people don't believe in mood boards for the one concept approach, but I think it's invaluable. People tend to think more visually, especially clients that don't know a lot about design.
Luckily Preston is a designer himself so we were able to have a high fidelity conversation and get really detailed about different aspects of his wordmark and icon. I gathered type samples, colors schemes and other design resources to help build a picture of my art direction in his head.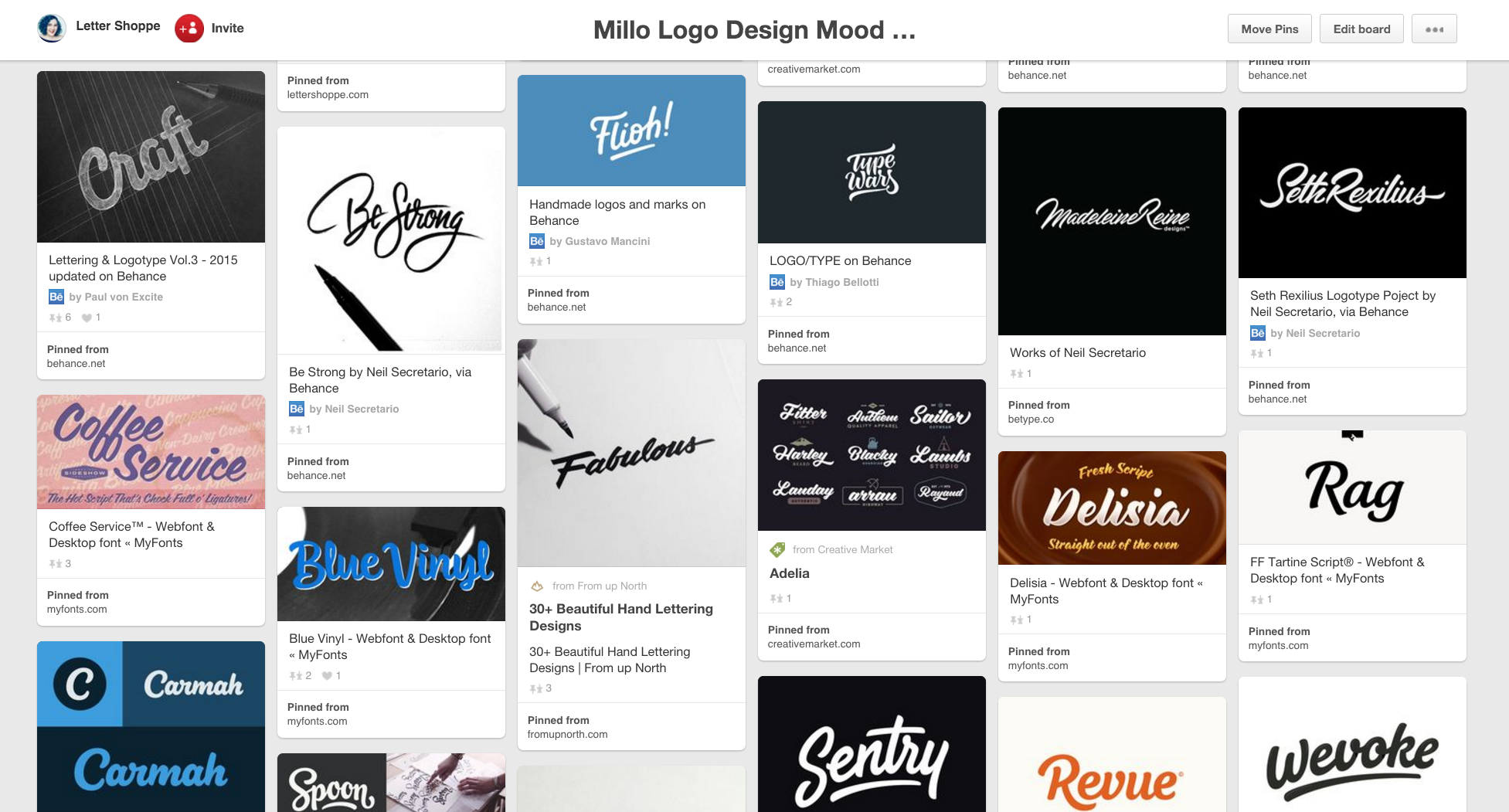 I offered multiple ideas and took the opportunity to pick his brain on what types of styles he was attracted to and why. At the end of the day, it's more important for his audience to like the logo, but I always like to create something that resonates with the client, too.
After the meeting I always like to send a recap email that describes everything the client said, what they liked and didn't, along with a plan of action moving forward for them to approve. This step is important because it's proof that the client knows what they are getting so they aren't surprised by the end result.
Internalize the revision process
Now just because I don't offer multiple concepts or revisions doesn't mean that I just go with the first idea that pops into my mind. On the contrary, I usually come up with anywhere from 5 to 20 different concepts before I start to perfect the final concept.
When designing a logo you need to be open to exploring various options and discovering new ways of making that work mark unique. Don't leave any idea unexplored and take the opportunity to quickly try them out, even if it's just a small thumbnail.
I already had a direction in mind when I got started, but I really needed to put pencil to paper before I could know for sure that it would work according to all my client's goals.
Create a presentation to back up your design decisions
At every step in my process I always take the time to write down what I did that day and why. This helps me stay in check so I am always referring back to my client needs at every checkpoint. I do this to insure that I don't let my own personal preference in the way of creating my clients ideal solution for their brand.
By the end of the project I gather all my notes and create an in depth case study that includes tons of photos of my process along with content that describes why I went certain directions and how those decision serves my client best.
Then as a cool added feature, I also included this nifty time lapse of my process for Preston so he could see for himself the amount of time that went into this design.
This case study serves as the final presentation of the project that I showcase to the client, that way they know exactly how I arrived at the final result. I don't just email the client with an attached .jpg and ask "What you think?" I provide a detailed view of their number one solution and explain how it was created to best align with their goals.
Presentation turned case study
As a bonus this client presentation easily gets turned into a detailed case study in my portfolio that attracts clients. The perfect explanation of how I work and why it's effective. The perfect client magnet.
So not only am I better serving my current client but I'm also giving future clients all the information they need to hire me for the future. What better way of attracting clients than proving to them that you really know your stuff by being able to explain your process.
The Final Result
When I completed the final presentation Preston was absolutely floored! He even immediately starting ordering a number of products to put his beautiful new logo on. It was a logo he was proud to be a part of and it showed through his enthusiasm via email.
With over 62 comments in my last article describing my process creating the logo there was an overwhelming number of you that absolutely loved the design with just a few negative critiques thrown in for flavor.
Just remember that no matter what you do, not everyone is going to like your work. That's just the reality of of the industry. But what's most important is that your main demographic resonates with the design and the client feels proud to present it.
I hope that my one concept approach has opened your eyes to a new way of doing things. Feel free to take or use any of these steps to improve your own work and get more clients in the process.
Do you agree with the one-concept approach?
Now, I fully expect a ton of you to not agree with this process, and that's fine. But my goal with this article was to expand your mind so you can better your workflow and your portfolio.
As we all know, design is an evolutionary process that is constantly changing, improving and evolving. So tell me what things on my process you liked, hated and admired. I can take it.
What other new ways are you upping your production game? What can I learn from you to improve my own process and the process of others? Please let me know in the comments.
Keep the conversation going...
Over 5,000 of us are having daily conversations over in our free Facebook group and we'd love to see you there. Join us!