DON'T MISS THIS: Through Nov 30, you can get our fav freelancing tool, Hectic for $0 FOREVER. 😮 12+ Tools in one place including proposals, CRM, invoicing, calendar, client portal, and lots more. No catch. Never pay. Redeem Now »
Podcasts for freelancers fill a void that you may not know about. Being a freelancer is not as easy as it looks. Sure, you get to be your own boss – and that's a really big incentive – but there are many complicated aspects to managing your own work.
Not only do you have to juggle different clients at the same time, but as a freelancer, you also often find yourself working at odd hours, struggling to find the right work/life balance, and trying to stay abreast of industry updates.
After doing all that, there's hardly any time left to learn anything new. And that is dangerous, particularly as a freelancer.
Why Should I Listen to Podcasts for Freelancers?
Your inability to keep up with the current trends can be loosely translated to failure.
The only solution to this dilemma is to keep putting in efforts to learn about the different skill sets that may come in handy to you. But to do that, you'll need to find the easiest learning resources out there that won't take up a lot of your time.
This is where podcasts for freelancers come in. They help you remain in the loop with the latest tools and trends in the gig economy without taking up your time.
Also, they are an excellent source to learn from and connect with the top experts in the industry who can inspire you to improve your freelance business. You get to learn a lot from their freelance journeys and how they navigated through their struggles to reach where they are now.
It's no wonder that the podcast industry is predicted to flourish in 2020 and beyond, thanks to the consecutive boom in podcast advertising.
This forecast is cemented by the fact that more than 100 million Americans listened to a podcast in 2020.
If you are a budding or experienced freelancer, podcasts can be a gold mine of information for you. After all, with podcasts, it is now more convenient than ever to remain updated on the most in-demand skills.
But the question arises, where do you begin?
Let us help. Here we have mentioned some of the best podcasts for freelancers out there. You can listen to them anywhere and anytime that you want to upgrade your arsenal of skills with the latest trends and techniques.
13 Best Podcasts For Freelancers
Whether you are working as a designer, freelance writer, marketer, or programmer, podcasts can help you remain up-to-date with the latest news and updates in your niche. This should help you improve your credibility and bag more clients.
So, are you ready to get started?
Check out these 13 podcasts for freelancers that you can listen to while working, jogging, or even taking a shower, and continue to build on your freelancing skills!
Freelance to Founder is one of the most unique podcasts for freelancers. It offers on-air coaching to equip you with all the skills and techniques necessary to move forward in your career.
Hosted by Preston Lee and Clay Mosley, this weekly podcast is packed with advice and tips on developing a career in freelance. If you are ready to convert your small venture into a full-fledged business, this podcast will help you do it.
From guidance on soft skills to exposure to new domains of freelancing, this podcast offers you a comprehensive view of what it'll take to succeed. If you want some on-air coaching, call or email them to discuss your future business goals.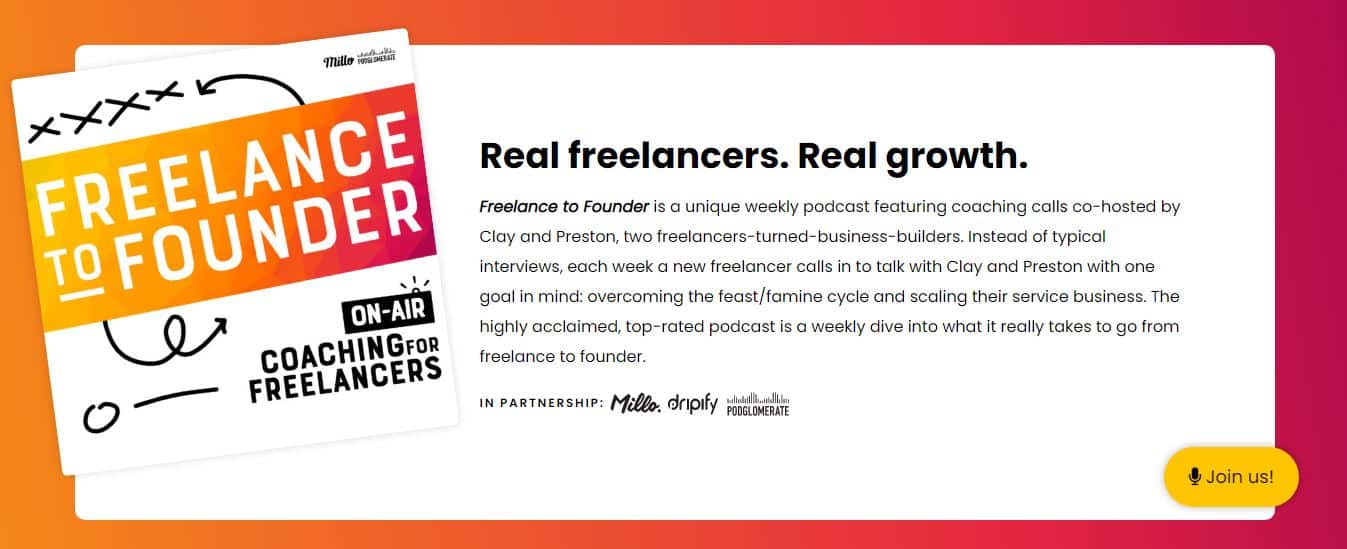 Hosted by Hectic's CEO, Darryl Kelly, The Hectic Podcast hosts candid conversations with some of the best independent creators in their industries and what motivates, challenges, and changes them. If you are a freelancer looking for a podcast that has real conversations with real people, sharing the unique, yet universal, journeys that mould us as humans; you could never go wrong with the Hectic Podcast.
Guests reflect on adversity and the ways they overcame it in hopes that it will help or inspire someone else to do the same. It's also a safe space for freelancers who want to share their highs and validate our lows; and most importantly, make connections that remind us that we're not alone in anything we are or do.
Hosted by Steve Holland, Being Freelance is designed for all the creative freelancers out there.
More than 200 freelancers have been guests on the show to discuss relevant topics such as 'survival skills for freelancers' and 'data visualization for designers'.
If you've been wondering how to build a business and budget for success, start listening to Being Freelance. It covers this and a range of other practical, yet interesting topics.
You will learn a lot from the ingenious minds in the world of freelancing who navigated their career with trial and error, so you don't have to. Their career experiences can help you avoid common mistakes when you start your own freelance business.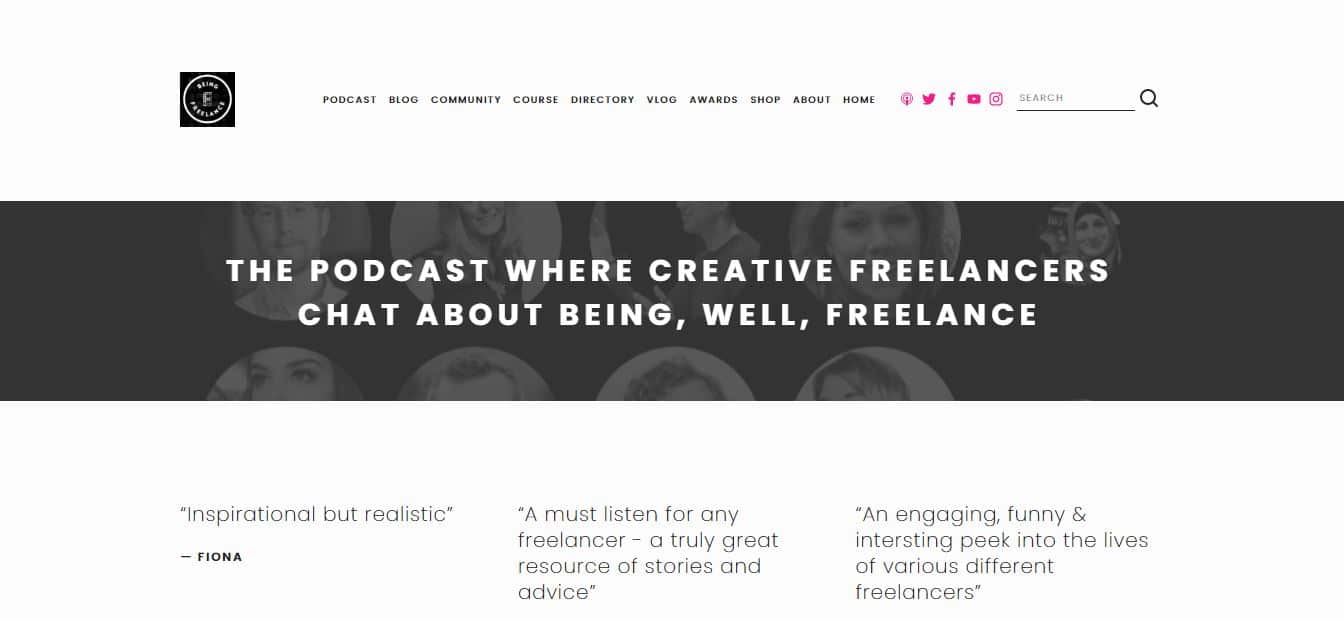 This podcast is an audio course created by AND CO from Fiverr. Here you can glean professional insights into earning a 6 figure freelancing career from top experts. This course offers the exact success formulas you need to implement to grow your freelancing business.
In each episode, the host Juan Felipe interviews business coaches like Ryan Robinson, Dane Sanders, Preston Lee, and many more. The experts share their professional journey and understand how you can achieve your goals just like they did. Spanning over 12 episodes with each running for around 20 minutes, you can learn from the best in the industry.
5. Creative Class Podcast
Run by the author of Company of One, Paul Jarvis, and fellow freelance writer Kaleigh Moore, the Creative Class podcast is one you should add to your list. Paul has become successful in his own businesses, and offers up really solid advice — plus invites the occasional guest for an outside perspective.
Most episodes run around 20 minutes, so these are perfect for that quick car ride or break from your work.
Although they decided to pull back on recording new episodes, the Creative Class podcast has 8 seasons of jam-packed episodes to check out.
This podcast can be your ultimate guide for stepping into the world of freelancing and making the most of it. It offers advice, tips, and training on various topics concerned with creating a viable freelance business.
It is hosted by Nathan Allotey, who is a web designer and digital marketer by profession. He believes in sharing what he's learned with people like you who are striving to succeed.
The podcast series consists of weekly episodes that are available in audio as well as video format; you can even find episode notes on its website. In each episode, he touches on different freelancing strategies and interviews guests.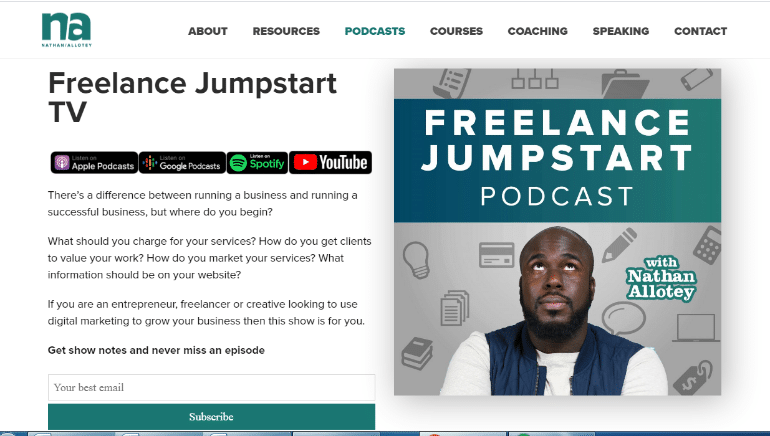 Hosted by Latasha James, the Freelance Friday Podcast is, "An inside look at the world of freelancing, featuring tips, tricks, and interviews with people who are doing it right." You can watch her podcast on YouTube where she releases new episodes weekly.
Some topics included cover the struggles of work-life balance, how to give yourself a raise, and even how to create an online course.
With the freelance-centric topics, Freelance Friday is a definitely podcast for freelancers to checkout.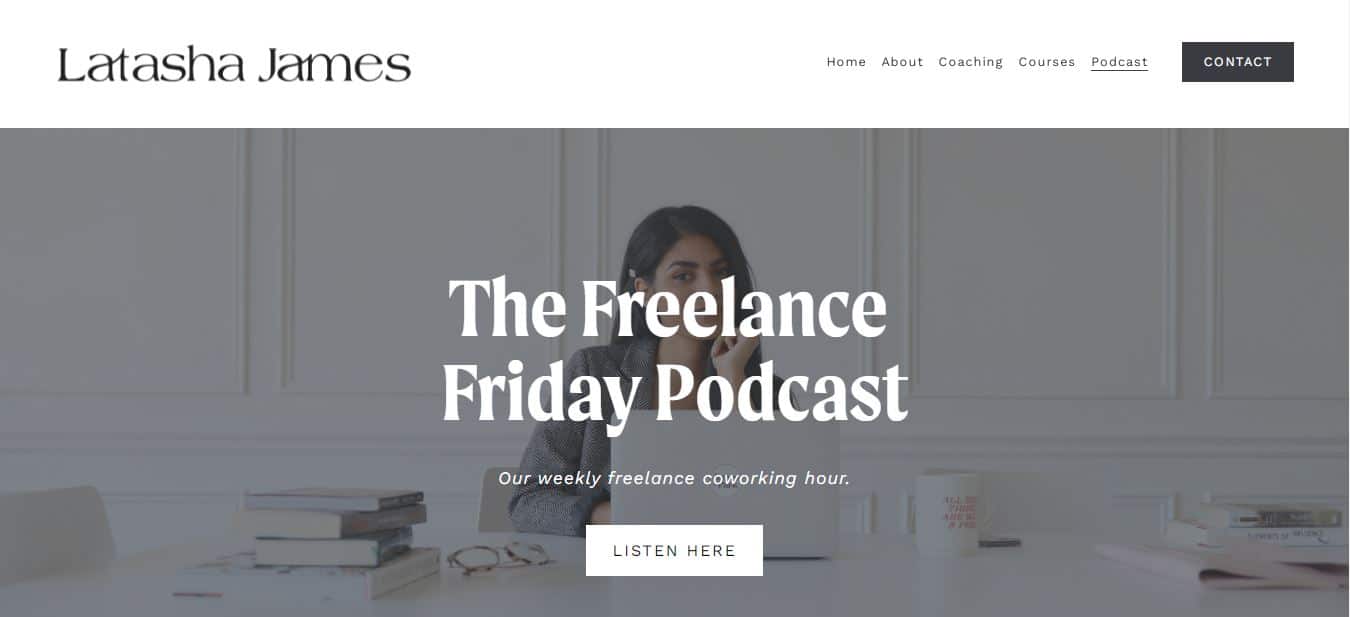 8. The Lonely Freelancer Podcast
Nikki M. Craig hosts the Lonely Freelancer Podcast. She talks about the intricacies of self-employment, remote working, and how it impacts your mental health and creativity.
If you want to hear about other people's experiences with freelancing and remote work, this biweekly podcast is right up your alley.
The Lonely Freelancer talks about some interesting topics such as celebrity stories, mental health tips, and a lot more. Each episode is brimming with advice and suggestions collected from other people's stories.
They will help you learn about the challenges of freelancing and remote work and how you can overcome them.
Or, if you have a story to share with the world, you can also get in touch with the host.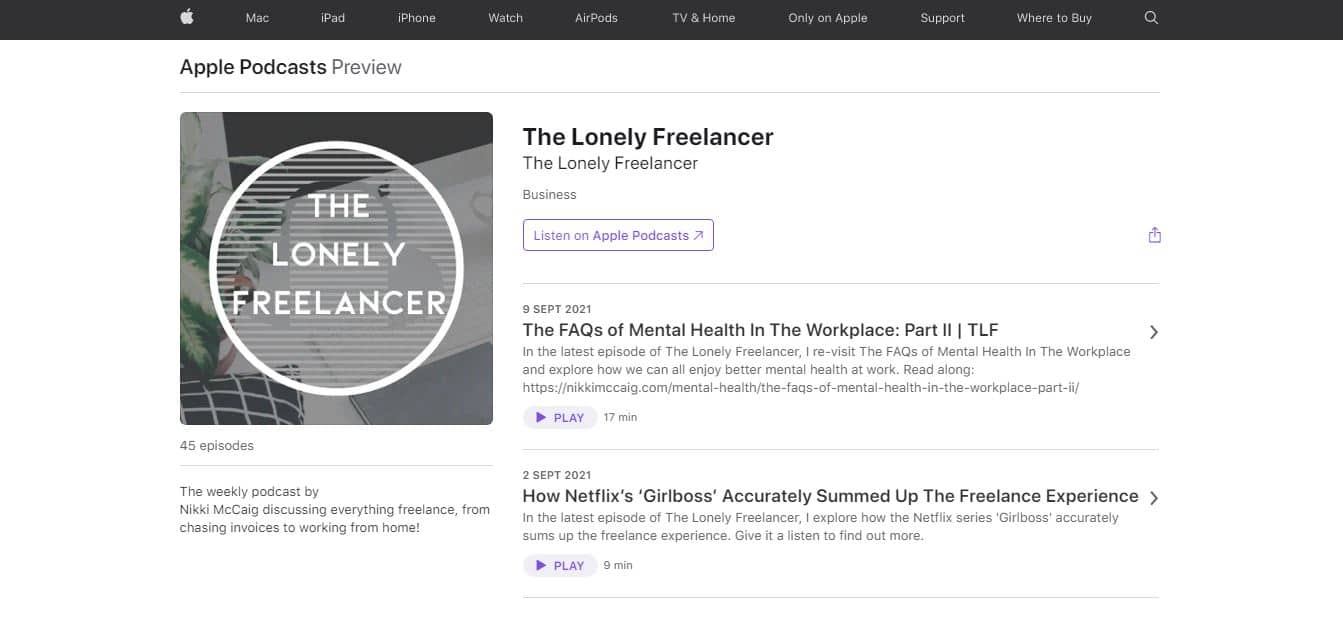 Created for those who still work their day jobs, the Side Hustle Show hosted by Nick Loper is a must-listen podcast for freelancers.
The focus is to provide valuable insight, opportunities, and stories about fellow side-hustlers to inspire and motivate you to build your own successful side-hustle. With over 400 episodes now, this podcast is proven to provide actionable advice for several years.

10. The Offbeat Life Podcast
The host Debbie Arcangeles, interviews famous business owners out there. These fearless people abandoned their everyday lives to become independent in their pursuits.
In each episode, the host interviews passionate individuals who discuss their life's purpose and defining moments that led them to where they are now.
This inspirational podcast is designed to motivate you to break out from your shell, embrace the unpredictability of freelancing and revel in it. To connect with such insightful mentors, Debbie travels all around the world and strikes conversations with strangers to leverage their experiences.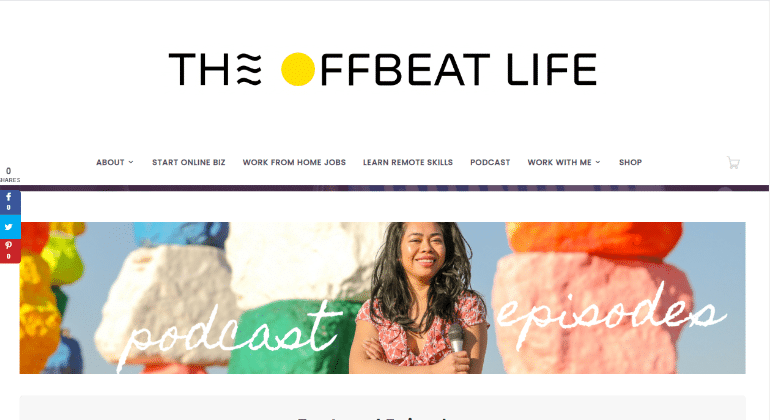 Hosted by Cat Rose, this podcast series revolves around philosophy, psychology, and mysticism.
How does that figure into freelancing?
Well, creative introverts, artists, and solopreneurs, often struggle to build successful careers due to personal inhibitions, often making us believe that we are unemployable.
This podcast offers healing from afflictions of the soul, helping you to break your built-in barriers.
Each episode discusses topics like procrastination, low self-esteem, promoting your capabilities, and much more. Ultimately, this podcast show is perfect for an introvert who is trying to navigate an extroverted world.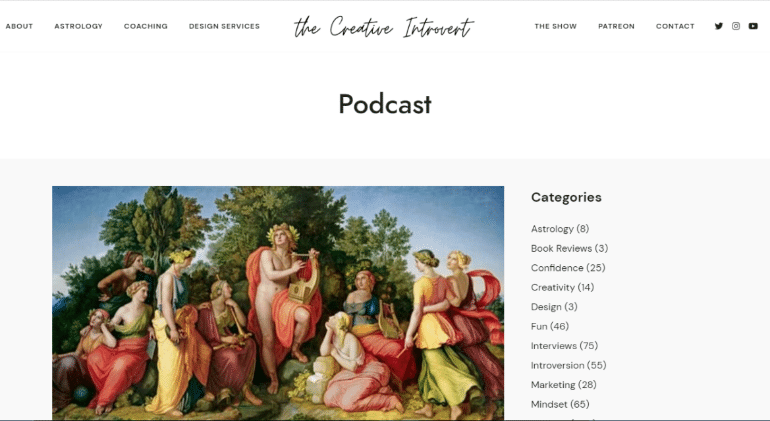 It is another podcast for freelancers hosted by one of the best bloggers in the industry, Pat Flynn.
The podcast series helps you learn from successful business owners and how they planned their freelance businesses.
These episodes are focused on in-depth conversations with superstar solopreneurs and experts like Michael Hyatt, Gary Vaynerchuck, and Tim Ferris, to name a few.
These episodes revolve around the challenges these strategists faced in the world of entrepreneurship and how they overcame them. The unmatched wisdom of Pat Flynn can help you discover your side hustle so that you can make time for what you are passionate about.
Other significant topics include affiliate marketing, social media marketing tips, podcasting, search engine optimization, and many more. All you need to do is subscribe to this podcast and start building your business the right way.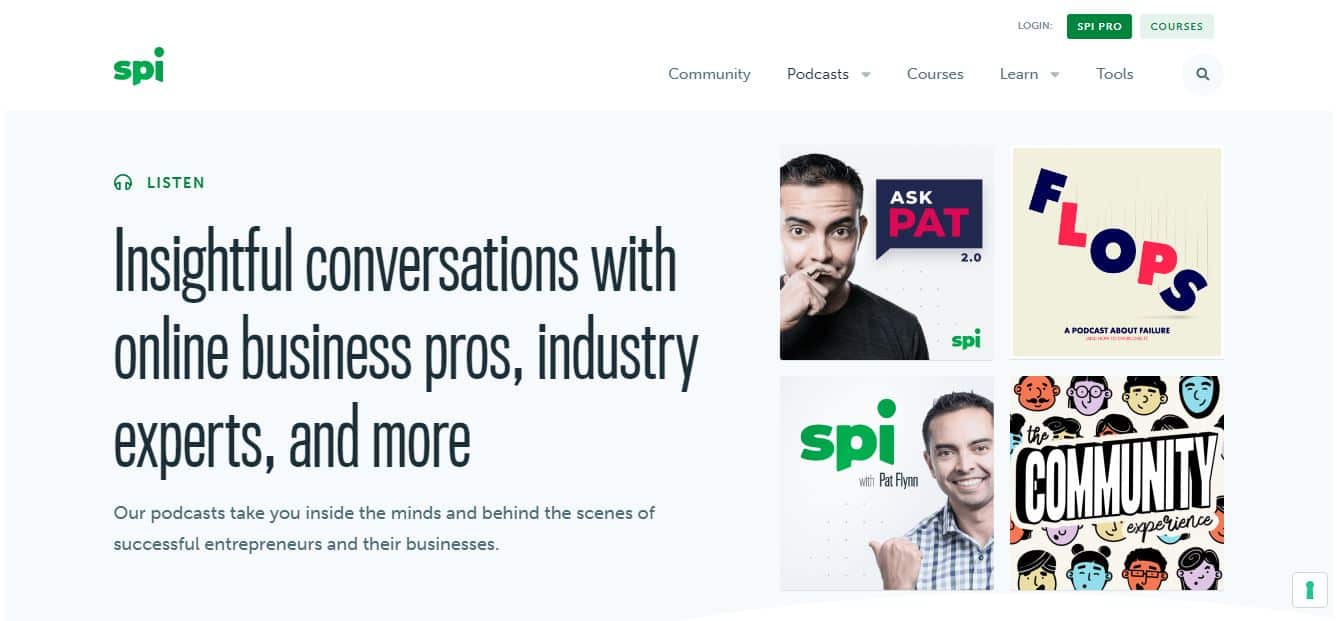 Hosted by Todd Henry, is for all those unintentional entrepreneurs who never aimed to do their own business but landed on this path.
If you are a creative person who just wants to work on your passions but has no idea how to deal with the business side of your interests, this podcast is for you.
It will make you realize that you are not alone. Many others like you who dared to enter the unchartered waters of freelancing, came out stronger at the other end.
In each bi-weekly episode, the host Todd Henry interviews leaders and creative entrepreneurs on a new topic.
Besides sharing his tips on freelancing, Todd also helps you in striking the perfect balance between your work and interests. With short episodes that last for 17-18 minutes, you will get all the information you need to step out into the world of business with confidence.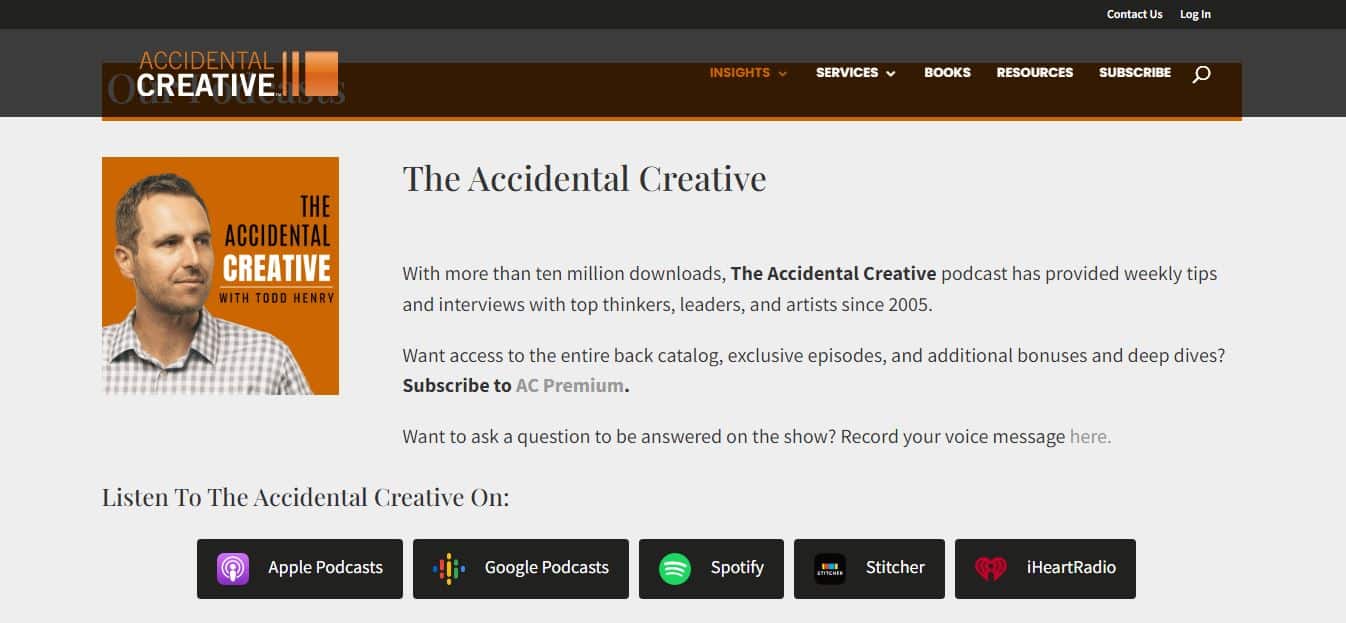 Start Your Own Podcast
All the professional freelance podcasters in the world started from somewhere, and you can too. If you are a successful freelancer who has a story to share or experience to offer advice to an eager audience, podcasting is for you.
Starting that podcast is the next logical step in your journey to creating a successful freelancing business while you motivate and inspire others with your experience and expertise.
If you are wondering how to become a podcaster, help is at hand.
Steps To Starting A Podcast
So you have decided to start a podcast on your own, now what?
Search for a particular freelance niche or topic that you want to talk about.
Select a name for your podcast that revolves around your topic. Don't settle on a specific name that later inhibits you from expanding over different themes in the freelance world.
Determine the length of your show and the episode format and style to make your podcast stand out.
Select striking cover art and intro music.
Invest in recording equipment and podcasting tools for your podcast and upload it on the platform of your choice so your audience can access it.
Why Is Podcasting Beneficial For Your Business?
Podcasts are an excellent way of reaching out to a broader audience base that prefers audio experiences. This way, you can offer helpful information and knowledge on various freelance topics.
Many successful businesses have tested this strategy to attract new clients to their business. You can do the same for your freelance venture.
There are several reasons why podcasts are good for your business:
Increase your website traffic – Podcasting will allow you to connect with a broad audience. Use your expert knowledge to foster deep relationships with your listeners, who can later convert into customers.
Build authority – Establish your authority and expertise on the topic to instil trust and dependency in your listeners who will learn to view you as a trusted voice in your niche
Affordable marketing – If you have a podcast that thousands of people tune in to, you don't have to spend thousands of dollars on advertising your skills or your business. If promoting your freelance business was the sole reason behind starting a podcast, that's fine. You can leverage this platform as your marketing strategy.
New Source of income – If you learn how to monetize your podcast correctly, it can add to your income as an additional source. With the growth of your show, you can attract sponsors or ask for donations from your listeners to generate a consistent revenue stream. But for that, you need to build a reputation and gain a considerable amount of audience.
Display your business culture – Use it to impress your listeners with your business culture, telling them how you offer transparency in your business processes. You can share their business's success stories, employees' experiences, and their responsibility to the outside world.
Get your message to a broader audience – growing your clientele is the most critical aspect of making your business successful. Podcasts are one of the most effective strategies for reaching out to a larger pool of potential customers. By registering your podcast on popular directories such as Google Podcasts or Apple iTunes, you can get more people to tune in. This way, your business attracts more audiences, which can be beneficial to your business.
Ready to Start Listening?
If you are a freelancer looking for advice at the onset of your career, the podcasts mentioned above can guide you effectively.
In addition, I hope that you are also ready to explore the idea of starting your own podcast. This will not only benefit your freelance career but also inspire other amateur freelancers looking for actionable advice and tips.
Keep the conversation going...
Over 10,000 of us are having daily conversations over in our free Facebook group and we'd love to see you there. Join us!