Not all self-employed individuals understand their value and role as business owners. They may not even know about a self-employed bank account, but being self-employed is about more than just setting your own hours and working on the projects that interest you. It is about taking charge of your own talent, time and, of course, finances.
Managing money as a freelancer is not always as straightforward as setting a budget and sticking to it. Since you are your own boss, you are responsible for filing taxes, tracking expenses, managing cash flow and even paying yourself.
There is no one right way to organize your money as a freelancer, but most experts agree that the first thing to do is separate your personal finances from your business by opening a self-employed bank account. This grants you some limited legal protections, helps you scale and streamline financial transactions.
Aside from all of the practical benefits it offers, a self-employed bank account signals to clients (and yourself) that you are a serious, professional business owner. There are also perks that can help you save money that can then be reinvested into your business when you are ready to expand.
A self-employed bank account doesn't have to mean high fees, complicated rules and added stress. Options such as Lili Bank and Bluevine are geared towards small businesses and freelancers that will serve your needs in the best possible way.
Read on for our in-depth review of seven of the best self-employed bank accounts to help you make an informed decision.
The 6 Best self-employed bank accounts
Lili Bank was launched just two years ago with the express purpose of creating a self-employed bank account solution for freelancers. Serving a diverse community of graphic designers, influencers, drivers, writers, artists and more, Lili goes out of its way to provide resources and features tailored to gig workers.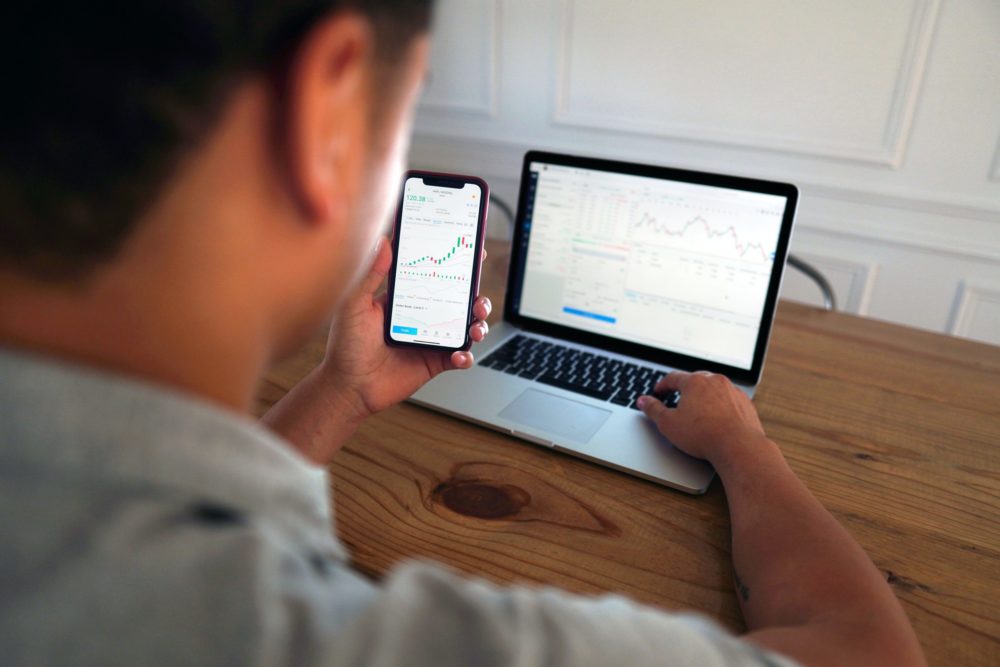 Benefits:
Tax Tools
For freelancers, taxes can be a bit of a headache. A Lili self-employed bank account has useful tools to help simplify that process.
Right from the bank app, you can sort your expenses by swiping them into "life" and "business" categories. You can also set up an automatic transfer to a set-aside sub-account that will cover your taxes each quarter. Lili even suggests the percentage amount you should save based on your income history.
Finally, Lili can automatically generate both quarterly and yearly expenses reports, saving you time when tax season rolls around.
Mobile Banking
Lili is an online-only banking solution, so if you prefer to conduct all of your financial business from home you can easily do that.
Sign in to your self-employed bank account through the convenient mobile app. The app has a 4.5-star rating on Google Play, and 4.7 stars on the Apple store.
Visa Debit Card
A Lili self-employed bank account includes a free debit card, which usually arrives within 10 business days of signing up.
Psst: Have you heard about Hectic? It's our new favorite tool for freelancing smarter, not harder. Client management, project management, invoices, proposals, and lots more. Hectic's got it all. Click here to see what we mean.
On the plus side, the card is backed by Visa, so it is accepted almost universally. Lili has also contracted with the MoneyPass network, so you can access more than 32,000 ATMs fee-free.
Pro users also receive cash back when shopping at certain stores.
Direct Deposit
Lili has a direct deposit feature that purportedly helps you get paid two days faster than other services. Set up direct deposit just as you would with a traditional bank—provide the bank routing number and your Lili number to the client offering direct deposit.
It's important to note that Lili does not control the time and date of the deposit.
Automatic Savings
Within the Lili app, you have the option to set up automatic savings options for taxes or other business expenses. This can help you stay disciplined in reinvesting in your business.
Overdraft Protection
For pro users only, Lili offers up to $200 of overdraft protection.
Invoicing Tool
Like many other freelancing tools, Lili allows for an unlimited number of invoices or payment requests to be generated from within the app. While not comprehensive, the invoices do allow you to send the amount due, the reason for the payment and how to pay.
Fees:
Lili does not charge a yearly fee or a transaction fee, so for many users, there is no cost at all.
The pro version costs $4.99/month. Some of the features mentioned here, including overdraft protection, unlimited invoicing and cash back are only available with pro. Pro users also get 1% APY on their accounts and higher spending and funding limits.
Cons:
As an online-only company, Lili Bank sometimes suffers in the customer service department. Disputes can take a long time to resolve.
Lili Bank is for single users only. You cannot add multiple debit cards or have joint accounts with team members. Great for solopreneurs, not so great for freelancers intending to scale.
Currently, Lili Bank offers services only in the U.S.
NBKC stands for "National Bank of Kansas City," so it may surprise you to find them on a list of self-employed bank accounts intended for a much larger audience. However, NBKC has a massive online presence, and anyone can open a business account with them.
Benefits:
Unlimited Transactions
NBKC has no limitations on daily or monthly transactions, so you can withdraw, deposit or transfer as much money as you need to in order to get things done.
Multi-User Support
Unlike some of the less-traditional self-employed bank account options on this list, NBKC business accounts are set up to handle more than just a sole proprietor.
If you have a partner, hire contractors or even bring on a full-time employee or two, you can order additional credit cards for the business account. That way you can delegate the shopping.
Competitive Interest Rates
Every review of NBKC mentions their strong interest rate as a perk, and with good reason.
According to the Federal Deposit Insurance Corporation (FDIC), the average interest rate for a money market savings account is .09%. NBKC, on the other hand, offers .60% on their money market accounts. That kind of difference really matters over time!
Autobooks Integration ($10/month)
For an added fee, NBKC offers integration with Autobooks on their self-employed bank accounts.
Autobooks is a financial tracking system that hits the sweet spot between consumer and corporate features, giving small businesses (or freelancers) the control they need without too much complexity.
This add-on allows your self-employed bank account to become so much more. You can manage cash flow, send invoices with online payment capabilities, pay bills, automate your bookkeeping and run reports.
Fees:
NBKC has no annual or monthly fees. Your account is free forever. Some add-on services do require a fee. For example, credit cards, while free for the first year, incur a $95 fee after the introductory period.
Cons:
Physical locations are in Kansas City only.
No integration with third-party software other than Autobooks.
A combined checking/savings account makes it difficult to set aside money for specific purposes.
No tax tools.
Commercial loans are only available to Kansas City Metro residents.
Novo is an online-only solution for self-employed banking. Launched in 2016, Novo was built with freelancers and startups in mind. The online service is not owned by a bank, but partners with Middlesex Federal Savings as their banking mechanism.
Benefits:
Unlimited Invoicing and Bill Pay
A major feature setting Novo apart from other self-employed bank accounts is the integrated invoice function. Within your account interface, you can create invoices and send them to clients, who can then transfer money directly to your account.
You can also pay bills from within the account, through transfers or even paper checks. The only drawback is that Novo does not yet have a recurring bill pay function, so you have to pay your bills individually each month.
Unlimited ATMs Fee Refunds
Instead of using an existing network where you have to search for the right ATMs in order to avoid fees, Novo simply doesn't charge ATM fees. And if other banks charge a fee for using the ATM, no problem—Novo will reimburse those fees at the end of each month. So you can use any ATM, anywhere, anytime.
Third-Party Integration
Another useful feature, Novo has one of the few self-employed bank account solutions that allows software integration. This means that you can use the tools you already rely on, like QuickBooks, Xero, Stripe, Shopify, Slack and others in the same place you manage your finances.
Member Discounts
Novo has its own perks program, so you can access all the tools you need to level up your business game without breaking the bank. Quickbooks, HubSpot, Stripe, GoDaddy and Snapchat are just a few of the companies that offer discounts to Novo account holders.
Fees:
Novo famously charges no fees. No monthly fees, no transaction fees, no minimum balance requirement, and no ATM fees. However, they do charge you $27 each time insufficient funds are in your account.
Cons:
No cash deposits, online only.
Does not offer wire transfers.
No overdraft protection.
Did they say, free? Yep, Nearside is a checking account solution for the self employed that's totally free. They've created this bank account specifically for side-hustlers and small businesses alike, so it comes with necessary features that you'll love.
Benefits:
No fees
Monthly fees? Nope. ACH Transfers? Free. Debit card replacements? Free. Nearside means it when they say free. Plus, you can access one of 55,000 ATMs available to withdraw cash as many times as you want.
Cashback
On top of the free perks, Nearside also offers a 2.2% cashback bonus in 2022 on every single purchase when you use your Nearside Debit Mastercard. So you're getting a free account, AND earning money.
No monthly minimums
As a freelancer/side-hustler, sometimes cash is hard to come by. Many banks will charge you a fee if you don't meet a certain balance on your self employed bank account, but Nearside doesn't. Plus, they don't even charge an overdraft fee — saving you from times that leave you strapped and tight on money.
Nearside Perks
Every freelance business requires some sort of tools to help you run your business (think project management, email marketing, etc.) and Nearside has special member-only offers you can sign up for and save.
Examples include 55% off Quickbooks for 3 months, 20% off Constant Contact forever, or $300 in Ad credit for Yelp.
Fees:
The account is truly free, and the only fees they would charge you is $25.00 to stop payment, and a $1.00 fee for using out-of-network ATMs to withdraw cash.
Cons:
The 2.2% cashback appears to only be for 2022, and would be 1% thereafter
Based on app reviews, it appears they are still working out bugs
This is strictly an online bank, so if you prefer brick-and-mortar banks, it's not for you
While Chase may seem like the opposite of what you're looking for in a self-employed bank account, Chase for Business makes the list due to its impressive list of features and services. Chase is definitely not tailored to smaller businesses, but that doesn't mean it isn't a solid and reputable choice.
Benefits:
Merchant Services
Although Chase does not offer software integrations, they have their own robust merchant services that include the ability to accept credit and debit cards physically or online, mobile processing, international payments and even a line of credit.
Collections
If your business deals with cash, it can be nice to have a professional network to handle it for you. You can deposit cash yourself, or have customers send checks and cash directly to Chase for processing.
Zelle® Integration
For those that don't know, Zelle® is a convenient way to send and receive money. The Zelle® integration within Chase gives you access to millions of customers without using cash, checks or a card.
You can use your business number and email to send and request payments, so you'll be able to keep your finances separate. And with Chase backing you up, you can rest assured that everything is secure.
Physical Branches
As convenient as the internet is, depending on your line of work, sometimes you just need access to a brick-and-mortar building with a real live person in it to help you out.
Chase has more than 4,800 branches in 48 states (excluding Hawaii and Alaska) and in Washington, D.C., so the odds are you have one nearby.
Fees:
You will pay a $15 monthly fee for a business checking account unless you carry a consistent $2,000 minimum balance. There is also a fee for credit card transactions: 2.6% + 10 cents for reading a card with Chase's branded card reader (which you must pay for), and 3.5% + 10 cents for transactions where you manually enter the information through the app.
Cons:
No free checking option
$5,000 monthly cash deposit limit
Generally low-interest rates
No money market option
Founded in 2013, and with a strong focus on small businesses, BlueVine is a self-employed bank account that you might not have heard about. However, that doesn't mean you shouldn't put them on your list to check out for your banking needs.
Benefits:
High-Interest Rate
A self-employed bank account should work for you. BlueVine offers a .06% rate of return on up to $100,000 in your business checking account.
Scheduled Payments
You can set up automatic payments for anyone. BlueVine will directly transfer the money from your account, or you can opt for a credit card, check or wire transfer as needed.
BlueVine even lets you schedule recurring payments, so you set up monthly transfers to your vendors once and then never worry about it again.
Small Business Loans
While Blue Vine loans are higher than the market interest rate, the qualification process is relatively straightforward, and access to these loans may be a vital piece for some startups.
Overdraft Protection
BlueVine does not charge fees for insufficient funds in your account.
However, if you have multiple overdraws within a 30-day period, your line of credit could be affected.
Fees:
No monthly or transactional fees. Cash deposits at Green Dot® retail locations cost $4.95, bill pay credit card transactions to cost 2.9% of the translation total, outgoing wires are $15, out of network ATMs will cost you $2.50, and expedited debit card replacement incurs a small fee as well.
Cons:
No service for business loans in North Dakota, South Dakota or Vermont.
No joint accounts
Out-of-network ATM fee
LendingClub banking has a full suite of banking tools for small businesses to choose from, which is why they're rounding out our list of the best self-employed bank accounts. That's not to mention they've received the 2021 award from Nerdwallet for the Best Online Experience.
Benefits:
Options
There is no one-size-fits-all self-employed banking account solution. Luckily, LendingClub Bank has an incredible variety of options, so you can find the one that fits your situation.
With four different types of checking accounts and four different types of savings accounts, it doesn't matter if you are a solopreneur or a small startup team aiming for the stars. Simply look for the features that are the best fit and enroll accordingly.
Rewards
Many self-employed bank accounts do not offer the same perks as traditional credit card companies. LendingClub does offer 1% cashback on signature-based transactions made with your LendingClub debit card.
1% may be small, but if you use your business debit card to make large purchases, the cashback rewards may well be a deciding factor for you.
Financial Management Tools
Freelancers and small business owners will find the integrated financial management tools within a LendingClub self-employed bank account useful in strategically planning their financial goals.
Within your account, you can calculate and track a budget, look at your saving and spending trends, and even see your net worth.
Fees:
There is no monthly fee for Lending Club accounts, but there is a $5 daily overdraft fee.
Cons:
Mediocre interest rates.
Cashback rewards and best interest rates only apply to accounts with a $2,500 minimum balance.
Conclusion
If you're ready to separate your personal and business finances and open a self-employed bank account, you will find a variety of options to suit your needs. Instead of feeling overwhelmed, make a list of the features you truly need, then zero in on the account types that check all of the boxes.
Don't shy away from a self-employed bank account solution just because there are fees associated with it. Investing in your business can be a smart choice if it solves a problem, frees up your time or helps you better manage your money.
Whether you choose a tailor-made self-employed bank account like Lili Bank or go with a more established name like Chase, taking the step to have a dedicated business account will help you get organized and plan for the future.
Keep the conversation going...
Over 10,000 of us are having daily conversations over in our free Facebook group and we'd love to see you there. Join us!