Table of Contents
This post may contain affiliate links. See our affiliate disclosure for more.
Cash flow is one of the biggest issues that freelancers and small business owners struggle with.Thankfully, more people are embracing upfront payment structures in the gig economy.
Although not a foolproof solution against unscrupulous clients, upfront payments reduce cash flow issues that most freelancers and small businesses face.
Today's article will explore everything about upfront payments and how they are beneficial to freelancers and solopreneurs. We will also share some actionable tips on how you can negotiate for your first upfront payment.
What does upfront payment mean?
Upfront payment is a form of transaction where the customer pays a deposit or the full payment of a service that's yet to be delivered. For example, as a freelance designer or copywriter, you could ask your potential clients to make a partial payment/deposit for your services before delivering the final product.
Upfront transactions are used in many industries, but they've proven to be particularly helpful in the freelance economy. According to a survey conducted by Freelance Union, about 71% of freelancers struggle to get paid. The same survey reported that unpaid freelancers lose $6,000 annually on average.
Adopting an upfront payment system is one of the few techniques that can help freelancers get paid. It discourages dodgy clients and boosts the commitment of any clients coming onboard.
That said, solopreneurs and freelancers need to be smart when implementing the upfront payment system. For example, asking for a full upfront payment for a major project is risky. That only serves to scare away potential clients, depending on the project at hand.
Therefore, you need to structure an upfront payment system that works for both parties. A certain percentage of the total payment paid upfront usually works for most projects.
When an upfront payment is necessary & how to ask for one
You don't have to ask for upfront payments in every project. It makes more sense to get started with the project in some situations before requesting the payment. For example, with smaller projects costing less than $100, completing the project first before invoicing the client is more sensible.
Similarly, when working with Fortune 500 companies, getting a deposit can take a lot of time due to the bureaucratic nature of such businesses. That means you might end up losing too much time waiting for the payment, leaving you with an even shorter timeframe to complete the actual project.
Therefore, you're better off working on the project without any deposit in such cases. Plus, since you're working with well-known companies, it's safe to assume that they'll honor your contract.
The best time to ask for upfront payment is when working on large projects like copywriting books, creating complex software or applications, running SEO campaigns, etc.
Such projects require a lot of work from you, and that's why you need some form of commitment from the client. Check out the last line in this excerpt from a freelance designer's contract:

But, it's imperative to ask for the initial payment wisely. First, you can ask for a specific percentage of the full payment. Most freelancers ask for 25 to 50% deposits.
A client that spends that much money upfront is likely to honor their contract to the end. If they don't, you won't lose as much money as you would have if you worked without any deposit.
Another technique is to break down the project into numerous sections. For example, if you are copywriting content for an eCommerce brand, you can break down the work into multiple sections. Similarly, you can split a web design project or software development process into several sections. Then, ask the client to pay upfront for each section.
Not every client will be willing to pay everything upfront without seeing the final product. If that's the case, request the upfront payment for the first two sections of the project and have the final payment done once the finished product is delivered.
The benefits of getting an upfront payment
Perhaps the most significant benefit of asking for upfront payments is that you reduce the risk of losing everything if a client fails to honor the contract. Here are some of the other benefits you need to know about:
It builds trust
Asking for upfront payments helps build trust between you and the client. That's especially true when it comes to new clients.
If you've already worked with a client before, asking for a down payment may not be necessary as you've already built a rapport with them. Nevertheless, if you ask for upfront payments from existing clients, most of them will pay up because they're already familiar with your work and reputation.
On the other hand, dealing with new clients is tricky because neither party is familiar with the other. As a freelancer or solopreneur, you'll be worried about not getting paid for your hard work. Meanwhile, new clients are also wary of sketchy freelancers who ask for an upfront payment and deliver substandard services or fail to deliver altogether.
That's where deposits help build the foundation of a successful working relationship. When a client pays a percentage of the total payment upfront, chances are they will honor the entire contract. Similarly, most clients will find upfront payments reasonable with a bit of explanation from you.
Take it as a warning sign if a client seems reluctant about paying a deposit for the project, despite your multiple assurances.
It keeps the client involved
Upfront payments have a way of helping you gain the client's attention. A client that invests 25 to 50% on a project is inclined to stay engaged and ensure you have everything you need to complete the project on time.
On the other hand, clients who haven't paid anything for a project are likely to be less involved. That could mean slower responses and generally poor communication. That can be frustrating. Moreover, it's harder to complete a project when the client is slow in providing the answers and resources you need for the job.
It boosts cash flow
According to U.S Bank, 82 percent of businesses fail due to cash flow issues. Small businesses run by solopreneurs are usually the most affected.
The same issue is experienced by freelancers involved in long-term projects. Let's say you're developing a complex digital asset like an app that can take two or more months to complete. That's a lot of time to spend on a single project without receiving any payment.
Worse still, if you complete the project and the client doesn't pay up immediately, you may end up spending even more time and resources chasing down your dues.
All this makes it harder for you to scale your practice. That's why upfront payments are critical, especially with long-term projects. In addition to giving you a safety net, they also boost your liquidity which helps maintain smooth operations.
It helps you cover out-of-pocket expenses of the project
Although some freelance gigs do not have any expenses, some projects may require special software, additional labor, and other expenses. Upfront payments boost your liquidity, making it easier for you to meet any such expenses as they arise.
If the project you're working on has out-of-pocket expenses, use that in your negotiations to get an upfront payment. Most clients will find it reasonable.
How to negotiate getting an upfront payment
Negotiating your first upfront payment is usually challenging. However, the whole experience gets easier the more you do it.
Provide sufficient reassurances
One of the best ways to sell new clients into your upfront payment system is by providing sufficient reassurances. After all, clients are just as wary about losing their investments as you are.
So, what sort of reassurances should you provide? First, discuss the deadline and tell the client that the project will be done by the set date. Not only that, but you should have it written down in the agreement.
Second, maintain optimal communication with the client throughout the project. Answer their questions on time and provide updates frequently.
Consider creating multiple milestones for each project. Tell the client about these milestones before the project starts. Attach a timeframe for each milestone, then keep the client informed every time you hit the milestones.
Something else you could consider is a refund policy. A written money-back guarantee makes selling new clients on your upfront payment policy easier. It gives them peace of mind knowing they have nothing to lose should you fail to deliver the work.
Think of it as the first few stages of a customer journey map, where you need to build awareness and trust with the company before inking the deal.
Be professional with your presentation
Clients are likely to embrace an upfront payment system when you conduct your business professionally. Optimizing your online profiles is a great place to start.
Remember that we live in the information age where it's so easy to get details on anyone online. A client could quickly screen through your online profiles before getting in touch with you. If your profiles look sketchy, the client will be more reluctant to pay a deposit.
On the brighter side, if you've optimized your LinkedIn profile and personal website and have great reviews on independent platforms like Yelp and TrustPilot, potential clients are likely to respect you and your way of doing business.
But it doesn't stop online. You have to conduct yourself professionally, even when communicating with the client. Here are some tips to help you out:
Dress professionally: That's critical when conducting video interviews or meeting the client in person.
Be punctual: Show up for the interview on time and be prepared to answer questions related to the project.
Learn email etiquette: Most of your correspondences with the client are likely to be through email so, learn some email etiquette. Be sure to reply to the emails on time using formal language free of typos.
Minimize distractions: That's critical, especially during phone calls and video conferences.
Something else you don't want to ignore is social media. Some clients may screen your socials when conducting background research. Therefore, tidy up your social accounts, especially Facebook and Twitter.
Create a flexible upfront payment system
There are three common types of upfront payment systems used by solopreneurs and freelancers.
100% Upfront
First, you have the full upfront payment. With this agreement, the client pays 100% of the payment upfront. Although it's suitable for freelancers, you will find that very few clients are willing to pay 100% of the payment without inspecting the final product.
Another problem with 100% upfront payments is clients can introduce new requirements thinking they're covered under the initial payment. For example, they may ask you to add a new feature to the app you're developing.
Therefore, if you're working with a 100% upfront payment system, add a disclaimer in your payment terms that any tasks not included in the agreement will have to be paid for separately, also known as scope creep.
Deposit payments
The other form of upfront payment involves deposit payments. It's a pretty straightforward structure where clients pay a certain percentage of the total amount upfront.
Milestone payments
Finally, we have the milestone system. The client will pay a specific amount whenever you hit an agreed-upon milestone. So, for example, you can receive the first payment after creating an app prototype.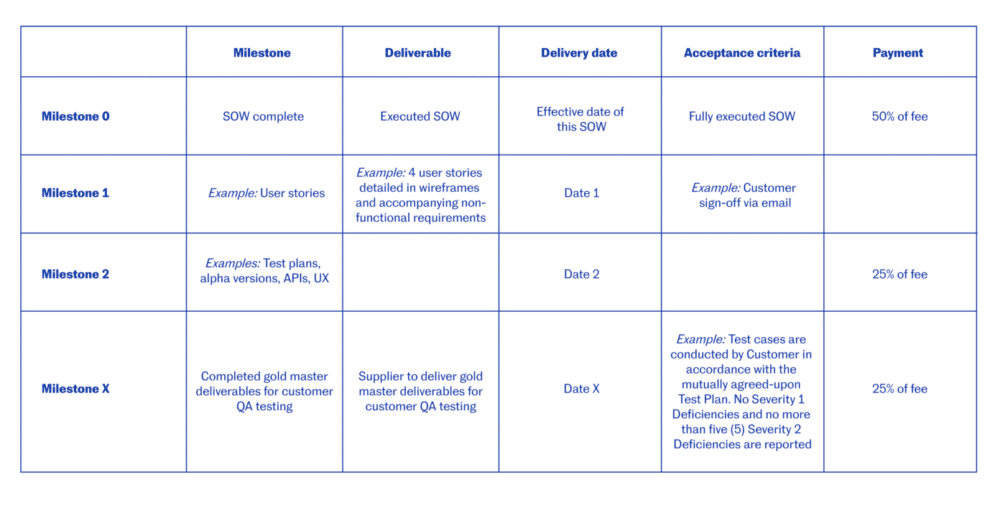 So, which of the three options should you work with? The trick is to pick the appropriate system based on your circumstances. For example, you can quickly get one of your loyal customers to pay 100% upfront. However, it's hard to sell the same policy to a new client. Therefore, consider a deposit or milestone-based system when negotiating with new clients.
Another thing to consider is the scope of the project. You can get a deposit or 100% upfront payment if it's a small project.
However, milestone payments are usually the better option for long-term projects. It ensures that you get consistent cash flow that allows you to focus less on chasing down payments and more on delivering the product in time. It's also easier to sell such a policy to clients with bigger projects.
Therefore, the bottom line is you shouldn't tie yourself to only one upfront payment structure. Instead, analyze each project and adjust your system accordingly.
Learn how to make a compelling offer
The presentation of your upfront payment policy can hugely affect how clients react to it. Therefore, in addition to explaining why the system is necessary to the client, you must also present it strategically. One way to do this is by making an offer within the policy.
Let's say, for example, you want to charge a client $5,000 for a project. Instead of quoting that figure to the client, increase it by around 10% (make sure it's a reasonable figure). That would bring the total to $5,500.
Then, when negotiating the upfront payment with the client, tell them you will provide a 10% discount if they make a particular down payment that benefits you. That should incentivize the client to take up your offer.
Three other payment structures
There are three common payment structures in the gig industry; hourly, fixed or project-based, and retainer payment structures. Each structure has various pros and cons, which you must familiarize yourself with before picking any one of them.
Hourly payments
Under this structure, you will agree on a specific hourly rate with your client. Therefore, your income would increase as you spend more hours on the client's project. Some clients may also request the use of time tracking tools to ensure you're committing the hours as agreed.
Since it's not a fixed contract, hourly rates give you more flexibility. For example, you can choose to work on a separate project if you receive a better offer from another client.
The drawback, however, is predicting your income can become difficult. Remember, you've only agreed on the hourly rate and not necessarily the scope of work. Therefore, the client can choose to walk away from the contract at any point.
Fixed payments
As the name suggests, payments under this structure are fixed and not dependent on the time spent or the amount of work done. You will negotiate with the client for that fixed amount and define the "finished product" to be delivered.
There are various ways of calculating fixed payment rates. For example, in a copywriting gig, you can use your rate per word to find the total fixed payment. So if your rate is $0.1 per word, you can scale that to find the total cost for every writing gig.
Alternatively, you can use your hourly rate to calculate the fixed payment amount. Let's say your standard rate per hour is $18. You would then calculate the duration it takes to complete the given project and multiply it by the hourly rate. So, if a software development gig would take 200 hours to complete, the fixed payment would be $18 X 200 = $3600.
The good thing about fixed payments is you can easily estimate how much you would earn from each project. It's also easier to negotiate upfront payment when you have a fixed figure.
On the flip side, minor miscalculations can result in significant losses. For example, if you underestimate the time it would take to create a given software, the project can run over the deadline, and you won't receive any compensation for the overtime.
Retainer
Retainer payment structure combines multiple elements of the fixed and hourly payment systems. First, you will agree with the client on a fixed retainer for each month or week.
For example, they may pay you an $800 monthly retainer. You'll be expected to dedicate a given amount of time to the client every month. You can set up a recurring invoice system to stay on top of retainer payments.
If the client requires more time from you than the agreed-upon retainer duration, they will have to pay for the extra hours separately (usually done at an hourly rate).
A retainer payment structure is ideal for several reasons. First, it delivers predictable cash flow, which should give you more security and peace of mind. Second, it will help you build solid working relationships with clients.
Start collecting upfront payments!
Too many freelancers and solopreneurs lose money to clients who fail to honor their contracts. An upfront payment system is one of the few effective ways of weeding out such clients.
It helps you identify committed and willing clients to pay for your hard work. Most importantly, it gives you the peace of mind that comes with consistent cash flow, which can also help you scale your business.
I shared some tips on negotiating for upfront payments in this article. First, provide sufficient reassurances to your clients. Second, be professional with how you conduct your business. Make sure your online profiles are presentable and your etiquette is on point.
Third, build flexible payment systems. Be sure to adjust these systems based on the project or client you're dealing with. Lastly, incentivize clients to embrace your upfront payment system by introducing an offer.
With all these tips at your fingertips, we're confident that you now have what it takes to implement an upfront payment system in your freelancing practice.
Keep the conversation going...
Over 10,000 of us are having daily conversations over in our free Facebook group and we'd love to see you there. Join us!