How's your design portfolio looking these days?
Are you behind on updating it, like me? Excellent! I love not being the only one. Or maybe you're new to the game and haven't set up your design portfolio yet.
Either way you're in luck, because with the help of Semplice, my portfolio builder for designers, I've assembled a little collection of inspirational design portfolios that take a range of approaches to doing their job well.
You'll also enjoy this episode of our new podcast...

This collection spans the globe and crosses a wide variety of creative segments and aesthetics. Some make me laugh, some hypnotize me with their beauty and they all make me want to meet the people behind them.
That's what makes a great design portfolio – it sells your work (and you) in a short amount of time. It's a magic combination of images, language and attitude.
Check out these incredible design portfolios all made with the Semplice WordPress portfolio theme and get motivated to finally work on your own.
20 Design portfolio themes hand-picked for you

Taylor's design portfolio is creative, elegant and responsive.
As a professional designer, Taylor shows her personal portfolio items in a wonderful way, with full-screen cover images on her homepage.
Note: When you're done here, try the tactic that helped Rob book out his freelancing for 6-12 months in just 30 days. It's called SolidGigs and we really think you're going to love it. Trade some of your worst clients for the best companies in the world. Learn more.

Giulia uses the Semplice WordPress theme to create a professional design portfolio website and manage her blog.
As Giulia's portfolio shows, Semplice enables you to create a wide variety of design portfolio layouts and build custom grids to showcase your designs in the best possible way.

Johannes Leonardo used Semplice to create a professional agency portfolio website. They used a wide variety of Semplice features such as scroll and hover animations to showcase their beautiful case studies.
This portfolio is also a great example of using the custom code feature Semplice provides to add a little extra magic to your design portfolio.

Cristian's portfolio design is responsive, clean and minimal. He uses a fullscreen slider with beautiful background videos on his homepage to immerse you in his work.
Using the latest Semplice 4 features, Cristian can easily adjust mobile breakpoints individually so his designs look great on any device.

Jacob's minimalist portfolio showcases his polished graphic design work, with subtle hover states and individual case studies for his projects. The Semplice visual content editor is great for any designer portfolio or creative website.
Hundreds of features have been developed to help you to create any design portfolio page within minutes.
Ciara's personal design portfolio is modern and clean. She uses custom code to share a selection of categories on her Portfolio page.
Semplice is completely customizable, making it suitable for any variety of design portfolio, developer portfolio, photographer portfolio, makeup artist portfolio and more.

Misha used Semplice to create a visually appealing and unique design portfolio. He uses a mood-board style grid on the homepage, his work standing out and making a statement without saying a word.
As shown with Misha's portfolio, Semplice is a modern and powerful multipurpose design portfolio theme for all sorts of projects.

Adrian & Gidi's design portfolio uses a flexible and elegant fluid grid that adapts to browser width.
With tons of features and options, this is just one of many ways Semplice allows you to make your portfolio unique.

The Las Colleccionistas portfolio is a creative home for their work with animation, background video and inner pages fully-branded for their projects.
The Semplice visual composer is a drag and drop page builder. It's fast and easy-to-use, allowing you to build customizable layouts for portfolio pages.
Even the navigation can be branded on each page to fully match your work.

Luca's minimal portfolio approach is perfect for photography and design.
This portfolio is easy to use and concentrates on showcasing his work to potential clients, with a modern design and photo galleries which are supported iPhone, iPad, Android and desktop.

SUMMERKID has a modern and clean personal portfolio.
She uses a full-screen cover slider on her homepage, a suitable approach for any personal portfolio, designer portfolio, developer portfolio, photographer portfolio and makeup artist portfolio.

Violeta used the Semplice Studio edition to build her custom illustration portfolio. The Studio edition is one of the most popular packages ever released on Semplice, with features like Blocks that allow you to do more and build faster than other design portfolio themes.
Start by building your own templates, then repurpose them to build out more pages and save time.

Schoener's website features a unique, one of a kind portfolio layout. Using custom CSS & HTML, schoener created a typography-heavy design that appears visually different.
Semplice gives you access to the WordPress files and code, so you can quickly and easily set up your website without a template and achieve your desired results.

The 'It's mee' portfolio uses the Portfolio Grid feature to showcase their work. This Semplice feature allows you to build a clean, super flexible and fully responsive page.
It's suited for business websites and individuals who want to showcase their work on a neat portfolio site.
The Semplice portfolio builder features endless options which allow you to craft almost any imaginable design.
The powerful visual content editor lets you create a boutique-grade website like La metropolitana's design in mere minutes.

Milan uses the Semplice gallery module to share his case study work.
This is a perfect solution for all kinds of businesses from corporations, shop owners and small businesses to startups, artists and bloggers.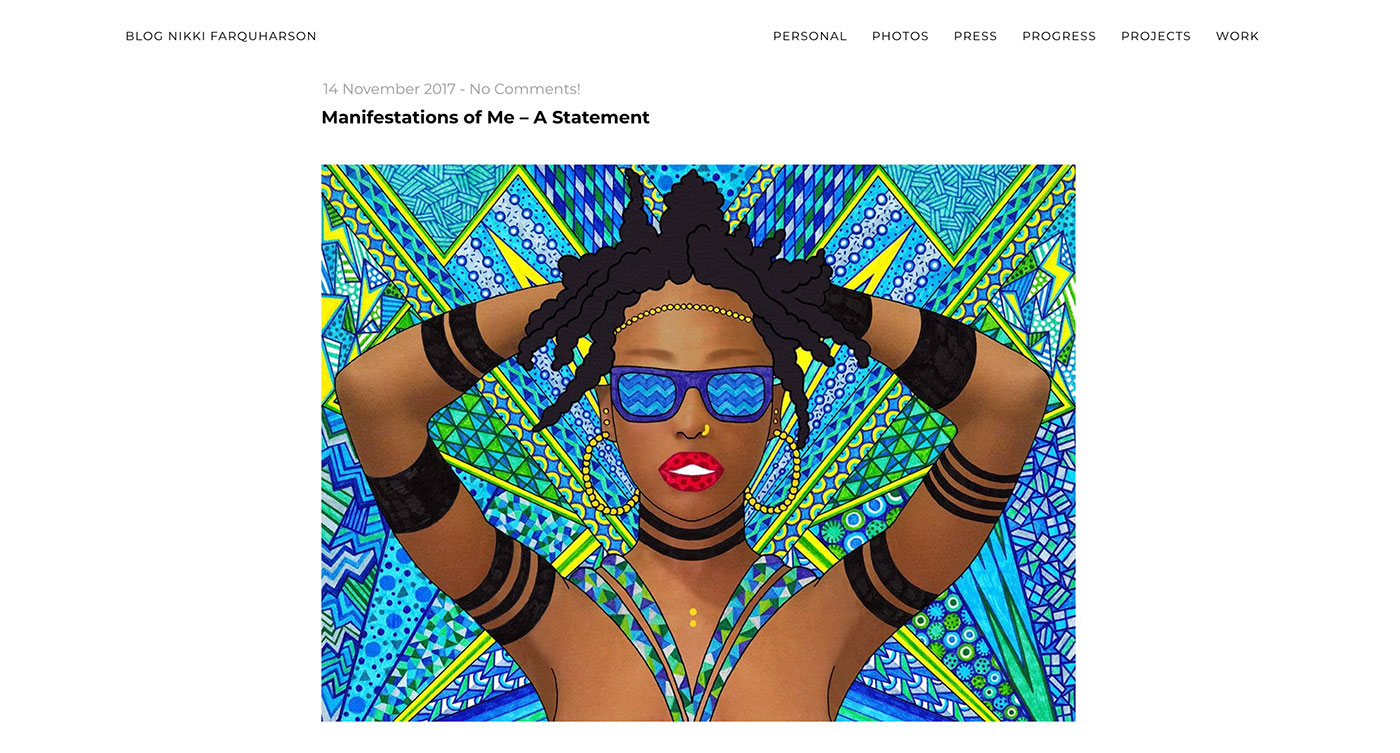 Nikki uses the minimalist Semplice WordPress blog for her personal blog in her portfolio.
Semplice comes with a responsive layout, social media integration, navigation customizer, and gallery layout for images which makes it ideal for design portfolios like Nikki's.
Marina has a one-page portfolio, but it is far from minimalistic.
The Semplice single-page mode gives you all the flexibility and great power of WordPress flavored with top-notch design. You can quickly create a brilliant portfolio like Marina's whether you're a designer, photographer, illustrator or any other creative.
Melissa's responsive portfolio is great approach for any creative designer, with clean design and a minimal layout.
This minimalist style and mobile friendly design is achievable with Semplice' customizable breakpoints feature.
Tommy's approach is great for any creative designer, with clean design and minimal layout.
Tommy uses the Semplice page transition feature to enhance his portfolio while maintaining a minimalist style and mobile friendly design.
Build with Pride. Use Semplice.
Visit the Semplice Showcase to get more portfolio inspiration and see the best online portfolios built with Semplice.
Then join the family and get Semplice 4, the latest edition of this powerful WordPress-based portfolio builder. And be sure to post a comment below to let us know how you get inspiration for the process… and to show off your amazing design portfolio!