The idea of being able to fund my travels as I was traveling instead of saving for 6 months and then going appealed to me greatly.
And I know it appeals to so many people as we are seeing the emergence of "digital nomads."
I recently left my 9-5 job in the UK to start my freelance journey while I fulfilled my classic millennial goal of traveling as far as I could.
Here are 6 lessons I learned about time management while traveling.
Find out when you work best
Do you struggle to work properly at certain times of the day?
Finding out what time of the day you work best allows you to plan your traveling activities around work.
[Tweet "The goal is to fine enough work to build your bank balance while you travel. #freelance"]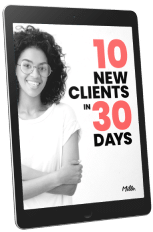 Need more clients?
Get more freelance work with our FREE book: 10 New Clients in 30 Days. Enter your email below and it's all yours.
While traveling and freelancing, the aim isn't finding enough work to fill a full 8-hour day, but to instead find enough work to build your bank balance while on the go.
This means working for small chunks of the day or maybe even only once or twice a week to provide you the right level of income.
Ensuring that you work effectively at the right times of the day improves your efficiency.
For example, while I was in Sydney this year, I knew I would work better in the evenings rather than the morning.
So, I held off doing any work or answering clients until I'd already been out and about exploring the city.
However, you might prefer to work in the morning and get it done before heading out if you can switch on after waking up.
Each person will have their own preference, and you should already have a good idea in your head about when you are most effective.
Plan the next day
While traveling, it's very hard to plan the next week or month in advance to see what work you will be doing.
But, you can mostly plan what you're going to be doing the following day.
I tend to have something to do over the next few days and can plan when I will work in each of those days.
Quick Sidenote: Have you heard about Hectic? It's our new favorite tool for freelancing smarter, not harder. Client management, project management, invoices, proposals, and lots more. Hectic's got it all. Click here to see what we mean.
Plan your day to include the activities you want to do and the work you need to do.
Sometimes you'll have days where you need to do less work and you've got more time to bungee jump or swim with sharks.
Even if you don't have anything specific planned, set aside some free time so that you can do something spontaneous.
These opportunities will often present themselves while traveling. Even if they don't, use the free time to get ahead of work so that you'll have more free time in the future.
Choose projects wisely
Some clients will have projects that will take less than a week; some will want something done over the course of 6 months.
Beware of those that want a month's work done in a week.
If you're discussing a project, ask them to define exactly what it is they want you to do and in what time frame. Then plan how long it will take you to do and how many hours a day it will take.
Will it take 8 hours a day for a week based on their time frame? Negotiate and see if they'll accept another week on delivery for a small discount.
It's better to work 4 hours a day for a lower rate and enjoy whatever location you're in than be locked inside for a week fulfilling an order.
Find tools
There are often time saving tools for a wide range of freelancers to use that will help save time.
For example, as an online marketer I manage social media accounts for my customers.
I use a post scheduling tool called Buffer to plan my clients posts for the week. Rather than spend an hour each day planning, I'll sit and do it over the course of 2 hours on a Sunday and not have to worry later in the week.
There are plenty of tools for people to use, so do some research and see if your market has something you can use.
Prioritize tasks
You're often working on multiple client's projects simultaneously, and this can cause a headache in terms of prioritizing your limited time.
[Tweet "Make time for the clients you enjoy working with, not necessarily the ones who pay the most. "]
But making time for those clients who are most valuable to you is my main piece of advice.
This doesn't mean those clients who provide the most money, rather those who you enjoy interacting with and working for.
If you build a good relationship with clients then if something does happen (for example, you can't access wifi on a remote island in Thailand) they are going to be more understanding with you.
List your clients out and mark next to them who you believe is the most fulfilling to you as well as the amount of income they provide you.
You'll quickly see which ones you should be prioritizing your time to.
Prioritize enjoyment
You wouldn't be reading this if you hadn't thought about or are currently traveling while freelancing.
What is the main reason we choose to do so? The freedom to do what we want, where we want, with who we want.
Work is work. Yes you need an income to be able to fund what you're doing and to grow your business.
But you also need to be enjoying your life and enjoying where you are in the world.
What's the point in being in a beachside resort in the Bahamas if you spend 9 hours inside your room working?
Work to play. Get your work for the day or even for the week done efficiently and effectively so that your clients are happy and you are happy to leave your computer to lie on the beach with a drink in hand.
Do you travel while freelancing? Share some of your time management tips in the comments below.
Keep the conversation going...
Over 10,000 of us are having daily conversations over in our free Facebook group and we'd love to see you there. Join us!