I love direct mail.
The fact that the world has gone digital just makes it even more relevant than ever. We're so inundated with emails and Facebook and all the rest that holding a printed, crisp, personal letter has a new significance.
UPDATE: You can now download this template + 14 more proven scripts for getting new clients, following up, and building your business—all for just $5.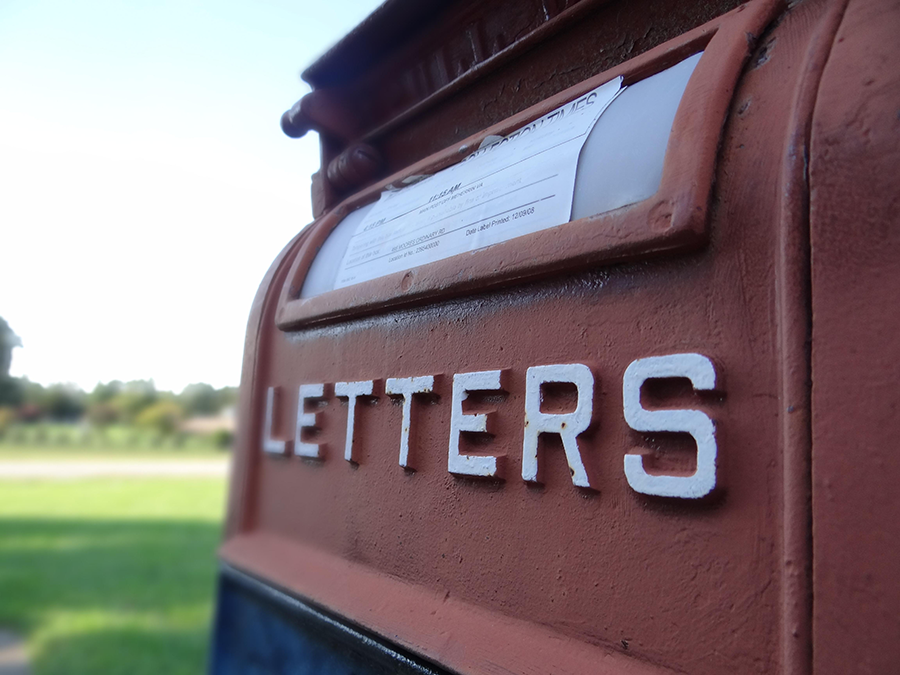 It demands attention, shows care (after all, writing an email is so easy – but sending a letter actually takes some legwork), and is unique.
I've used it to generate amazing returns for clients, and for our creative marketing agency too. In fact, a few years back we sparked an amazing partnership with a key influencer through direct mail, and we're about to do it for our agency's new PSD to HTML & WordPress company, Reliable (check us out!).
Your best targets
You might think that businesses without websites are your best target. The first time I considered direct mail this is what I thought. This is a very understandable, but very wrong, assumption!
The BEST prospect is someone who currently has a website they spent / spend money on that they absolutely hate. After all…
Psst...
We're building a group of smart, talented freelancers to support each other on LinkedIn.
Wanna join us?
They've proven that they're willing to spend money on your services. But they're unhappy with how they've spent their money so far – giving you the perfect opportunity to step in and be their hero.
It makes a lot of sense when you get right down to it.
Imagine…
you bought a brand new, shiny vacuum cleaner. You brought it home, and boy does it suck (but not the good kind of suck a vacuum should do – this thing is really awful!). But unfortunately, you didn't opt for the warranty, and it can't be returned if opened, so you're stuck with it.
A few months go by. All the while, your rage at this thing is building, building…
Eventually, you can't take it any more.
At that moment, you flip on the TV and see an ad for a vacuum cleaner that does everything right that yours does wrong.
Congratulations, you're now the perfect prospect for this ad.
It's the same with a website. Business owners fume for YEARS over their broken websites. You can step in with an "ad" and save the day.
Finding good prospects
It's actually pretty simple: Google businesses in your area that actually look like they generate income, and who market / advertise rather aggressively.
They'll be running PPC ads, and ranking high in the SERPS.
Avoid franchises and big corporations. 99% of the time franchises have to use what they're given, and with big corporations you have to take a much more refined approach, figure out who the decision maker is, and basically move mountains.
Not worth your time. Target small, local businesses.
Direct mail secrets from those who came long before us…
Hand-write each address that you mail to. This makes it look super personal and will ensure it gets opened.
Use first-class mail. Bulk mail has a history of getting "lost" at the post office, and people don't give it the time of day. They trash it as soon as they get it.
I know you're an OCD designer obsessed with edges aligning… but put your stamp a bit crooked. Again, it's subtle, but it makes it look like it comes from a real human being 🙂
Sign the letter in BLUE pen! I say blue because all of your ink will be black, so your signature will stand out, which, again, makes it look like it came from a bonafide human being who took the time to sign it.
DON'T use web font sizes! 14pt might look great on your screen, but it's HUGE in print! Do some test prints to get the font size just right.
This isn't "go big or go home." You can send out 10 letters a week if you'd like, or you can send out thousands. As a general rule of thumb, I won't spend more than $150 on marketing before I know it generates a return.
With that said, it's a numbers game. If you get 1 response for every 100 pieces mailed, that's actually considered pretty amazing. But if you target who you send it to well, you can get a much higher response rate. But think about it… at $0.44 per letter, and pennies for the 1 sheet of paper and ink, that's just ~$47 to reach 100 prospects who you've qualified yourself. And hopefully you make a good deal more than $44 from a website sale, making it well worth it if you sell even one site.
Okay, here's your letter! Make sure to fill in the [blanks].
Dear [NAME],
My name is [First Name Last Name], and I design websites here in [TOWN NAME].
I know how hard it is to find a solid web designer. And it's even RARER to find someone who understands that a website should look amazing…
But also bring you more new customers!
I can do both of these things. And in fact, I've been helping businesses in our area for the past [X] years, giving them a beautiful look that sells.
I'd love to help you achieve the same. I'd love to give you
a stunning website that actually helps your business grow.
If you'd like to chat and learn more, please feel free to reach out. You can call me at [NUMBER] or write me at [EMAIL].
We can set up a time to talk in more detail, and get you on track to your best year yet. I'd also love to show you some samples too so you can see the level of quality I'd bring to your business.
* Quick, important note:
I'm a one-[man / woman] operation. That means I'll always be here if you need me, and you won't get lost in a sea of millions of clients. I'm not some huge company, and I actually care about you.
But that also means that my schedule is VERY limited!
If you're even slightly interested in working together, please reach out ASAP so we can see if we're a good fit for each other and get you rocking and rolling.
Excited to hear from you!
[LEAVE SPACE HERE TO PUT YOUR ACTUAL SIGNATURE IN *BLUE* PEN]
[First Name Last Name]
[Company Name]
[Website]
[Number]
[Email]
Good luck!
Thoughts or questions? Leave them in the comments!
Keep the conversation going...
Over 5,000 of us are having daily conversations over in our free Facebook group and we'd love to see you there. Join us!