Table of Contents
This post may contain affiliate links. See our affiliate disclosure for more.
As a freelancer, you may have wondered if you should have your own freelance writer website—or if you need one to begin with.
We're here to tell you that, yes, it's absolutely recommended that you create a dedicated website for your freelance writing business! Even if it's just a simple, uncluttered site with a minimalist design, creating a website for your business is always a smart move in today's digitally driven world.
Many writers who don't yet have their own websites voice concerns about not being skilled or knowledgeable enough about web development to create their own sites.
"I'm a writer by trade, not a developer," they might say, noting that they have social media and LinkedIn profiles where clients can track them down, anyway.
It's important to know you don't have to be a professional web developer to start and maintain your freelance writer website. It can seem intimidating to set up a new website for your freelance business, but the process is actually simple. It can bring you business that far outweighs the effort and costs of setting it up.
The Importance of Having a Freelance Writer Website
Here's why it's so important to have a freelance writer website dedicated to your professional offering.
1. Your website will matter to your clients
A large percentage of freelance writers still send formal resumes to their potential clients hoping to attract business. Unfortunately, this is an outdated practice that could chase clients toward your rivals.
Potential clients are not as interested in your degrees, education, and extracurricular activities as they are in your writing skills.
Offering samples of your best writing is the key to securing work as a freelancer, and this is why having a website can be so beneficial. By visiting your site, clients can view your published work and learn more about your processes, services, and even your personal character.
Consider this. If you aim to learn more about a business, the first step you'll likely take is to Google it. If you can't find any sort of online presence, let alone a professional website, you'd probably view the company with immediate suspicion. You will also be wary of any information that you find online.
The same train of thought applies to your potential clients. When they search for you online and find no information, they may pass you over in favor of someone with a more expansive digital presence.
You need to be present on the internet as a freelancer, and a freelance writer website allows you to control and refine the information clients can find about you.
2. Your website showcases your best work
Having a customizable personal profile allows you to cherry-pick and showcase all the best written work you've completed throughout your career.
You can pick and upload only the work you really want your clients to see, too. This gives a personal website something of an edge over a platform like Contently.
If you've found a specific writing niche, you can use your web portfolio to highlight the samples that best pertain to your area of focus. This way, you can attract clients who are looking for exactly what you offer.
3. Your website works for you 24/7
Having an updated freelancer website allows people from every corner of the web to find you. People who find your profile on platforms like LinkedIn and Twitter will often check out your website to find out more about your work.
And folks who see your byline and Google your name out of curiosity will then conveniently find your website.
Many freelancers have gained unexpected clients and projects through people who have stumbled upon their websites by chance, then reached out using their online contact forms.
In short: even when you're away from your desk, your website is hard at work finding new work for you.
4. Your website allows you to publish work
Even new freelance writers who don't have published samples to share with potential clients can use their websites to generate new opportunities. By establishing your own freelance writer website, you can also start your own blog.
Blogs are the perfect outlets through which to express your creativity. You can write up show-stopping pieces you can showcase on your site if other sources of published work are running low.
What Every Freelance Writer Website Should Contain
Your freelance website needs a few key pages to show off your skills and attract new clients. Thankfully, this process shouldn't take too long to complete. You are a writer by trade, after all!
These are the must-have pages your website needs:
A homepage
Every website needs a home page, but did you know that your homepage is one of the most crucial pages in your freelance writing portfolio?
This is the first thing your website visitors will set eyes on, so it needs to make an excellent first impression. You can use your homepage to introduce yourself, detail your career accomplishments, and direct your visitors to other pages they might be interested in.
Your about page
Your about page gives you an opportunity to make yourself and your writing abilities stand out from the crowd. Keep it brief and be honest about who you are, and the writing experience you have under your belt.
Don't be afraid to let your personality shine through! People connect with personal stories and authentic writing, so tell them yours!
Your services
Potential clients need to know which services you offer as a writer. Dedicate a page of your website to listing and explaining all the services you can offer your customers.
What are your niches and specializations? It's recommended you add starter rates to this page as well. If you're unsure of what to charge, check out local freelance writing rate guidelines to develop a price list.
Your writing portfolio
Your website should direct the spotlight straight onto your best work samples. You should only add the very best work you have to your site, and it should preferably already be published on another website.
Stick to a few shining examples of your work rather than overwhelming potential clients with dozens of samples.
A contact page
Last, but not least, prospects need your contact details to get in touch with you. Your contact page should contain a simple contact form and a business email address, along with your phone number if you wish to add it.
You can also link your social media profiles for easy access.
A blog
This is not essential, but having a blog on your freelance writer website can work in your favor.
Blog posts are a fantastic way to drive traffic, communicate with your followers and customers, and prove how knowledgeable you are about your niche.
Tips for Perfecting Your Freelance Writer Website
You now know which basic pages your website needs to bring in business. It's time to ensure that your website is not only sufficient, but excellent, so you can win more clients and enjoy consistently high traffic numbers.
Here are our tips for creating a freelance writer website with personality, soul and digital appeal!
Let your personality shine
Clients have landed on your website primarily to look at your work. With that said, they're also there because they want to find out more about you as a professional, and as a peer. People like to work with other people, which is why it's crucial you let your personality show through your website's design.
The best place to do this is in your 'about' page. You should tout your experience, skills, and career accomplishments, of course. But also include some more personal information about who you are and what you love to do outside of your professional life.
You could speak about relevant life experiences, your favorite extracurricular activities, your hobbies, your passions, or any pursuits you're proud of. Add photos, slides, a questionnaire, or a video message—this section is yours to get creative with.
Make it easy to get in touch with you
We mentioned earlier that your website is always working, even when you're out of the office. To ensure your website works as hard as it can in your favor, you need to make it as easy as possible for prospects to contact you.
Most clients don't like having to figure out how to get in touch with you. If your contact details are difficult to find, they will likely give up and move onto the next website.
We recommend adding a designated contact option in the main navigation menu of your website to make it obvious how interested clients can send you a message. It's also a good idea to include a clear call to action on your home page to encourage visitors to reach out to you.
If you're comfortable adding your phone number and email address to your website, do so. However, many freelancers who do this get spammed by PR agencies, and choose instead to use contact forms.
Once you have responded to a contact form query, you can offer the sender your personal email address to ensure only potential clients can pop up in your inbox. If you use a contact form, make sure you respond to your messages regularly and quickly!
Link your social media accounts
Your website can share a few facts about your personality and personal life, but dedicate it primarily to your work. Just like an artist or photographer would create an online portfolio that focuses on their images, your website should be all about what you do, and what writing skills you offer.
However, with that said, there's nothing wrong with giving people who're interested a few other places to go where they can discover more about you.
By linking your social accounts to your website, you can connect with your clients on Twitter, Instagram, LinkedIn, Pinterest, or even Facebook if you have a business page set up. Your social media accounts are ideal places to keep people up to date with what you're up to daily, and can strengthen your freelancer brand, especially if you share niche-related content.
Keep things simple
It can be intimidating to launch your own freelance writer website, especially if this is your first attempt. However, it's important to note that your website doesn't need to be especially complicated, or packed with information. You can work with a pro designer if you'd like, but it's not necessary.
If you're just starting out, keep the process simple and start with a basic site design that covers all of your must-have pages and data subsets.
You can use platforms like WordPress, Wix, or Squarespace to design effective and professional-looking solutions without creating added stress.
Top Examples of Effective Freelance Writer Websites
If you need ideas or inspiration, these examples tick all the right boxes: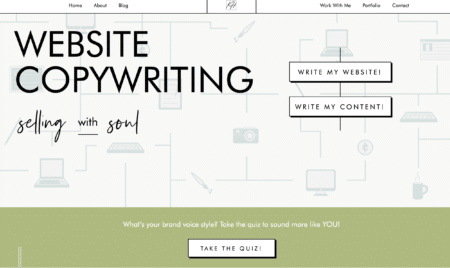 Kayla Hollatz's freelance website can only be described as effortlessly inviting. Her home page contains large, bold works that immediately tempt visitors to keep exploring her modern online portfolio.
Hollatz doesn't make her visitors scroll too far before finding a short, sweet and comprehensive introduction of herself and her skills, followed by a quirky (and free) brand style quiz.
No matter which page you visit, Hollatz's website will pull you in by subtly showing off her writing prowess. She clearly details how she and you will work together and highlights fabulous client success rates, making it obvious that she knows her business like the back of her hand.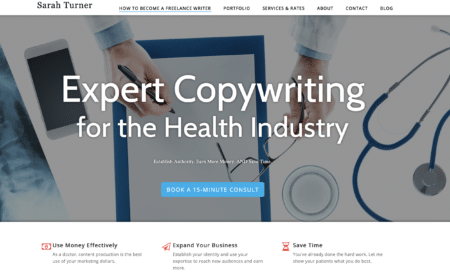 Sarah Turner markets her work as 'expert copywriting for the health industry'. Her website is sleek, neat, and professional. It provides a perfect example of how to design an effective freelance writer website that immediately conveys one's expertise.
Although it may seem aspirational to many newbie freelancers, Turner created his website using a combination of Themely and WordPress.
However, it isn't just the design of the site that makes it so impactful. Turner's opening sentences immediately highlight her niche and how she can use her expertise to boost your health industry business.
Her site also boasts a direct call to action—a feature you can easily include on your own website without the help of a developer or designer.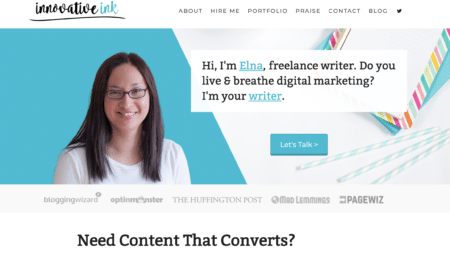 Elna Cain's website takes a bold and direct approach, immediately telling visitors that Cain is the writer that their business needs.
She then lists several impressive publications right above her introduction, the latter in which she states the problems clients have, and how her skills can solve them. Her home page concludes with some very persuasive reviews from her clients.
Cain's online portfolio highlights several ways to contact her for business opportunities, along with how to stay up to date with her work online. She has also linked her regularly updated blog, which outlines her writing expertise and offers tips on how to make money through freelance writing.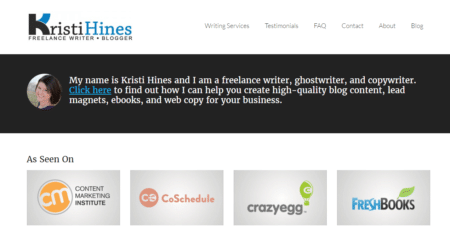 Kristi's website is yet another great example of an effective professional platform. She has her own attractive logo and provides clear breakdowns of the services she offers.
She highlights her customer testimonials and writes an on-site blog to demonstrate her talents to existing and potential clients alike.
You can see exactly where her work has been featured in the past by checking out the 'As seen on' section beneath her personal description.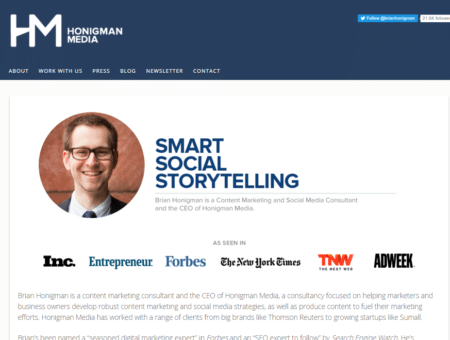 Brian Honigman's freelance writer website is simple, classic, and exceptionally easy to navigate and understand. On the first page, he lists all the services he's offered, where his work has appeared in the past, and the accolades he's achieved throughout his career.
Honigman offers his own on-site blog, along with a newsletter that clients can subscribe to if they want to stay in the loop and check out his latest work.
His website even boasts a free, downloadable content marketing style guide; a clever, value-added trick to boosting his email subscriber figures.
The Bottom Line
Anyone who's anyone has a professional website nowadays, and as a freelance writer, you need one too.
Having a freelance writer website will make it easier to attract new clients, show off your skills to a wider audience, and keep your followers up to date with your personal and career advancements.
You don't need to spend thousands hiring web developers and designers, either. You can easily set up a website for your freelance business on your own, paired with the compatible themes and plug-ins of your choice.
It's never been easier to build your own website than it is today. With this in mind, it's definitely in your best interests to take advantage of the technology and get your writing business noticed!
Keep the conversation going...
Over 10,000 of us are having daily conversations over in our free Facebook group and we'd love to see you there. Join us!