Table of Contents
This post may contain affiliate links. See our affiliate disclosure for more.
Freelance money management systems help you keep your small business or freelancer financials on track while you focus on growth and expansion. Apart from that, money management helps you deal with crises effectively and establish transparency with your employees and partners.
To gain an in-depth understanding of the importance of freelance money management, let's take a look at the consequences of not doing it.
Consequences of poor financial management
You can't know whether you are on the right track
Without accurate management of your finances, it will be hard for you to know if you are making progress. Your bank balance might give you a sense of your cash flow, but it won't give you the big picture of your revenues versus expenses. Financial statements are a simple, yet effective way to measure whether you are profitable or not. This will help you to adapt and pivot in the right direction which will facilitate sustainable growth.
You will struggle to make the right decisions
What gets measured, gets managed. If you are unaware of how much money is flowing through your business and how much you are making, you can't make any decision that is relevant to money. If you are a solopreneur, it will be even more challenging to manage freelance finances, since you are running the whole show.
It will be difficult to obtain funding
Leaders of micro businesses need to do everything they can to secure the finances for their endeavors. The importance of operational cash cannot be overstated, especially when it comes to the initial stages of a business or a venture. Whether it is in the form of crowdfunding, money from an angel investor, a loan from a bank, a fintech app, or a peer lending platform, the first thing they will request from you before approving your request is to take a look at your accounting books.
You could go out of business
One of the most important things money management enables small business owners and freelancers to do effectively is to take the right risks at the right time. It will help you to make the right investment decisions and cut your losses. Without a solid finance management system, you are similar to a car driver with blindfolds on. No matter how skillful you are, there is a high chance you will meet with an accident.
You might go into debt
Making financial mistakes and prematurely shutting your business down is one thing, but it is another to go deep into debt and declare bankruptcy.
5 Money management tips & tools that will help you manage your finances
1. Automate your payment process
The payment process involves creating invoices, sending them over to the clients, following up to ensure timely payments, receiving the correct payment, and updating your books after payment. This process is time-consuming and prone to errors that can cause delays, relationship strains, and huge discrepancies in your books.
By automating everything around payments, you can not only reduce the probability of those errors and save time, but also increase your business's efficiency. Here are the benefits of an automated payment process:
Keep accurate records. As the probability of errors and duplication will substantially decrease, you can rely on the numbers in your books.
Increased visibility and transparency. Visibility across your financial processes, and transparency with your customers, employees, and investors.
Reduced cost per transaction. The biggest save here is your time and labor. You can use those resources in growing your business.
Decrease fraud and theft. Automated payment tools secure your transactions with the highest cybersecurity standards.
Faster time-to-cash. The faster you can convert a purchase into liquid cash, the higher your chances to grow your business. This is facilitated by an automated payment process.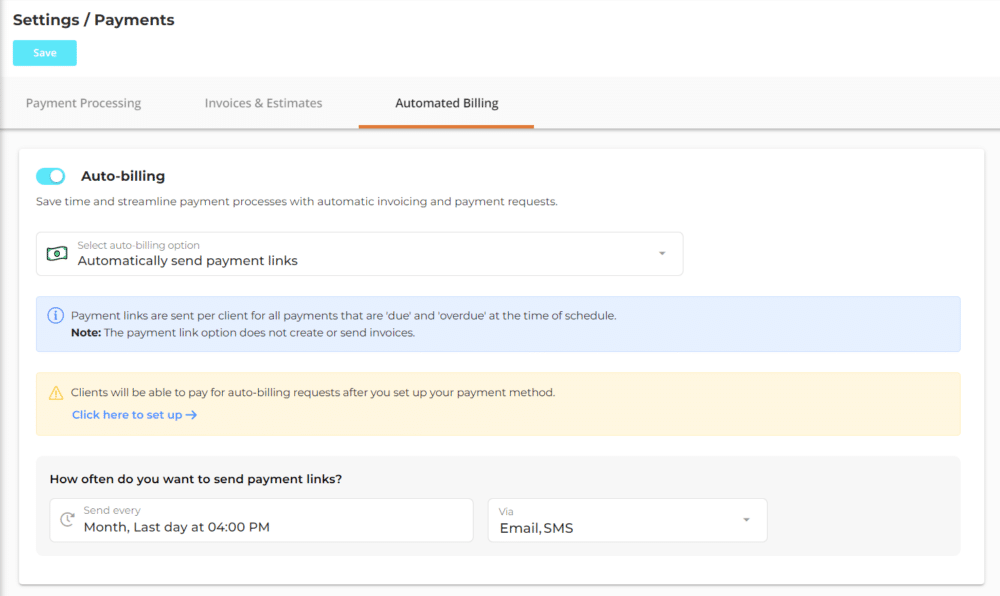 Using a software like vcita or Honeybook, you can easily manage your budding small business's finances better by automating payment processes in the following ways:
Send invoices right after a client books an appointment or places an order to ensure timely cash flow.
Remind them to clear the invoice by sending them automated messages, through an appropriate channel, with a payment link.
Get automated confirmations of payment that will be updated in your books.
Accept payments through various methods such as PayPal, Venmo, and credit cards.
Give the freedom to your customers to choose their method and time of payment by integrating vcita's client portal with your website or Google Business Profile.
2. Analyze your cash flow to predict changes
In freelance money management, cash flow analysis is a process that helps you take the necessary steps to ensure your business has a healthy amount of working capital. Simply put, it predicts your cash flow in the near future based on recent trends.
Here are the elements you should focus on while analyzing your cash flow:
Operational cash flow. This is the volume of capital that goes in and out of your business within a specific time period. It should increase consistently, especially in the formative years of your business.
Uncollected debt and late payments. These should be as low as possible. It is wise to set up an automated payment reminder system to minimize the number of late payments.
Long-term investments. These are made occasionally but cost a lot to the organization and can give you incorrect cash flow predictions.
Free cash. This is the liquid capital that you can move immediately for sudden but necessary expenses.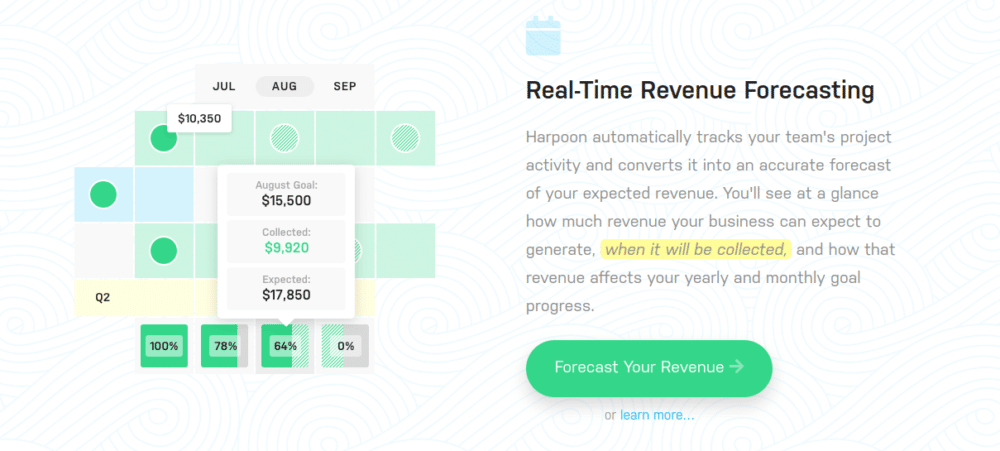 Harpoon provides a cloud-based solution for growing businesses that analyzes and predicts their cash flow helping them make the right strategic decisions through the following functionalities:
Connect with existing resource management tools such as Excel sheets and payment tools to get accurate updates in real-time.
Customize your cash forecast model based on your requirements in regard to the nature of insights you wish to draw from them.
Obtain summaries of your cash flows within minutes from the Harpoon dashboard.
Estimate project costs before onboarding new clients based on your historical data to send your customers a profitable quote.
By predicting your business's cash flow, you can manage your financial resources better on an ongoing basis to make smarter financial decisions.
3. Digitize and optimize your expenses
Every business spends money just to remain standing. Budding businesses need to keep an eye on operational costs, with the intention of reducing them and getting maximum value out of investments.
Here are the crucial expenses that you need to be aware of:
The salaries of employees, or service fees of outsourced partners if you are a freelancer.
The acquisition and maintenance costs of business real estate, including any website that you own with the intention of getting more customers.
Utilities such as electricity, water, and internet service are must-haves, as they keep things running.
The tools and inventory that you (or your partners and employees) need to serve customers, including everything from your software stack to display shelves.
Vendor and supplier fees, which are generally mostly applicable for physical product-based businesses.
No matter how many of the above expenses are incurred by your business, you need to set up a system that helps you track, manage, and optimize them.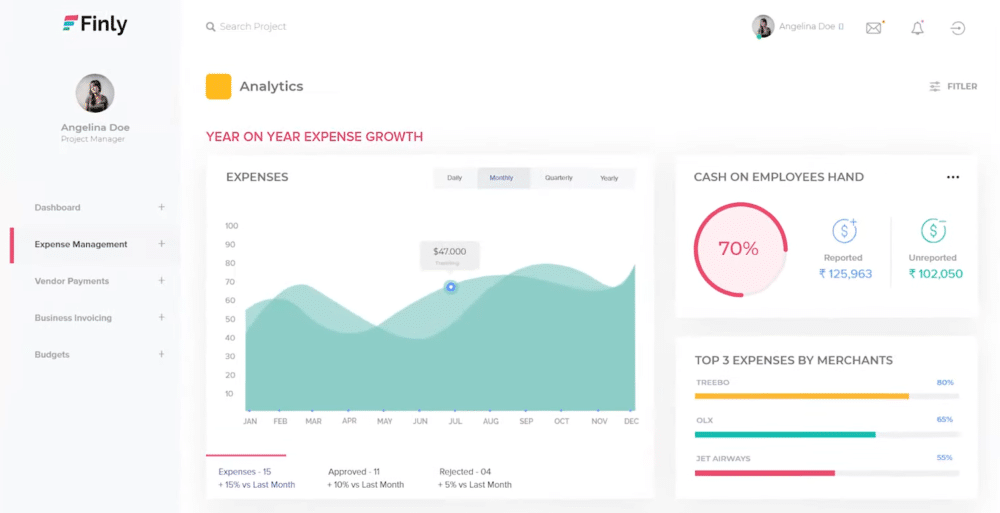 Finly delivers a digital solution that helps small businesses and freelancers identify cost-saving opportunities by optimizing and reducing their business expenses. Below are the functionalities that help you manage your finances better through spend management:
A mobile app that makes the solution handy enabling you to update the business expenses on the go.
The built-in optical character recognition (OCR) engine of the app allows you and your team members to scan and upload paper receipts as well.
Create customized small business and freelancer financial reports with one click to capture a glimpse of all your expenses in an instant. These will help you understand how your business spends its financial resources.
The reports generated will be forwarded to the relevant team members or partners to uphold transparency and trust.
4. File your taxes accurately
Often seen as a moral duty and a social obligation, filing your taxes lets the government and the banks know about the health of your business. Apart from keeping you out of legal trouble, it gives the following advantages to your freelance money management:
You can carry forward your losses to the subsequent years to reduce the amount of taxes payable. The number of consecutive years you can carry forward your losses depends on the local laws.
You need adequate funds at every stage of the growth of your business. Loans are a great way of securing these funds. Your moneylenders will need to see your business tax returns to ensure that you are a safe investment.
While starting a business, you must have invested in assets whose value decreases over time. You can claim depreciation costs to reduce tax deductions on these assets if you file your annual returns accurately.
Tax filing is a business responsibility that has no room for error, particularly for freelancers and budding business owners. You have to be aware of the laws and dedicate timely effort every year to this process.
Unfortunately, it will take a chunk of your limited resources which could have been spent on developing your business rather than administrative tasks.

Bench provides affordable tax-filing solutions to freelancers and small businesses with unlimited tax advisory support. The three key benefits you can look forward to with Bench and managing your freelancer financials are:
Team of seasoned professionals: You will have direct access to the best experts who will guide your tax filing process throughout the year.
Check all boxes: Not only will you get all the deductions possible, but you will also have ready-to-go backup strategies if things go wrong.
Customized support as per your needs: Whether you need help filing your taxes or need some expert suggestions, Bench will meet all your needs.
5. Avoid the possibility of conflicts with digital contracts
The biggest challenges small businesses and freelancers have to deal with is working with limited resources.
The manual approach with traditional processes drains these resources while providing little value, making small business and freelance money management difficult. And so, automation saves the day.
However, there is one thing that is difficult to automate: managing conflicts. Sometimes, due to circumstances beyond your control, you will find yourself in disagreement with your clients, employees, partners, and vendors, depending on the nature of your business.
These situations hurt the finances of your business in the following ways:
Your business might get bad reviews, which will negatively impact growth.
You will have to spend even more resources to resolve the conflict.
You may or may not make a profit from the interaction that led to this conflict.
Of course, these incidents cannot be avoided entirely, but considering the depth of impact, you must take steps to ensure that their probability of occurrence is as minimal as possible. You can do this by starting on the right foot with whoever you do business with.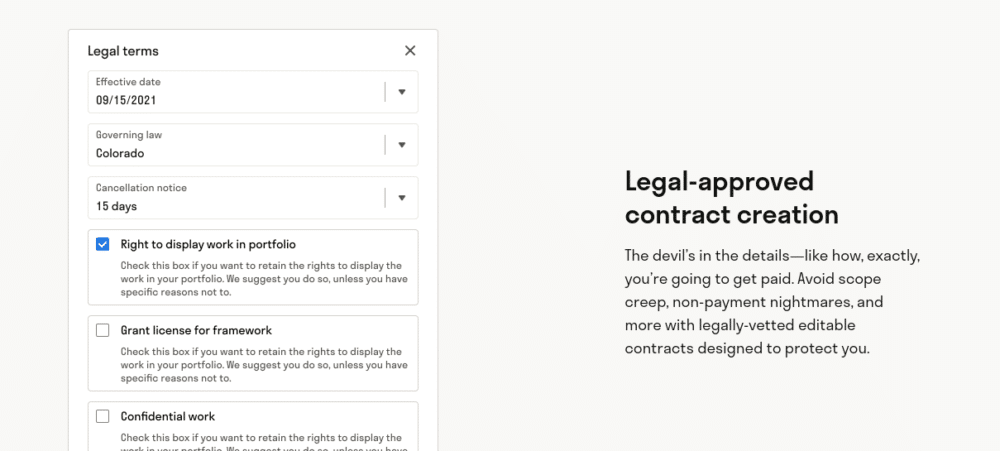 Moxie helps remove ambiguity between you and your customers, partners, employees, and vendors through digital contracts. These contracts contain all the terms and conditions of engagement and are legally enforceable once signed.
You can use the drag-and-drop builder to create contracts within minutes with all the details such as how and when you will be paid.
Ensuring you are on the same page with a party before conducting a financial transaction is crucial for small businesses and freelance money management. Apart from reducing the probability of conflicts, it makes your system more predictable, leading to improved finance management.
Wrapping up
Small businesses and freelancers find it difficult to manage their finances efficiently due to too many responsibilities and limited resources. Fortunately, you can automate many processes related to managing freelancer financials.
Here's a quick recap of our five freelance money management tips to remember:
Set up an automated invoicing system that creates and sends invoices to relevant parties with follow-ups containing payment links.
Record the cash flow of your business to analyze and predict it to run your daily business operations efficiently.
Digitize the way you spend money as a business owner to keep track of your investments and optimize them.
Manage your employees' expenses, especially when they travel for business purposes, so you can reimburse them aptly.
Using digital contracts, ensure you start on the right foot before a financial transaction is initiated between your business and another party.
Keep the conversation going...
Over 10,000 of us are having daily conversations over in our free Facebook group and we'd love to see you there. Join us!