This post may contain affiliate links. See our affiliate disclosure for more.
Having naturally creative talents and tendencies is great but if you don't have the right graphic design tools and resources then you're not going to be able to produce your best work. As a graphic designer having the right toolkit and work setup is essential.
In this article, we're going to take you through the best graphic design tools including software, online tools, hardware, and home office elements available to help you make the most of your talents and help you create your best work to stand out from the crowd. Let's dive right in.
22 Graphic Design tools every creative should check out
Graphic Design Software
First up we have Adobe's Creative Cloud suite which has become one of the must-have graphic design tools for millions of creatives around the globe.
The creative options and capabilities on offer from Adobe really aren't matched by any other company at the moment. With a full Creative Cloud subscription you get access to all the industry-leading applications including Photoshop, Illustrator, InDesign, After Effects, and many others.
If you're looking to produce quality work across several disciplines in the design world then a full Adobe Creative Cloud subscription will be a vital tool in your arsenal.
Key features:
Incredible array of graphic design tools that are constantly being added to, improved and updated
Every Adobe program at your disposal
Professional-level image and video manipulation tools and features
Cloud storage and collaboration features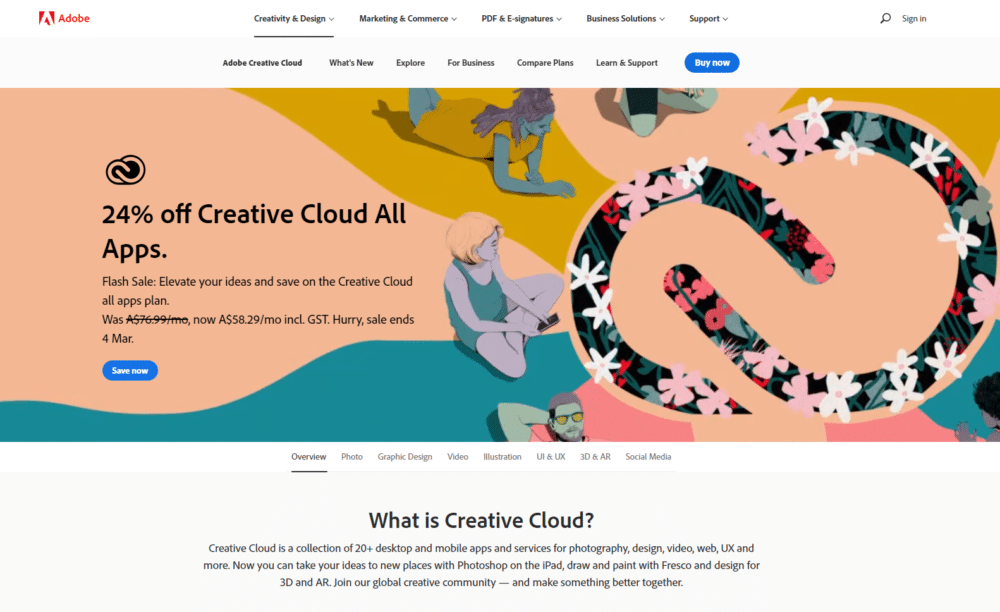 Pricing:
All apps: $52.99 /month or $599.88 /year
Photography plan: $9.99 /month or $119.88 /year
Single app subscriptions: From $4.99 /month to $20.99 /month
If you're just starting your own graphic design business it can be expensive, and if you don't want to be tied down to a subscription like Adobe's Creative Suite then a great option for you could be Affinity Designer.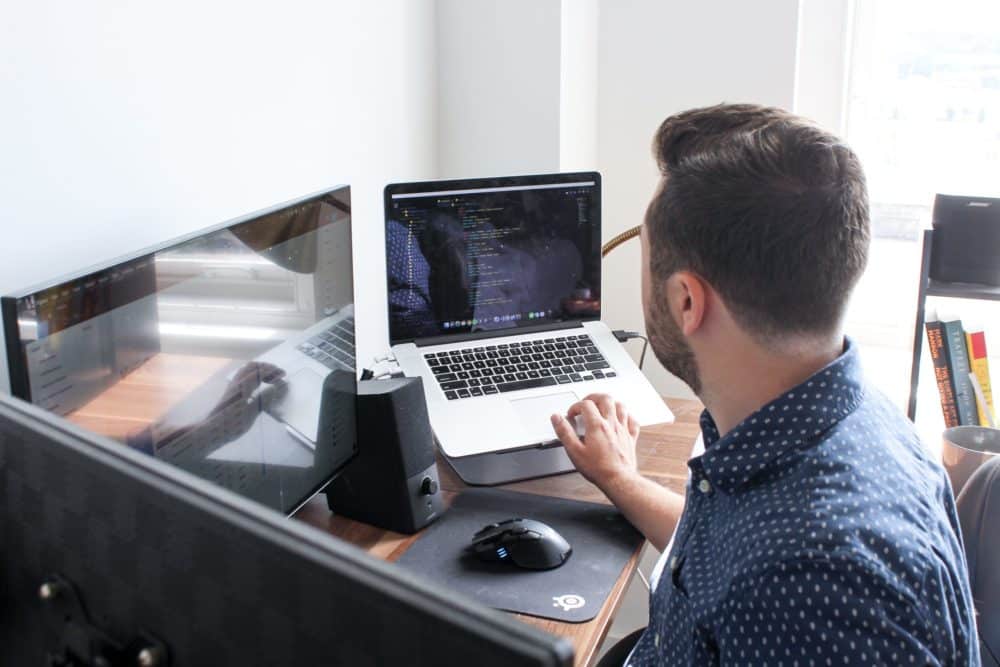 It's a hybrid program that allows you to create raster and vector designs, and the best part is that you only pay one fee for this graphic design tool and you own the program forever.
The Affinity toolkit isn't as powerful as Adobe's, especially when it comes to areas such as text warping. However it's still a fantastic and very affordable product. You can even do a free trial to see if it's right for you.
Affinity also has Affinity Photo which is a solid alternative to Photoshop if you're looking for a photo editing tool. It's also available for a one time fee.
Key features:
Robust toolkit for creating vector designs such as logos, t-shirts and more
Ability to work on vector and raster
Available for Mac, Windows, and iPad
Advanced color controls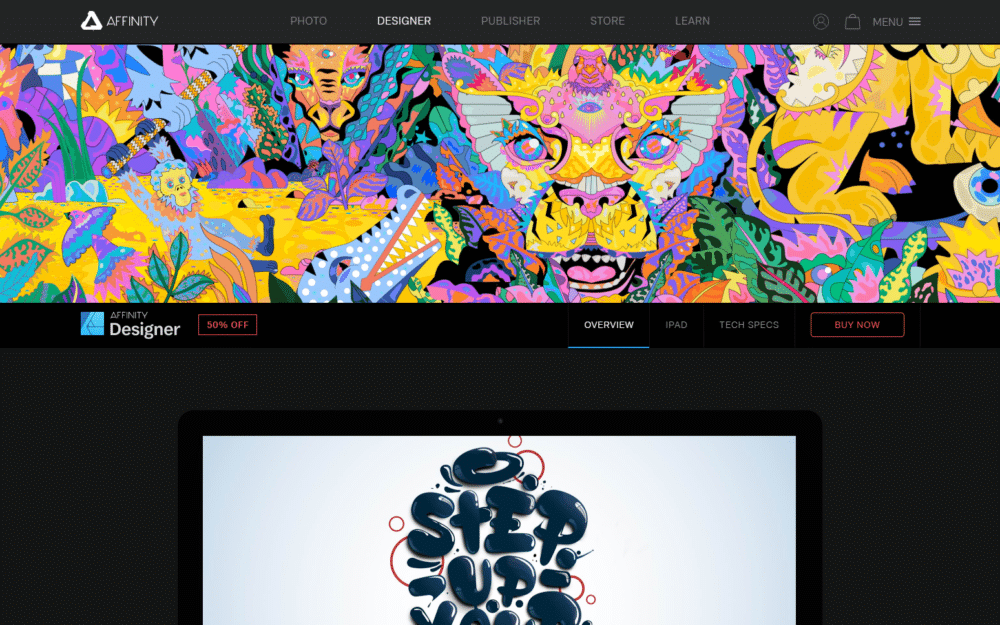 Pricing:
Free trial
$49.99 for Mac and Windows versions
$9.99 for iPad version
A lot of people think of ProCreate as a substitute for Photoshop — one of the most well known graphic design tools. This is true to an extent but it makes much more sense to think about ProCreate as a substitute for pens, pencils, brushes, paper, and a scanner.
The iPad app offers a really intuitive way to draw and create, and it even helps you draw better with helpful guides and refinements to the work you do, particularly when you're trying to create perfect circles and straight lines.
The brushes in ProCreate are also fantastic and let you create incredible artwork in a fluid and enjoyable way.
If you have an iPad, there's no excuse to not try ProCreate as it's extremely affordable too. Give it a go, and start creating incredible designs to add to your portfolio.
Key features:
App available on iPad and iPhone
Huge brush library
Robust color control
PSD importer (work with files for Affinity and Photoshop)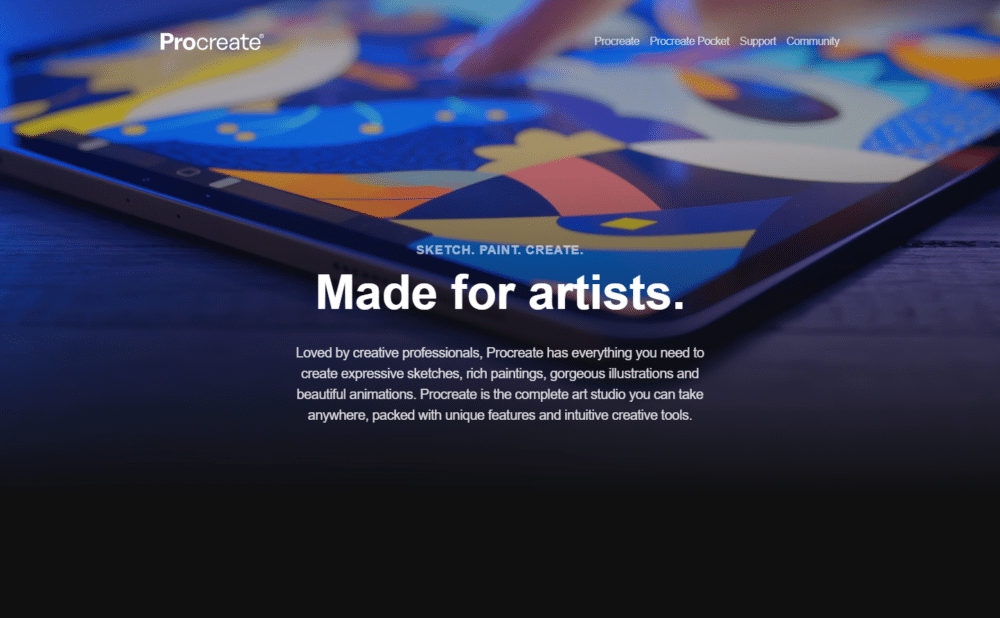 Pricing:
Online Graphic Design Software
In recent years more and more online graphic design tools have emerged, here are three of the best:
When it comes to online graphic design tools it's hard to look past Canva.
If you're looking to ease your way into the world of graphic design, Canva couldn't make it easier for you. Their interface is incredibly simple and user-friendly allowing you to create designs quickly and painlessly.
With Canva you can create designs from a blank canvas or you use one of their many pre-designed templates as the starting point for your design. They have templates for social media posts, banners, videos, printables, and even a solid logo maker.
To access some features you'll need to get Canva Pro, this allows you access to a range of premium tools and design elements.
Key features:
Incredibly simple and easy to use interface
Create designs from scratch or use pre-designed templates
Download many designs for free
Premium subscriptions available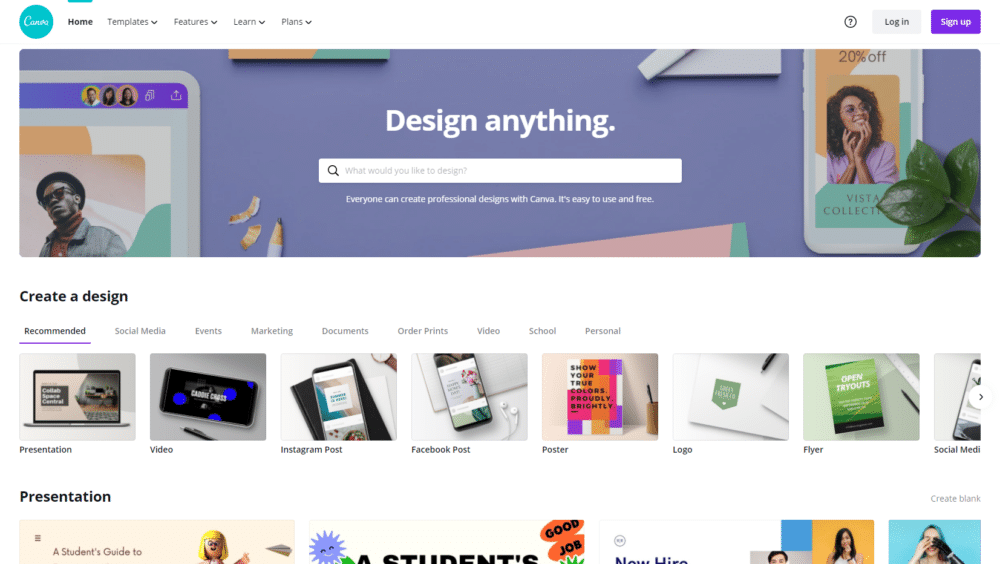 Pricing:
Free templates and downloads
Canva Pro: $12.99 /month or $119.99 /year
Placeit is another online graphic software that is insanely easy to use. Everything on Placeit is template-based meaning that all you have to do is select one of their thousands of pre-designed templates, quickly customize to your liking, and download. It couldn't be easier.
They have a range of templates and graphic design tools but what makes them stand out from other similar products are their templates for a few specific categories including mockups, YouTube templates, and streaming templates.
If you've got a design that you quickly want to mockup, you won't find a bigger selection of mockup templates than what Placeit offers.
So, if you're looking for the simplest and quickest option to create good looking designs, you should check out Placeit.
Key features:
Thousands of pre-designed templates
Create designs at scale
Smooth browser experience
Unlimited downloads with a subscription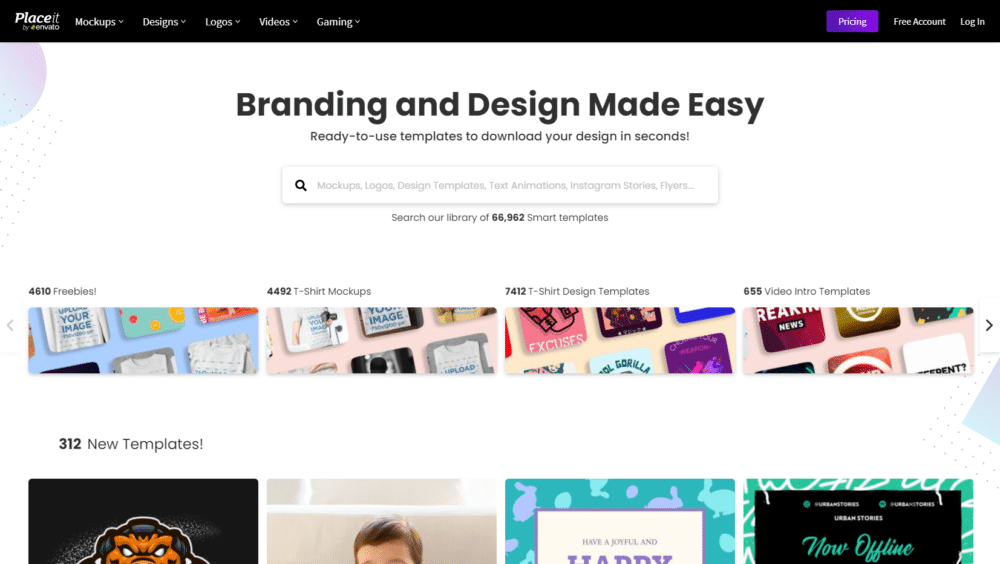 Pricing:
Some free templates
Unlimited subscription: $14.95 /month or $89.69 /year
Visme is another top quality online graphic design software that requires very little to no design skills or experience to use.
Like with Canva, you can create your own designs from a blank canvas and Visme's super slick and smooth interface makes this an enjoyable experience.
They also offer a massive library of pre-designed templates. Their templates cover many categories including social media posts, documents and web graphics but they're particularly strong when it comes to visualization templates such as infographics, presentations, and charts. There's also the option to use a WordPress tables plugin instead if you want to integrate charts directly in your WordPress posts or pages.
If you're looking for a graphic design tool to get you creating great looking designs quickly you can't go wrong with Visme.
Key features:
Extremely easy and smooth interface
Huge range and volume of templates
Easily create incredible visualizations
Useful 3rd party integrations
Collaborative tools
Pricing:
Free plan (Limited)
Standard subscription: $25 /month (or $180 /year)
Business subscription: $49 /month (or $348 /year)
Online Graphic Design tools & resources
#7 Free font sources
If you're a graphic designer it's very likely you'll be on the lookout for quality fonts to use in your designs. There are products like Envato Elements or Myfonts that give you access to a huge library of premium fonts.
However, if your typography budget is limited, the good news is that there are plenty of free font resources available online.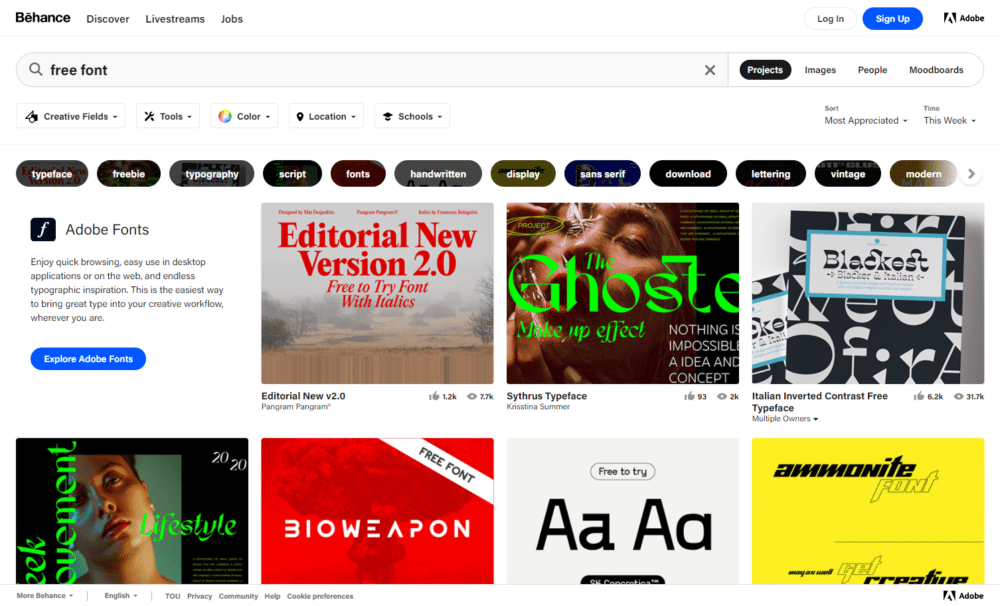 It can take quite a while to sift through all the free font resources though, so here are some of the best:
Always make sure to check the font licenses! If you're creating things for personal projects you should be fine. However, when it comes to commercial projects, make sure you have the correct license!
#8 Color pickers
As a designer there's a good chance you often find yourself browsing the web looking for color inspiration.
Luckily, there are tools like Instant Eyedropper that allow you to easily grab the hex code of a color that you want to try out on your own design. It makes finding and testing colors for your designs a breeze.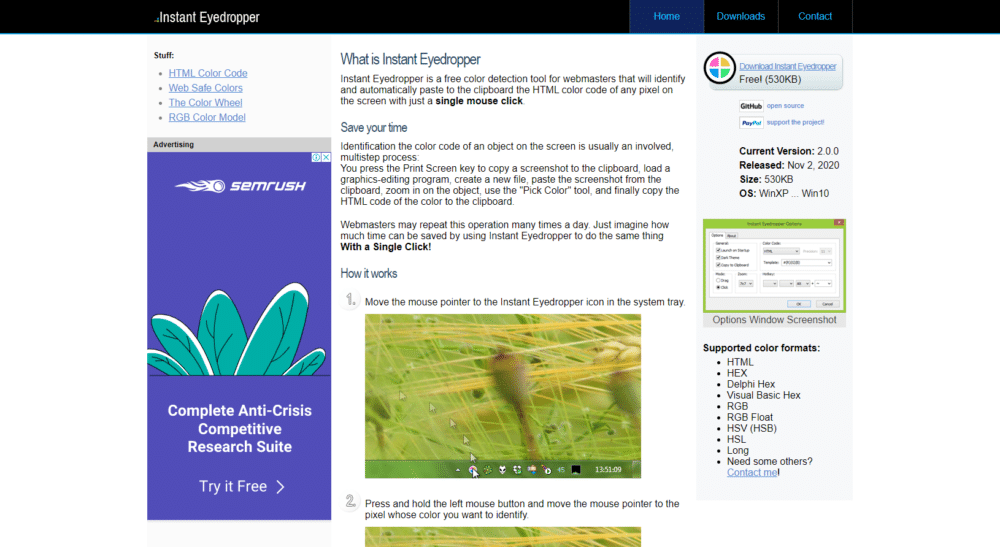 So, whenever you have a good design reference you can now select some of the colors from the design and see how they'll look on what you're working on.
There are also browser extensions you can add to your browser extensions. ColorSnapper and ColorPick Eyedropper are both solid options.
#9 Color palette tools
Speaking of colors. One aspect that may delay you getting started on a design could be knowing what color scheme to go for.
Luckily there are graphic design tools like Colorinspo that provide users with a huge collection of color palettes to browse through to see what might work for your project.
What's more, on Colorinspo you can simply click on a color to get the hex code and use it within your design in seconds. So never again will you have the excuse of saying you have no idea what color, or color palette to use.
There are quite a few other color palette resources and tools. Here are a few we recommend:
#10 Icon sources
Designers can often be strapped for time and if you're working on a project such as an infographic or presentation there's a good chance you'll be looking for icons to utilize in your designs.
Thankfully there are plenty of good resources when it comes to icons and there are some websites such as Endless Icons that allow you to use the icons for free on any project, even for commercial use.
Here are few other quality free icon sources:
If you're after premium icon resources there are plenty of those too. Some of the best include Creative Market, Icon Finder, and Pixelbuddha.
#11 Stock Images
As a designer, having high quality images available to you is essential, and finding the right images can often take a long time.
Thankfully there are plenty of free stock images sources online. Many of which provide extremely high quality photos that can be used in commercial projects.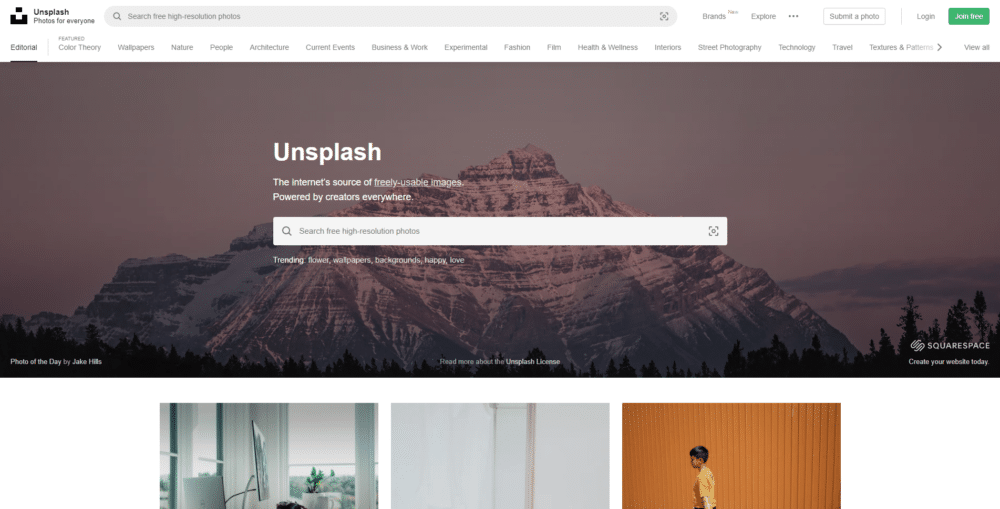 Here are some of the best free stock image sources:
#12 Online Inspiration
Okay, so this one isn't technically a graphic design tool in the traditional sense, however inspirational resources can be a tool for getting your creative juices flowing and ensuring you can constantly be inspired to come up with new and interesting ideas for your designs.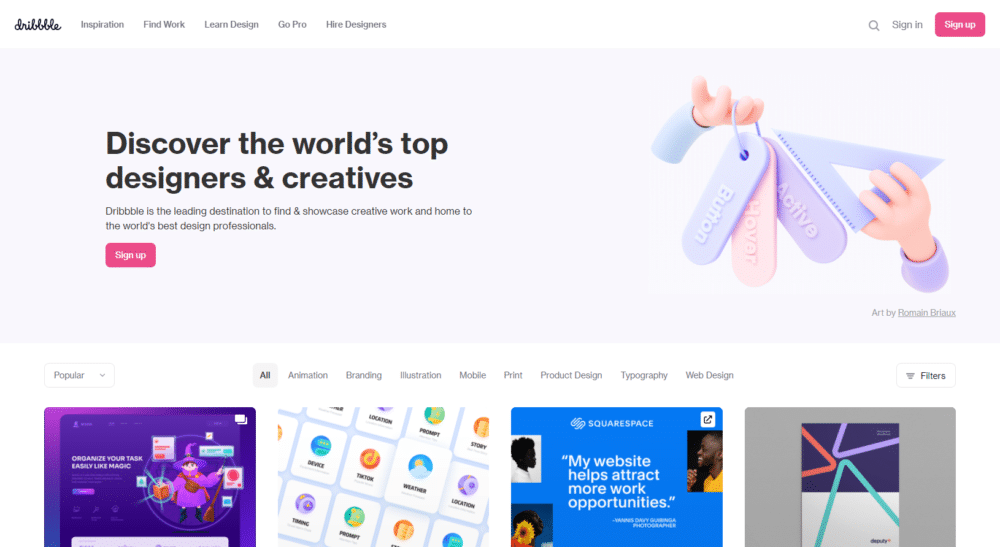 Some great resources for inspiration are :
When it comes to logo design inspirations it's also worth checking out Logo Pond and Logo Moose.
You can also use a tool like Pocket to help you organize all the inspirational sources you find online so you can refer back to it later. Pocket makes it super easy to save useful resources so you don't have to worry about finding them later on.
Also be sure to check out our article on the best graphic design blogs for more inspiration.
#13 Business tools
As a freelance graphic designer you're forced to wear many different hats and undertake a whole host of tasks to ensure your business runs smoothly.
From invoicing to time management there's a lot to handle.
Luckily, there are plenty of tools available these days to help solopreneurs handle all the 'business' elements. Here are some of the most useful tools:
Cloud storage tools: Dropbox, Google drive
Calendar: Google calendar, Calendly
Communication and collaboration: Gmail, Slack, Flow, Redpen, InVision
Finance: PayPal, Square, Mint, FreshBooks, QuickBooks, Gusto, invoice.to, Expensify, Cushion
Project management: Asana, Trello, Basecamp, Freelancy
Productivity & Time Tracking: 1Password, Pocket, Hubstaff, Timeular, Harvest, RescueTime, Toggl
Video Chat: Skype, Google hangouts, Zoom
#14 Tools for finding work
Although it may not be one of the typical graphic design tools you might think of, but finding work, especially as freelancers, can be a struggle at times. Getting yourself on freelance websites is one of the best ways to start getting clients right now.
There are some good freelance sites, especially for graphic designers. Here are some the best: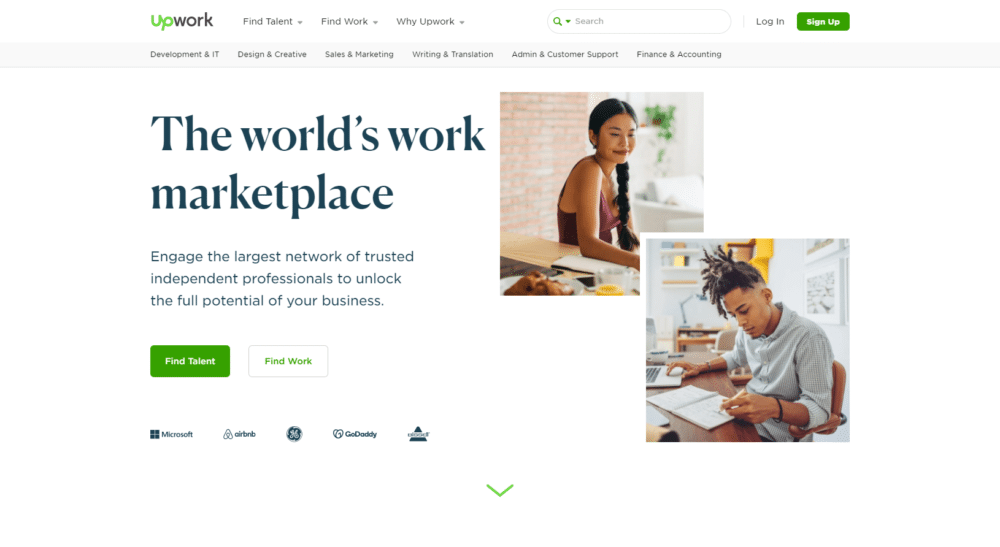 Graphic Design Hardware
#15 Apple computer
It goes without saying that your computer is the lifeblood of everything you produce, and for many graphic designers the go-to option when it comes to computer brands is Apple. They're expensive but more than worth the investment if you can afford them.
Their computers have been at the top of the industry for a long time and the quality, design and features have always made it hard for designers to look elsewhere.
If you are going to be using the Adobe Creative Suite, then you'll most likely want to get an iMac, iMac Pro or Macbook Pro. These computers align themselves so well with Adobe's products.
If you can't afford a top of the line computer, then it's essential that you at least make sure you have a good graphics card to help your device process all the work you'll be doing!
Key features:
High quality processors
Plenty of storage
Incredible displays and color visualization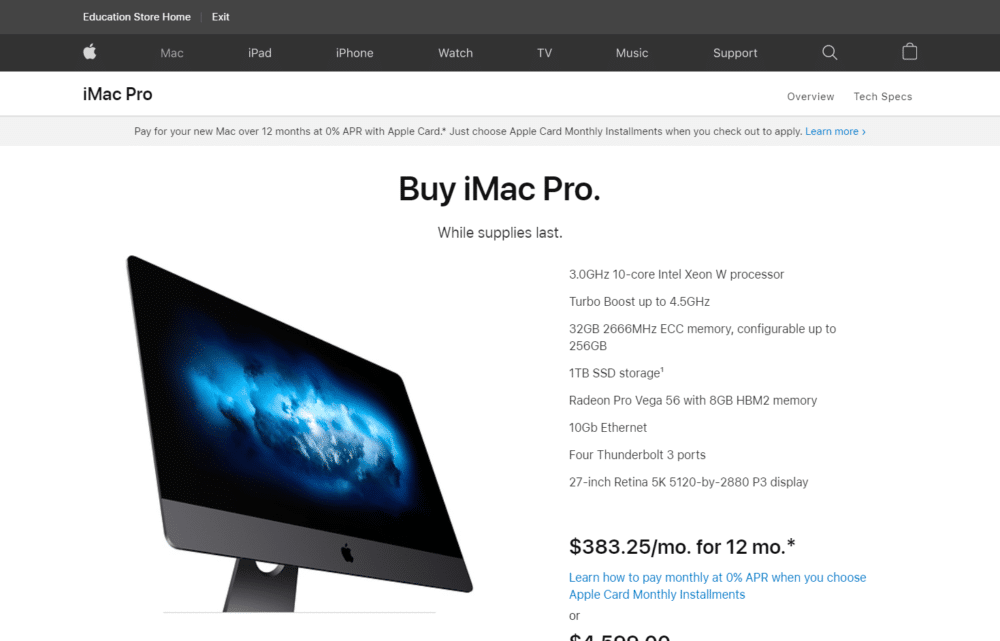 Pricing:
#16 Graphics tablet
If you use illustrations in many of your designs, then you're going to want to invest in a drawing tablet as one of your graphic design tools. The texture obviously isn't going to be quite the same as paper but nonetheless working on many of the top drawing tablets is a smooth and enjoyable experience.
You'll be surprised how quickly you get used to the feel and rhythm, and we're sure you'll learn to love it. It gives you the freedom to create amazing pieces of artwork, graphics, logos, and so much more all with the stroke of a pen and no uploading.
The iPad Pro is a great option as a drawing tablet, but perhaps the best choice at the moment are tablets that are dedicated to drawing such as the Wacom Cintiq.
Sizes vary from 14 to 32 inches and most come with a nice stand so you can adjust the position and height to make it comfortable for you to work on.
Key features:
Utilize the stylus directly on the screen
Easily create illustrations without having to upload
Pressure sensitivity (e.g. draw thick and thin lines)
Works with illustration apps (e.g. ProCreate)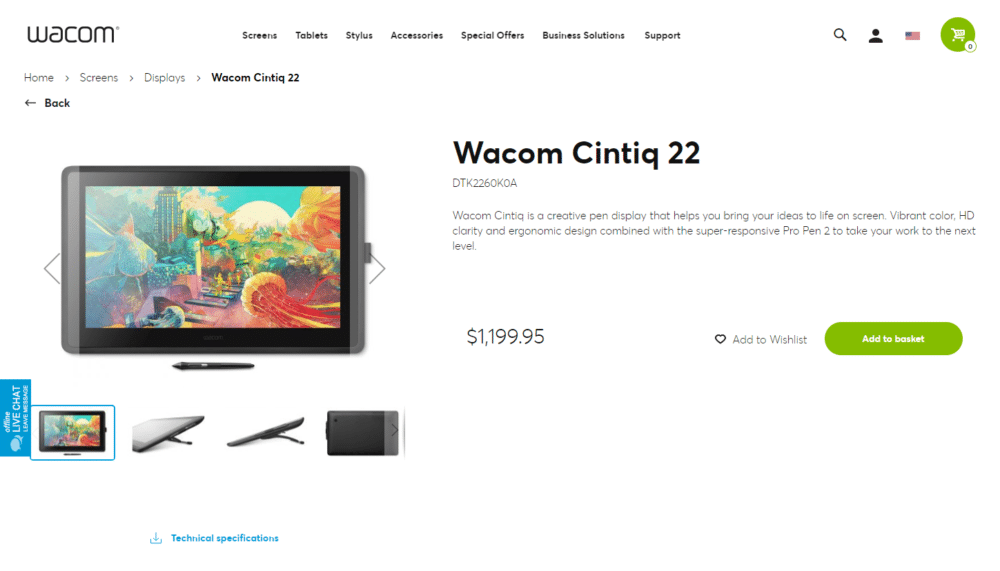 Pricing:
#17 Solid State (SSD) External Hard Drives
Trust us, you're going to want to back up the work you do in case the worst happens. So, to keep your mind at ease we recommend you get a SSD external hard drive to backup all the work you do.
You can also use cloud storage such as Dropbox, but if anything ever happens you'll be glad you backed everything up, your artworkm client work, etc. on an external hard drive.
They come in a range of different sizes 500mb to 2tb+, and can vary in price too. Here are a few solid options:
Catastrophic hard drive failures can happen. So don't be one of those unfortunate designers who loses all their project files. Backup your work in the cloud but also in a hard drive and your work should always be safe. It's not if it's going to fail, it's when.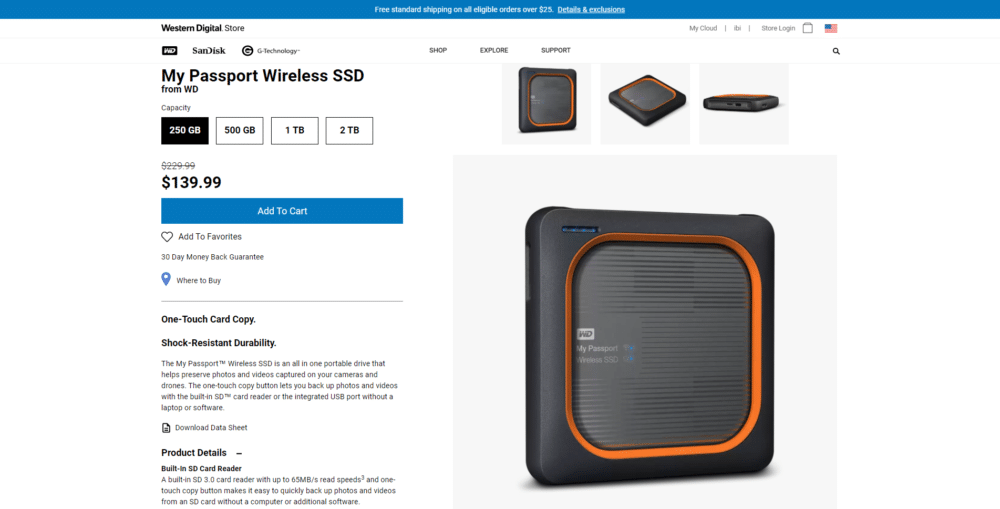 Key features to consider:
Durability
Capacity
Connectivity
Speed / Performance
#18 Multi-Display setup
Having multiple monitors allows you to do your job more effectively. You can have your chosen design software on full screen on one monitor and utilize the other display to show other elements that will make your design work go smoother.
Using only one display is possible, but if you're spending long hours working on a project, you might have several different tabs to work with and this can become overwhelming on one display very quickly. That's why a multi-display setup is one of the best graphic design tools to have.
Choosing the right monitors is also important as a graphic designer to ensure you get the right size, resolution, and color accuracy so you can produce your best work.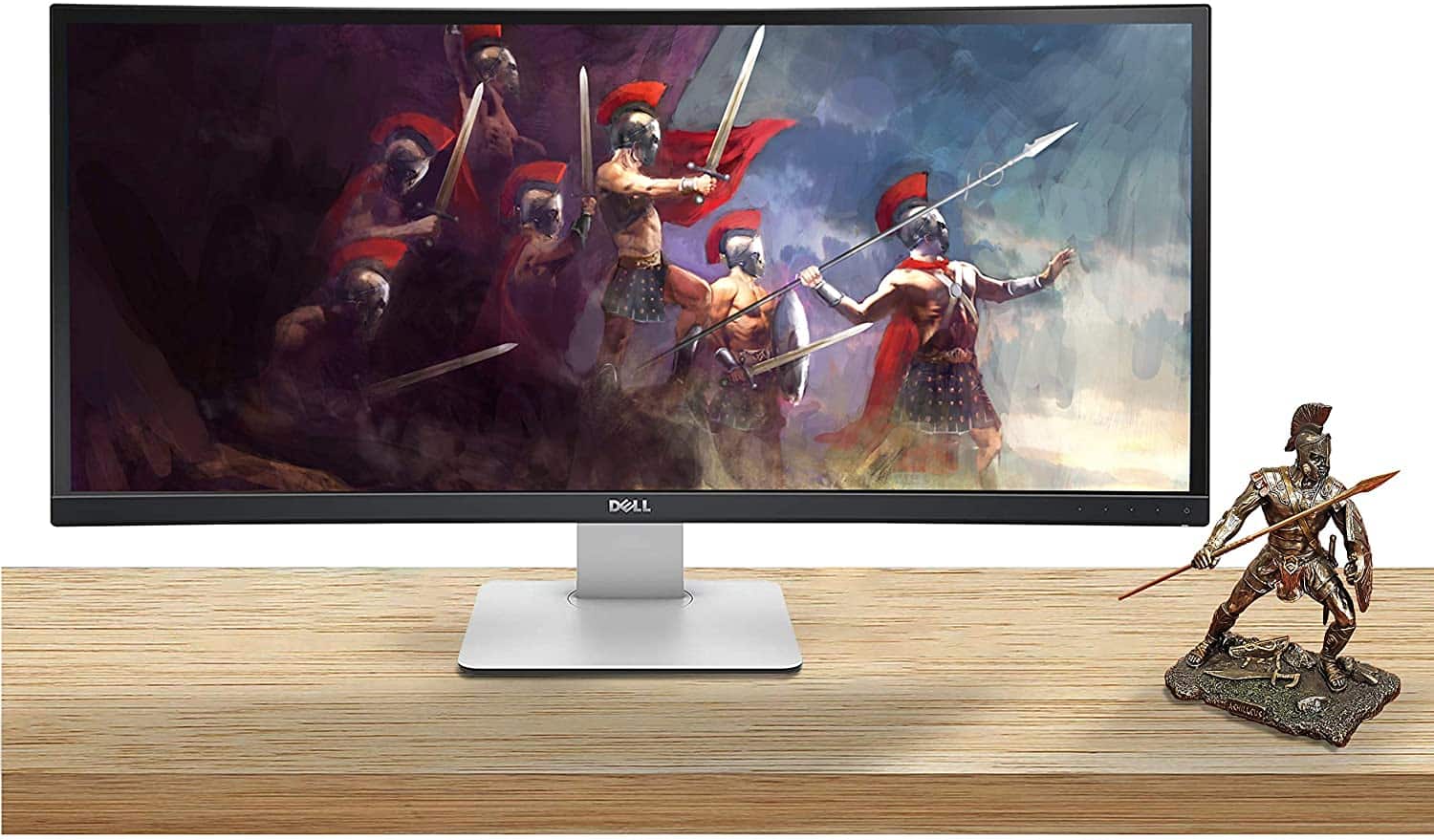 Here are a few good options for additional monitors:
#19 Ergonomic mouse
Having the right technology can help make your work so much easier and enjoyable. Just don't forget about that little guy, the mouse.
A quality ergonomic mouse can not only help you streamline your work but also save you from wrist and hand issues further down the line from consistent wear and tear.
The mouse that comes with your computer might work just fine, but there will definitely be better options out there. You're going to be using your mouse as much as any other graphic design tool, so why not splurge out on a good quality one. You won't regret it.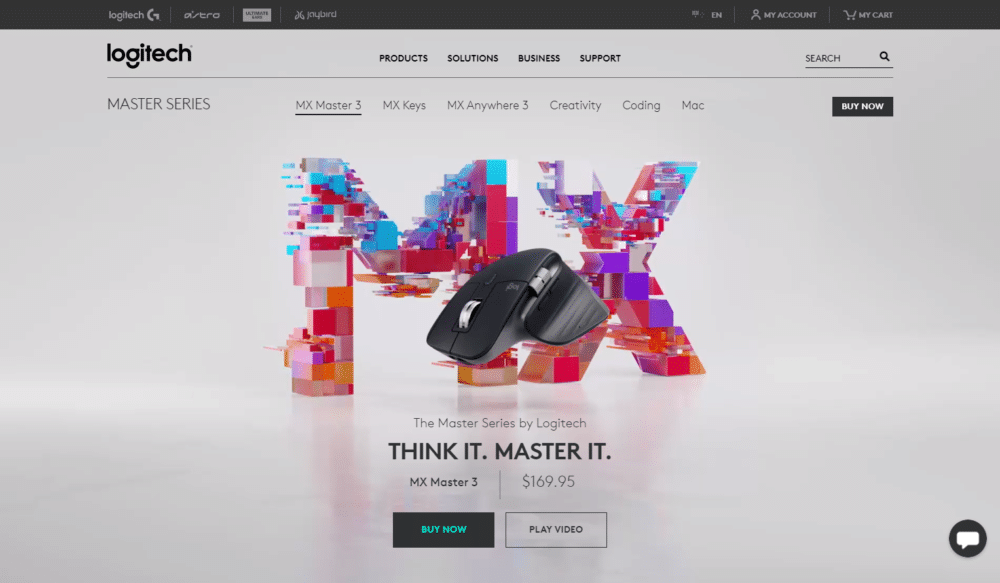 Here are some awesome ergonomic mouse options:
Home Office
#20 High quality desk
Having a good desk to work at is incredibly important, especially now that we're all working from home more than usual.
A sit-stand desk is highly recommended as you can choose to work as you feel at the time whether you want to sit or stand. It also allows you to set it at a height that works for you so you're not hunched over or forcing yourself to have a poor posture.
There's a good chance you'll be at your desk for most of the day, so it's virtually important you create a work setup that is going to keep you healthy, energized and productive.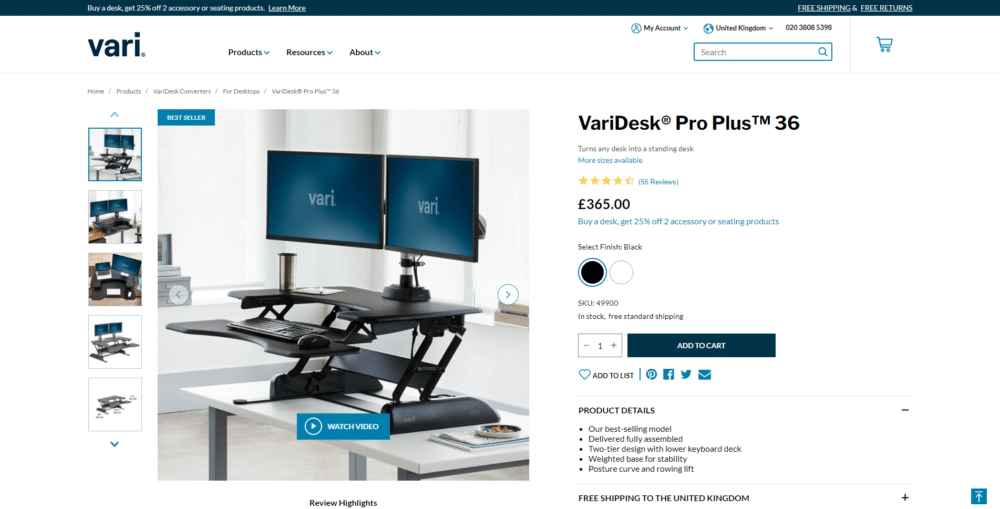 Here are a couple of desks we recommend, but you can view more here:
#21 Comfortable and ergonomic chair
Along with a good desk, you're going to need a good quality chair. Ergonomic chairs allow you to adjust the various elements of your chair to make it work with your body.
As mentioned, you're going to be at your desk for quite a while so make sure you create a work setup that's going to help your body stay healthy.
Graphic designers often have to sit at their desks for hours on end, so don't underestimate the importance of having a good chair. There are tons of great chairs out there, you just have to find the one that fits you best.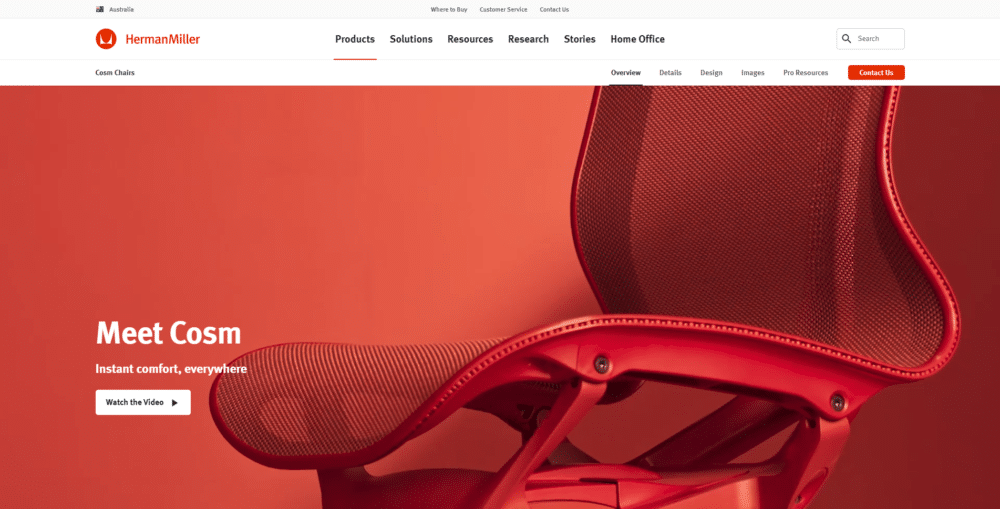 Here' some we recommend:
#22 Noise-cancelling headphones
When you're working you don't want any distractions, and this has become harder to come by due to working from home more often.
One solution is to use noise-cancelling headphones to ensure you can focus on your projects.
There are plenty of options here, and the products vary when it comes to design, comfort, overall quality, and of course price. However, whatever your budget there's bound to be a pair out there for you.
Here are some pair we recommend:
Conclusion
So, there you have it, 22 graphic design tools that will make your life easier and help you to focus on producing your best work consistently.
You don't have to break the bank to put together a winning toolkit but if you can combine the right technology and resources with your artistic skills then it's likely to produce a winning combination.
You're not only investing in tools, you're investing in yourself (as cliche as that sounds) so when you can afford to, don't hold back. You're worth the investment!
Keep the conversation going...
Over 10,000 of us are having daily conversations over in our free Facebook group and we'd love to see you there. Join us!