How I built a 6-figure freelancing business on Upwork
If actively seeking out and finding clients is something you enjoy, then it's safe for you to skip this post.
To be clear: I'm talking about the "business" stuff everyone always says we have to do, even though a small piece of our creative soul dies every time we actually do it.
Selling our services (or worse, upselling).
Networking.
The "dirty work" of freelancing.
Not only is it about as much fun as a blistering sunburn, it also sucks our time and energy away from the creative work (and the people) we love.
So yeah, if you're into all that, then you might not want to keep reading.
But if, on the other hand, you'd rather stick around, that makes me happy. Because I don't like doing those things either.
In fact, I hate it. So much that I'm willing to do just about anything to avoid it.
Psst...
We're building a group of smart, talented freelancers to support each other on LinkedIn.
Wanna join us?
Including attempting something everyone said was impossible: getting all of my clients from Upwork.
(Spoiler: They were all wrong. I earned $113,553 in 12 months.)
Not your grandfather's approach to finding clients
I can tell you now that there's no comparison between the work of "pounding the pavement" looking for clients, and getting them through sites like Upwork.
It's like being a hunter-gatherer, vs. picking up a bag of groceries at your local Whole Foods Market.
There are a few reasons for this, like…
Upwork clients all hang out in one place
The typical advice for freelancers who need work is to do everything:
Blogging
Plugging away on social media
Cold calling/emailing
Advertising
Asking for referrals
Physically leaving your home or office and meeting people
…all in the hopes that they become clients.
That's a lot of work for one person to do. And non-billable work to boot.
Contrast that with my approach, which involves literally none of those things.
If I need work, I go to the Upwork jobs marketplace and find it. That's it.
In my 2.5 years as a freelancer, I've never had to do anything else to find freelance jobs.
The following screenshots, courtesy of the "Upwork Pulse," help to illustrate why.

Look at that volume!
Upwork supplies clients to freelancers like Home Depot supplies lumber to contractors.
This means I can flip open my laptop and connect with 5 potential clients in the time it takes an "off-Upwork" freelancer to get dressed for their next networking meeting.
And unlike social media, blogging and cold prospecting, I'm virtually guaranteed to spend my time talking to the right people, because Upwork is legit when it comes to getting new work. That's primarily because…
Upwork clients are qualified
By the time they've posted a job, an Upwork client has effectively raised their hand and said they're in the market for freelancing services.
They've probably also verified a payment method.
And it's likely they've done a bit of homework and are at least somewhat educated about the services they need.
Some super-serious clients even pony up a premium of $25 to have their job post "featured." Like this one:
By the way, I won this job at $125 per hour, which was almost 3x the next highest bid.
And five months later, not a single week has gone by where I haven't done billable work for this awesome client.
But the part I really want to draw your attention to is that it took me only 15 minutes to close them by phone after they responded to my Upwork proposal, for all of the reasons mentioned above.
What are the chances of that happening on social media, at a networking meeting, or during a cold contact?
There's more…
Upwork clients find me
There's a sweet little Upwork feature that's not talked about nearly enough: Invite-Only Jobs. (I often refer to this as the "Hidden Upwork Economy," since these jobs can only be seen by freelancers who've been personally invited by the client to submit a proposal.)
These are a thing of beauty, because, when I receive one, it means that a client is already interested in me and my work. In fact, I am often the only person who's been invited to a given job…meaning I have zero competition.
This can easily happen 10 or more times in a given month, and is a totally passive form of generating leads.
Notice the client's opening words in the job post above…
The sales process is basically reversed, with them approaching me and wanting to purchase a block of my time. This deal was practically closed before so much as a conversation took place.
It would take an unmanageable amount of work for a single freelancer to create an online marketing funnel that brings in super high quality leads like this on a consistent basis.
Yet I enjoy this as one of the perks of using Upwork.
In other words, this luxury is a byproduct of the freelance work I already do — rather than a separate "marketing" activity that takes additional time, energy and money.
By now I've hopefully convinced you that Upwork is a valid way to make great money as a full- or part-time freelancer, without running yourself ragged looking for clients.
Now let's talk about some of the strategies I use in order to make this "dream scenario" a reality.
1) I work exclusively on Upwork
When I first started out on Upwork, everyone told me to diversify — that is, to get clients from many different sources — instead. "Don't put all your eggs in one basket," they said.
That may be great advice for investors, but diversification just isn't practical in most other areas of life. I mean I'd love to have a fleet of cars like Jerry Seinfeld "just in case," but for most of us, the benefits of owning more than one just doesn't justify the cost.
It's a similar situation with Upwork and other online freelance job sites. These sites reward focus, not diversification:
Completing more projects helps you rise in Upwork's ranking system, making you more visible to clients as they search for freelancers
Having lots of positive reviews (especially recent ones) makes it easier for clients to hire you
Demonstrating a history of work done on the platform helps you to charge more than your competitors
Yet most freelancers take the opposite approach of dabbling on Upwork. This feels safe, like dipping your toe in the water — but on platforms like Upwork it's more like shooting yourself in the foot.
2) I present myself as a problem solver
Regardless of how many clients stumble upon your Upwork profile, you'll never be able to charge premium rates if you don't position yourself properly relative to your competition.
I'll explain with a quick story.
I recently hired a new accountant. She charges 3x what my previous accountant charged, despite having identical credentials and services (they're both CPAs).
Yet I'm happy to pay her a premium, because she positioned herself as someone who could help me strategically structure and plan my business for maximum tax-efficiency, rather than someone who merely "does taxes."
Presenting yourself as someone who solves business problems gets you several benefits inside of Upwork's crowded marketplace:
Clients are willing to pay more for a freelancer who "gets" their underlying pains, and can make them go away
This approach helps you quickly stand out from the crowd when submitting proposals for jobs that many freelancers are applying for
It also helps you to tap into the "Hidden Upwork Economy," as clients are naturally attracted to freelancers who demonstrate the best understanding of their business' problems
Whenever I run into a talented freelancer who's unable to command above average fees on Upwork, it's practically a sure bet that they aren't presenting themselves as problem solvers.
This is natural, since we're drawn to freelancing because we love the work. But in order to get ahead of the masses on Upwork, you need to always be thinking from the client's perspective too.
3) I target the right clients — and keep them
One of the biggest complaints I hear about Upwork is that most of the clients aren't willing to pay much. But I pay zero attention to most clients. 
Instead, I specifically seek out clients who have successful small businesses, because:
It's likely they can afford my rates (regardless of whether they've paid this much to other freelancers in the past)
They'll place a premium value on their own time, so they won't be the type of client who constantly shops around for a cheaper provider
They'll need ongoing work on a regular or semi-regular basis
That last point is extremely important, because I see countless almost-successful freelancers on Upwork bidding on job after job, day in and day out. Which is a special kind of hell.
You've probably heard the statistic: It's 10x more expensive for a business to acquire a new customer than it is to keep an existing one.
This is twice as true for us as freelancers, since finding new clients doesn't just cost money, but also time — our most valuable commodity.
Seeking out the right type of client up front — and completely ignoring all the rest — is yet another way that I'm able to earn a great living doing what I love, without having to spend my time hunting and pecking for new work.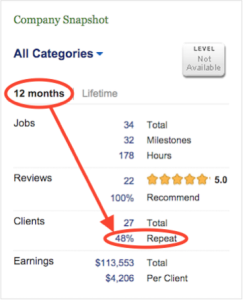 Prospecting is out, connecting is in
There's this idea out there that Upwork is the ninth circle of freelancing hell. A place where gaggles of evil clients gather to squeeze the blood out of hardworking freelancers like you and me.
A cool story to tell around the campfire? Totally.
But it's the stuff of urban legends.
Sure, most of the jobs posted on Upwork don't pay as much as the ones I've shown you. But again, I'm not looking for "most jobs."
And high quality clients — the kind who are happy to pay well for great work — need a lot of care and attention. I can only handle so many at once.
Because of that, I turn down more work on Upwork in a month, than many freelancers accept in an entire year. And I know lots of others who do the same.
This means that plenty of great clients are waiting for you right now.
You may not reach them through advertising, cold emails, or networking…but thanks to marketplaces like Upwork, you can connect with them any time you choose.
Comments? Thoughts?
I'm sure you've got something to say because this can be such a controversial topic. Leave a comment and let's talk!
Keep the conversation going...
Nearly 10,000 of us are having daily conversations over in our free Facebook group and we'd love to see you there. Join us!