Just over ten years ago I started a blog that has now become my full-time job. Not only does my blog support me and my family (my wife and three kids) plus my small team, it's also a complete blast being a full-time blogger.
It's crazy to realize that almost 5 million people have read this tiny little blog I started as a hobby.
But whether you have the goal of starting a blog for money or just for fun, as a career or just on-the-side, setting up a blog have never been easier.
In fact (unlike 10 years ago when I started), just about anyone can set up a blog in 25 minutes or less.
Maybe you're tech-savvy. Maybe you're not. It doesn't matter. Using the simple step-by-step tutorial below, literally anyone with a computer and a credit card can start their blog (for very cheap) and be up and running in around 25 minutes.
Here's how to get started.
Step 1: Visit bluehost.com (my blog readers get a discount)
The first step is ultra-simple, just click here to visit Bluehost.com, the host and registrar I recommend for anyone just getting started. What I love about Bluehost is they give you a FREE domain (other hosts charge you $12+ for that) and a super-easy one-click blog installation (
Readers of this blog get a special offer starting at $3.95/mo (instead of the usual $7.99/mo) so be sure to use this special discount link.
From there, just click the green button that says "Get Started". You can see what I mean below.
Step 2: Choose your plan (you can always change later)
The next screen will ask you to "choose a plan." You'll have at least 3 options for hosting and registration to choose from. I recommend starting with the most basic plan.
The basic plan is perfect for getting your feet wet in blogging. From there on out, you can see how you feel about it and upgrade if necessary. You can always add more…and pay more… later.
Bluehost marks their most expensive plan as "recommended" (of course), but you'll notice there's not a ton of extra value unless you want to start multiple blogs at once. And like I said: if you ever want to upgrade you can.
Step 3: Name your blog (or skip until later)
The next step you're faced with is a big one, I won't lie. At this stage, Bluehost will ask you to name your blog. This big commitment can be a bit overwhelming. Here's what I suggest:
If you know exactly what to name your blog, go ahead and type it in to claim it before someone else does.
If you're not sure what to name your blog yet, click the secret little "Choose Later" button at the bottom of the screen. From there, you can finish signing up and keep brainstorming your blog name.
PS: I'll continue this tutorial as if you went with the first option above, chose a name, and it was available.
Step 4: Fill out your account information
From here, it's fairly self-explanatory. Fill out each field as requested (don't worry about a "business name"; it's optional).
The email address you enter here will be used to send you important account information and website updates, so make sure you choose one you have easy access to.
Step 5: Choose a package (you can always change your mind later)
Next, it will show you some basic package information and ask you to pick an account plan.
I recommend going with the basic 12-month plan (as shown below). Yes, it's a little more per month ($5.95 vs. $3.95) but it's a larger total at checkout ($94.80 instead of $71.4).
The real question is: how long do you plan to be a blogger?
If you're 100% positive you'll stick with it more than one year, then you should definitely get the longer-term plans.
If you're unsure about your future as a blogger, save yourself the $20 extra and just see how you like it for 12 months. Like I've been saying: you can always change your mind in the future.
Step 6: Uncheck all package extras (except domain privacy)
Before letting you check-out, Bluehost will try to upsell you on a bunch of extra add-ons. In reality, you don't actually need most of them right now if you're just testing the waters as a blogger.
Not to kick a dead horse here, but you can also change these settings later and pay the extra costs each month. I recommend you start with the most basic and upgrade later.
Why keep Domain Privacy Protection? Here's why this is important: by law, you have to have a public email and phone number for your website.
In order to keep spammers at bay, Bluehost will cloak your email and phone behind one of their own. It's worth every single penny of the $0.99/mo. you'll need to pay for it.
Uncheck the remaining upgrades and continue on.
Step 7: Add your payment information
All that's left now is to input your payment information including your credit card number, CVV/CVC code (usually on the back of the card) and the expiration date.
Need PayPal instead?
If you'd rather pay with PayPal, all you have to do is click the "More payment options" link and it will reveal a secret "Pay with PayPal" checkbox. When you complete your checkout, it'll send you to PayPal for confirmation.
Step 8: Agree to terms and click submit
The final step to setting up your domain is to agree to Bluehost's terms and click "submit."
This will create your Bluehost account, register your domain, connect your email and credit card to your domain and account and finalize everything.
Step 9: Begin blog software installation (way easier than it sounds)
The final step you need to take before you can start blogging is to actually install your blogging software on your new domain.
A platform called WordPress is the industry-leader when it comes to blogging. Bluehost, knowing this, offers an incredibly simple one-click installation for WordPress.
To activate the WordPress one-click installation, visit your Bluehost dashboard (this will only work if you followed the steps above to complete a Bluehost account).
Scroll to the "website" section and select the "Install WordPress" icon.
From there, you'll be taken to the most simple installation wizard you've ever experienced.
All you have to do is follow the guided instructions, and you have a blog on your hands. Here's how it goes:
Click "Continue Installation"
On the first page, Bluehost informs you of their partnership with MOJO to manage all your WordPress installations and details. All you have to do is click "Continue Installation."
Step 10: Select the correct domain (there's probably only one)
Next, you need to tell Bluehost/Mojo where to install your shiny new WordPress blog.
Most likely, you'll only have one domain to choose from when you click the dropdown menu. It should be the domain we set up in step 3 above.
Choose that domain from the dropdown menu and don't add anything in the "directory" field.
You only want to include a directory if you want your blog installed in a directory or folder on your site. For example yourblogname.com/blog instead of just yourblogname.com.
If the primary purpose of your site is to function as a blog (most common), then ignore that "directory" field and click "Next".
Review recommended plugins
As a side-note, Bluehost will recommend a few helpful plugins for your blog. Plugins are small add-on apps that help your site accomplish certain tasks: things like contact forms, recipe cards, email subscribe forms, etc.
My personal opinion is you should never install plugins without researching them more fully, so I would recommend you don't leave these boxes checked. But it's up to you, here. They won't break anything and you can always uninstall them later if you don't like them.
You will have an entire world of plugins available to you once you set up the blog completely.
Step 11: Choose your admin info
This step can seem a bit confusing at first. Didn't you just enter a bunch of admin information like username and email address?
Yes, you did. But that was for your Bluehost account. Now, we're setting up a user for your new blog which will be completed in just a few moments.
To begin that process fill out the fields as explained in more detail below this image:
1. Site Name or Title
Here's where you name your blog. This will show up a few places on your blog including possibly the navigation menu or in your browser tab. You can easily change this later.
2. Admin Email Address
This email address will be used to login to the WordPress admin panel of your new blog. You'll also receive WordPress updates regarding your domain and other important information. Make sure it's an email you have full access to. You can easily change this later.
3. Admin Username
This username will be how you sign in and identify yourself on your new blog. On some WordPress blogs, the username is also used publicly to identify you as the author of the blog posts you write. You can easily change this later.
4. Admin Password
This is the password you'll use to login to your WordPress site as the administrator. Make sure it's secure since anyone with this password and your email address will be able to log in and have full access to all aspects of your new blog. You can easily change this later.
5. Automatically create a new database (leave checked)
Leave the checkbox checked asking if you want to create a new database for your blog. In short, a database is where all the information (blog name, authors, blog posts, images, categories, and lots lots more) is stored. Do not uncheck this box unless you are well-versed in database management.
6. Overwrite any existing files (leave checked)
I'll assume you just set up your new domain using the steps above which means you won't have any existing files to worry about. Leave this box checked. This cannot be undone.
7. Agree to terms of service (leave checked)
Not much to say here. It's a standard "terms of service" checkbox. Do what you have to do—read it, don't read it, you know…
Finally, double-check your work and click "Next".
Step 12: Wait a few minutes… (easier said than done)
Now comes the hardest part: waiting.
Usually, the setup happens quite quickly—within 15 minutes almost guaranteed.
To appease your excitement, just keep refreshing your website by typing your blog address into your browser and refreshing every couple of minutes (or, you know, seconds. he he.)
Step 13: Login to your new blog! (YAY!!)
Once you see a page with the WordPress logo on it, you're almost done! Here's what it looks like:
From there, use the information you provided in step 11 (points 3 and 4) to log in to your brand new blog!
Step 14: CELEBRATE! And get to work
Congratulations! You are the proud new owner of a brand-new blog. Great work. I'm extremely excited for you.
It's time to celebrate!!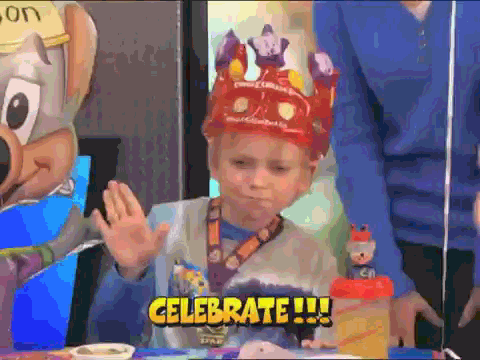 Now, the real (fun) work begins! It's time to build your first pages, write your first blog posts, build a revenue strategy (if you want to monetize your blog) and lots more.
I've written an even more in-depth article to help you continue through the process. You can read it at the link below:
How to start a blog and make money in less than 24 hours (Checklist & Tutorial)
That's it!
How was it? Not too painful, right? Hopefully it was quick, exciting, and you're ready to go. If you have any questions about this process or moving forward with your blog, you can reach out to me via email. I'd love to hear from you!
Until then, keep up the hard work and remember to have fun.
—Preston Lee, Millo
This blog post may contain affiliate links and (at no additional cost to you) we may earn a commission.