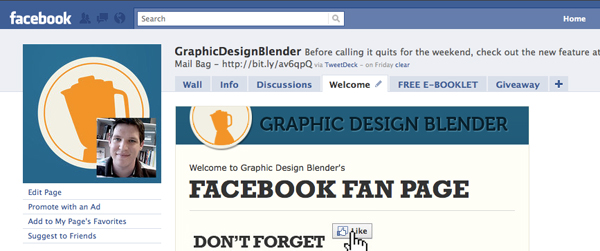 Anyone who owns a business, from freelancers to top CEOs, knows that they need to be on facebook. You know you need to establish a successful presence on facebook for your design business. What a lot of people don't understand is why and how. After all, it's not enough to just "be on facebook" anymore, you've got to work hard to use facebook as a primary facet in your marketing strategy.
Whether you are a freelance designer just starting out, or a thriving design business with hundreds of clients, hold on to your hats, because today we'll be diving into the essential elements of a successful facebook page for your design business.
Not more than a month or two ago, I decided to finally create a facebook page for GraphicDesignBlender.com. I had designed and coded multiple facebook pages for previous clients, but had never taken the time to create a page for readers of Millo.  Since creating the page, I have had multiple readers here at the blog ask me how to create some of the content they've seen at the Millo facebook page so I'd first like to tackle the essential elements your facebook page should include and, in a future article, offer a few tutorials on how to create the optimal facebook page for your design business.
Essential elements of a designer's facebook page
GOOD DESIGN & FAMILIAR BRANDING
This may seem like a no-brainer, but if you are a designer or a design company, what can be more important than making sure your facebook page is attractive, easy to read, and visually appealing? When visitors first come to your facebook page, whether they be clients, blog readers, fellow designers, etc., they should be immediately greeted with familiar branding styles that they affiliate with you and your work. You'll notice that at Millo's facebook page, each custom page matches the colors, logo, font choice, etc. of GraphicDesignBlender.com.
A WELCOME PAGE & CALL TO ACTION
After gaining the attention and respect of your visitors, one of the first things you need to do is invite them to take action. Most likely, on a facebook page, your call to action will be asking them to "like" your page. This will give them updates in their personal timeline of when someone posts on your facebook page wall. Users who "like" a facebook page are more likely to see the content you share and consequently share it with their friends.
The perfect way to have a successful call to action is to design a custom welcome tab for your facebook page. (More to come later in the tutorials on how to create custom facebook tabs for your design business.)
EXCLUSIVE CONTENT
When users take time to "like" your page and promote your business, take time to give them something in return. In fact some pages offer specific discounts, exclusive content, or free stuff for those who "like" their page. This can be done simply with some facebook markup language (FBML) that causes content to be hidden from users unless they "like" your page. Exclusive content can be a reat way to say "thank you" to those who support your facebook efforts.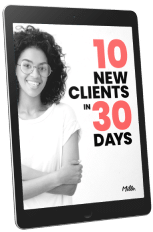 Need more clients?
Get more freelance work with our FREE book: 10 New Clients in 30 Days. Enter your email below and it's all yours.
COMMUNITY INVOLVEMENT
One of my favourite aspects of facebook is that everyone is familiar with how it works. This makes it really easy for people to write on the facebook page wall, respond to content I publish, add their own content, "like" content and more. Users don't have to learn a new interface when dealing with a facebook page because it is the same interface they have been dealing with all along.
So take advantage of the situation! Ensure those who join your facebook community have opportunities to get involved. For example, a month or so ago, I ran a competition on the Millo facebook page where readers from the blog could upload their business card designs for a chance to win 100 free business cards. Whomever got the most "likes" from their peers on facebook, won the design contest. It was an extremely fun way to get others involved on the Millo facebook page. (In fact, I'm going to be starting a new giveaway soon, so stay tuned at the Millo facebook page).
GIVEAWAYS & OTHER PROMOTIONS
In conjunction with what I mentioned above, giveaways and other promotions are a great way to boost your facebook page. I know of some businesses who spotlight a member of their facebook page each week. They usually give them some sort of prize and always recognize them on their facebook wall. Why not promote a client, blog reader, or fellow designer? It's a great way to build relationships and help others with their goals as well.
MEMBER DISCUSSIONS
You'll also notice that on the Millo facebook page, there are a couple of discussions under the "discussions" tab. While I enjoy to have most of the discussion happen here at the blog, sometimes it is nice to have discussions on facebook (again because people are familiar with how to use facebook). A discussion board on facebook is a great way to learn more about the facebook page members, ie: their needs, concerns, etc. You could, for example, start a discussion with potential clients where they can ask you advice on their design or marketing efforts. What a great way to establish relationships with potential clients.
LINKS BACK TO YOUR PRIMARY SITE
Last but definitely not least, you want to make sure to include links back to your primary site. After all, the facebook fan page is only an appendage to your company site or design blog. Don't forget to help users spend time on your site as well as on the facebook page. For example, on the facebook fan page for Millo, I have included a place to subscribe to the RSS feed, twitter account, or email newsletter for the blog. I've also included links to some of Millo's top content on the welcome page.
These are just a few ideas I have had with my facebook page and a few things I have learned by studying facebook marketing. What other tips, advice or suggestions would you give to others who are excited about setting up a facebook page for their design business or design blog?
Also, don't forget to check back soon or subscribe via twitter or RSS, because we're going to go over a few tutorials on how to create these awesome elements of a designer's facebook page.
Keep the conversation going...
Over 10,000 of us are having daily conversations over in our free Facebook group and we'd love to see you there. Join us!