A couple days ago, we discussed
which job title you should put on your business card as a freelance designer
.
That got me thinking about how important it is to be able to explain your business to other people quickly and effectively.
The most common technique of mastering how to talk about your business is called an elevator pitch. If you're unfamiliar with the idea, here's where it basically comes from:
Imagine you were on vacation or downtown and you met a potential investor, client, business partner, etc. on an elevator ride. You'd only have a few floors (a matter of 30-60 seconds) to explain your company, make an impression, leave them with a call to action, and hand them a business card. In the business world, they teach you to always have an elevator pitch ready.
Always!
So today, we'll talk about the vital parts of a solid elevator pitch for your design business. Most likely, you'll be able to use this elevator pitch when you bump into potential clients on the elevator, train ride, grocery store line, etc.
Explain your company
(ONE SENTENCE)
The first task is to effectively and quickly explain your business. You want to be clear, avoid vocabulary that is unique to your particular area of expertise, and make it quick!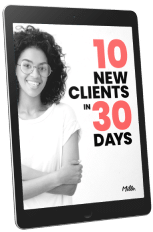 Need more clients?
Get more freelance work with our FREE book: 10 New Clients in 30 Days. Enter your email below and it's all yours.
Try something like: "I'm a web designer specializing in sites that my clients can manage and update on their own without any knowledge of HTML."
Make and impression
(ONE SENTENCE – OR LESS)
Next, you'll want to say something that they will remember after you both get off the figurative elevator. Try to say something that will set you apart from your competition.
For example something like: "There are a lot of designers out there who want to have control of your site and charge you every time you make a change, but I'm not like that."
Call them to action
(ONE SENTENCE)
Now you should put your new-found friend on the spot. Invite them to do something. The likelihood that they will ever act on your conversation is ery low unless you specifically invite them to do so.
A good direction could be something like: "So next time you think about redesigning your web site, give me a call and we'll create a beautiful site you can update on your own."
Give them a business card
Lastly, have a business card ready. Make sure your contact information is up-to-date and hand them the card sometime during your call to action.
Piece of cake, right?
Well, although all of this might seem easier said than done, developing and using a solid elevator pitch is something you can do today!
It may take time to refine it and make it perfect, but every designer who hopes to grow their client base should work on an elevator pitch today.
IN FACT: Why don't you let us know what your elevator pitch sounds like by leaving a comment on this post. I'd love to hear what you say to promote your business to potential clients.
Quick Sidenote: Have you heard about Hectic? It's our new favorite tool for freelancing smarter, not harder. Client management, project management, invoices, proposals, and lots more. Hectic's got it all. Click here to see what we mean.
Keep the conversation going...
Over 10,000 of us are having daily conversations over in our free Facebook group and we'd love to see you there. Join us!