Well that's an odd headline, isn't it? Calling out the almighty clients like that?
Don't get me wrong, I'd much rather live in a world where every project reaches its completion and no party gets the short end of the stick at the end of it.
But unfortunately, this doesn't always happen, so we should probably think the possible scenarios through and find some ways to protect ourselves from the ugly.
Here's how to make yourself un-cheat-able.
1. Have a contract?
I know, the topic of contracts has been talked about more times than you can shake a stick at, so forgive me for mentioning it here again. But the simple fact is that contracts are crucially important … usually.
The thing is, a contract in itself won't save you from getting cheated 100 percent of the time. Let's face it, if someone wants to cheat you, they will regardless. A piece of paper won't stop them.
So a contract actually brings other benefits: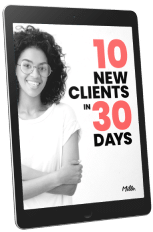 Need more clients?
Get more freelance work with our FREE book: 10 New Clients in 30 Days. Enter your email below and it's all yours.
It helps you do your work. It explains what, how and when something needs to be done.
It makes the situation seem serious.
Should anyone cheat you, it helps you go after the person.
Let's expand on the thing in the middle – making the situation seem serious.
Most of the time, you getting cheated isn't a result of some deliberate intrigue. It's just that a certain sequence of events happens, and at the end of it your client doesn't have the money to pay you. That's all.
Remember, at its core, this is still mainly business for them. If you fail to deliver, or if the funding dries up for one reason or another, they will drop your project. Just like that. No matter how much they like you personally.
Therefore, if there's been no contract then the general idea in the back of your client's head is that even if they don't pay, you won't be able to do anything about it. And they're right.
So save yourself the possible pains, make the project a serious one and always have a contract.
There's already a number of great posts talking about contracts on this site (about 15 pages worth), so I'll just stop here and point you to some of them.
And if you're serious about contracts but need a jumpstart, check out our ebook bundle complete with contract templates, the ebook, a legal glossary, and more.
2. Avoid spec work
Spec work, is just a more subtle term for work you do free of charge before being actually hired.
In theory, clients use spec work to determine if you're going to be a good fit for the project. Well, at least honest clients use it for this purpose. Crappy clients use it to extort free work.
The practice is all too common in the freelancing space if you ask me. And it's not only design. Literally everyone's affected, writers, designers, SEO professionals, even consultants.
The difficult thing is that dealing with spec work requests isn't actually that straightforward. Obviously, you don't want to do it. But at the same time, you don't want to scare the client off if they happen to be an honest person.
So what you can do is either of these:
(a) Find a gentle way to explain that what they can find in your portfolio should be enough to assess whether or not you fit with the project they have at hand.
(b) Deliver the requested spec work with watermarks or other anti-theft protection.
Note. I only advise to do the latter if the client seems like a valuable one and if your investment is likely to pay off.
3. Get half of the money up front
This is by far the best way to secure yourself, at least partly, from anything bad that might be coming your way.
It's simple math, actually. Think of it this way, even if the absolute worst case scenario happens and the client vanishes mid-project then the most you lose is the other half of the money.
Getting half of the amount up front is also beneficial for other reasons:
You have the money, which is always good.
It makes the situation serious (just like a contract) and ensures both parties that things are already in motion.
It motivates you to do the work.
It motivates the client to have the work done. (This one may sound counterintuitive, but not all clients are actually that eager to see their project completed.)
The thing about advance payments is that almost all honest clients have absolutely nothing against them. More than that, they will be happy to pay you, precisely because of the reasons listed above.
If you're not sure how much to charge, we can help with that too.
4. Pay attention to the red flags
Most client relationships start kind of normal. Everything's fine, everyone's excited and ready to get started with the project, but then something unexpected happens – a client says something that's a bit odd.
That's why we call those things red flags. Red flags indicate possible trouble, especially if you ignore them.
Let's go over some of the more common ones:
"This will look great in your portfolio."
Sounds innocent, but what it actually means is that the client has no money and will almost certainly be late with your payments. After all, you're doing the work to be able to put it in your portfolio, not to get paid, right?
"We'll have more work after this project."
This is meant to get you excited and willing to work for lower pay today just because there's more work coming your way in the future. Granted, more work might indeed be coming your way, but almost 100 percent of the time you're better off assuming that it's a one-off thing.
"Help me with ______. This will only take you a minute."
In this case, the client wants you to do some additional task for free, purely because your experience allows you to get it done quickly. On the contrary, the fact that you're experienced is precisely why you should get paid for this.
"We need a design ninja for this project!"
Phrases like "design ninja," "WordPress extraordinaire," "Photoshop magician," are meant to achieve two things: (1) make you feel good, (2) disguise the fact that the client doesn't really know what your work is about.
"Let your creative juices flow."
This in plain English means, "I have no guidelines and absolutely no clue what I want you to do in this project." This can create problems later down the road when you start presenting some designs and the client has no way to evaluate them.
In general, whenever any of these happen, just treat it as a sign that some problems are possibly just around the corner. Whether or not you should turn away the client automatically is up to you.
Do you need to be extra careful about this?
I really didn't want to make this post sound overly negative, so if that's your impression, I'm truly sorry. In fact, I'm really grateful for everyone I've had the privilege to work with.
After all, clients are the reason why I'm here, writing an article and not sitting in a cubicle somewhere.
That being said, every once in a while you will stumble upon someone who's not entirely honest, or someone who, at first, didn't want to do you wrong, but it just turned out that way. You just need to be prepared for that.
In a sentence, the best rule of engagement I can give you is this: Be positive, but cautious. Expect things to go great, but at the same time be ready for them to go bad.
What's your take, have you encountered any serious client problems in your career so far?
Keep the conversation going...
Over 10,000 of us are having daily conversations over in our free Facebook group and we'd love to see you there. Join us!