Table of Contents
This post may contain affiliate links. See our affiliate disclosure for more.
When it comes to comparing accounting software, QuickBooks is probably the most recognizable and well-known. However, Wave has some very robust features (and attractive pricing) that puts it up as a strong competitor.
Accounting is vital for freelancers and the self-employed, because without a solid bookkeeping plan, you won't get paid.
And that's kind of an important part of why we do what we do, right?
Choosing the right freelance accounting software helps you see trends in your expenses and revenue, plan for the future, and stay on top of taxes. But which is the right software for your business? Let's take a look at QuickBooks vs. Wave and see what features and downsides each has to offer.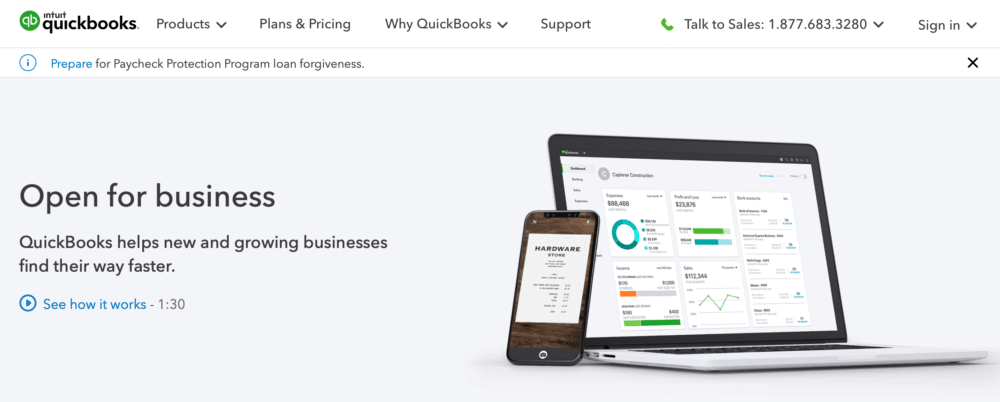 QuickBooks: The Accountant's Choice
QuickBooks by Intuit is an extremely strong accounting software platform that many business owners use. From managing bills, payroll, and tax deductions, to tracking your mileage and invoicing, when it comes to money — QuickBooks Online has the functionality to do it.
Features
In the QuickBooks vs. Wave debate, features are a huge factor. QuickBooks is a vastly comprehensive tool. Launched in 1992, QuickBooks has been fine-tuned for decades to provide small business owners with everything they need.
Here are just a few to consider:
Invoicing & payments
It's easy enough to generate invoices, but QuickBooks takes billing to a new level. The sophisticated software allows you to take payments right from the invoice – including credit or debit cards and ACH transfers. It doesn't get much more convenient for you or your clients.
Expenses
Tracking expenses is especially important to freelancers, because when taxes roll around, many expenses can be deducted, saving hundreds – or even thousands – of dollars. QuickBooks allows minute details to be tracked, including dates, payment method, categories, etc.
Reports
The reporting feature is a little more robust in QuickBooks vs. Wave. QuickBooks Online has more than 50 different types of reports that can be built within the program. Anything you want to see data on is there at your fingertips.
Estimates
The QuickBooks estimates tool allows you to create, send, and track the status of proposals for existing or new clients. Professional estimates help you win and maintain clients.
Time tracking
A valuable feature to consider when comparing QuickBooks vs. Wave is the integrated time tracker. Right from the software, you can track your own time, have employees or subcontractors track their work, designate billable hours and rates, and generate invoices. It's definitely a time saver!
Tracking mileage
One of the more unique features of QuickBooks is the mileage tracker. The QuickBooks app allows everyone on your team to keep track of travel with the click of a button. The app automatically tracks miles as you drive. If you travel a lot to visit with clients or provide services, this feature alone may tip the scales in the QuickBooks vs. Wave question.
Bookkeeping
Bookkeeping is the backbone of what an accounting software does. This is how you track everything that comes in, and everything that goes out. QuickBooks offers in-depth bookkeeping options for nearly every possible need or outcome–which gives it a bit of a steep learning curve.
Pricing
Pricing varies depending on your needs, but the QuickBooks Online Simple Start plan (for 1 user) starts at $25/month. Keep in mind that if you use the payment features for clients, there is also a transaction fee of 2.9%, or $.25 per transaction if you take the credit card in-person. They run promos frequently, and if you want to compare QuickBooks vs. Wave for yourself, there is a free 30-day trial available.
Pros
With over 1 million users, QuickBooks has a strong reputation for providing top-notch accounting services to business owners.
The robust features and functionality mean QuickBooks can grow and scale with you.
It's a popular tool, which means many of your clients will already be familiar with the setup.
Cons
Mostly focused on accounting, QuickBooks lacks some specific industry needs for eCommerce businesses.
As a sprawling corporation, customer support isn't always timely (or helpful).
Fees, while minimal, can add up for a very small business or a one-person show

Wave: The Free Alternative
As they put it, Wave is, "the better way to make, move and manage your money." They've made it simple and easy to invoice, get paid, and manage your income with their award-winning accounting software. Liked by many freelancers, Wave is a great option to explore for your freelance business needs.
Features
Looking at QuickBooks vs Wave, it's easy to dismiss Wave accounting as a contender when you hear that it's a (mostly) free tool. While Wave doesn't have every resource that QuickBooks does, it's actually packed with useful features for freelancing.
Some of them include:
Invoicing
Wave's invoicing feature is easy to use. Simply walk through a few drop down menus to set up your clients, rates, and the template you want to use. The finished product looks great and is easy to track within the Wave software.
Payments
It's easy to get paid with Wave. You can tie invoices directly to your Paypal or Stripe account, or accept credit cards. Wave, vs. QuickBooks, has a lower transaction fee at just 1% of what you take in. You can transfer payments out of your Wave account and into your bank account in as little as two days.
Accounting
Wave is great for keeping track of simple income and expense tracking, plus managing  your cash flow. You can track profits, loss, sales tax, cash balance, etc. You can share all of your records with an accountant or other team members. Additionally, if you work under more than one brand you can manage multiple businesses in the same software.
Payroll
The payroll feature is one of the few things that you must upgrade your Wave account to get. For the price point, it offers a lot of services. You can pay employees, of course, but also manage tax compliance, benefits, track vacation time, and more. This simple solution even supports direct deposit, which everyone you work with will love.
Receipts
Wave offers the capability to scan receipts to track expenses right in the app. This is incredibly helpful when you're on the road or just don't want to keep track of a paper trail. Just snap a picture and Wave digitizes the information–you double check and approve it, and it is instantly uploaded to your account.
Pricing
Wave is an absolutely free accounting software (yes, you read it right). If you add the ability to accept payments, you pay processing fees, and payroll is an additional $20/month, plus you pay a per-employee fee.
Pros
Streamlined features and processes make Wave a simple QuickBooks alternative to learn and use.
Especially for solopreneurs or those of us running a very small business, you cannot beat the price.
Most customers report excellent customer service
Cons
A free app can't be expected to do everything a paid solution does, and Wave does lack some of the features of Quickbooks.
Invoices and other features aren't fully customizable, you have a small selection of templates to work with.
With the lack of features and limits in the software itself, Wave is not the best solution for businesses that plan on growing.
QuickBooks vs Wave: what's the best choice for you?
Both QuickBooks and Wave have an array of accounting tools to suit your freelance business needs. Depending if you have employees/contractors you pay out, plus how in-depth you'd like your reporting and bookkeeping, one service or the other will be the best choice.
QuickBooks is an excellent service if you're looking for more robust service and a scalable option.
Wave is perfect for new freelancers or those with a very small budget for bookkeeping.
Both offer basic accounting features, simple invoices, and a variety of reports. If that isn't enough, there are almost endless add-ons available for either service. With these you can integrate with Google Drive, MailChimp, Slack, your Amazon seller account, and dozens of others to make your experience as seamless as possible.
It's also important to note that both have a mobile app, available on iOS and Android.
Your current needs, future goals, and comfort with accounting will help you determine which is best for you. If you find that you want a solution somewhere in the middle, checkout our comparison of FreshBooks vs Quickbooks.
Conclusion
If you're asking the question: "QuickBooks vs. Wave–which is right for my business?" you're already on the right track.
It's incredibly important to track all of the ways you generate and use money. Using an accounting program, whichever you choose, will give you valuable insights into your strengths and weaknesses.
Once you make a choice, let me leave you with some advice.
Block out some time to really learn your bookkeeping program.
There are so many features in a great freelance accounting software that can make a huge difference in the success of your business. But if you only spend one day uploading your financial information and adding team members, you'll never take advantage of what is really being offered.
Whether you use Wave or QuickBooks, ensure that your freelance accounting software is working for you and ultimately forwarding your business goals.
Keep the conversation going...
Over 10,000 of us are having daily conversations over in our free Facebook group and we'd love to see you there. Join us!