Table of Contents
This post may contain affiliate links. See our affiliate disclosure for more.
Many freelancers are living the dream. They work when they want, where they want, and with who they want.
Maybe you've dreamed of joining the millions of other freelancers who have taken control of their careers — and their income — by becoming freelancers.
But you might not know where to start. What kind of freelance work can I do, anyway?
Whether you are creative, analytical, or incredibly detail-oriented, there's a freelance career to fit your skills and your dreams.
What Kind of Freelance Work Can I Do: Freelance Jobs to Consider
So, what can you do as a freelancer? Pretty much any job in the world can be done on a freelance basis, however some positions lend themselves more to a freelance setup.
Here are 31 freelance careers to consider.
What Kind of Administrative Freelance Work Can I Do?
Administrative freelance jobs are a great way to put your analytical and organizational skills to work. Here are a few freelance jobs to consider.
1. Virtual Assistant
Virtual assistants help business owners, marketers, authors, and other professionals by taking over administrative and business tasks so they have more time to focus on writing. The tasks you perform will vary by the client but often include scheduling meetings, sorting email, sending invoices, scheduling social media posts, and performing web research.
Helpful skills: Attention to detail, communication, and familiarity with CRMs, email management, social media, invoicing, and project management tools.
2. Data Entry
Data entry is a critical job in fields where data is gathered from physical forms or from multiple sources. For example, you might work in HR, medical billing, or accounts receivable. Much of data entry is being taken over by automation, so familiarity with automation tools may help you land a job.
Helpful skills: Computer skills, CRM familiarity, attention to detail, and fast typing speed.
3. Customer Service
As a customer service freelancer, you might work the phones for a multinational company, work as a live chat operator, or answer emails.
Helpful skills: Past customer service experience, research, writing, and attention to detail.
4. Presentation Design
Good with data and graphic design? Consider writing and designing presentations for speakers and executives.
Helpful skills: Writing, research, and familiarity with programs like Slideshare, Powerpoint, and Google Slides
5. Web Research
Find and analyze information on a wide range of topics. For example, perform research for an ebook or academic paper.
Helpful skills: Research, writing, data analysis.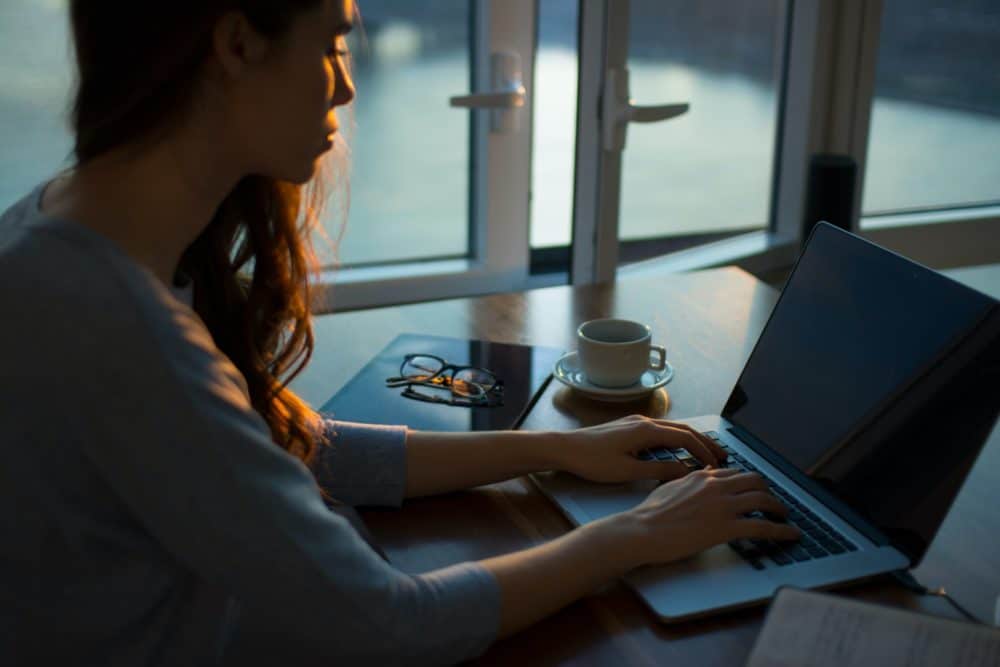 What Kind of Creative Freelance Work Can I Do?
If you love the flexibility of freelance but crave a fulfilling job, creative freelance jobs may offer the perfect balance.
6. Infographic Design
Work with brands or marketing companies to create visually appealing infographics that make data easier to understand.
Helpful skills: Graphic design, web research, writing, and familiarity with design programs like Canvaa, Photoshop, and InDesign.
7. Digital Artist
Many digital artists focus on creative work, but there is a market for creative artists in the business world as well. Positions include drawing at conferences, providing original art for marketing, and creating unique art for brochures, print magazines, and book cover design.
Helpful skills: Drawing, painting, and familiarity with programs like Corel Painter, Photoshop, and InDesign.
8. Logo Design
Help brands put their best foot forward by creating unique, engaging logo designs.
Helpful skills: Graphic design, typography, branding, and marketing.
9. Branding Designer
Branding designers often do logo design and more. For example, you might create a variety of logos for different formats, such as the website, print media, and physical products. You might also help choose a brand font and brand colors.
Helpful skills: Graphic design, typography, branding, and a familiarity with marketing best practices.
10. Graphic Design
Graphic design freelancers get to work on fun jobs they actually care about. Rather than focus on just one or two areas of graphic design, you could create a wide range of digital assets including infographics, logos, newsletters, PPC ads, hero images, blog featured image posts, and custom charts.
Helpful skills: Graphic design, typography, color theory, and marketing best practices.
11. Copy Editing
Not everyone is a great writer. As a copy editor, you could help clients produce high-quality writing by checking for misspellings, grammar mistakes, and awkward sentences. You may also be responsible for verifying sources and making sure content is optimized for online search.
Helpful skills: Proofreading, attention to detail, familiarity with APA and MLA style guides.
12. Proofreading
Help brands and writers produce their best work by serving as a second set of eyes. Unlike copy editors, who also check for sentence structure and flow, proofreading focuses more on grammar mistakes and spelling. Here's more tips and where to find jobs on proofreading.
Helpful skills: Attention to detail, spelling, grammar, and familiarity with APA and MLA style guides.
13.Video Editing
Video has exploded in recent years, especially since many people are still not meeting in person. Video editors edit and format videos for sales people, brands, social media managers, and many others.
Helpful skills: Experience in video editing and familiarity with video editing platforms like Adobe Premier.
14. Interior Design
As a freelance interior designer, you will help clients design and furnish their home, office, or other interior spaces. Job responsibilities may include suggesting furniture layouts, managing a budget, choosing materials, and organizing deliveries.
Helpful skills: Communication, style, organization, and creativity.
What Kind of Freelance Work Can I Do in Marketing?
The marketing industry is exploding. According to one study, the industry is worth a jaw-dropping 1.7 trillion dollars. Which means there are plenty of freelance opportunities in the marketing industry. Here's a few to consider.
15. Marketing Writing
As a marketing writer, you will be responsible for writing a variety of marketing-related assets, including blog posts, ebooks, and landing pages.
Helpful skills: Writing and an understanding of marketing best practices like SEO and on-page optimization.
16. Copywriting
Copywriters write advertising-related marketing assets, such as landing pages and copy for websites, brochures, and paid ads. Find the best copywriting jobs here.
Helpful skills: Online marketing, writing, and attention to detail.

17. Social Media Marketer
As a social media marketer, your job will entail helping businesses reach their audience through platforms like Facebook, Twitter, TikTok, LinkedIn, and Instagram. Learn how to get your start and find jobs.
Helpful skills: Deep understanding of the marketing landscape, data collection and analytics, and communication skills.
18. SEO
Search Engine Optimization (SEO) is a diverse field, which means there is a wide range of positions available. You could work as a consultant, offering advice to brands, perform SEO audits, or even work as a marketing director for a brand.
Helpful skills: Deep understanding of digital marketing, the ability to explain complex topics concisely, and research.
19. PPC
While SEOs focus on helping websites get found through search engines, PPC managers help businesses manage paid ads to increase sales and site traffic.
Helpful skills: Deep understanding of paid platforms, including Google and Bing, data analytics, and communication.
20. Content Marketing
As a content marketer, you will work hand in hand with clients to develop and produce content to help educate and entertain their audience. Job responsibilities might include writing blog posts, researching keywords, developing a content strategy, and reporting on metrics.
Helpful skills: Writing, marketing, and data analytics.
21. Link Building
As a link builder, your job is to encourage other websites to link to your clients. You may work hand in hand with SEOs and content marketers to create a strategy, reach out to other website owners, and work with writers.
Helpful skills: Deep understanding of SEO and other digital marketing practices, writing, reporting, and research.
22. Email Marketing
Email marketers create and launch email marketing strategies to meet their client's needs. For example, you might develop an email campaign, create and design the actual emails, then track the results.
Helpful skills: Marketing automation, email best practices, writing, simple HTML coding, graphic design, and familiarity with email marketing platforms like MailChimp and ConstantContact.
What Kind of Freelance Work Can I Do For Development?
If you are a computer whiz, then development freelance jobs might be up your alley. These jobs require skills like coding and computer science, but that knowledge can garner a much higher hourly rate.
23. Web Developer
As a web developer, your job responsibilities might include creating and modifying websites for brands and other organizations. You might work with graphic designers, marketers, and managers to implement new features.
Helpful skills: Coding, data analytics, API integration, and a basic understanding of online marketing best practices.
24. App Developer
As an app developer, you would work with brands, organizations, or gaming companies to create, test, and launch mobile applications.
Helpful skills: Coding, project layout, familiarity with iOS, Android, and API platforms.
25. Ebook layouts
As an ebook layout freelancer, you may work with brands or writers to turn completed manuscripts into publishable ebooks. Tasks may include creating layouts, numbering pages, inserting title pages and tables of contents, and converting file formats.
Helpful skills: Graphic design, typography, coding, and familiarity with ebook formats such as EPUB, Kindle, and PDFs.
26. Game development
If you love games and have coding skills, game development could be an ideal career. Work with brands or gaming companies to create, test, and launch mobile and computer-based games.
Helpful skills: Coding, games design, organization skills, and familiarity with project management tools.
27. IT/Network Security
IT and network security professionals work to protect the computer networks and data. Job duties might include working with software and hardware, updating security protocols, and installing additional security measures.
Helpful skills: Computer science, network security, and a deep understanding of computer processes.
What Kind of Freelance Gig Jobs Can I Do?
Looking for a freelance job but don't have the specialized skills needed to be a marketer or developer? Or, maybe you need to fill a few extra hours in your week. Here are a few freelance gig jobs that might fit the bill.

28. Tutoring
Teach students how to do anything you are good at — write research papers, pass math, learn a new language, or memorize boring history facts. Many tutors work online, so you won't even have to leave your home.
Helpful skills: Good communication skills, computer literacy, and knowledge of at least one subject.
29. Transcriptions
Transcriptionists take audio content and turn it into a written document. For example, you might transcribe an interview for a journalist, turn a podcast into a blog post, or help a brand add closed captions to their online videos.
Helpful skills: Attention to detail and fast typing speed.
30. Translations
If you know more than one language, you could help translate content from one language to another. While online translation programs have improved, they often introduce errors. Translation jobs might consist of working with book publishers, authors, or brands.
Helpful skills: Fluency in more than one language and attention to detail.
31. Resume and Cover Letter Design
Getting a job has never been easy. As a resume and cover letter designer, you will help job applicants put their best foot forward by helping them edit and write compelling resumes and cover letters.
Helpful skills: Professional writing, the ability to distill information, and good communication skills.
Where to Find Freelance Work
Once you've decided what freelance career you'd like to pursue, it's time to start looking for that first gig. Luckily, there are several platforms you can use to find clients. Here are a few of the most-trusted freelance websites to find work.
Stop scouring job boards and have the best job listings delivered right to you.
Flexjobs is a paid platform, but it is full of high-quality freelance and remote full-time gigs. Jobs are well organized and can be personalized to save you time.
This job board is ideal for writers and marketers looking for clients for short or long-term gigs. It is also free for freelancers. Make sure to read requirements and pay close attention, as the jobs don't seem to be well vetting.
A favorite training and job board site for freelancers in writing, publishing, marketing and the creative fields. Jobs can be sorted by location and key terms.
Freeup is a freelance marketplace, rather than a job board. This means you'll need to create a profile and explain your skills before you can access job listings.
This is an 'exclusive' network of the top freelancers in development, finance, project management, and more. Freelancers do have to be accepted, but the jobs are high-quality.
Despite the name, you can charge more than $5 for jobs on Fiverr. Most freelancers offer a cheap base package and then charge for upgrades—ideal for writers and designers.
The O.G. of freelance jobs, Upwork is the current name for the company previously known as Elance and Upwork. Search a huge range of jobs, pitch clients, and share reviews from previous clients. To succeed on Upwork, make sure to target the right types of clients.
Vollna is a freelance job site that's built to be unique. By setting up a job filter specified to your needs, Vollna's job listings sort through all the top freelance job sites and compile them into one. Created by a fellow freelancer, you can get email notifications based on your filter so you don't miss another opportunity.
Are you ready to freelance?
So, the next time you ask yourself, "What kind of freelance work can I do?" here's another resource of 11 sites similar to Upwork to help you land your next job.
Best of luck, and happy hunting!
Keep the conversation going...
Over 10,000 of us are having daily conversations over in our free Facebook group and we'd love to see you there. Join us!