We all make mistakes; it's learning and improving upon those mistakes that make us better, both as professionals and as human beings.
But with any heavily technology-reliant career, our mistakes can cost us a lot of business. In a time where most organizations are almost subservient to technology, mistakes can cripple – if not completely destroy – a business.
One seemingly small website design oversight or mistake can bring a website crumbling to its knees, cutting a client off from their current and potential customers. And if you're responsible for it, you could easily find yourself out of work.
So avoid these major mistakes when creating websites for your clients…and your own business, too.
Overusing stock images
We all use stock images.
They're easy to find and cheap (if not free) to generate. And let's face it, hiring a photographer to capture perfect photos is rarely within the budget.
However, overusing stock images can make your clients appear to be unoriginal and lazy (and could possibly reflect poorly on you, too). See below:
Don't be afraid to get creative…that's our bread and butter, right? Try developing unique images and infographics to bring originality to your clients' websites. You never know, you might find a great niche.
💔 Falling out of love with your clients? Trade some of your worst clients for the best companies in the world with SolidGigs, our premium weekly freelance job list & course library. Love your business again. Learn more »
Not offering additional services
When it comes to your clients' websites, do what you do best and farm out the rest.
If you're great with SEO, team up with a designer.
If you're a designer/developer, team up with a copywriter.
You get the idea.
Strike up a partnership with another freelancer or organization, one that can offer you and your clients a complete package – marketing, copywriting, search engine optimization AND web design.
You'll also increase your networking potential and are almost guaranteed to help land additional clients.
Pro tip! It's always a good idea to fill in your educational gaps, but not at the expense of your clients. Word of mouth can be your best friend and your worst enemy – don't allow a learning experience to tarnish your reputation or bankrupt your small business.
Creating content solely for search engines
In 1996, Bill Gates wrote an excellent essay entitled Content is King, where he predicted:
Content is where I expect much of the real money will be made on the Internet…
This is no doubt true; however, a website without search engine optimization might never be seen, no matter how great the content is.
Therefore, it's important to write in a way that both people and search engines enjoy.
However, some designers develop content solely for Google, which more often than not creates more problems than client leads.
Below is a website with obvious keyword stuffing. The text at the bottom of the page serves no purpose other than to attempt to game the system. Moreover, anyone visiting the website wouldn't take this business seriously.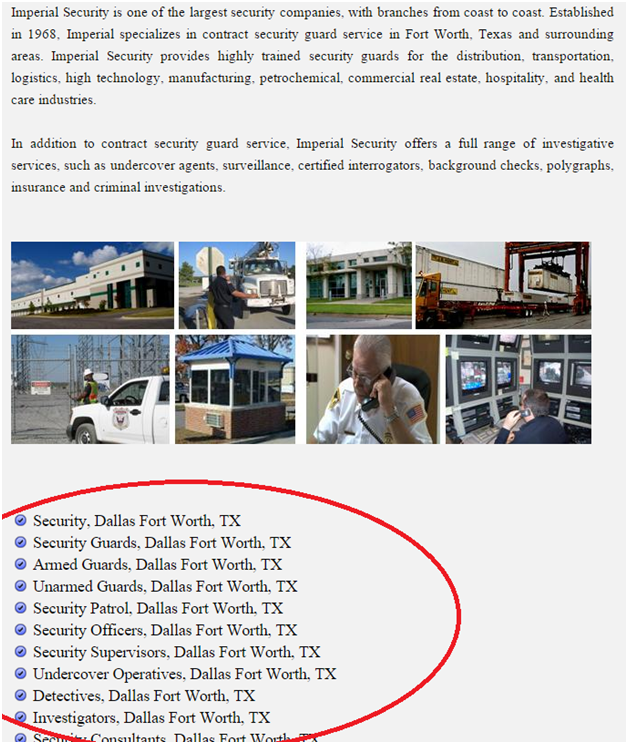 Being a jack-of-all CMS
Whether you're just starting out and using a website builder or you've become a self-proclaimed expert dabbling in multiple content management systems (CMS), FOCUS.
Benefits include:
Faster project completion
Having a handy go-to list of plugins and themes
Recognition of potential problems
Quicker troubleshooting
Better to become an expert (or at least very, very good) in one CMS – WordPress, Joomla, and Drupal are the biggies – than be average…and less efficient…in all of them.
Got a web pet-peeve?
What mistake(s) do you see that make your skin crawl with a desire to fix them? Or maybe you've lived and learnt? Share your stories in the comments!