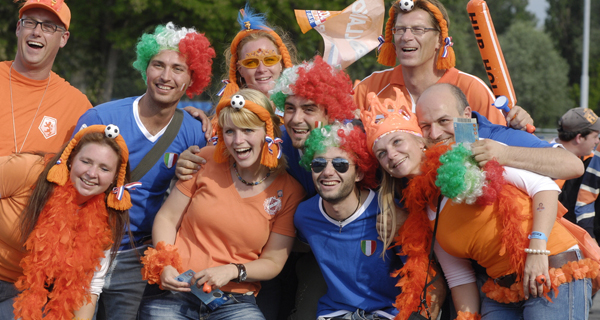 Have you ever been found in this frequent freelance design situation?:
You work hard to find a client, you make a pitch to them, sign a contract, complete a project, get paid, and never see them again.
Granted, with some clients (the ridiculous kind) it's better to never have to deal with them again. But there are plenty of cases where a one-time client simply fizzles out and you never see them again. Chances are, they'll need design work done in the future and, unless you've converted this one-time client into a core fan of your work, they'll likely forget about you or simply choose a different designer.
You'll also enjoy this episode of our new podcast...

So how can you turn one-time clients into core fans who keep coming back and bringing you business? Read on.
What is a core fan?
First, it's important to understand why you need to worry about converting clients into core fans. Core fans are the kinds of clients that trust your judgment. They pay you promptly and always appreciate your hard work. Core fans tell their friends and business contacts about your work, brag about your design to everyone they can, and can't stand to have anyone else do their design work.
In short, core fans bring in more money and more work.
Who doesn't want that!?
💵 Turn complete strangers into paying clients using our new easy-to-follow workbook course, Cold Emails that Convert. Disover the framework we use to book thousands in new clients each month. Save 30% in April only with promo code MILLO30. Click here to learn more.
How to convert a client to a core fan
Now that you understand why building a core fan base for your business is important, how the devil are you supposed to do it? I mean it's one thing to say you want your one-time clients to fall in love with your work, bring you steady income, and make you rich and successful.
It's a whole other thing to actually do it.
Here's the secret that a lot of successful business people don't want you to know:
The key to converting regular clients into core fans is to help them have a paradigm-shifting experience. They need to have an experience with you as a designer that convinces them there is no other reason to work with anyone else. What do I mean? Let me offer a few things you can do to make a lasting impression on your clients:
1. Beat deadlines. And I don't mean by just a few days, I mean get a project done for a client in half the time you originally told them. That's the sort of thing they will never forget and next time they need a reliable designer, guess who they'll call?
Yep. You.
2. Come in under budget. Again, I'm not talking by a few dollars here. I mean, find ways to really give your client a great deal on the work you provide. Be careful not to be known as the cheap designer, though.
3. Solve a major problem. Clients hire designers to solve their problems. Even if you don't claim to be a marketer or an analyst, take time to analyze their problems and attempt to solve them through your work. Next time they face a problem, they'll turn to you first.
How do you convert clients into fans?
So what are your secrets? Have you found a sure-fire way to turn regular ol' clients into core fans of your design business? If so, let us know how you did it by leaving a comment.