Meet Pat the Baker. Pat loves baking cakes, and one sunny morning decided that he wanted to bake the most perfect, delicious, beautiful cake for his new friend, Patty.
But Pat had a problem…
… He had no idea what kind of cake Patty liked!
In fact, he'd never seen her eat one before. It occurred to him that it's very possible that Patty might hate his favorite flavors and colors!
So Pat did the only reasonable thing he could think of. He gave Patty a call and asked:
"Hey Patty, what's your favorite kind of cake?"
"Why, I'm so glad you asked!" Patty replied. And she told him.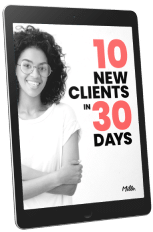 Need more clients?
Get more freelance work with our FREE book: 10 New Clients in 30 Days. Enter your email below and it's all yours.
What the heck does this have to do with you and your business? This all-important lesson:
When you learn about your customers, you can give them exactly what they want. And the more you do that – the more you grow.
Like Pat, I realized that it'd been a while since we interviewed any of our customers at Reliable PSD (our web development company).
We'd grown quite a bit over the past couple years, added new team members, updated our workflows & processes, and increased our customer base, but one thing we hadn't done in a while was get on the phone with the people we enjoyed working with most and have been our best clients.
You see, what your customers think, feel, and believe is a gold mine.
Getting in their heads and really figuring out what drives them and motivates them to make the decisions that they make is invaluable to your business and directly translates to increasing your profits and attracting more of the exact kinds of people you want to work with.
[Tweet "The better you know your clients, the better your business will be."]
It's simple: The better you know your clients, the more targeted you can make your own business and marketing, and as a result…
Your business will grow.
Basically: You can be sure that you don't give them a vanilla strawberry cake when what they actually want is a chocolate hazelnut one 😉
For our own client interviews, my partner David and I came up with a plan.
First, we asked our director of projects, the lovely April Greer (you might remember her from her many years here at Millo!), to send us a list of our top ten customers that she felt represent our ideal customer persona in a few ways:
Their personality and what it was like working with them
The kinds of projects they bring us
The budget they have for these projects
Then, we wrote an email. We told them how much we loved working with them (all true) and that we're always trying to grow and improve things here at Reliable. We wondered if they could take 30 minutes or so out of their day to have a nice, friendly conversation in which we could get to know them better and ask for their feedback on certain things, and in exchange we'd love to offer them 10% off their next project.
We wanted to make sure we gave them something of value as a way to appreciate them for taking the time to talk to us and share their thoughts and feelings.
In short, we bribed them 🙂
The response was overwhelmingly positive
Turns out that when you really like working with someone, the feeling is usually mutual. And the discount doesn't hurt either. 10/10 of the clients we wrote agreed to get on the phone with us. Soon enough, the interviews were scheduled and we got to talking.
Asking the right questions
It took us about a week, but we had a comprehensive list of questions prepared for the calls. We included as many as we could think of in all the following categories:
Personal questions (like age, hobbies, passions, why they chose their profession, etc.)
Questions about us, why they like working with us, what they'd improve, feedback on workflow, communication, the kind of content they want to see from us in our emails, etc.
Questions about our competition, and what their experiences were with them
Questions about new ideas we want to implement in our business (i.e. a new payment system, new proposal system, etc.) and whether or not this would be useful to them
We had about 50 questions in total. We wanted to make the absolute most out of every call and get every last golden nugget of information that we could.
The Art of Listening
One of the most important things we did on these calls was really listen. Actively. Enthusiastically. Listen.
There's so much you can learn when you really listen not only to what people are saying, but also to what they're not saying.
Any time I felt like I could pry more, or dig deeper, I asked.
And every time I asked I got a fuller answer that gave me a clearer, better picture of who they are and what their needs are.
(It also led to more questions that we hadn't planned on – but these were the best, most enlightening questions of all.)
Having your questions written out in front of you in advance really helps with that too, because when you're on your call your focus should be:
Ask
Listen
Clarify
Listen
Clarify
Ask for Honesty, and be Grateful for it
One of the questions I was most eager to ask was what we could improve / do better to make their lives, and working with us, easier.
That's such an important question for two reasons:
It can show you areas for improvement that you may not be aware / see yourself.
You can make your customers feel special by improving those things right away, which is absolutely magic in keeping them happy, coming back, and referring to you.
Because I wanted them to really speak their minds, at the very beginning of each call I asked each client to be brutally honest.
"Don't worry, you're not going to hurt my feelings," I said. "The more honest you are the better. I really want to know your true thoughts and feelings. And the best way for us to really grow and improve is to know the truth without holding back."
And even then it was still hard for them to answer this question, and I had to coax their answers out of them. And though it was sandwiched between lots of praise, and I had to say "it's ok, just say it, really…" the feedback they gave me was invaluable.
Their feedback was mainly about some small detail or part in the process they felt could be improved. These were things I may have not even thought of, like improvements to our proposal process for example. But they were also things that were easy enough to implement right away, which I set in motion as soon as I got off the phone with each client.
The other cool thing, is that once they told me whatever their feedback was, I could ask them more questions about it, give suggestions and clarifications, and profusely thank them for their honesty.
What We Learned
As a result of these calls, we got a much clearer picture of who our ideal clients are, and also who they aren't. We got to know what appeals to them, what doesn't appeal to them, what the most important features they're looking for are, and so much more, so that now we can tweak our website and marketing efforts to match exactly what they told us to attract more people like them.
This also sparked an avalanche of new ideas and marketing campaigns that will directly lead to new clients and new revenue streams.
Not only that, we got direct advice of what we should change / improve.
[Tweet "Interviewing your clients is one of the easiest, cheapest ways to really boost your business."]
It doesn't get any easier than that. Interviewing your clients is one of the easiest, cheapest ways to really boost your business.
What about you? Have you interviewed your clients before?
I'd love to hear how this has worked out for you if you've done it, and any questions you may have about the process if you plan on implementing this into your business below.
Keep the conversation going...
Over 10,000 of us are having daily conversations over in our free Facebook group and we'd love to see you there. Join us!