The new Millo logo is here! + The design process behind it
A note from Preston: Today, I'm thrilled to unveil our brand-new custom-made hand-lettered logo. The logo was designed by the über-talented Dina Rodriguez of Letter Shoppe and I've asked her to share with us a bit more about her onboarding and design process behind delivering the final logo.
I found many pieces extremely insightful including how quickly she responded to my first email and the fact that she never offered me more than one design option.
That's right: One concept, zero revisions, zero headache (for both of us). We can all learn a lot from Dina's process.
I'd also love to hear what you think about the new design. Leave a comment and let Dina and I know how she did!
Take it away, Dina…
• • •
To best see how I worked with Millo to create their new hand lettered logo design, I'll take you behind the scenes all the way to our first emails and through my final design decisions that got us to the beautiful end result.
Psst...
We're building a group of smart, talented freelancers to support each other on LinkedIn.
Wanna join us?
Onboarding Process
I've been a huge fan of the Millo brand since way back in the day when they were still called Graphic Design Blender. So you can imagine my excitement and surprise when I received a notification in my inbox that Preston had just filled out my Request A Quote form on my website.
Within the hour, I immediately responded to show my enthusiasm and to learn more about this interesting new project.
Impressed by my quick response time, Preston and I started hashing out the details so I could have all the information I needed to provide a detailed estimate.
Within 6 days of emailing back and forth, the proposal was born!
With amazing tactfulness and business savvy, Preston and I were able to come to an agreement to do an exchange of services.
As a new full-time freelancer, I was happy to do an exchange of services to help get my name out there. Plus I was eager to work with a brand that has played such a big part to my success as a designer.
Eliminating Preston's Concerns
After the proposal was signed, I delivered my detailed production schedule, which raised some concerns for Preston. Since we had agreed that I could live stream my process on Twitch, he was worried that with my one concept approach that he wouldn't love the final logo.
In an email, Preston wrote:
"I am 99.99999999999999999% sure I'm going to love the design you come up with. (Even more nines if I had the time.) But what happens on the miniscule chance that the logo doesn't work for me?

Then will it have been weird to have shown the process and talked all about it? Because what I'd love to do is post a link to your twitch stream when you're doing it and invite Millo fans to watch…

Can you ease my concern?"
With any new client, there is a certain amount of education involved whether it's your process, turnaround time or the value of your work.
So it's important to prepare yourself for these kinds of questions so you can explain your methods in a way that your client can easily understand.
So did I reply all bull headed and defensive? Of course not!
Instead I wrote this:
Preston,
I'm so glad that you feel comfortable enough to be really honest with me. I really do appreciate it.

I completely understand your hesitation but you will be involved in the production process so you can be rest assured that you will receive a final product you enjoy.

Our first week of production is completely dedicated to creating the art direction for your piece. I'll put together samples, color and type treatments in a Pinterest Mood Board and will deliver multiple art directions for you to choose from.

We will then review those ideas until one is approved by you. I'll even include some bonus rough thumbnails to give you a better idea of what the final piece will look like. Plus you'll easily be able to see me working on Twitch as well. 🙂

I will only move forward with producing a design that not only you will love but that will better attract your audience. With open communication and a clear view of your goals for your design, I have no doubt that we will have a successful project."
Notice that the first thing I do here is thank Preston for sharing his concerns with me and then I confidently explain my process to showcase that he will be involved during the entire project.
I even go above and beyond and decide to add thumbnails during the mood board process, something I never do. But in this case, it was important for me to eliminate any concerns he might have so he could feel comfortable moving forward.
I think my email did the trick too. Just check out this response:
Dina,
You've done it again: fears appeased. Thank you for letting me express them. I can't wait to get started.
Boom goes the dynamite! With a happy client, I felt good about going into first phase of production.
My Hand Lettering Process For Millo
I have a very detailed process when it comes to logo design where I focus each week on just one task. Taking three weeks total, I like to only work with one client at a time so I can really hone my skills, do research and gather inspiration.
Here's my production process from beginning to end including my failures and the reasons behind my design decisions.
1. Mood Board
I always like to begin my process by collecting a series of inspirational images consisting of different type styles, colors and fonts in a Pinterest Mood Board. This way me and the client can both be on the same page for the art direction I have planned.
Going into my sketching phase a little early, I began doing just a few pages of monoline thumbnails to give Preston a few ideas I had for composition and structure. By spending an extra hour on these thumbnails I was able to help Preston visualize his future logo without needing to go into perfection mode.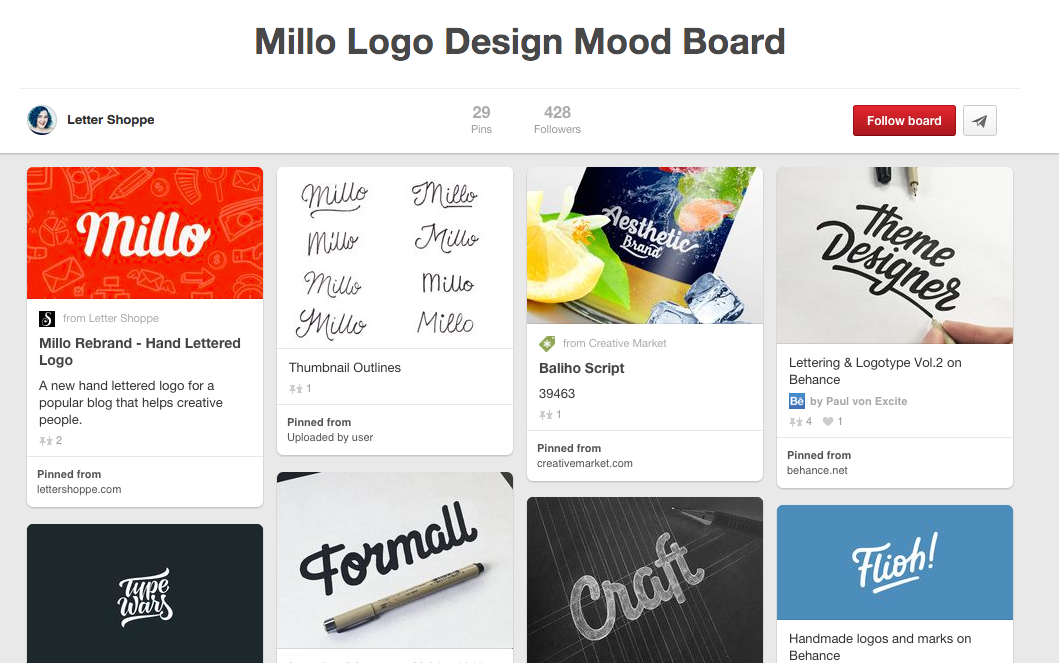 After our Mood Board meeting, it became clear that Preston wanted a brand that felt organic without being too decorative. It was important for the word mark to be able to fit in mostly horizontal formats, so it could fit nicely into the header of millo.co.
We settled on a stylistic direction similar to the Carmah and Wevoke samples from our Mood Board. Then we both agreed to come up with an icon version of the word mark using just the letter "M" for square ratio profile images and his website's avatar.
2. Thumbnails

Once I had a stylistic direction in mind, it was time to get to work and get a few ideas on paper. This below page is just one of the many pages I filled up with thumbnails both on and off my live stream on Twitch.
With each new concept, I drew closer and closer to a word mark I felt was appropriate to represent the new Millo brand.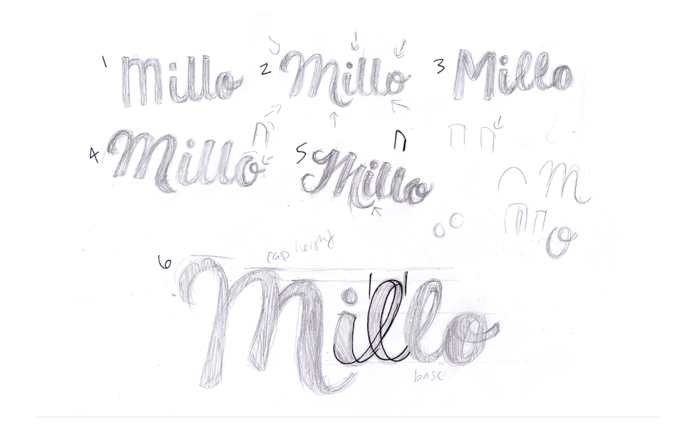 As you can see, I drew out which aspects of each logo I preferred and started to develop an idea of what characteristics of my letters I wanted to include in the final word mark.
At first I thought having the "M" ligature come under the "i" would be a nice customization for the brand along with the possibility of having an additional "o" ligature to help close off the piece.
3. Drawn Concepts
Once I had an idea of what kind of structure my lettering would take, I started to work bigger and create more fleshed out concepts. I ended up spending the most time on the below two pieces.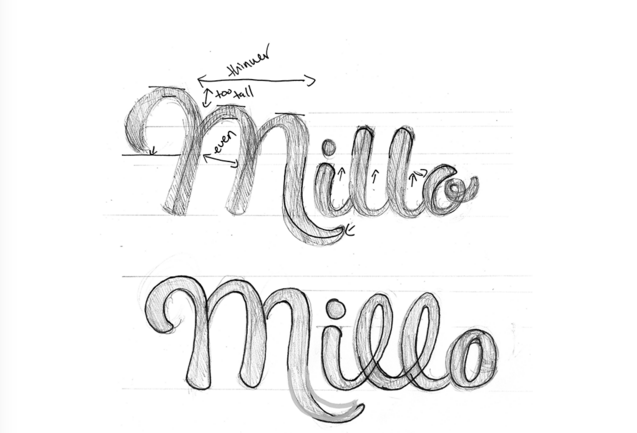 I liked their initial direction, but I realized no matter how much time I spent on them they didn't have that refined quality I was looking for. They were too playful, too young for an audience made up of creative professionals well into their 20s and 30s.
So with that in mind, I started again going towards a completely new direction. Then using some type inspiration from our initial Mood Board I created two completely new concepts. When designing a logo it's important to take any personal preference and throw them straight out the window. You can't be afraid to start over, even if you spent a ton of time on the project already.
I liked both above concepts but felt I needed to Frankenstein them together to get that clean, natural aesthetic Preston was looking for. Ultimately I went with something closer to the first sample to be my winning word mark that I would spend the rest of my time refining.
4. Final Concept
With a clear view of the finish line, I spent a few more hours tweaking my final concept. I ended up making a more distinct thick to thin contrast to increase readability. I also started to align my typography to a more balanced grid ensuring that my baseline, x-height, and cap-height were all consistent.
Any time you're creating a logo design from scratch with hand lettering, it's important to not be afraid to draw and redraw your wordmark several times. As designers, we have all experienced an out of focus view on our work because we have been staring at it for far too long. I've learned if you stare at any word for long enough it doesn't look like a word anymore but rather just a series of lines and shapes.
So to combat what I like to call "designer's crosseye," I simply redraw the word and with each new draft I'll fix another error I didn't see the time before.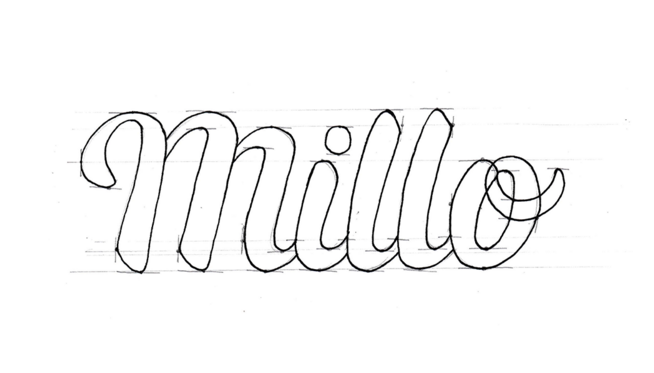 I ended up doing a lot of work upside down to see clearly that my kerning was even, and each letter had the same amount tilt. Sometimes it's best to edit your lettering upside down so you stop seeing the characters as letters and more as shapes so you can get a good idea of the negative space.
Then to make things easier for me going into Illustrator, I drew in some mock bezier handles of where I thought my anchor points would go. That way once I was ready to vector my wordmark I wouldn't have any hesitation when using the pen tool.
5. Vector
Since I was able to do most of the refinement on pen and paper, it was relatively easy to vectorize this piece. I knew where my anchor points went, I had a grid in place, now all that was left was to make sure this wordmark looked as smooth and effortless as possible.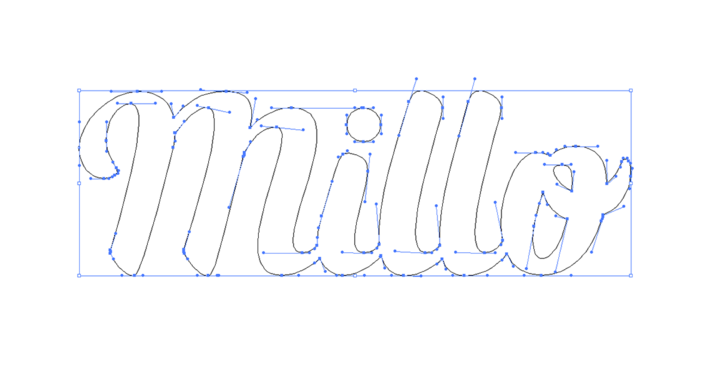 I was pretty dead on with my mock anchor points, but, of course, there were a few that ended up not being a right fit for the piece. I always try to create every logo design using only vertical and horizontal bezier handles to keep my file size down and make it easy to make subtle adjustments. I know all too well that the more anchor points you have the harder making changes can be.
6. Icon
I had planned ahead for the icon version of this logo by drawing out the "M" separately. The only real change that I made was that I included a rounded off end to the right stem. This way the letter could be used on its own without looking cut off.
I also made some sight adjustments to the negative space between each steam in the "M" to increase readability so even when this icon is as small as 48×48 pixels it could still be recognized.

Live Streaming on Twitch
While creating this logo, Preston and I both thought it would be a great idea to live stream my process on Twitch. This way Millo fans and creatives alike could hang out in the chat and be a part of the rebrand. We shot 12 hours of footage over the span of 3 days on Twitch and condensed it down to just over 2 minutes.
So now you can watch the entire above process in this short timelapse I created for your viewing pleasure.
I'm proud to say that I'm still live streaming my lettering projects since I originally shot this back in November 2015 on Twitch and it has completely revolutionized the way I do freelance work. With streaming 3-5 times a week, I hope you'll join me in the chat and add to our awesome creative community I like to affectionately call "The League of Letters".
In Conclusion
A ton of work went into this project and I'm really proud of the end result. Just look at that new awesome logo in the header!
I hope you have enjoyed this inside look into my hand lettering process and that it has sparked something for you with your own creative projects.
If you have any questions, please feel free to add your voice to the comments and let's chat!
• • • • •
Again from Preston: I'd love to hear what you think. I personally love the final product and being part of Dina's process was incredibly eye-opening. She's a real professional. Also, stay tuned for some fun new Millo swag coming your way soon—we're talking stickers, notebooks, tees, mugs. It's good stuff. Subscribers to the newsletter will be the first to get access. Thanks for all your support!
Keep the conversation going...
Nearly 10,000 of us are having daily conversations over in our free Facebook group and we'd love to see you there. Join us!